5 Regrets From My First Year of Business
*Disclosure: some of the links in this post are affiliate links, meaning that at no additional cost to you I will earn a small commission if you click through and make a purchase.
---
Photography by Stephanie Parshall Photography
It's no lie that your first year of business is by far the hardest. Some studies even show that over half  fail within the first year of business, so with the odds not in our favor its important to make that first year of business as successful as possible.
Now that I am over 3 years into my entrepreneurial journey, profitable and able to work full time doing what I love, I look back on my first year and see so many things I wished I would have known now. But before I start to share some of my regrets I do want to note that I think it's important to experiment in your first year of business. Just because something worked or didn't work for someone doesn't mean it will be the same for you. And sometimes it's important to fail because you will learn a valuable lesson from it.
So don't be afraid try things your way and if these tips can give you any guidance then feel free to try my methods on for size.
#1 Not setting designated "work hours" for clients
During my first year of business I was all over the place about when I worked and when I didn't. I would wake up at 5am and work for a couple hours before having to report to my 9 to 5 (aka my full time job). During my lunch breaks I would be taking calls or responding to emails. When I would get home, I would immediately bust open my lap top and work the rest of the evening till I could barely keep my eyes open, then wake up and do it all again the next day.
And what ended happening was I worked non-stop and exhausted myself to the point I wasn't thinking clearly (I'll talk more about this in the next point) and my clients had no clue when I was/wasn't working so they would call, text and email me at all hours of the day and night.
Instead I wished I would have set business hours even if they were every morning from 5-7am and every evening from 6-8pm. That way my clients would have know when I was working and when they could expect to hear from me.
How I do it now:
Now I have set business hours for clients, every Tuesday-Friday from 9am-4:30pm, and Mondays are dedicated to working on the business only. I keep a running list of dates I am going to be "out of the office" on my email signature (image below for example) and when I am out of the office I turn on my email autoresponder so clients know when I will reply. This helps to let everyone know when I am and am not working and allows me to have rest and play times.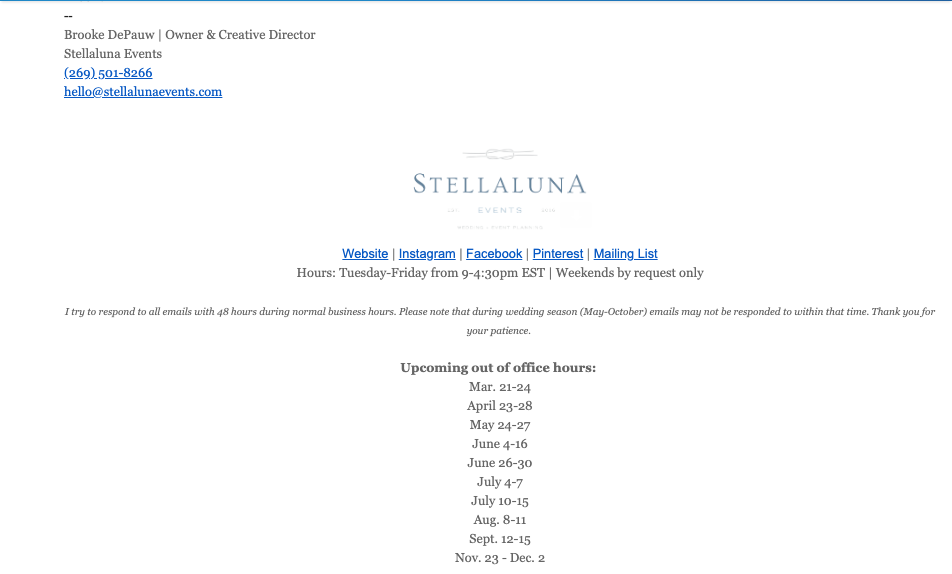 #2 Not taking care of my health and body
I think this one is my biggest regret. When I started my business in 2016 I basically stopped taking care of myself. Workouts turned to sitting on the couch with my laptop, healthy meals turned to fast food or whatever I could buy pre-made, 8 hours of good sleep turned to 6 hours of half-assed sleep if I was lucky.
I started gaining weight, was exhausted, I became grumpy and mean to my friends and family, I started having panic attacks and just felt down right horrible. I think a lot of the time we think that we need to skip taking care of ourselves to dedicate more time to our business, but the truth is we are harming our businesses and success when we do that.
Think about it this way, does NASA astronauts into space that are unhealthy? Can a garden grow without proper weeding and watering? Did Beyonce win 24 Grammys by eating fast food and smoking a pack a day? The answer is no. So lets learn from other people's successes and take care of ourselves.
#3 Not creating and communicating boundaries
I believe that some of the most successful people have mastered the art of boundaries and this took me a long time to realize. I spoke a little in the first point on communicating work hour boundaries with clients, but in this point I want to speak on boundaries with friends and family.
Though most of my friends and family members were beyond supportive of the business and cheered me on every step of the way, I still wish I would have created strong boundaries. Below are some of the boundaries I wished I would have created:
Communicating that this was a legitimate business and not something "fun" I was trying
Saying no to offering my products and services to family and friends even when they wanted to pay me for it (now I only allow this to extremely close family and friends only)
Communicating my work hours and asking them to respect them (similar to point #1)
My intentions for the company and plans for leaving my full-time job regardless of what everyone thought
#4 Paying myself
Before you stop reading and think I'm a crazy person for saying you should work without pay, hear me out. During my first year of business I was working a full-time salaried job on top of creating and operating my business for 11 months, so I had a steady paycheck coming in. On top of that paycheck I was paying myself out of the business. At that time I didn't need the money from my business, because I had a full-time salary coming in, but I thought I was supposed to take a paycheck, so I did.
But by taking a paycheck from my business, I was taking away money I could invest in marketing, education and a bunch of growth opportunities. For any entrepreneur reading, I highly recommend not taking a paycheck from your business until you really need to or can afford to.
#5 Not reading and listening to more podcasts
Okay this one may seem a little different than the rest, but I have gained so much knowledge and wisdom from reading books and listening to podcasts. Even just hearing another entrepreneur validate they felt the same way or had gone through the same things would have been so helpful during my first year of business. Below are my favorite business books and podcasts to date.
Favorite books:
Favorite Podcasts:
There you have it, those are my 5 biggest regrets from my first year of business. What were some of your regrets from your first year of business? Let me know below!
Also, if you loved this then you will love my post on one of my favorite business tools: Co-Schedule!