Week Before the Wedding: 6 Tasks You Need To Do
Exactly 10 days from today is my very own wedding day – can you believe?! I'm blown away that is is the week before the wedding, especially since Eric and I have been engaged for just about a year and a half.
Normally the week before the wedding is super stressful, busy and quality sleep, exercise and healthy eating go right out the window. But I am feeling so good and stress-free walking into the week before the wedding. I know what you're thinking – I do this for a living so obviously I have a good handle on this. That is true, but today I want to share what I am doing the week before the wedding and how I am feeling stress-free so you can experience it too.
#1 Create a master 'to do list' and delegate tasks.
The week before the wedding your brain is already going to be filled with so many things like adding that guest that sent their RSVP late and finalizing the catering numbers. When our brain is full we tend to not think clearly and make things a little harder on ourselves. So do yourself a favor and create an execution plan for everything.
For my wedding we have a lot of moving parts and a lot of people helping out with tasks. The last thing I want is a group of people standing in front of me waiting for a job while I tried to remember what else needs to be done. I also want to be able to go to bed each night knowing that we completed everything we needed to for the day rather than lying awake with a running "oh shit" list in my head.
So I created a massive 'to do list' of EVERYTHING (I mean everything!) that needs to get done starting 10 days out from the wedding. Then next to each of the tasks I assigned it to a family member, friend or member of the bridal party of complete. Below is a snap shot of what my to do list looks like starting the Wednesday out from my wedding. For your sake, I did not include everything on the list and just some of the key points.
Wednesday
get nails done – Brooke
spray tan –

Brooke

pack for wedding weekend –

Brooke

pick up u-haul –

Eric + Brooke

pack u-haul with all decor + supplies – Eric, Brooke + families 
tidy up house before leaving – Brooke + Eric
Thursday
unpack u-haul items needed at rental house – Eric, Brooke + families
drop u-haul off at wedding venue w/ decor items – Eric + Dad
pick up linen order – Brooke + Mom
fold napkins – Mom, Chelsea, Brooke + Leslie
pick up fire wood for bonfires – Eric + Dad
Friday
unload u-haul when venue opens for set-up – Eric, Brooke + families
put all flowers in the cooler – Mom, Leslie + Chelsea
pick kegs up – Eric + Brothers
put beer + wine in the cooler – Eric, Dads + Brothers 
prep for rehearsal dinner – Tori

set-up buffet tables
pick up ice
set out beverage tubs + drinks
Saturday (wedding day)
lay out details before photographer arrives – Brooke
pack bag for after-party bonfire – Brooke + Eric
restock + drop-off coolers off at venue for after party – Eric + Groomsmen
Now some of the stuff I put on my list seems pretty obvious and it seems like something you would remember to do, but save yourself a headache and some brain power and put it on the list. For the wedding weekend I will print out a copy and keep it with me everywhere I go so when someone asks for a job or something to do I will be able to have one right away.
#2 Over-communicate with your family, bridal party and wedding vendors.
I normally see a lot of the stress, tension and drama that comes the week before the wedding is due to lack of communication. So make it your job to over-communicate every detail to your friends, family and vendors so everyone is on the same page. The best way to do this without sounding bossy or like a "bridezilla" is the following:
Family + Bridal Party:
I recommend creating an "information sheet" and sending it to your bridal party and family about 1 month out from the wedding. If they start asking questions further in advance, then share the info but let them know you will have lots more info coming soon. What you should include in the information sheet is:
Timeline – I highly recommend sharing a full wedding weekend timeline so everyone knows what is happening and where they need to be + when. You don't have to include every detail, but just the main points.
Introductions – list each persons name and what their role is in the wedding (i.e. Maid of Honor, Best Man, Bridesmaid, Mother of the Groom, Usher, etc.). If the dates/significant others of your bridal party are going to be involved in the activities it may be nice to list them too.
Accommodations – this one may not be important but for our wedding it was a must. We have 4 large houses hosting the majority of our bridal party and immediate family so I listed where everyone was staying and the address so everyone knew and they weren't asking me for addresses.
Contact Information – this one is a must! List out the key players, who they are and their phone numbers. For our wedding we list me, Eric, both our parents and our wedding coordinator's information. That way if someone has a question or emergency they know who to call.
Rehearsal + Rehearsal Dinner – this just lists where they need to be at what time, what to wear and remind them they are welcome to bring their dates. I also asked our bridal party to arrive to rehearsal at least 15 minutes early, because trust me someone is always late.
Photography List – though the timeline covers what time photos are being taken it is also important to list out who is all included in each photo. That way someone doesn't arrive late to photos OR someone doesn't arrive to photos who is actually not supposed to be in them.
Transportation – we included information on transportation and the schedule of where it is picking up + dropping off and when. But this one is totally dependent on if you book transportation.
Additional Information –  add any extra info, FAQs or thoughts you may have.
I think the best way to communicate all of this is in one long email. That way they can choose to print it or pull it up on their phone during the weekend. I also recommend starting out on a loving note and thanking them all for coming and how excited you are to celebrate with them. That way it shows its coming from a loving place and not a bossy place.
Vendors:
If you hire a wedding coordinator (which I HIGHLY recommend!) chances are they will do this for you. But if you don't then here is an effective way to communicate with your vendors.
2-6 Months Out: set up calls with your vendors to go over all the details and put that info into your timeline.
1 Month Out: send a group email to all of your vendors letting them know how excited you are to have them as your vendor team and that you will be sending more information shortly.
2 Weeks Out: send them your completed timeline, vendor contact list, guest list, floor plan and any additional information they may need. Also, give them 1-2 points of contact for them to reach out to the day of and the day before the wedding so you aren't being slammed with calls.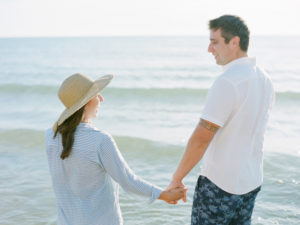 My biggest recommendation with this is make sure everyone has the information they need at least the week before the wedding so they have time to ask questions.
#3 Prep, pack and organize all of your decor & supplies.
I'm a big fan of organizing and actually have a whole separate post dedicated to teaching you my stress-free system for packing wedding decor that is MUST read! My mom and I will be packing all of our wedding decor and most of our supplies the week before the wedding so it is one less thing to worry about. But one of the key points I want to leave you with is do as much as you can before your wedding weekend.
We tend to grossly underestimate our time during our wedding weekend and leave lots of small tasks (i.e. folding napkins, organizing escort cards, trimming candle wicks, etc.) to do the day of and the day before the wedding, when that time should be reserved for spending time with family and friends.
Some of the things we have done in advance to leave as few tasks as possible for the day of and day before the wedding are:
Removing stickers, tags + packaging from items
Cleaning all decor to ensure its wedding ready
Organizing escort cards (alphabetically or by table depending on what you are doing)
Pre-packing coolers with sodas and beer for our welcome party (saves space traveling too!)
Packaging and organized all the favors
Putting vendor tips in envelopes with their names on them
Wrapping all gifts and cards
Organizing and packing all supplies – seriously do yourself a favor and follow this system!
#4 Create a solid timeline with all the details.
A solid timeline is the foundation to a great event. I require all of my events to have timelines, even if they are simple and the timeline only has 3 things on them. They are an awesome reference point through the day and keep everyone on track.
Timelines are also a great place to store details that may have normally been forgotten. For example under 'Cake Cutting' on the timeline you can list the song you selected to cut the cake to and a note about who is collecting the top tier. Under 'Hair & Make-Up Begins' you can list the order that the bridesmaids are getting their hair and make-up done in so everyone knows who is up next.
If you are working with a wedding planner or coordinator, they will most likely do this for you but if you are not I recommend you throw a timeline together and share with with your vendors, family and bridal party.
#5 Take care of your body and mind.
One of the first things to go out the window the week before the wedding is your health. For some reason work gets slammed, everyone and their mother has a question or something they need you to do, time is limited so what once was a green smoothie turns to a fast food breakfast sandwich, workouts turn to couch time, quality sleep turns to watching TV and stressing out till 2am.
Trust me I get it and I am feelin' it myself. But I know when I stop taking care of my body and mind everything else goes to hell and I am left feeling worse than I did when I was trying to juggle it all. Eric and I made a promise that taking care of our bodies was a non-negotiable the week before the wedding so here are a few we are doing:
Purchasing healthy pre-made meals
the last thing we have time for is cooking so we went to our local health store and ordered a bunch of pre-made meals we had to pop in the oven or take the lid off and enjoy. This has prevented us from running through fast food and ordering pizzas.
Scheduled time for daily nonnegotiable work outs
We both agreed that we had to move our bodies everyday so at the start of this 10 day stretch, I went ahead and scheduled times I would workout everyday. Even if it is a 30 minute walk, I have to do it!
Creating nonnegotiable rest times
I'm definitely someone who goes 100 miles an hour and then makes myself sick, while Eric knows his boundaries and allows rest before burnout. So when its 11pm at night and I'm still talking about the wedding and what we need to get done, Eric beyond over it. So we created rest times. From the hours of 9pm – 6am we do not discuss anything stressful and just focus on resting. This has allowed us to turn our minds off and get a better nights sleep, thus helping us walk into the wedding weekend feeling 100% vs. ready for it to be over (which happens to some people).
#6 Think through every situation.
When a client or friend is stressed out about a situation my recommendation is think through every situation and what could happen. Here is how I recommend doing it for your wedding weekend.
Start by walking through every detail of the day from the moment you wake up to the moment you go to sleep and ask yourself these questions: What am I doing? What am I wearing? How am I feeling? This helps you to dig into some of the details you may be forgetting. For example, maybe you picture yourself waking up in the same flannel pjs you wear every day, but when your photographer shows up that isn't what you want to be wearing for "getting ready photos" so you need to make a new plan on what to wear. It also helps you to think about how you want to feel on that day and manifest that emotion.
Once you walk through every detail of the day a few times (I have been doing this for months now) next think through everything that could go wrong and how you would fix it. For example, what if someone spills their mimosa on your dress? Ask yourself what would you do? Maybe you should carry some club soda in your emergency kit, or take note where the nearest cleaner is. Once you think through everything that could go wrong and how you would fix it, it makes you feel more prepared and ready to conquer anything!
I hope these week before the wedding tips will help you have any more enjoyable and fulfilling experience on your wedding day! If you like this post then you may want to check out the 16 items you should have in your wedding day emergency kit!
Photography by Kelly Sweet Photography