Carly & Ryan's Auburn Hills Wedding
Oh Carly & Ryan! This couple has an extra special place in my heart for many reasons but one being that Carly's brother, Jeremy, and my sister, Chelsea, are married. Which, I'm not sure what that makes us, but it feels like I have another sister and brother-in-law. So when they asked me to coordinate and provide floral for their Auburn Hills wedding, I couldn't help but say yes!
Carly and Ryan met in a pretty unique way. They met while working abroad in Prague, Czech Republic and quickly learned they were both from Michigan and grew up only a few hours away from each other. What are the chances of that?!
After a some time together in Prague, Ryan headed back to the states while Carly continued to work in the Czech Republic. One day Ryan recommended to Carly that they both fly to New York City for a (sort of) halfway meeting point so Carly didn't have to fly all the way to Michigan to see him.
When Carly arrived to New York she was completely surprised to find Ryan on one knee asking her to be his wife. They spent the weekend together celebrating before Carly headed back to Prague and Ryan back to Michigan. A few months later Carly made her way back to Michigan where she found a job and they could start planning their wedding.
They choose to an Auburn Hills wedding due to it being the most centralized locations for some of their family and close to a major airport for guests to fly into. They kept their overall look very modern, clean and simple, which matched their venue perfectly.
Scroll below to see all of the gorgeous photos from the day shot my Justin and Haylee at JMH Photography.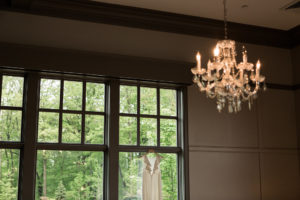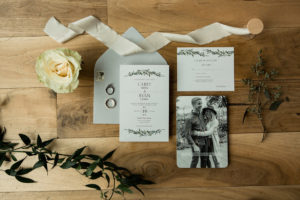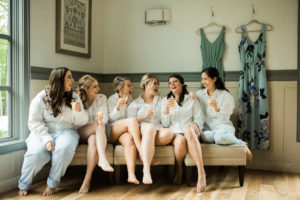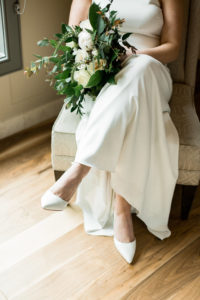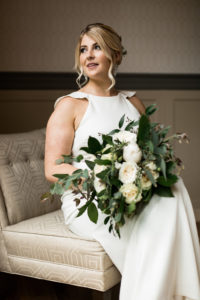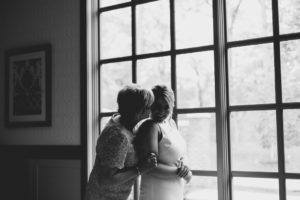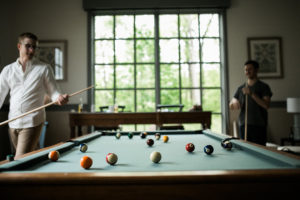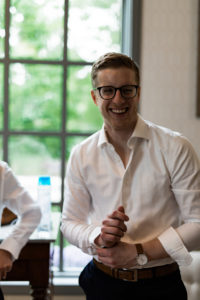 The forecast called for rain and thunderstorms all day, so luckily it held back a little while so Carly and Ryan could do their first look and some bridal party photos outside.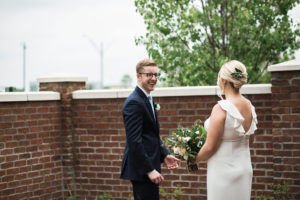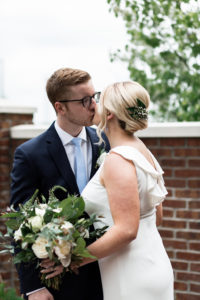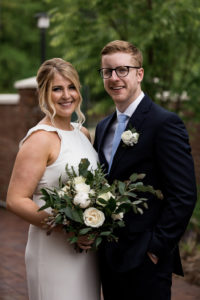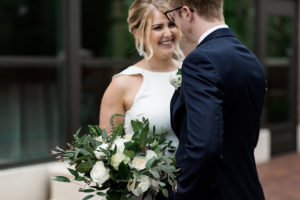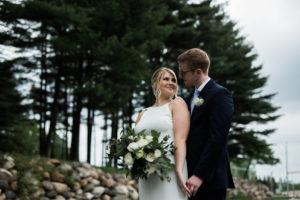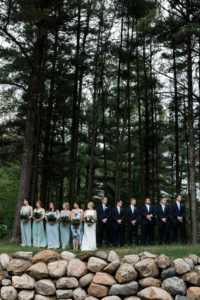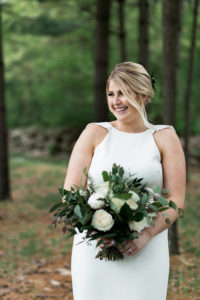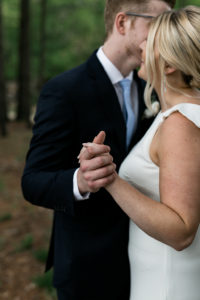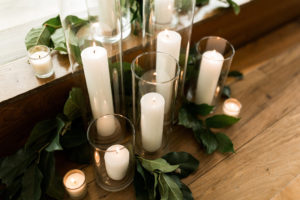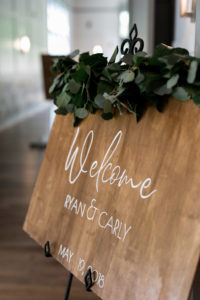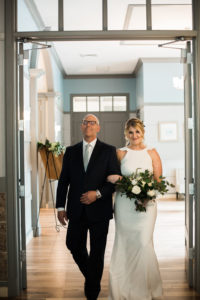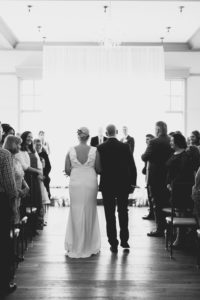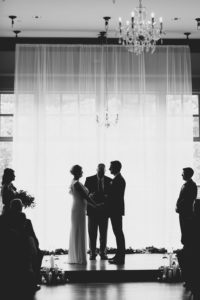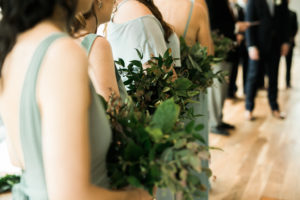 As for the decor for the day, it was very simplistic, minimalist yet lovely. We did lots of whites and heavy greenery with small pops of blue. After the ceremony all the guests made their way to a new space at the venue to enjoy cocktails and a charcuterie board, while we worked on flipping the ceremony space to the reception space. I wont lie to you, room flips always make me a little nervous especially with as large of a guest count that Carly and Ryan had, but the flip went extremely smoothly.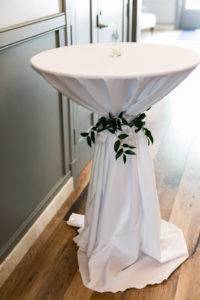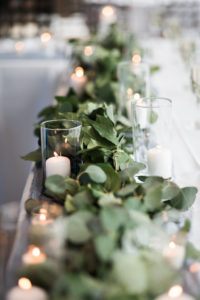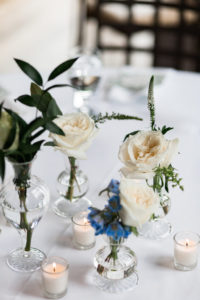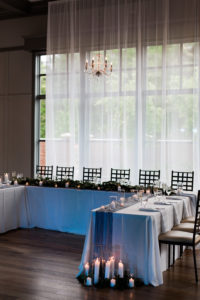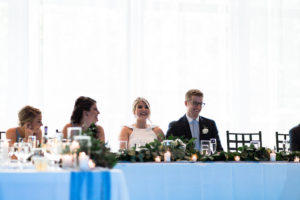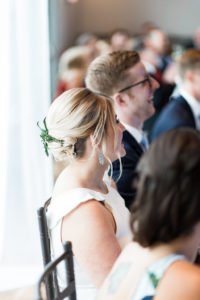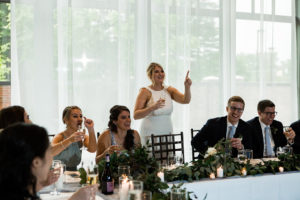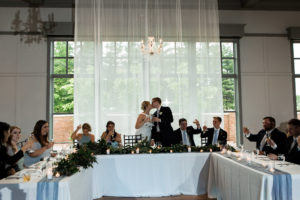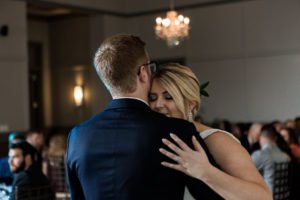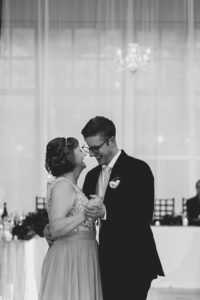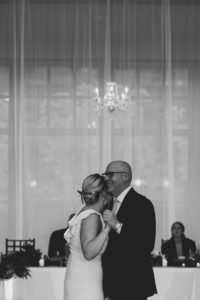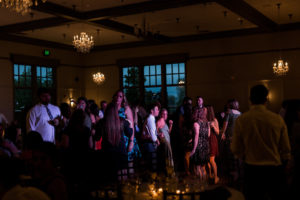 The below picture is Carly and her brother, Jeremy (also my brother-in-law), preforming "It's Tricky" for the whole crowd. It's a number that became their thing a long time ago and now is a staple at every family event!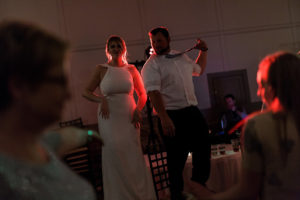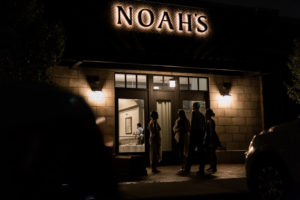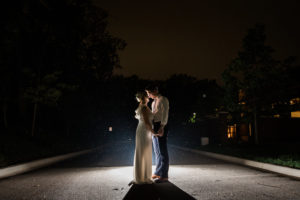 Carly and Ryan, I cannot thank you enough for letting me be a part of your day! So much love to the both of you!
Want to see more of our real weddings? Check out this Charming Ciccone Vineyard Wedding or a Fernwood Botanical Garden Wedding!
Photography: JMH Photography | Coordination & Floral Design: Stellaluna Events | Venue: Noah's Event Venue Auburn Hills | Catering: Lafayette Market | Entertainment: Flipside | Bridal Gown: BHLDN | Hair & Makeup: Salon Bliss