New changes and offerings to Stellaluna Events
When I started Stellaluna Events 20 months ago I had a vision to solely focus on planning and coordinating weddings and nothing would pull me from that vision. But sometimes life has a different plan for you. So today I am so excited to officially announce..
I am now offering 'stand alone' floral design services!
I know what you're thinking – what does 'stand alone' mean? It means that I will do flowers for any event without being the planner or the coordinator of that event. So maybe you don't need a wedding coordinator but you could use a bunch of gorgeous blooms for the day – then I'm your gal!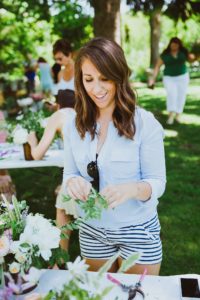 Why the change?
The short answer is it makes me happy. I really enjoy spending time planning the designs, carefully selecting each sprig and bloom and jamming out to early 2000s boy bands as I create each arrangement. It is soothing, calming and forces me to flex my creative muscle. I don't know about you but I want more of those good vibes in my life!
I'm so excited to play with more flowers in 2018 and I hope I can bring life to your event with a little floral therapy.


Are you offering other new services?
You betcha! I am now offering a variety of new services in addition to my signature services like wedding coordination, partial planning, full service wedding planning, decor and rentals, event design, coaching and hourly event planning rates.
I want to hear more about all of this!
Oh, I would LOVE to tell you more! Feel free to visit my
services page
for more details and shoot me an email at hello@stellalunaevents.com or fill out the form
here
!
Thank you all so much for ongoing support of Stellaluna Events – I promise the best is yet to come!
Love,
Brooke