How To Create A Wedding Transportation Timeline
Providing wedding transportation for your guests is a thoughtful way to show how much you appreciate them attending, as well as a helpful tool to make sure everyone arrives to the correct location on time! Figuring out your wedding transportation timeline is an essential part of this process but can be stressful. Follow these tips to make sure your guests arrive to your events on time and in style!
Step 1: Figure Out How Many Guests Need To Be Transported
Determining who needs a lift to your wedding will help you decide where to send your various shuttles and wedding transportation options. Sometimes couples will have guests RSVP if they want to be transported to the wedding, and other times they will call the hotel to ask for a list of their room block to know who is staying where. Once you have an idea of your guests' accommodations, make a list of how many guests will be staying where.
Example:
30 guests at the Cherry Tree
25 guests at Hotel Indigo
23 are staying in rental houses
Step 2: Map It Out
Next, you'll want to map out the various accommodations and determine the distance from your venue. Some accommodations may be close to each other, which would allow one shuttle to hit multiple spots, while other locations may be farther, so you would need to designate one shuttle for that accommodation alone. For rental house guests, arrange one centralized meeting location for a shuttle or car to pick them up – don't make your driver go all around town looking for rental houses.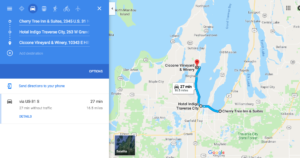 Type the addresses of all your locations in order in Google Maps to see the total time without stops (example above). As we can see from the example photo, the time from hotel 1 to hotel 2 to the venue is 27 minutes total without stops.
Step 3: Figure Out Your Timing
Once you have an idea of which shuttles will take which routes, start working on a wedding transportation timeline. You want to think about what time you want your guests to arrive to your venue. Make sure you have them arriving at least 15 minutes prior to the ceremony or the start of cocktail hour to build in a little extra time. For example, if your ceremony starts at 4pm, then you should plan to have all guests there by 3:45pm or earlier.
Then, you'll want to start working backwards on your wedding transportation timeline. For example, if you want everyone to be at the ceremony by 3:45pm, and it takes 15 minutes to get from your last stop to your final destination, then the shuttle should depart the final destination no later than 3:30pm.
Next, you should allocate at least 15 minutes at each stop for loading and unloading. If you need the shuttle to leave the final destination by 3:30pm, then you need it to arrive by 3:15pm. From there, continue to work your way backwards until you get to the first destination.
Example:
3:45pm Arrive at the venue
3:30pm Depart Hotel Indigo
3:15pm Arrive at Hotel Indigo
3:10pm Depart Cherry Tree Hotel
2:50pm Arrive at Cherry Tree Hotel
After you have created your wedding transportation timeline, then you will want to go back through and add a little extra buffer time. Though Google Maps says right now it will be a 15 minute drive, chances are there may be extra traffic, there could be an accident, or the shuttle could move a little slower than you think. I recommend an extra 10-15 minutes total of buffer time just to be safe. Using the above example, I would have the shuttle pick up the guests at the first and second destinations 5 minutes earlier, so the new wedding transportation timeline would look the below example. 
Example:
3:45pm Arrive at the venue
3:25pm Depart Hotel Indigo
3:10pm Arrive at Hotel Indigo
3:05pm Depart Cherry Tree Hotel
2:45pm Arrive at Cherry Tree Hotel
Step 4: Communicate Your Wedding Transportation Timeline
Now that you have a wedding transportation timeline, you first want to call all of your hotels, accommodations, and venue and confirm that it is okay to have the shuttles come on property as well as ask for the best place for the shuttles to load and unload guests. Most hotels, accommodations, and venues have had much experience with this and will be able to provide helpful tips that could save you a headache on your wedding day.
Next, you need to run it past your wedding transportation provider and get their approval. I would recommend appointing someone to be the point of contact for the shuttle drivers (coordinator, aunt, friend, etc.) in case they have any questions or need to call someone about traffic delays.
After you chat with the accommodations, venue, and wedding transportation provider, it's time to share it with your guests. Post the pickup times (NOT departure times) on your wedding website, print cards for the hotels to hand out to your guests at check-in, and appoint a close friend or family member that is staying at that accommodation to direct guests towards the shuttle and make sure everyone gets on board.
Comment below and let me know your wedding transportation questions!
Want more wedding planning tips? Check out my 5 Dos and Don'ts of DIY Wedding Decor!