Rocky Mountain Wedding | Nicole & Corey
I am beyond excited to show you Nicole and Corey's Rocky Mountain wedding in Grand Lake, Colorado! How I became to be a part of this day was pretty unique. Over the past couple years I have had the pleasure of getting to know Christy of Christina Burton Events and she has become a close friend. One day Christy called me and told me all about her sister, Nicole's, gorgeous Rocky Mountain wedding they were planning and how they needed a little help.
She asked if I would be willing to do the day of coordination and floral design during the wedding weekend so she could take off her planner hat and put on her maid of honor hat. I couldn't say yes fast enough and before I knew it I was in a plane headed to Colorado.
This wedding weekend was definitely a special one complete with mountain views, Colorado BBQ and moose drama…yes, I repeat moose drama (more to come on this). Scroll below to see all the beautiful images captures by the Catherine Lea Photography team.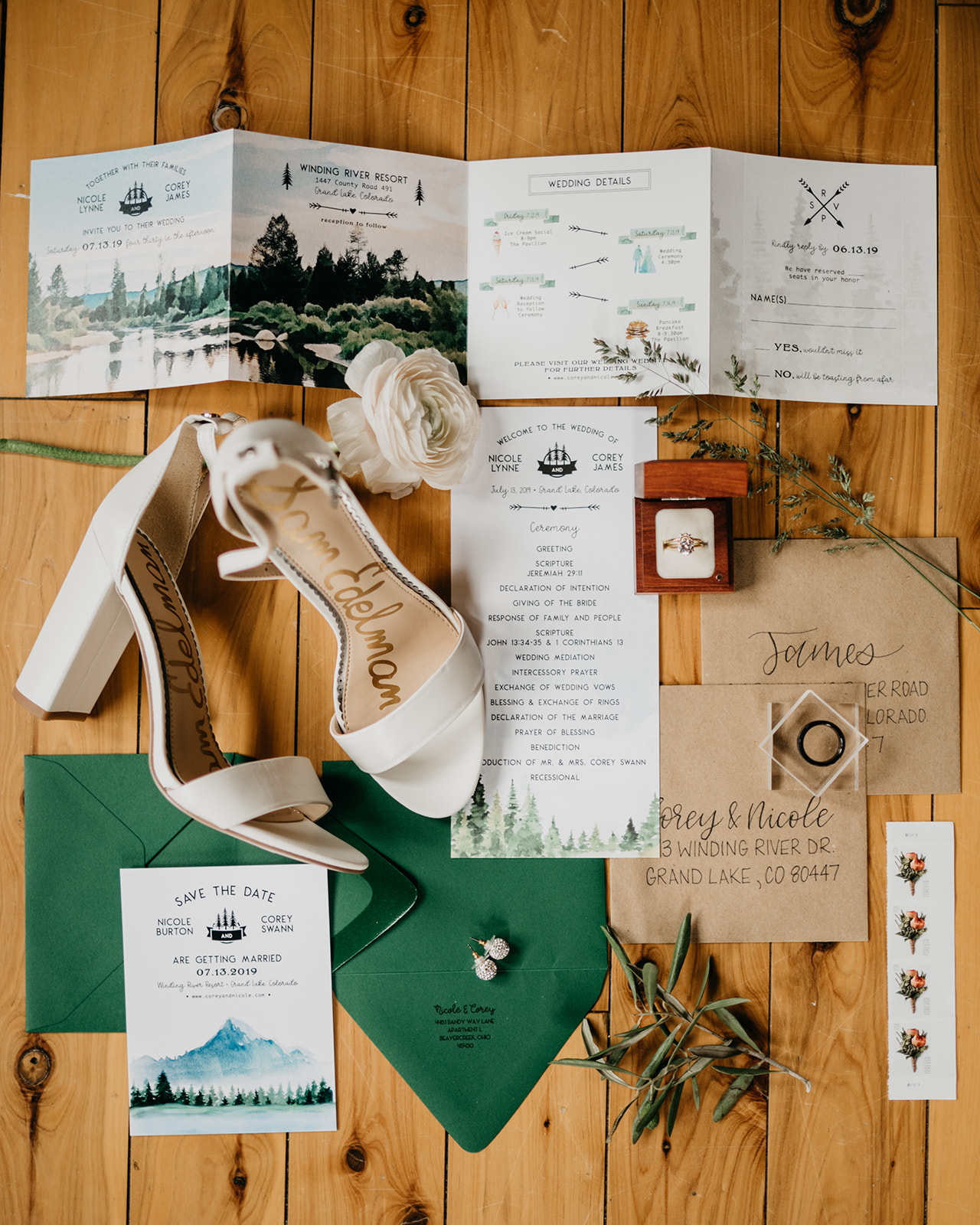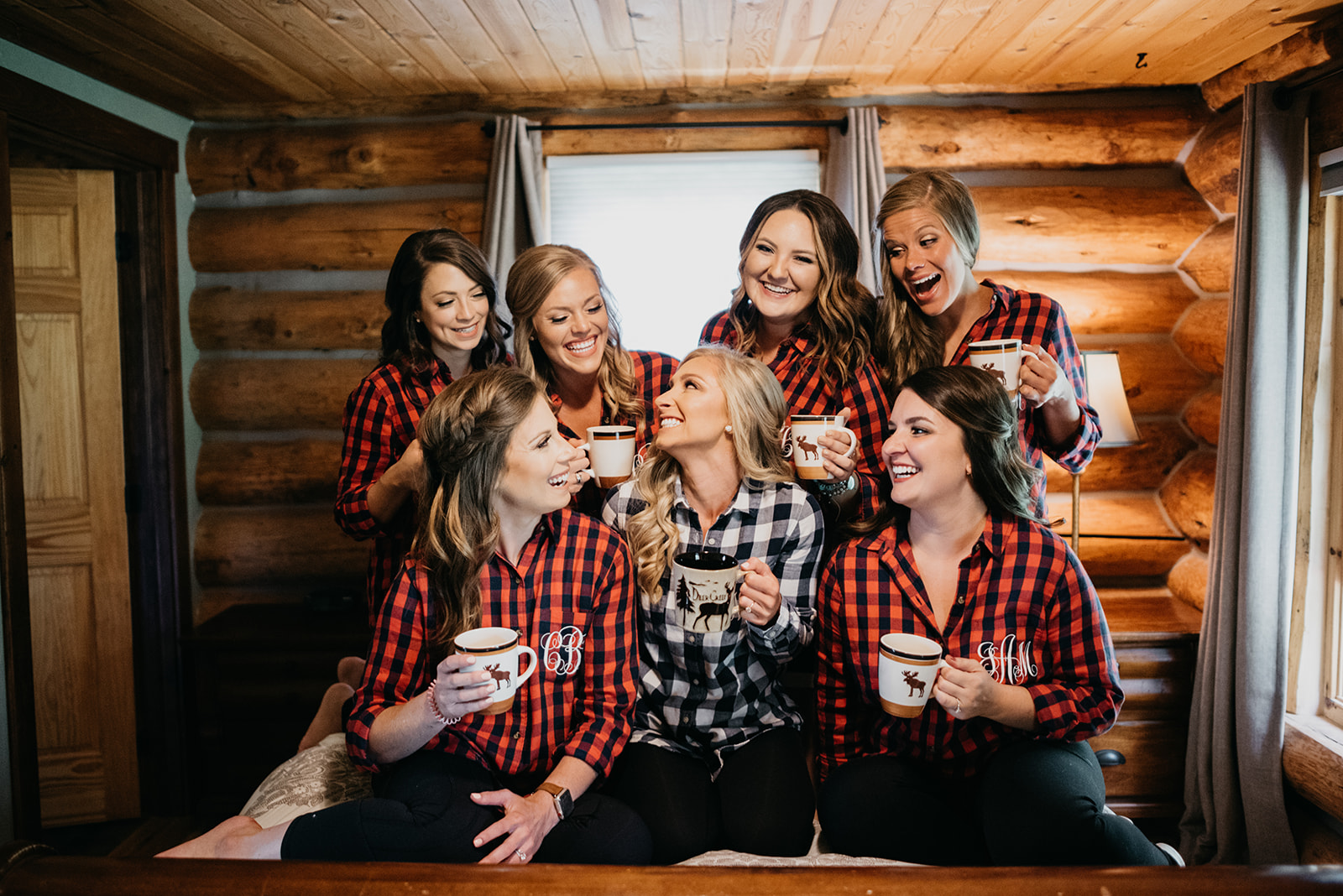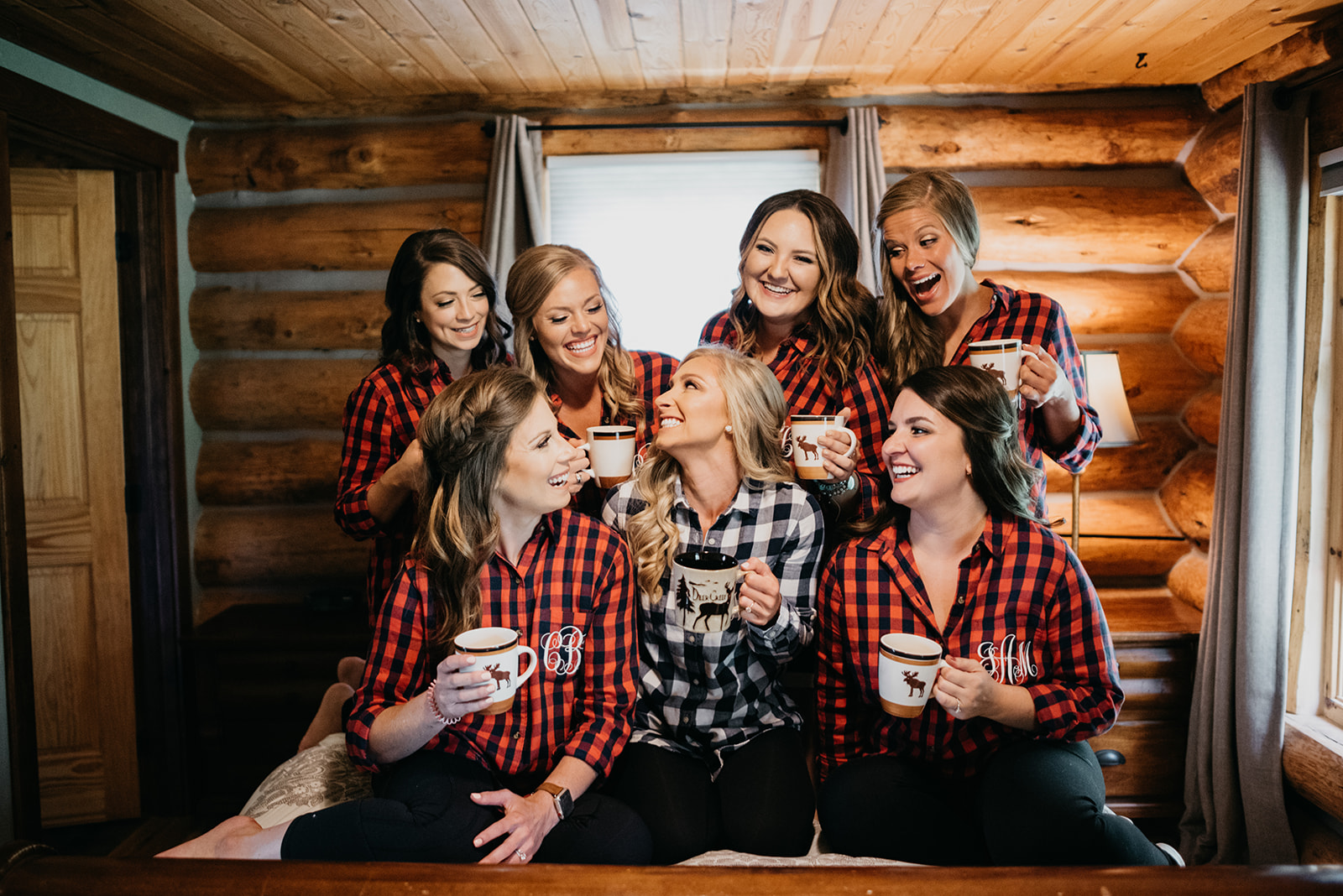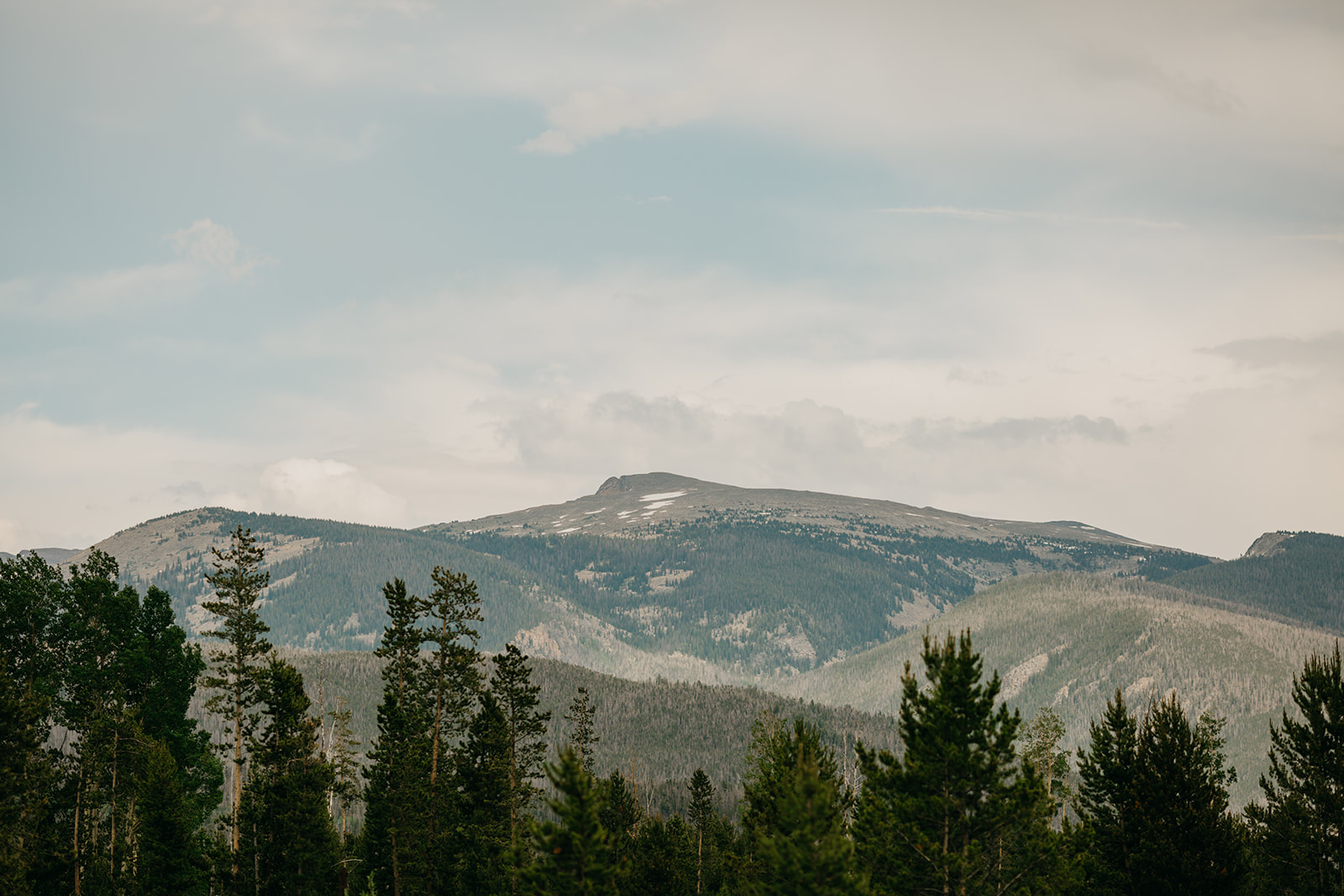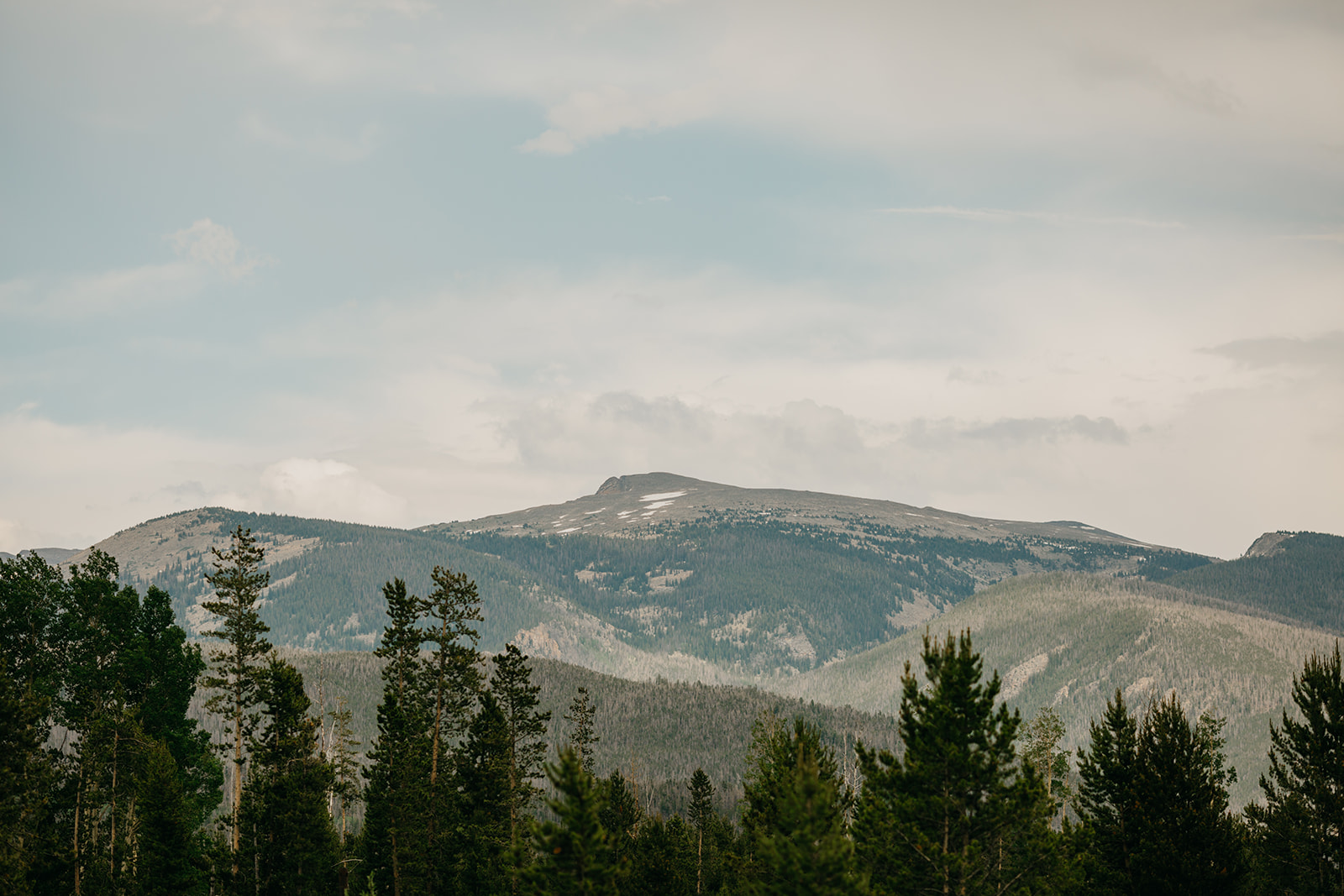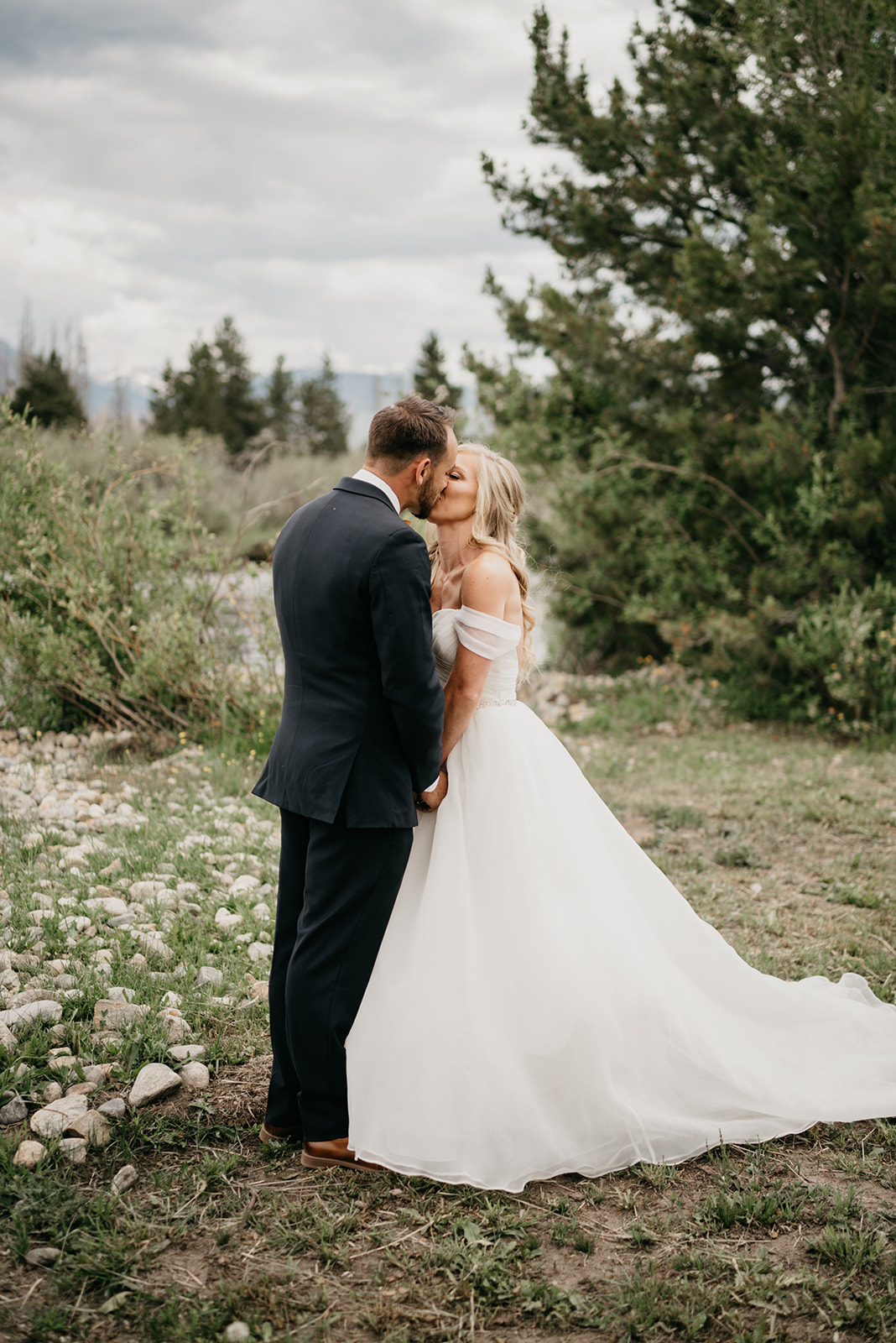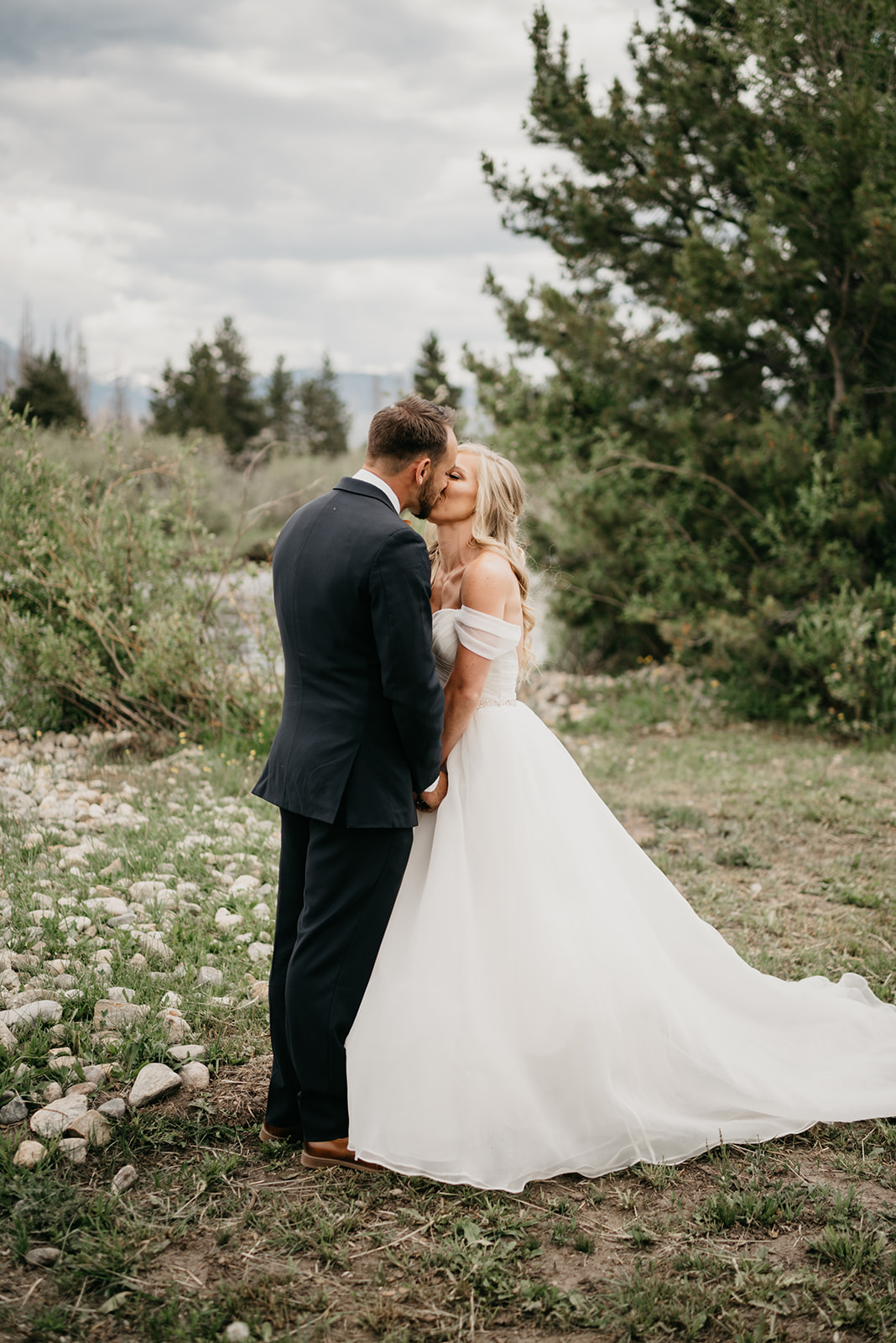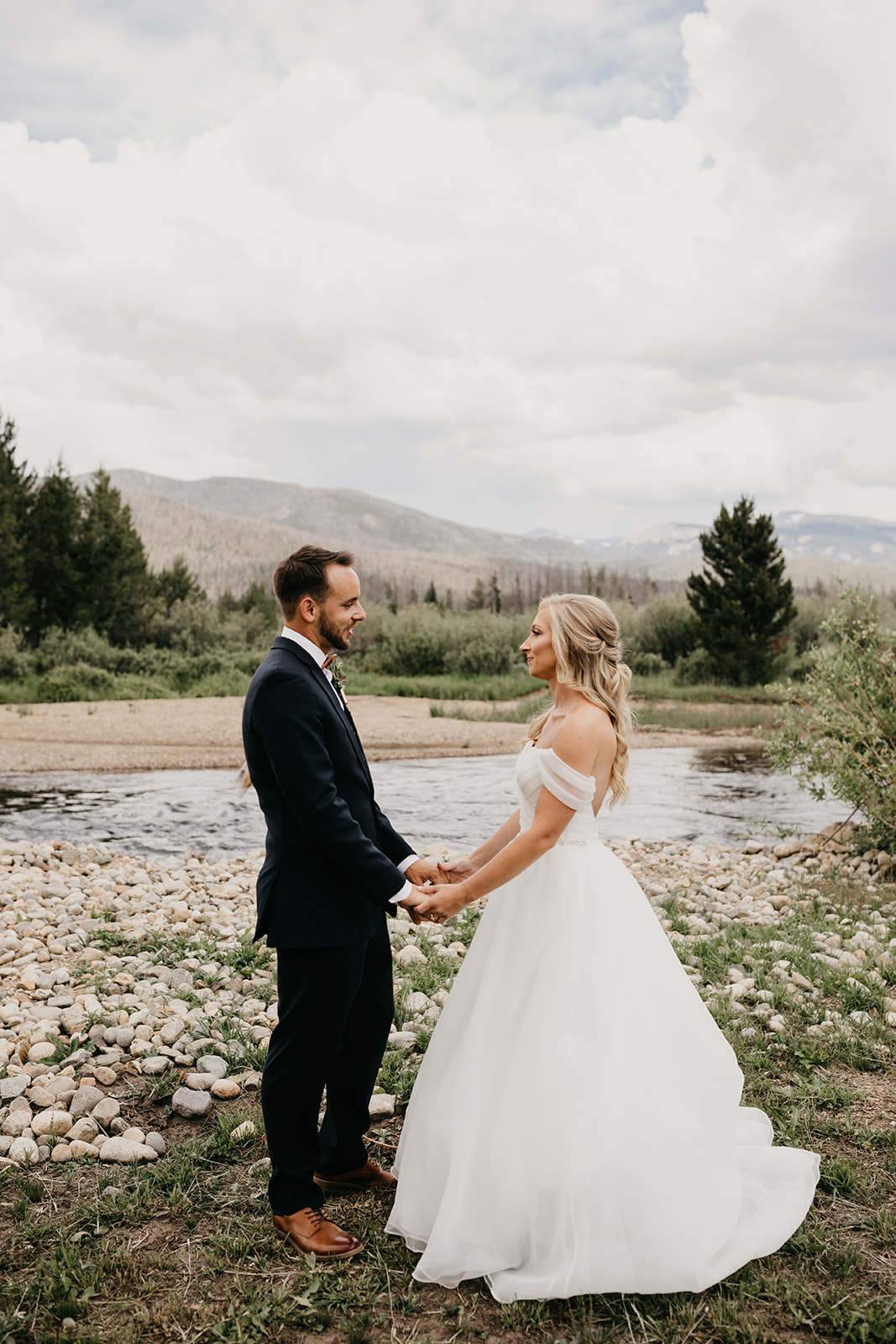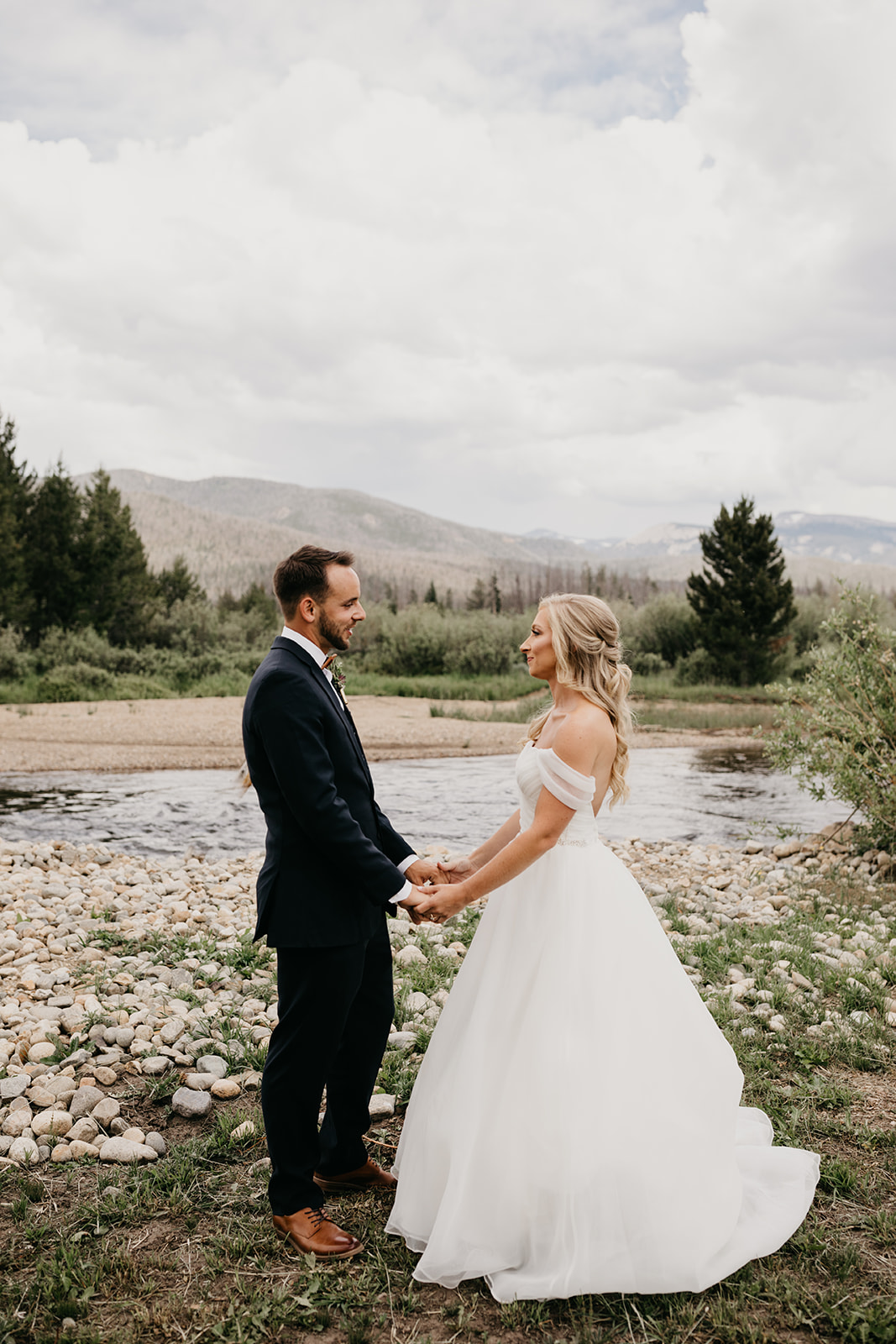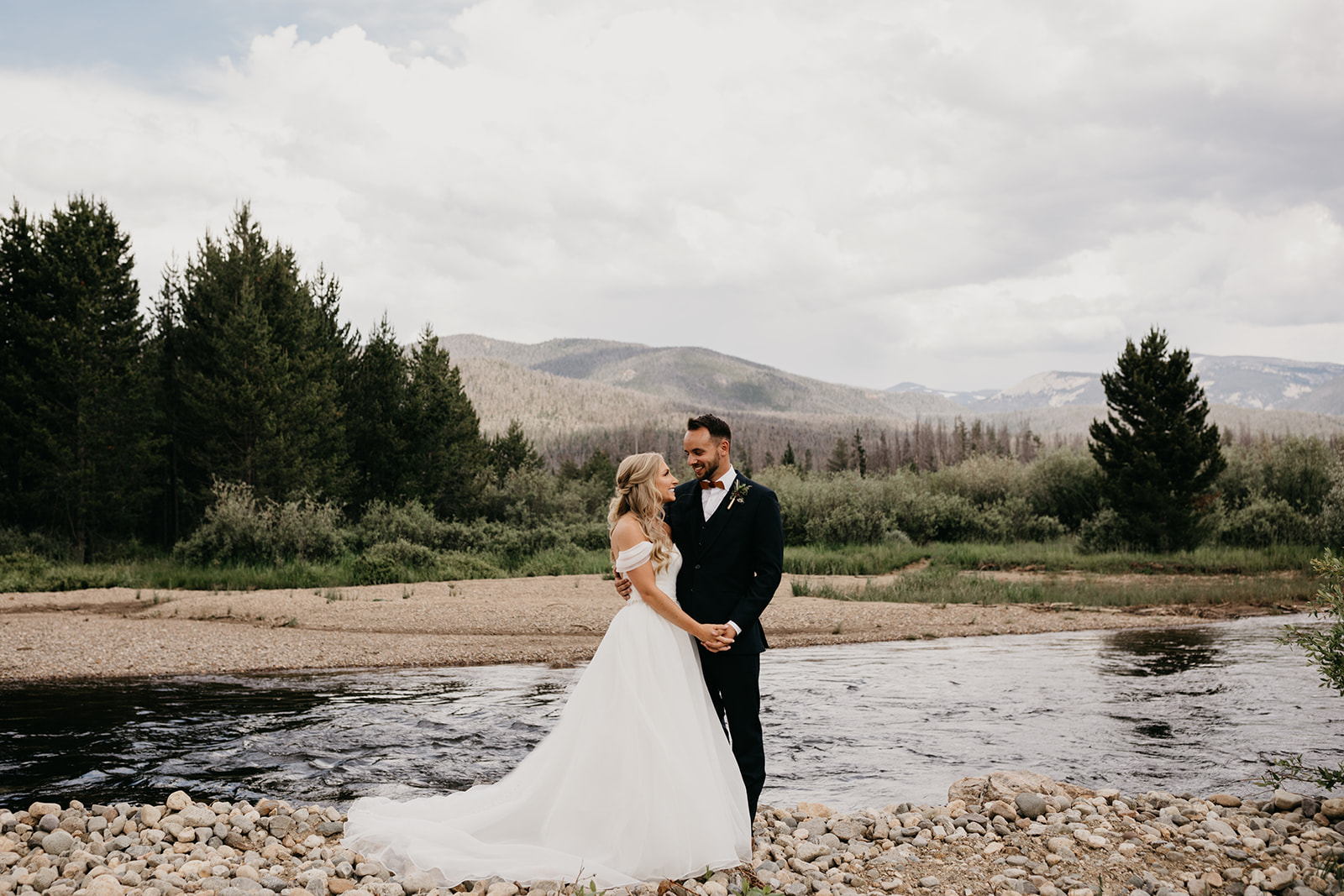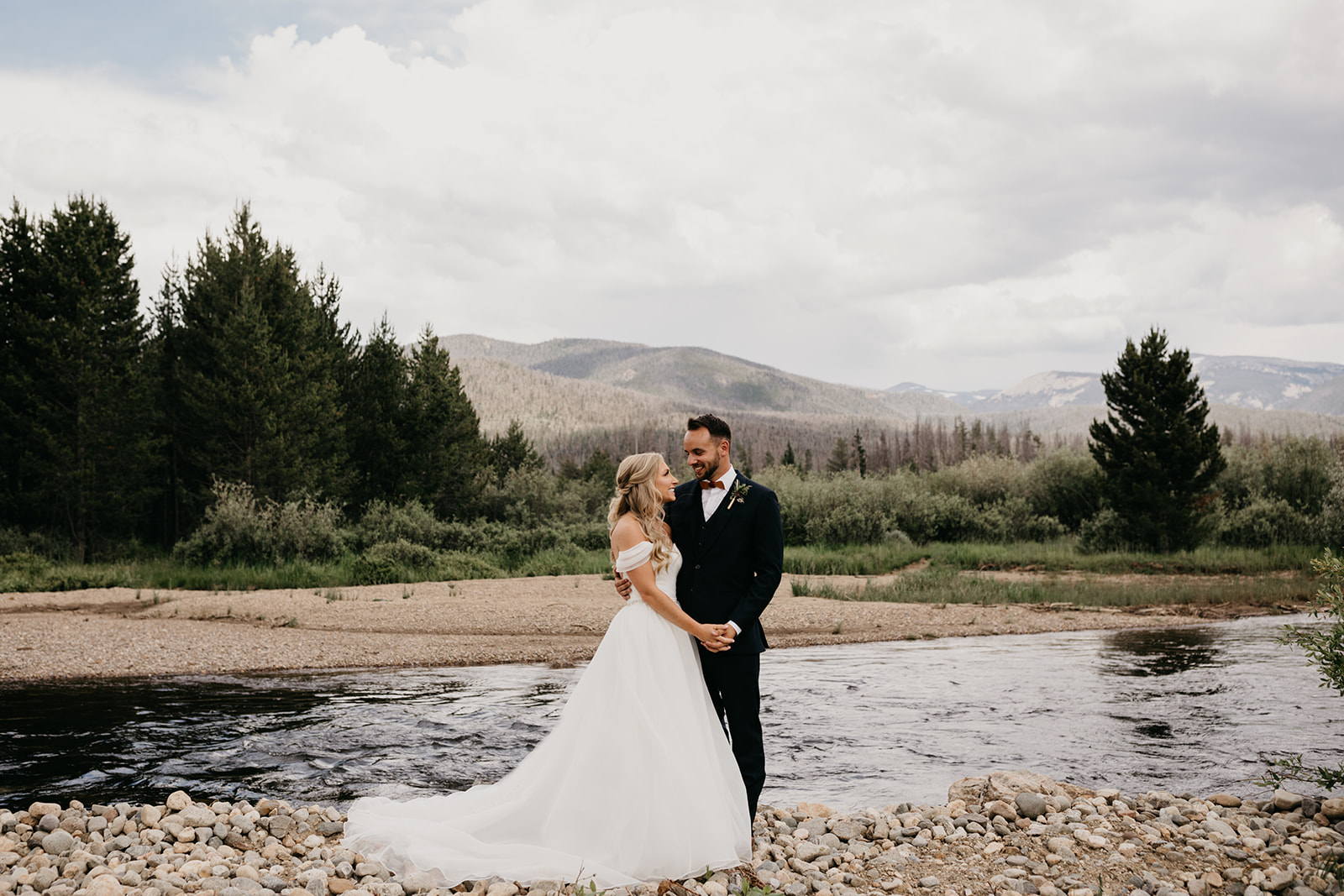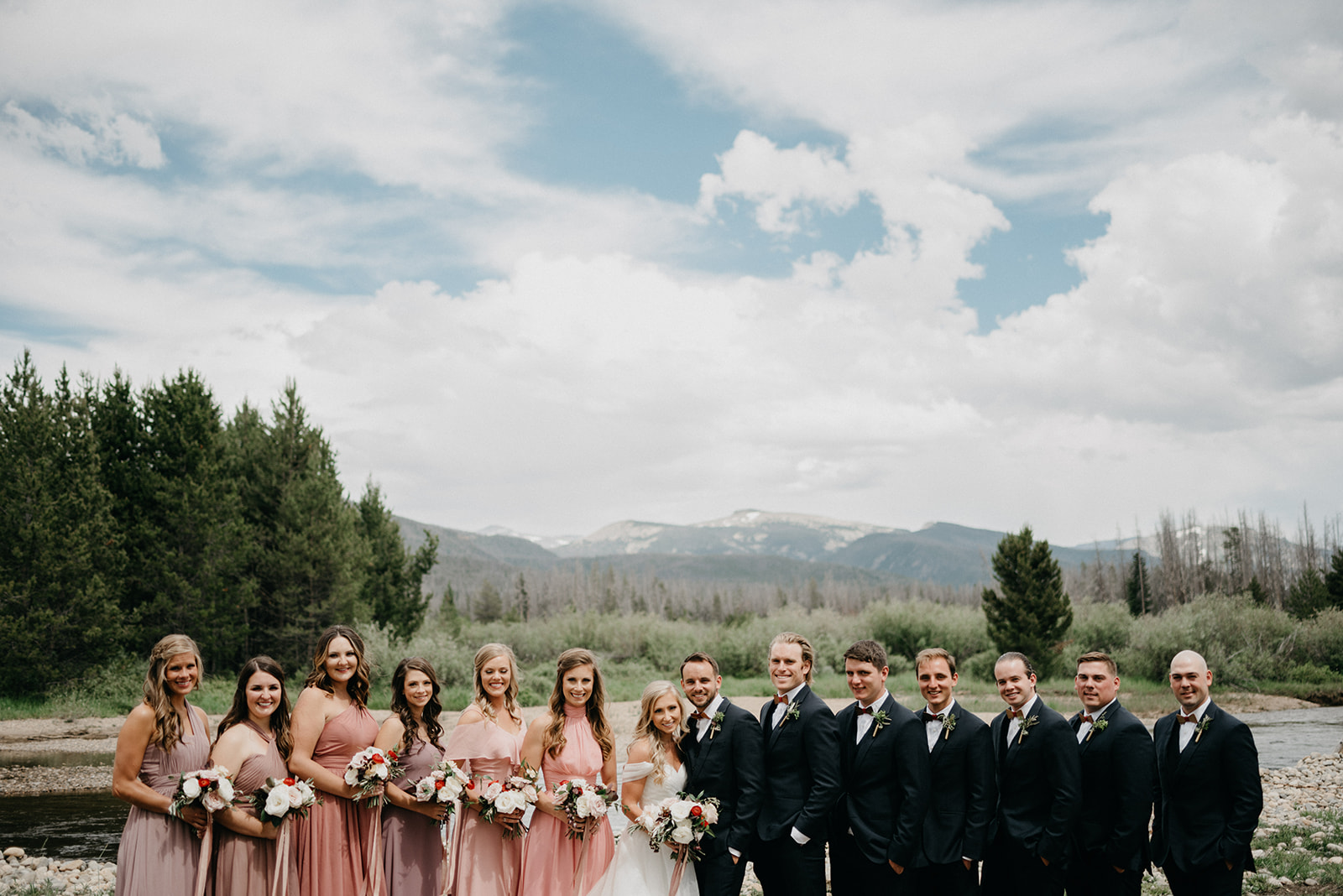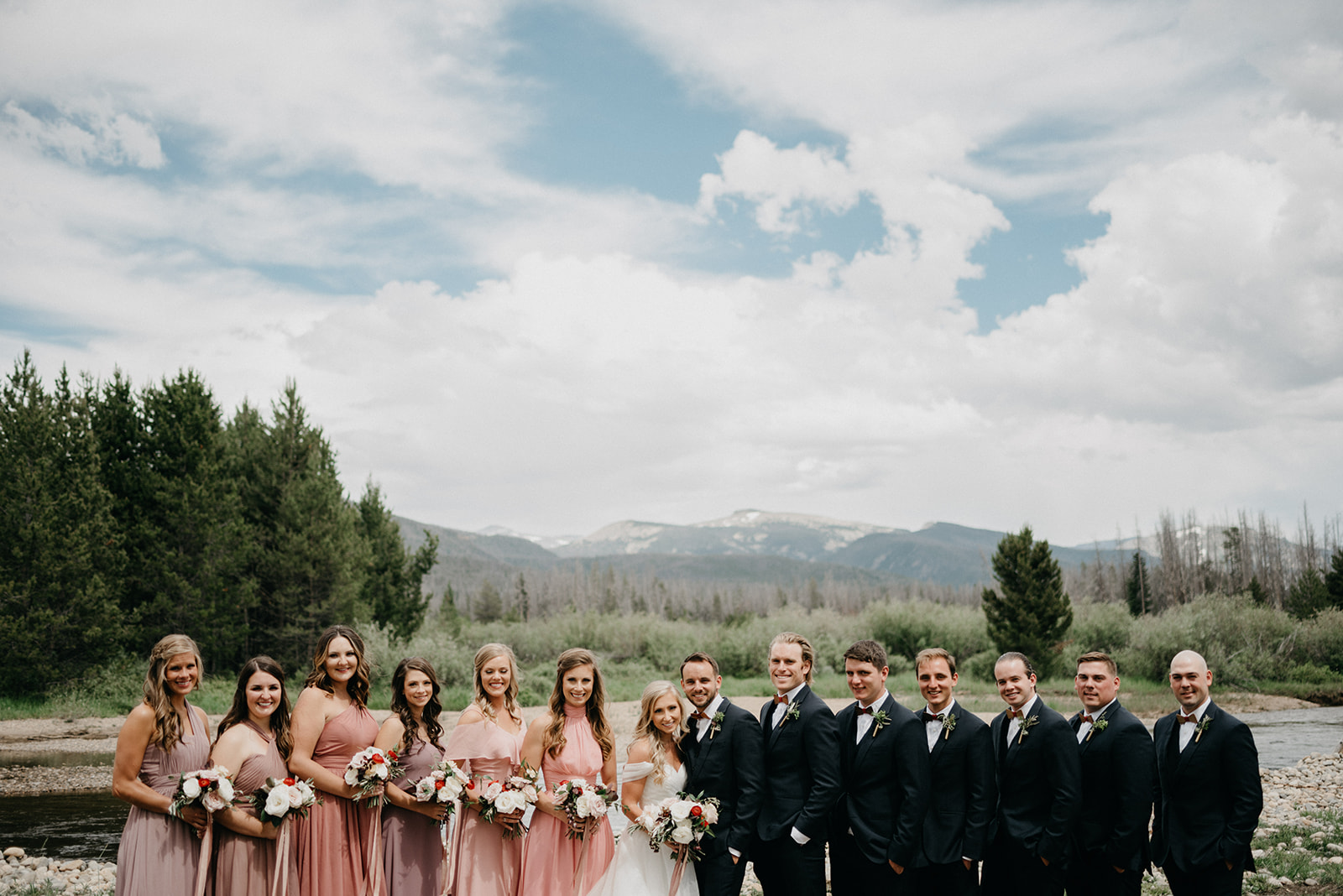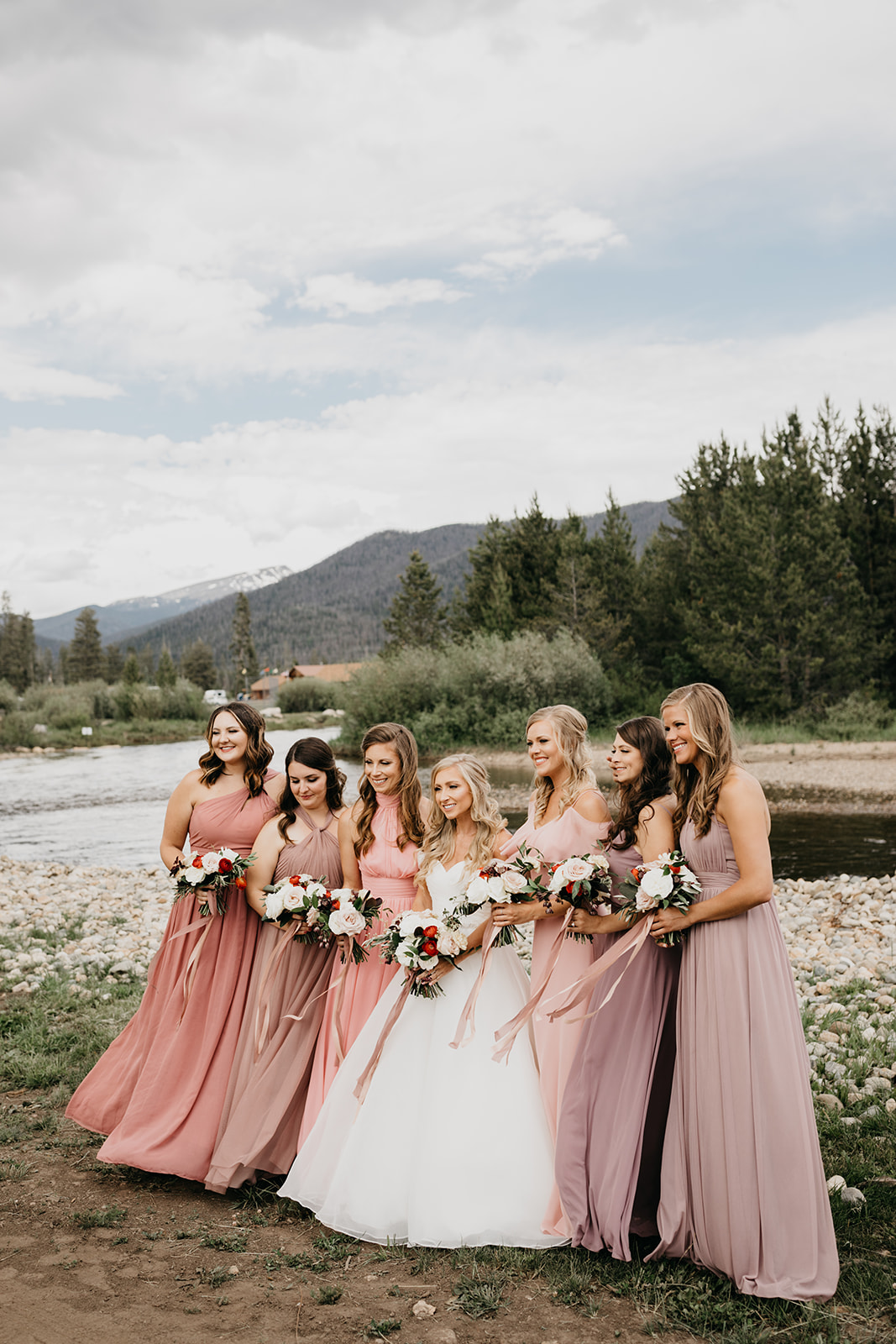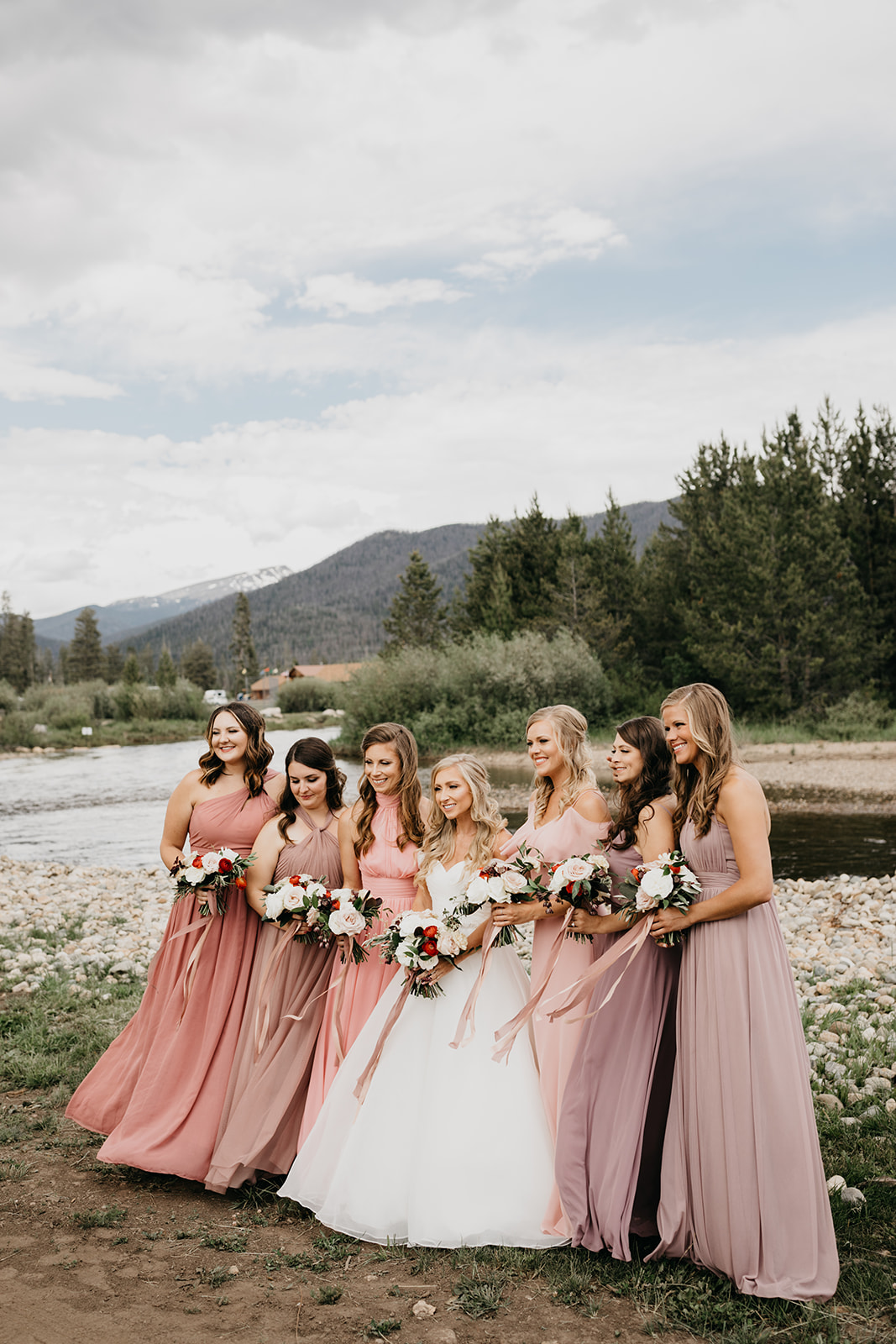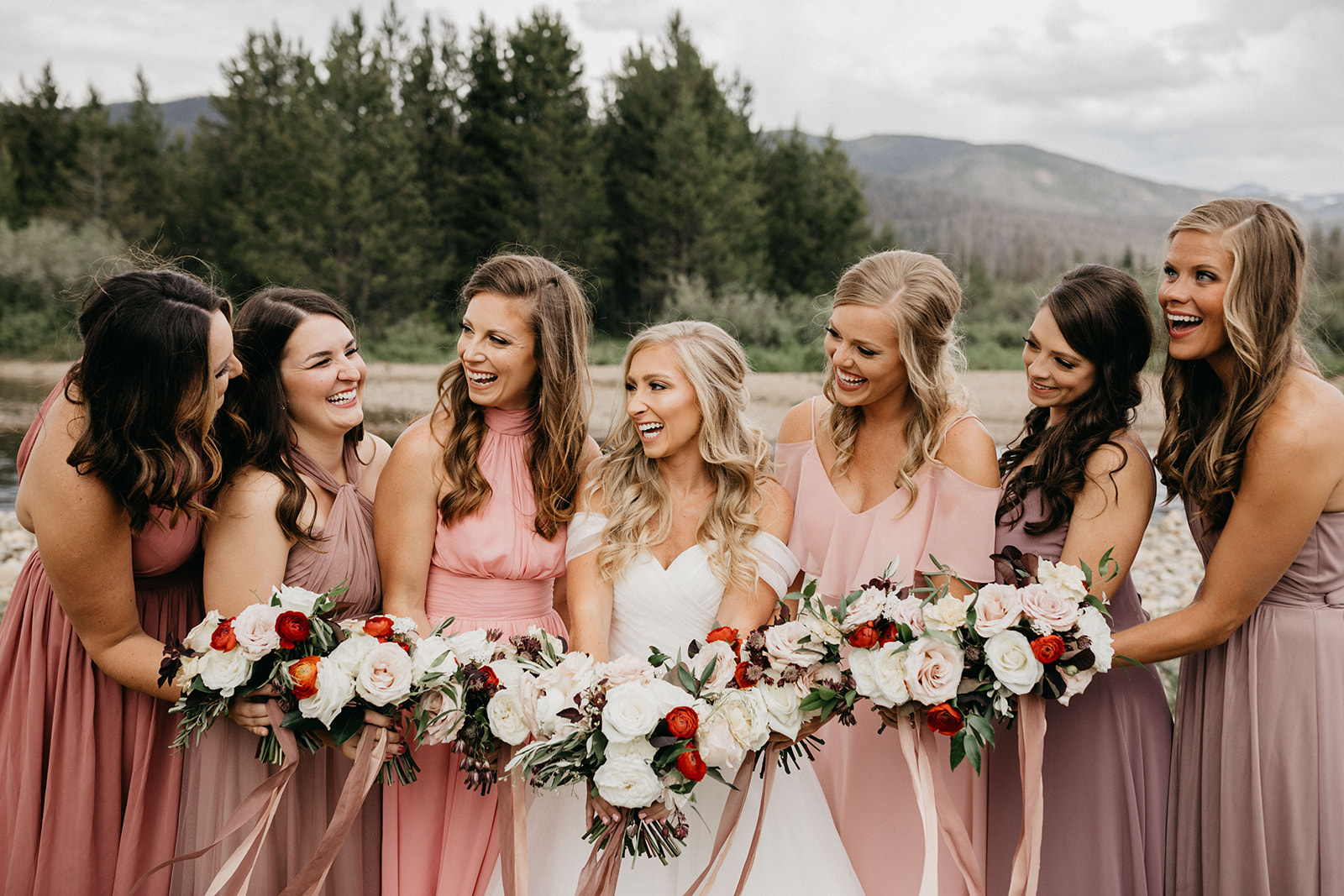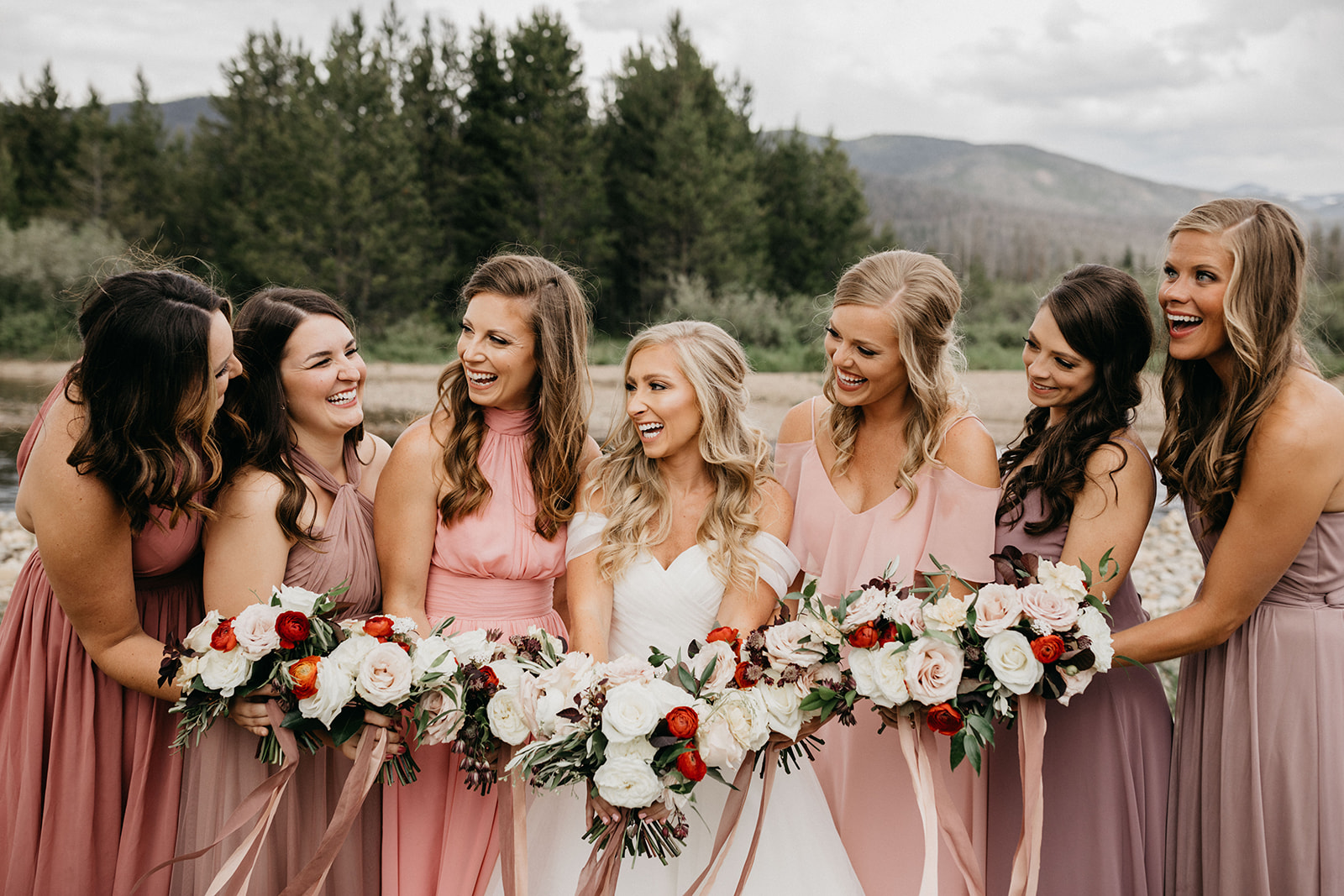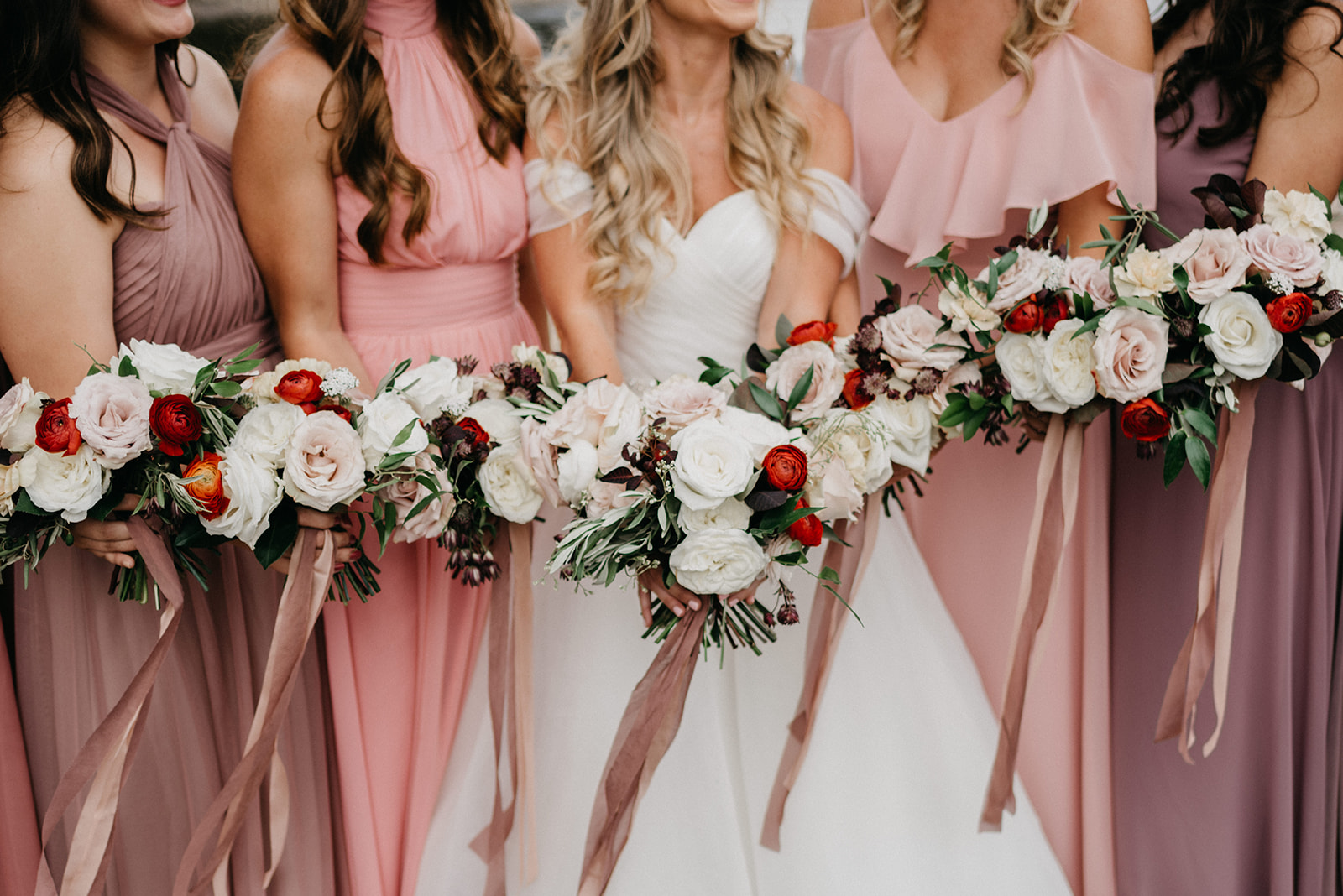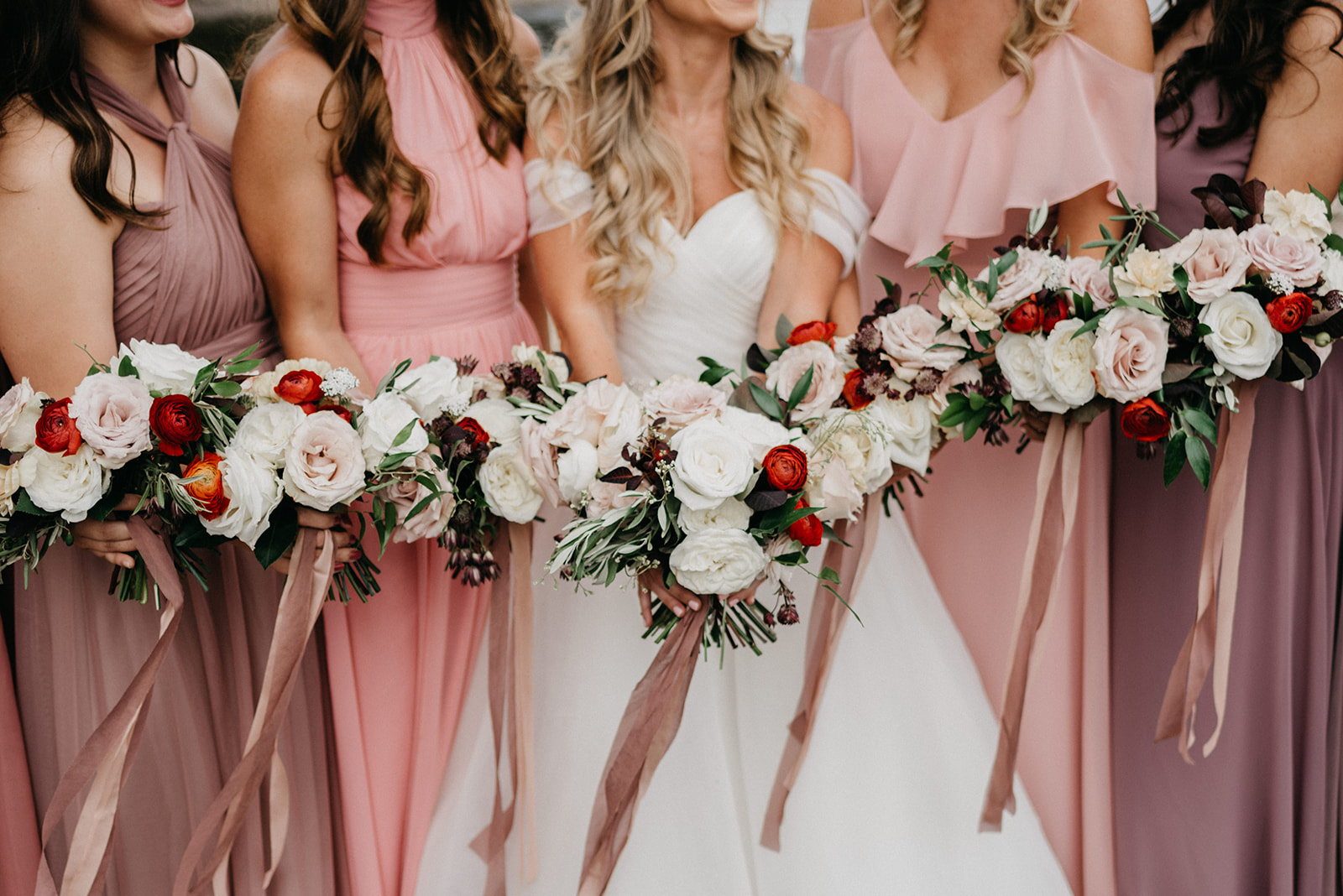 What was extremely special about this wedding day was Nicole and Corey were married at Nicole's aunt and uncle's resort in Grand Lake, Colorado. The resort was stunning and allowed the Colorado beauty to shine through on the wedding day. Nicole and Corey had their ceremony in the same meadow her aunt and uncle were married in.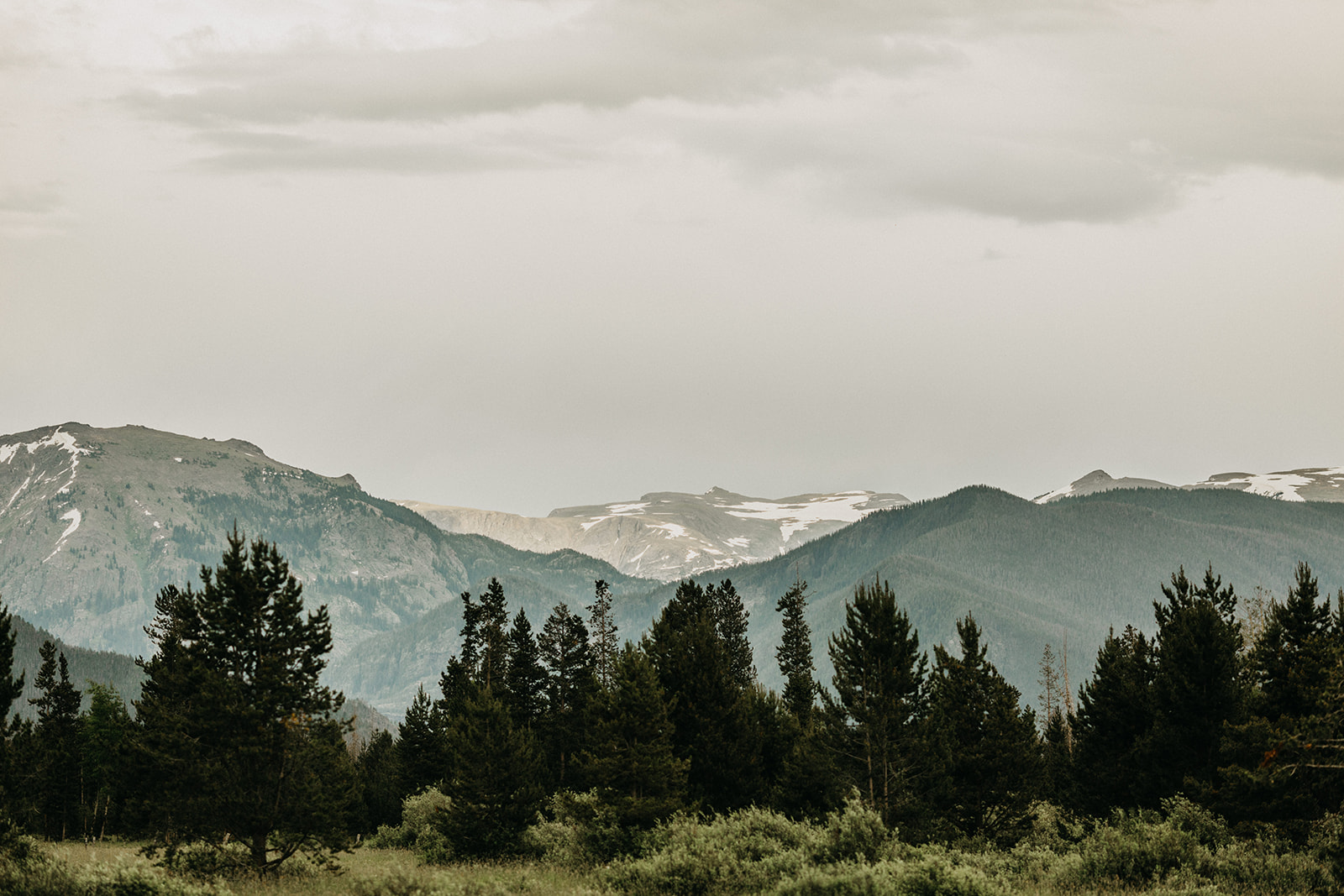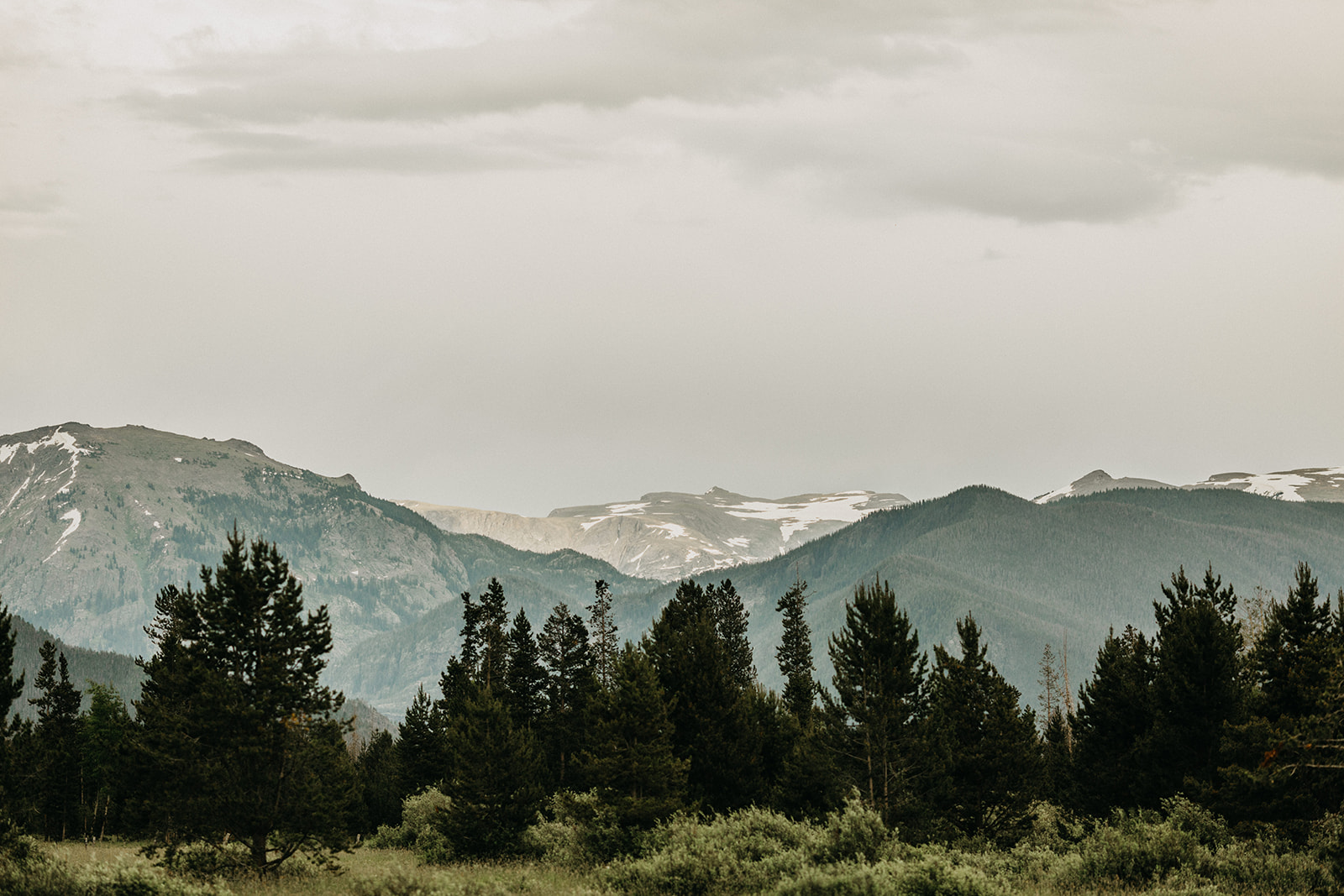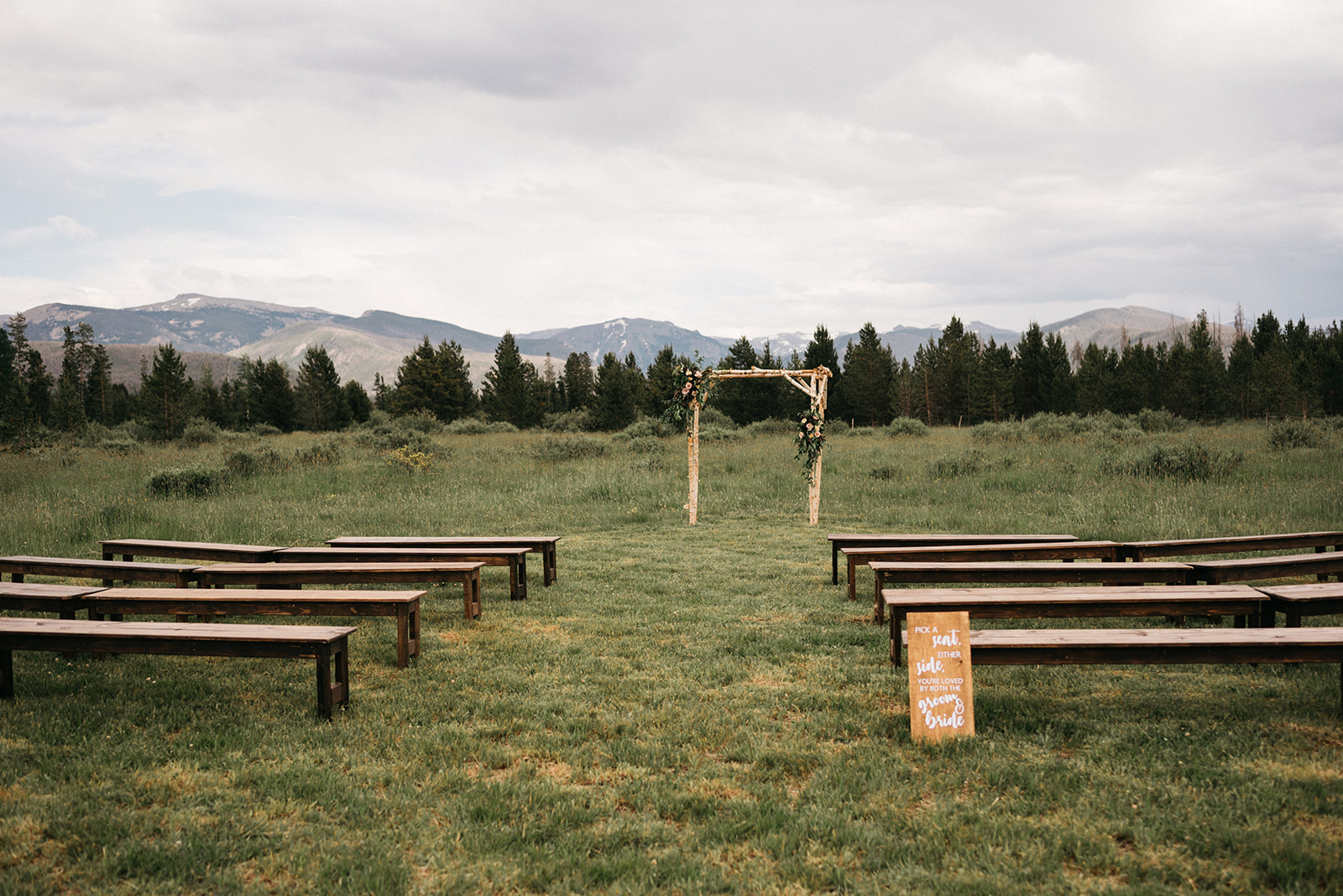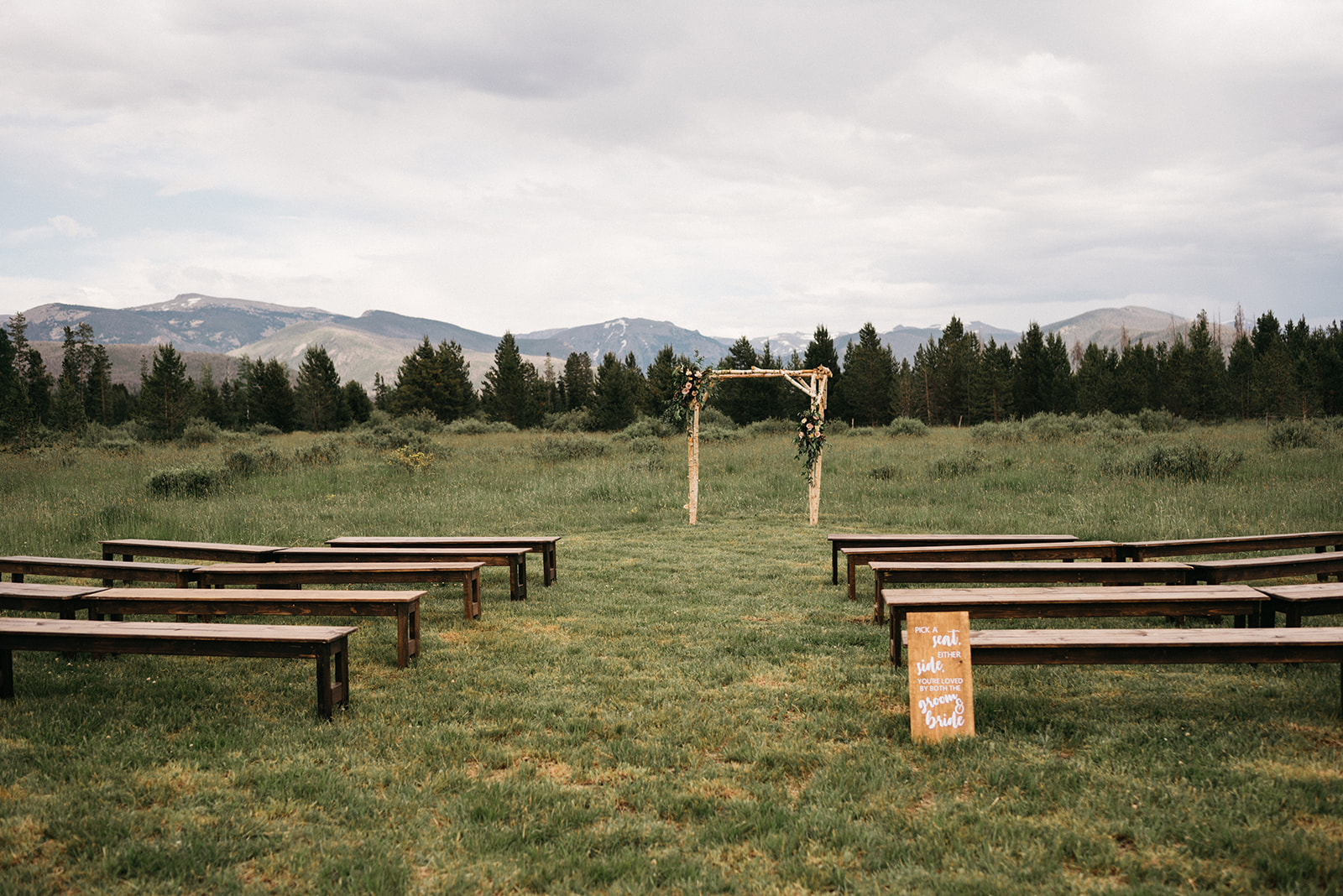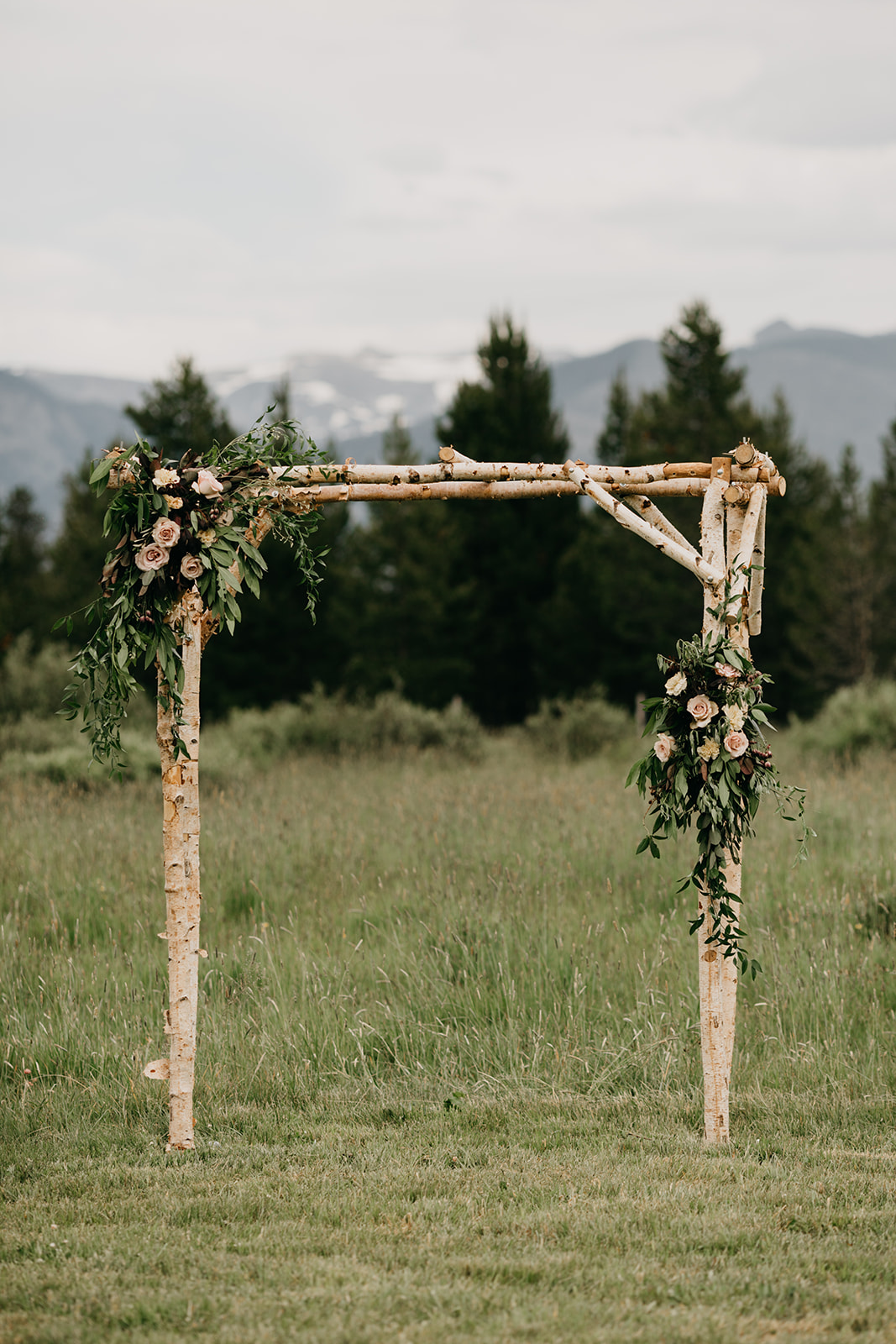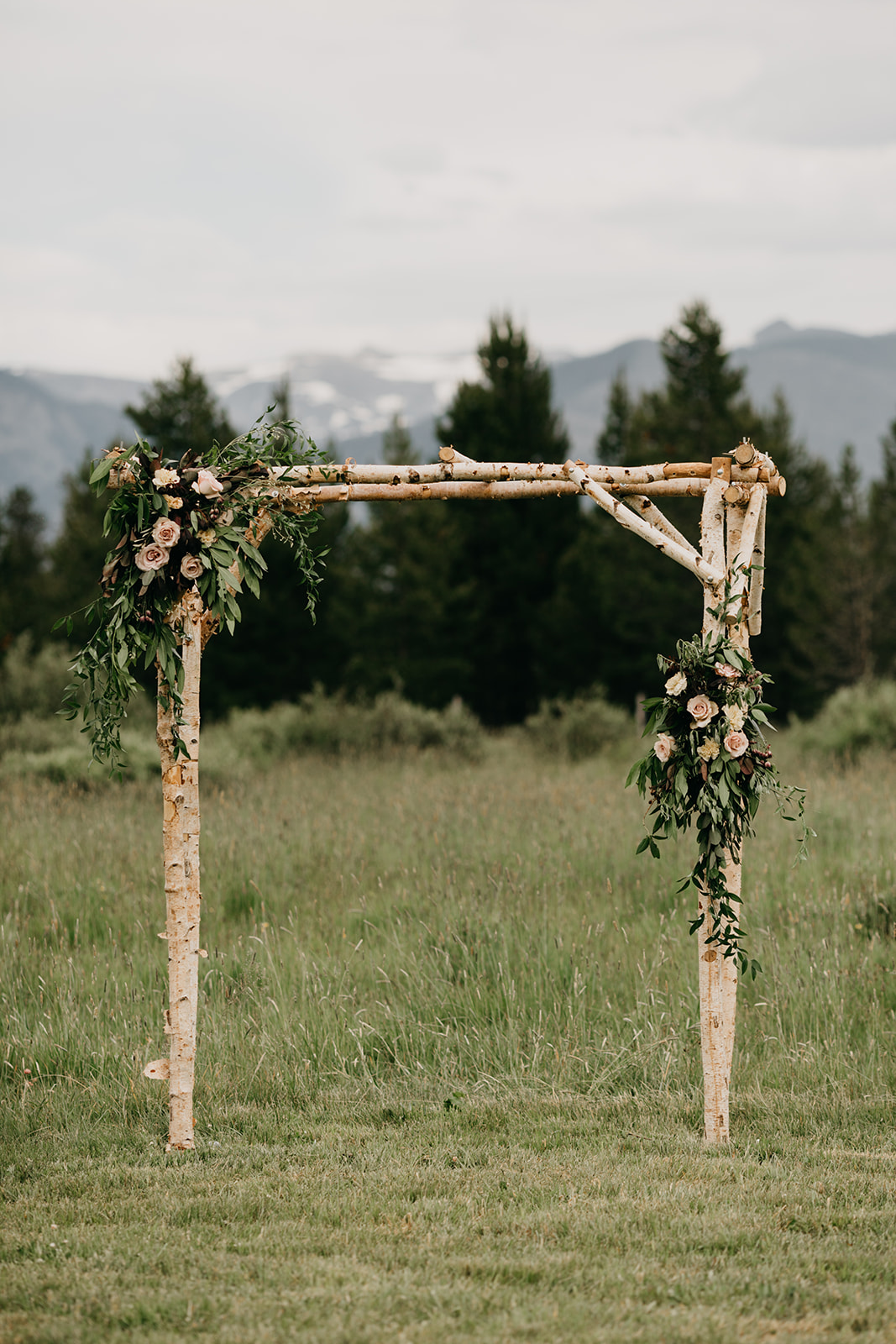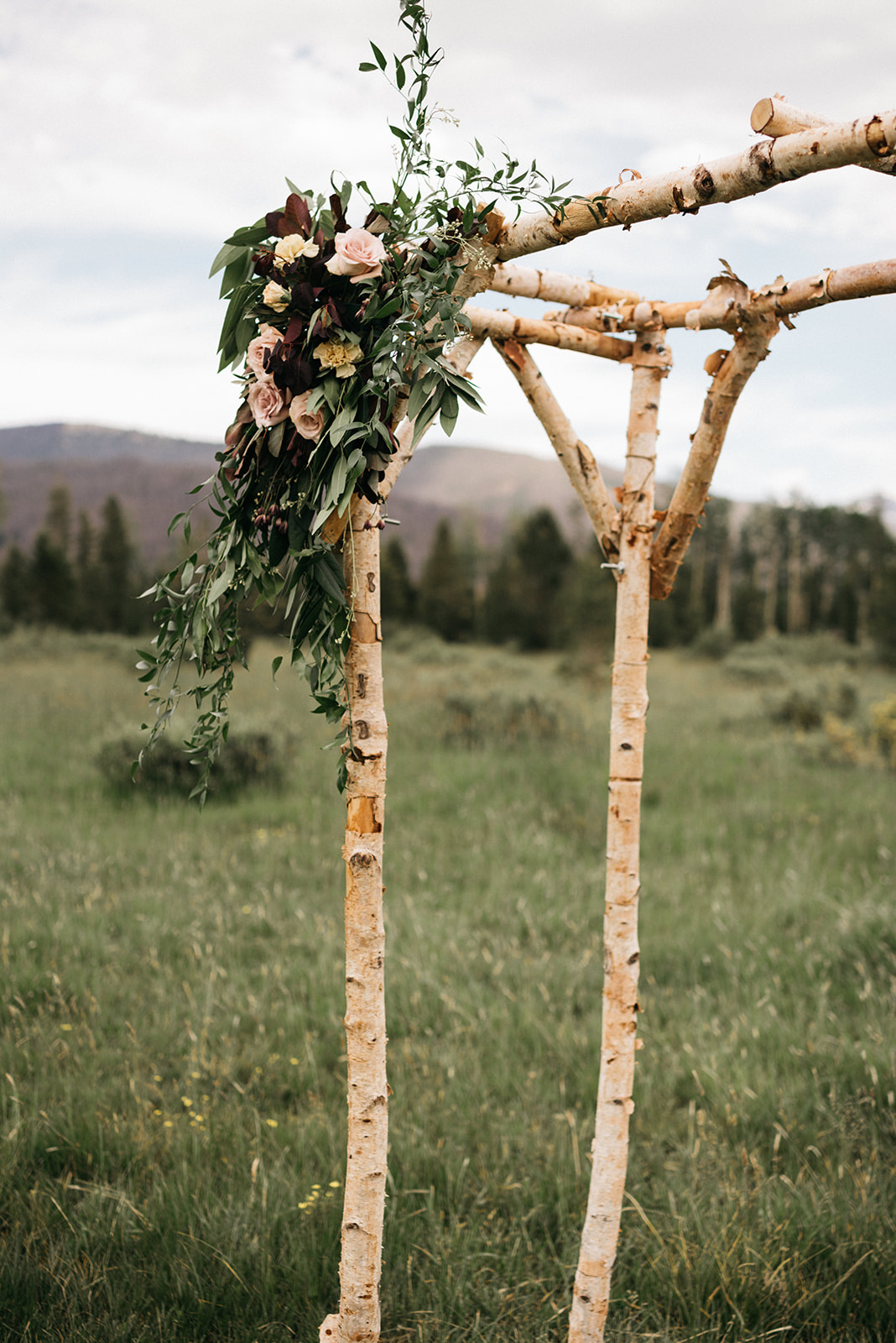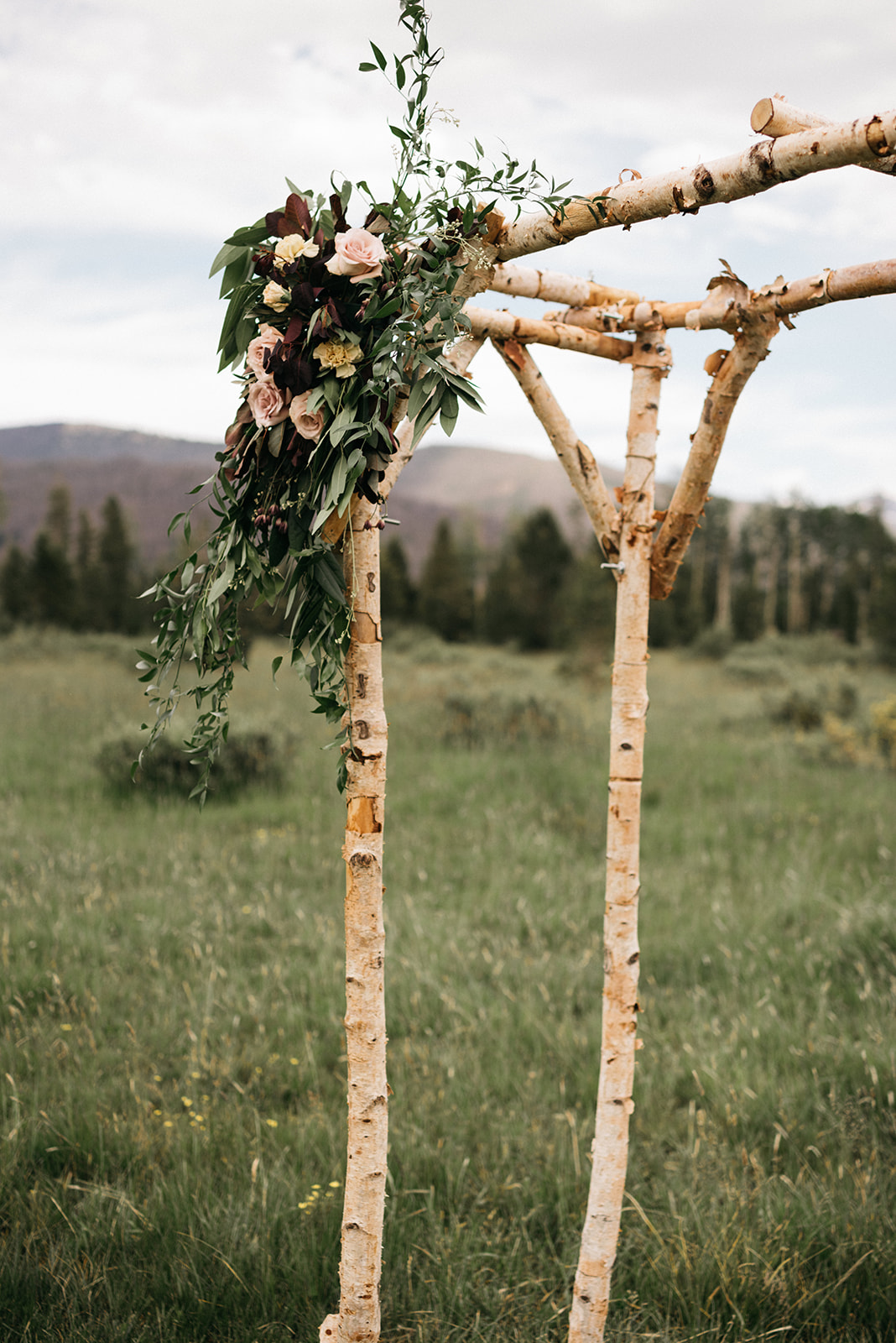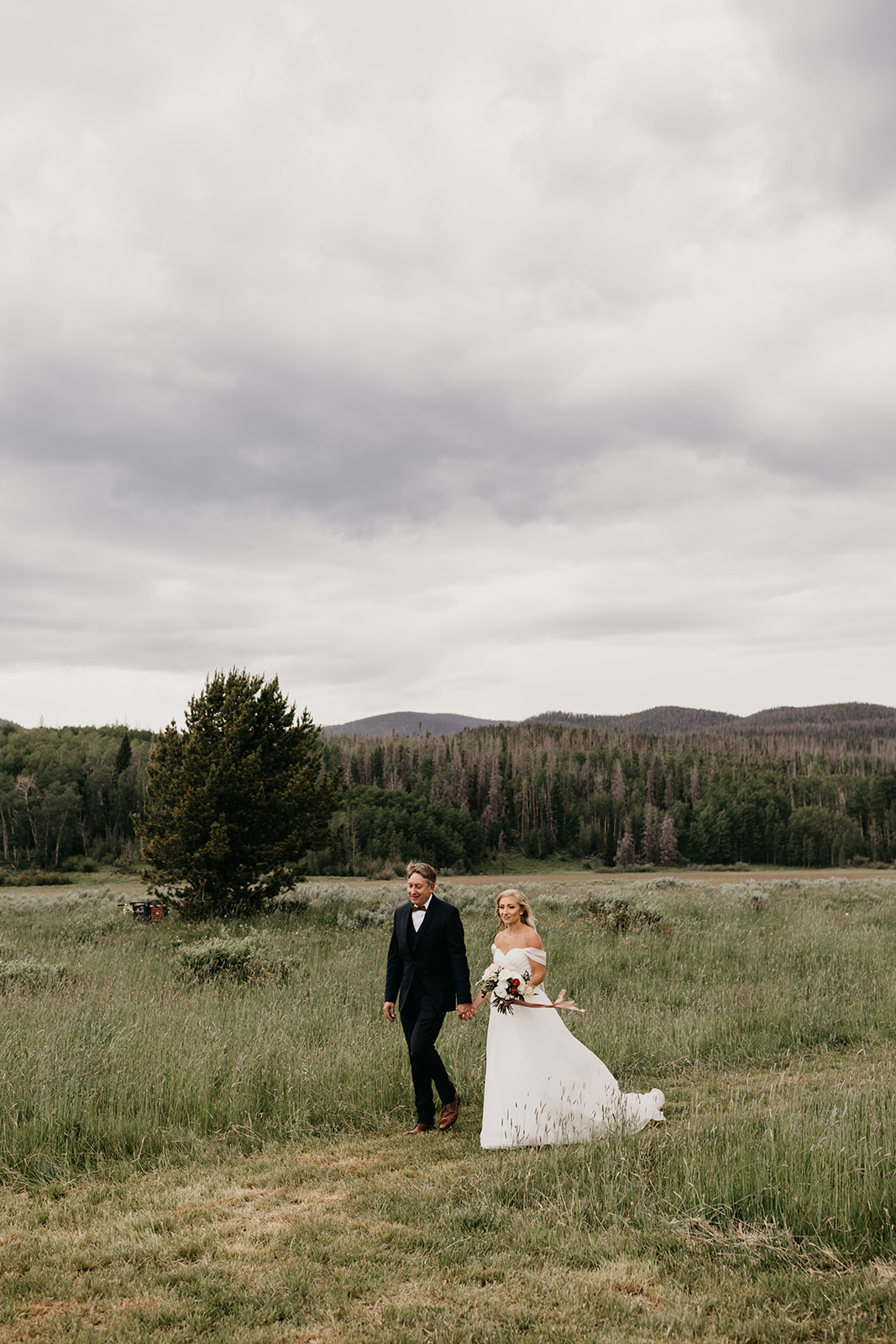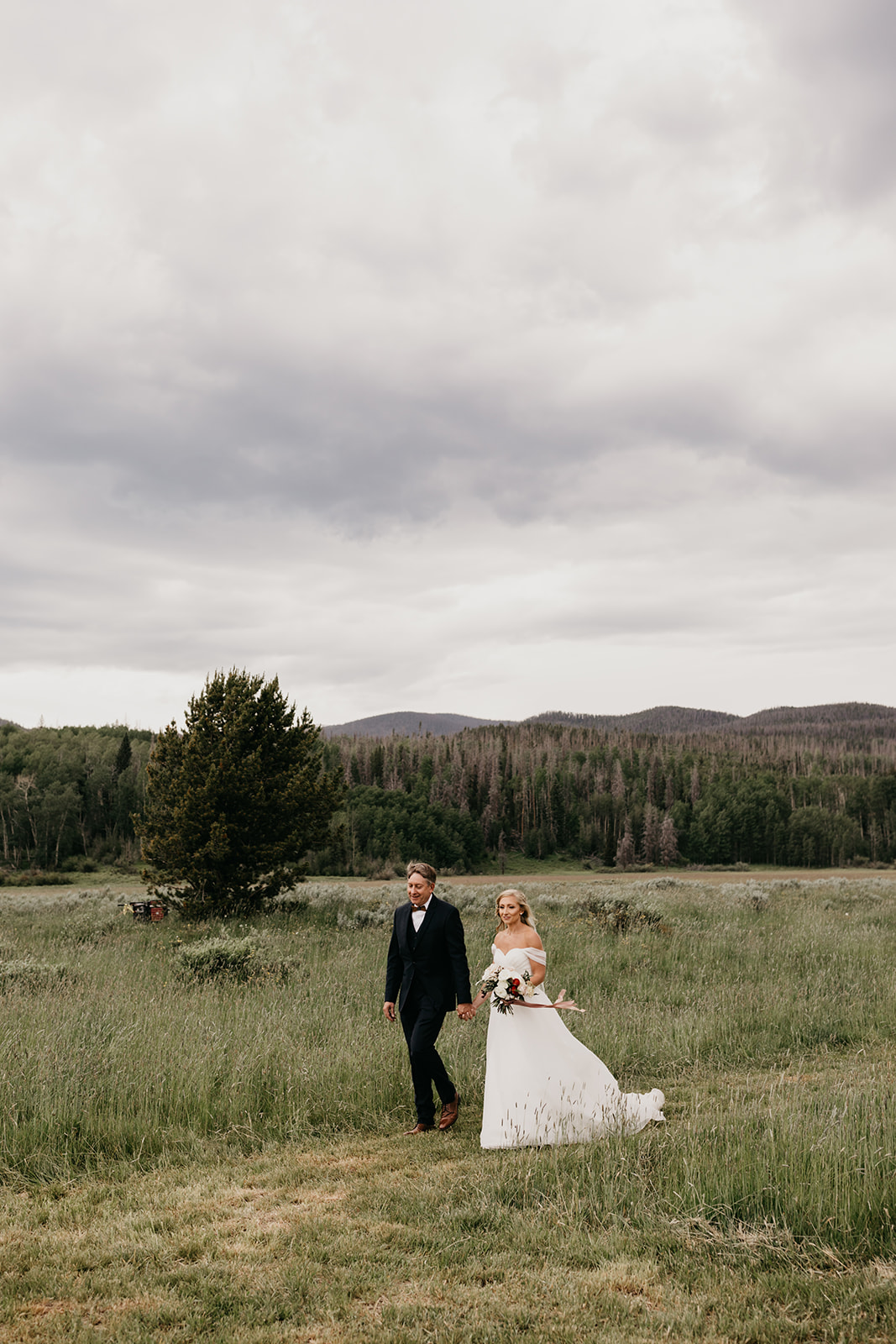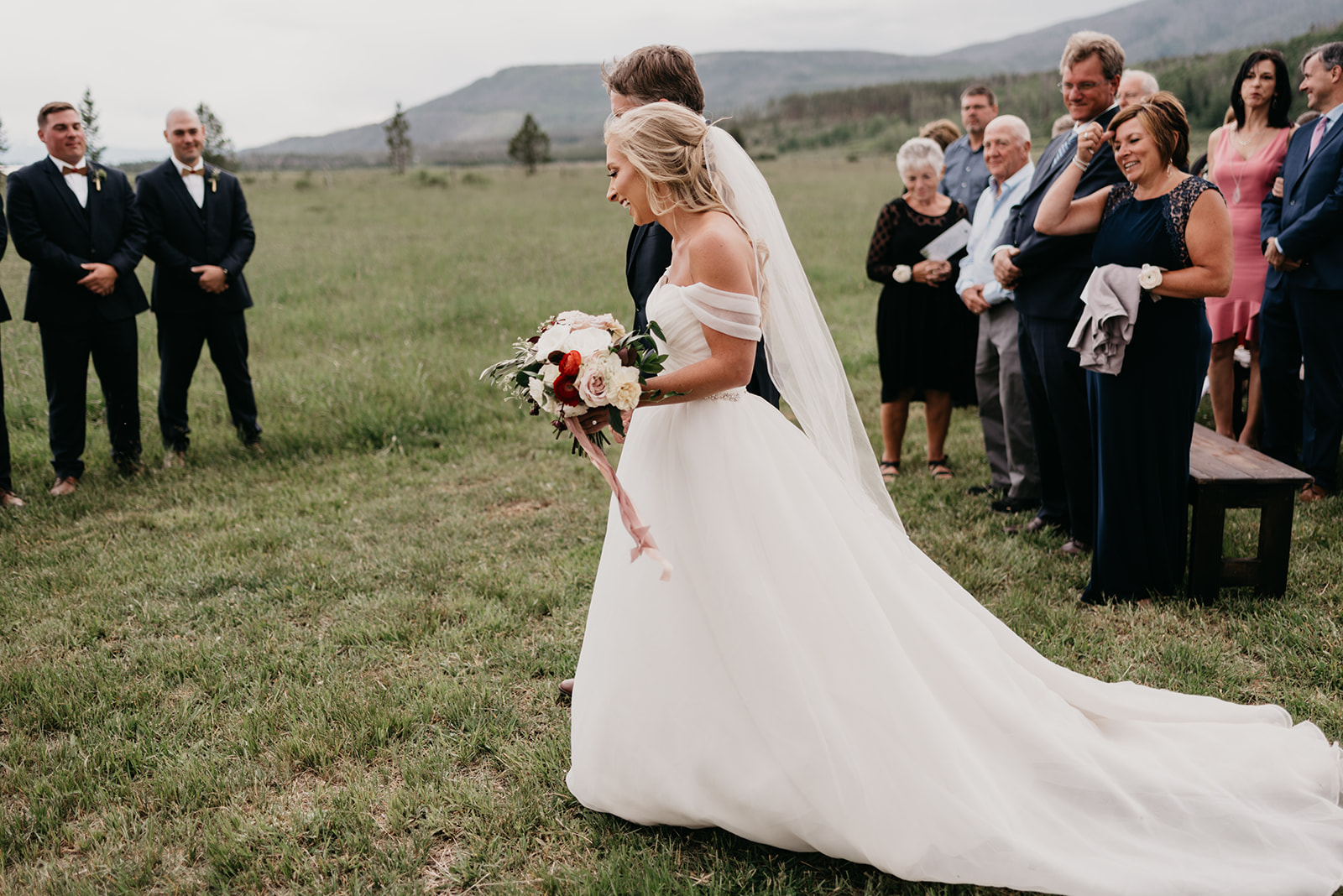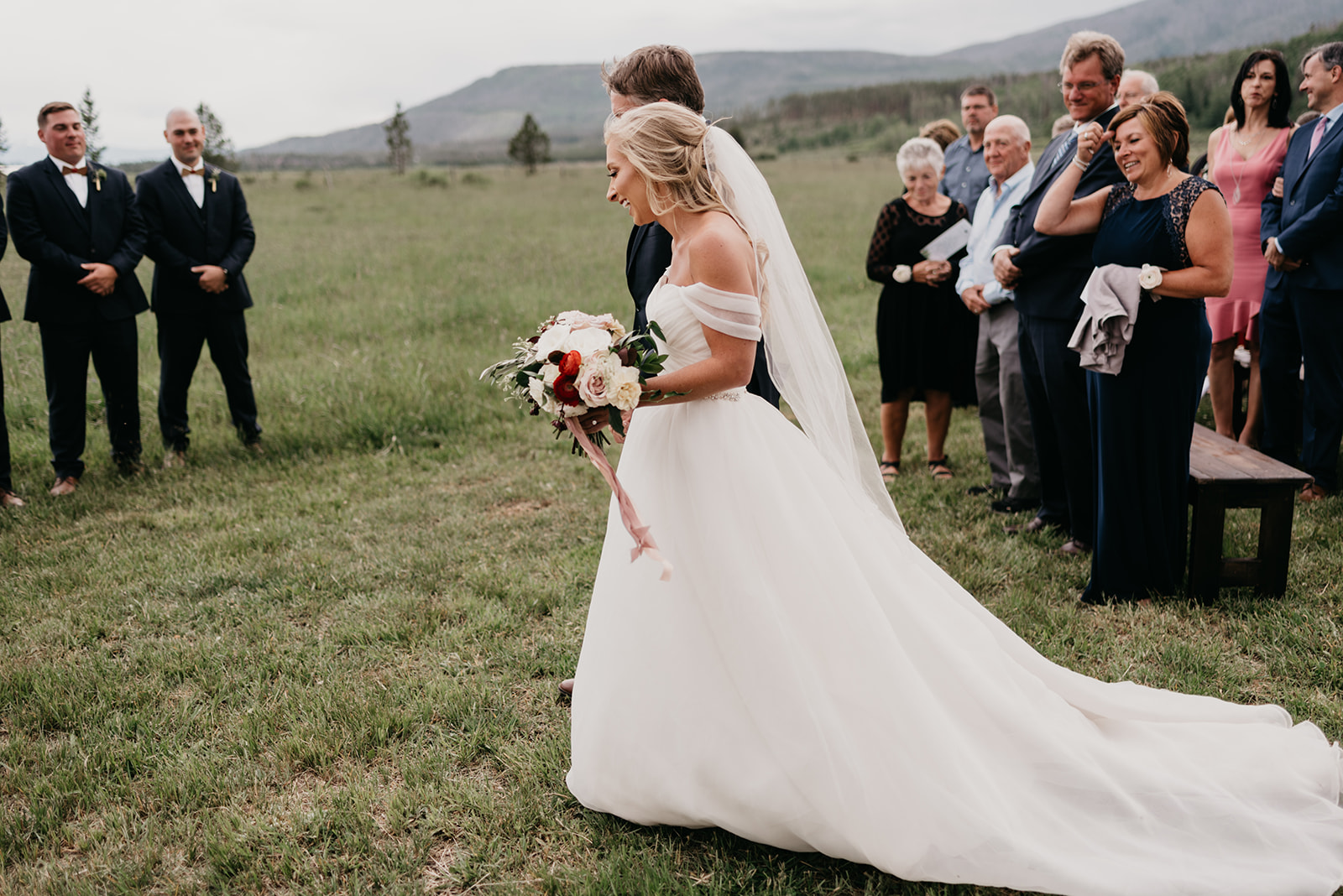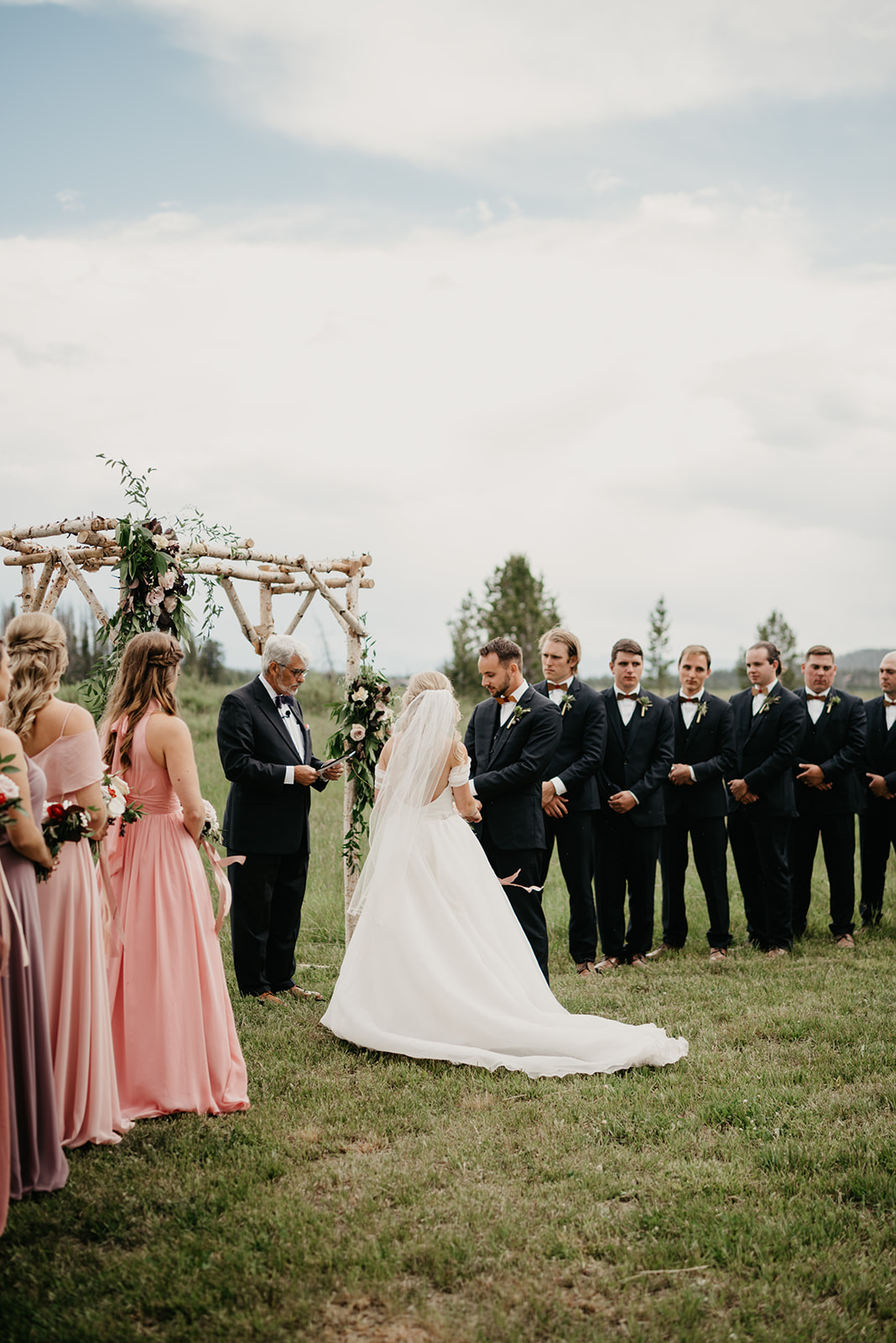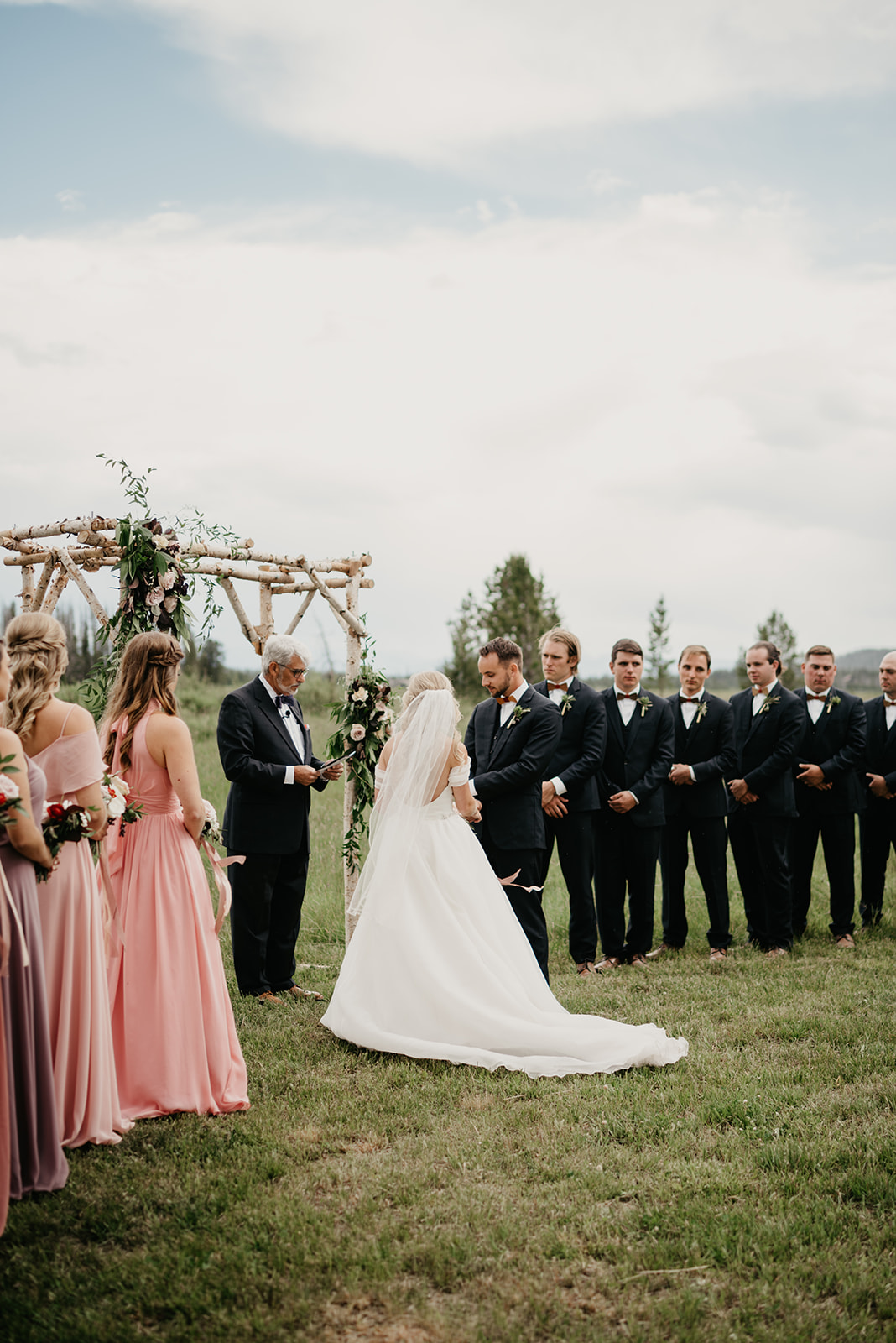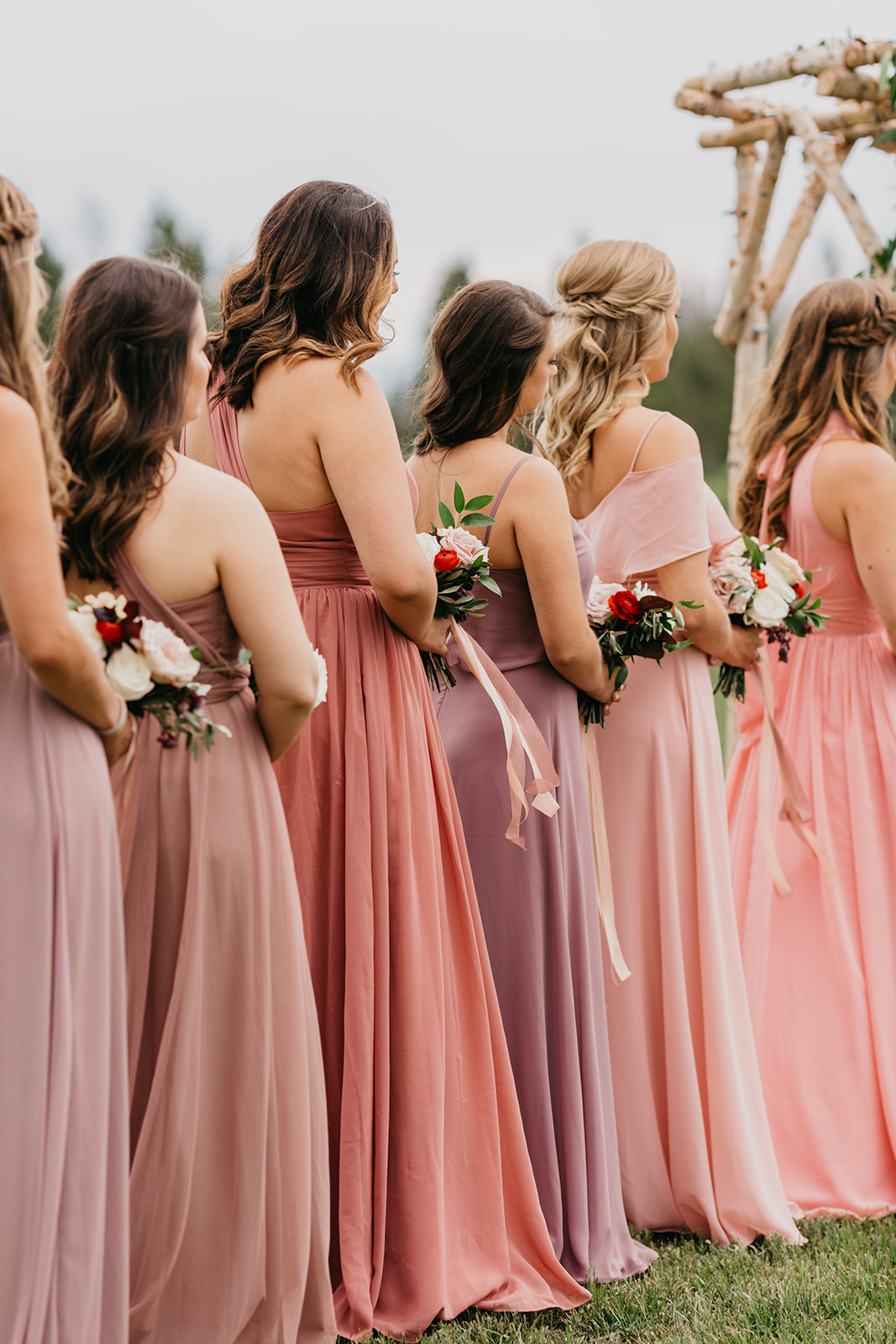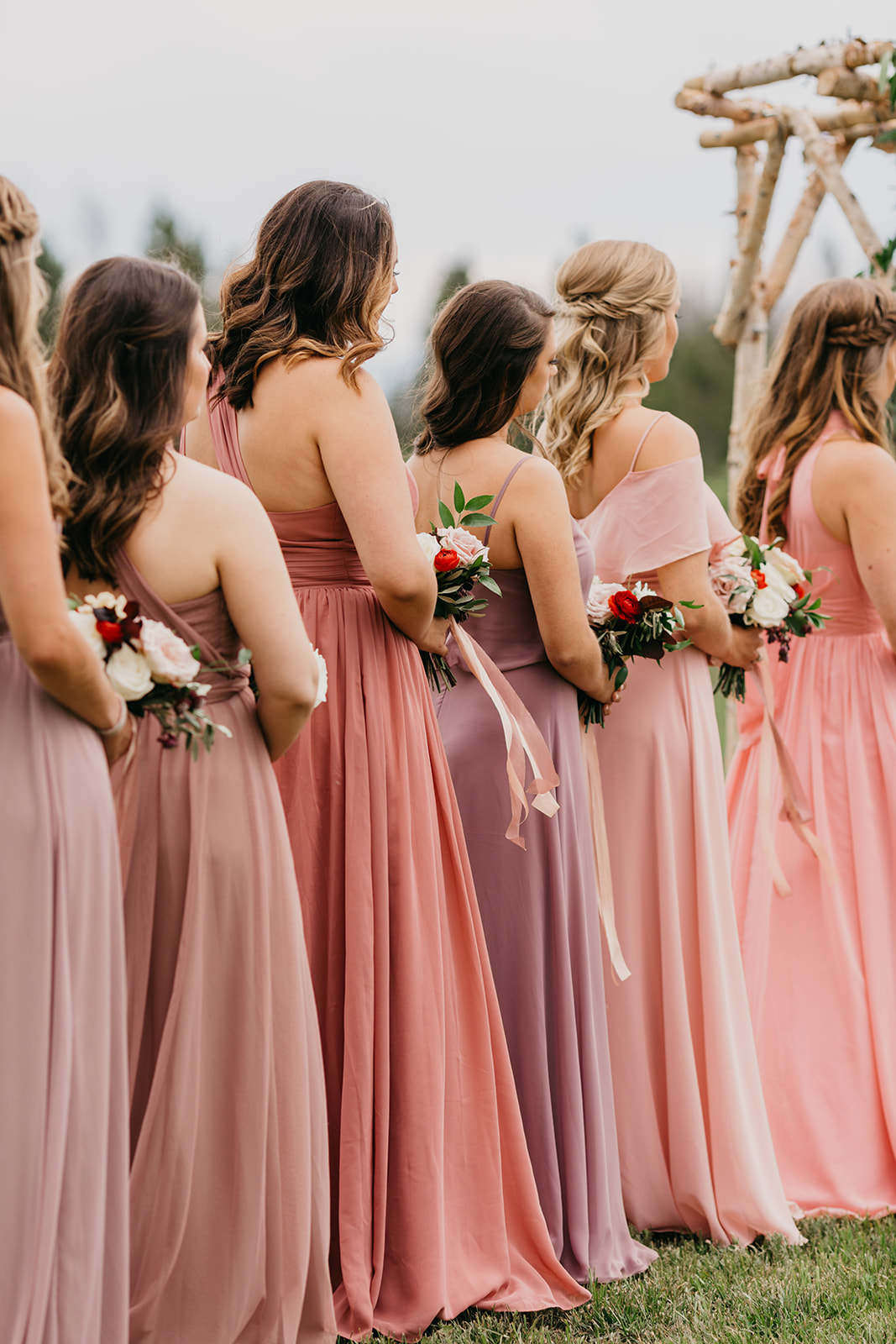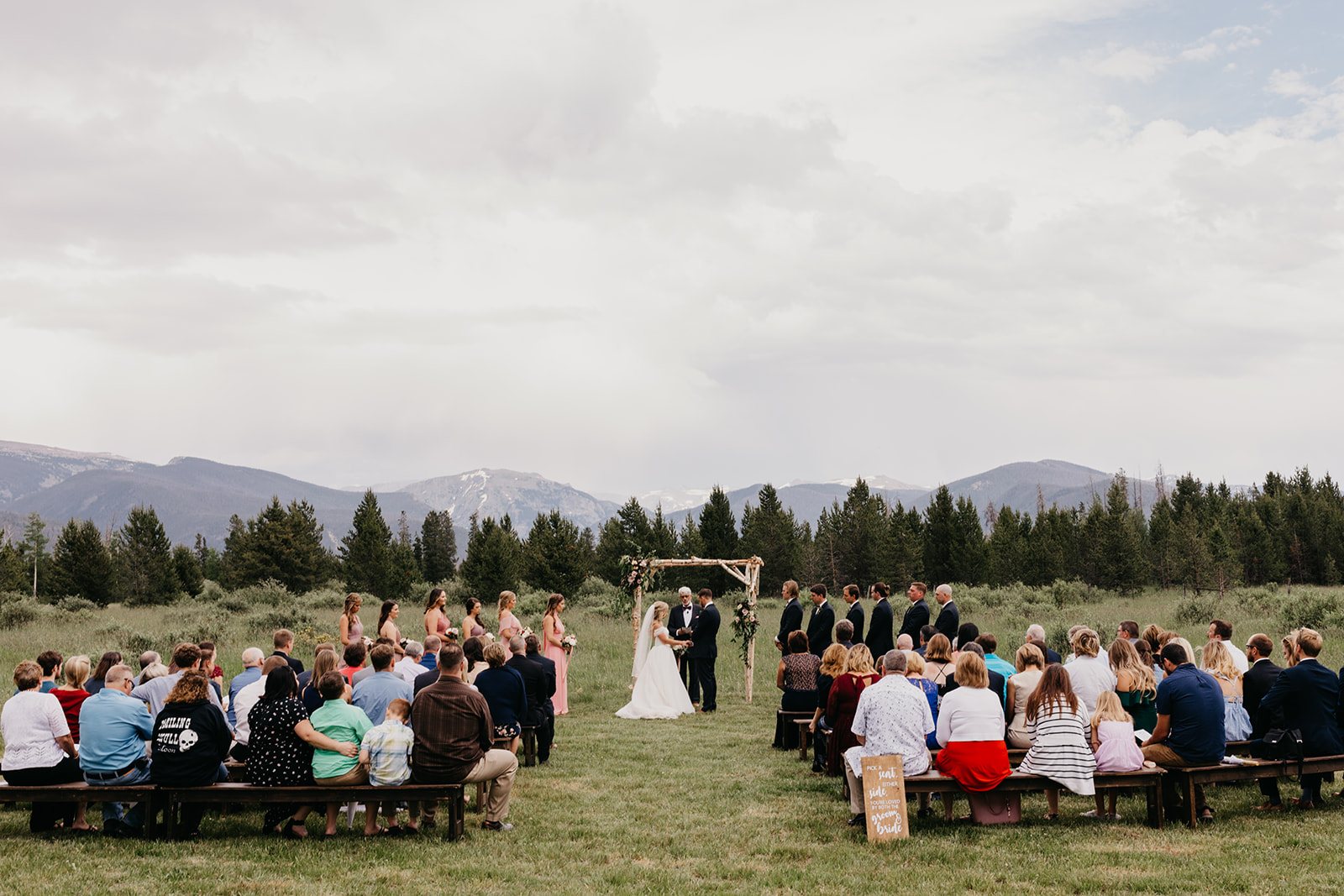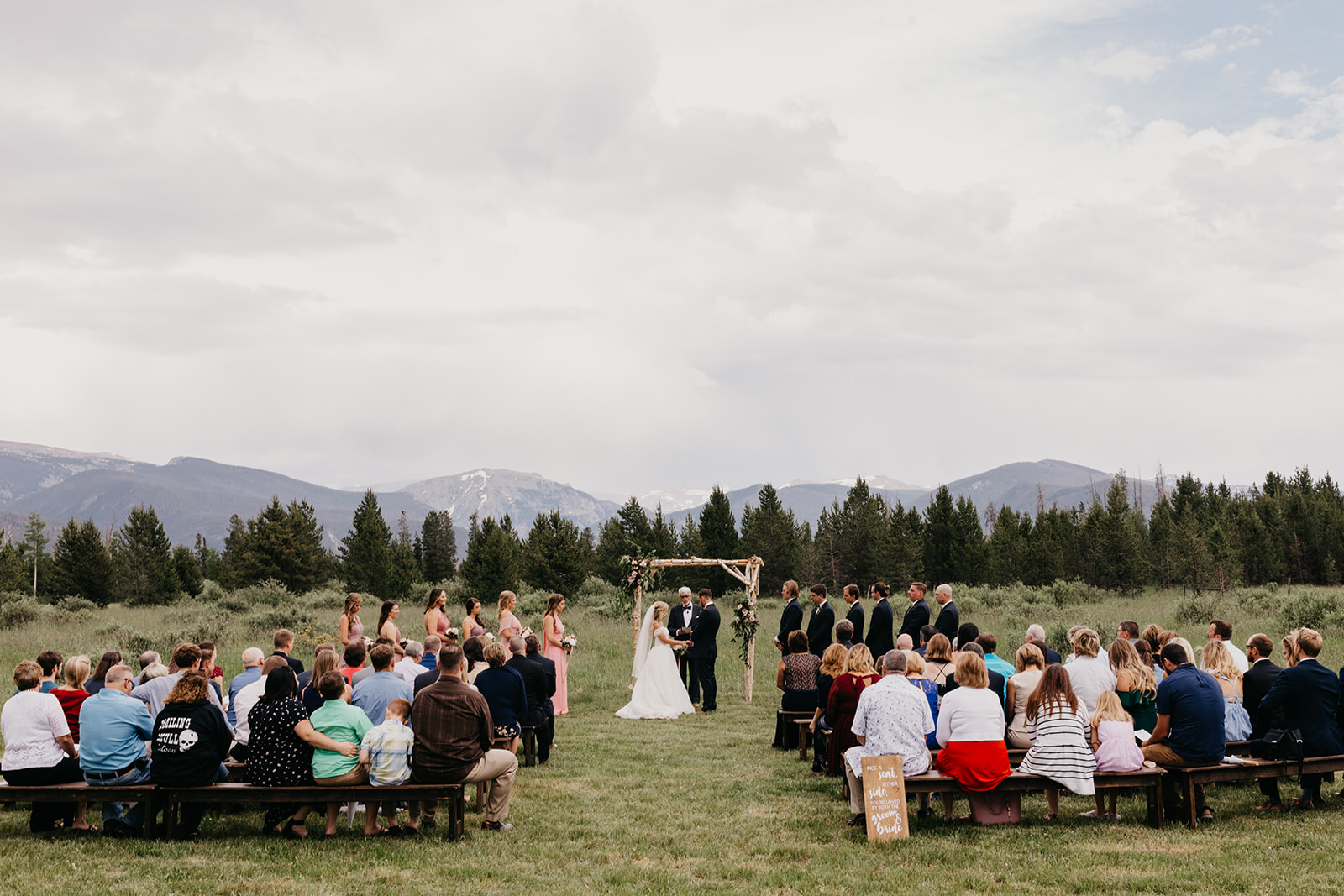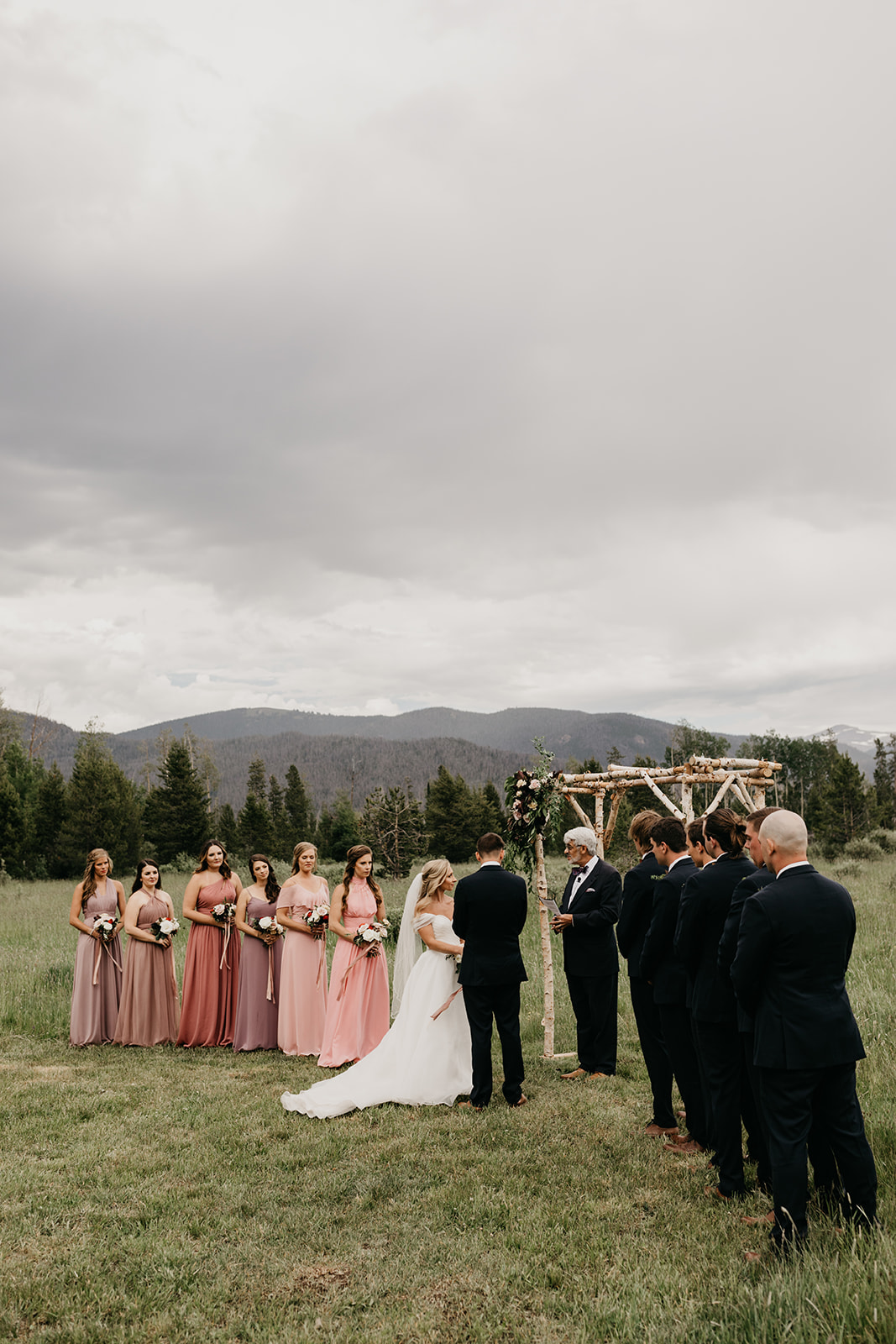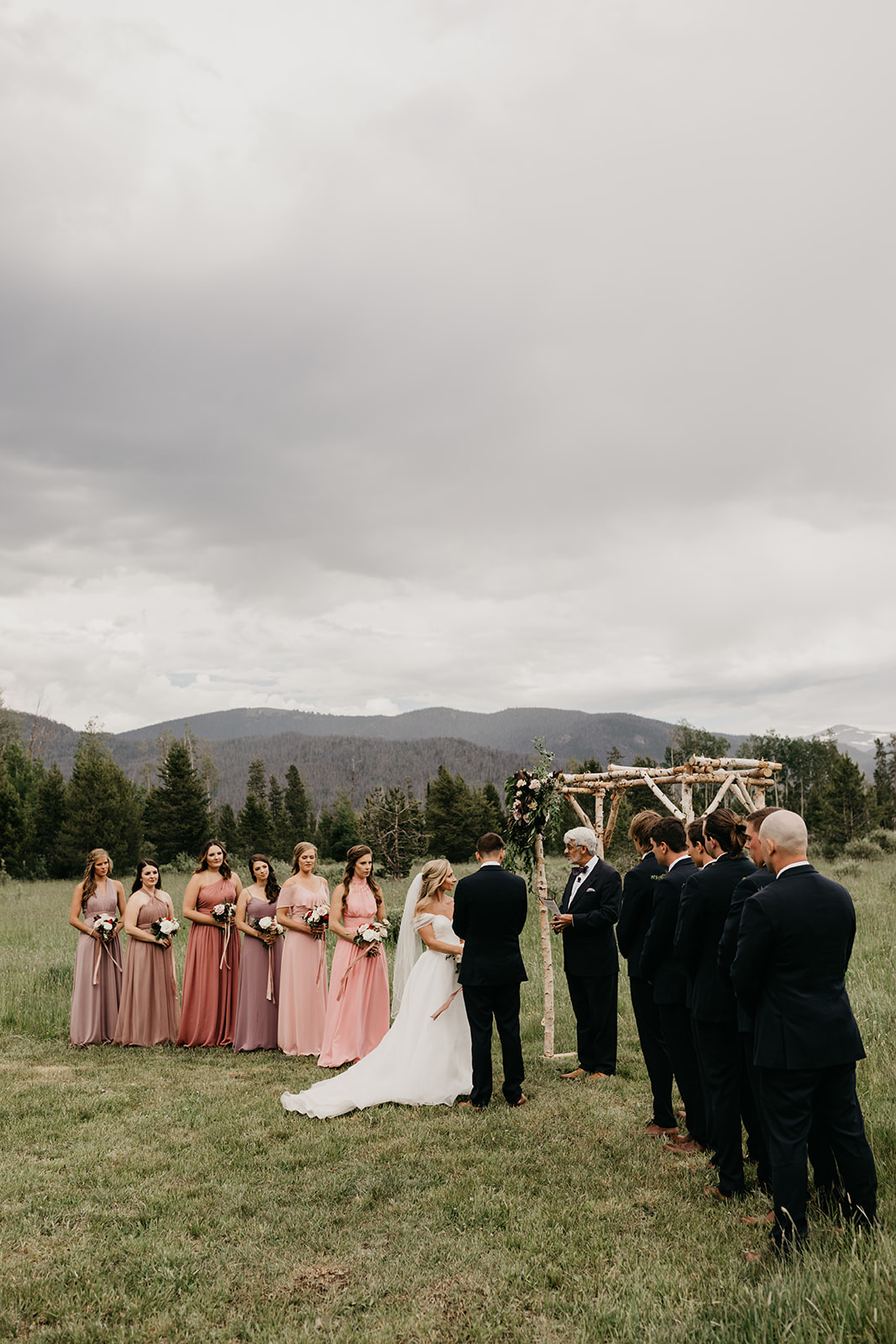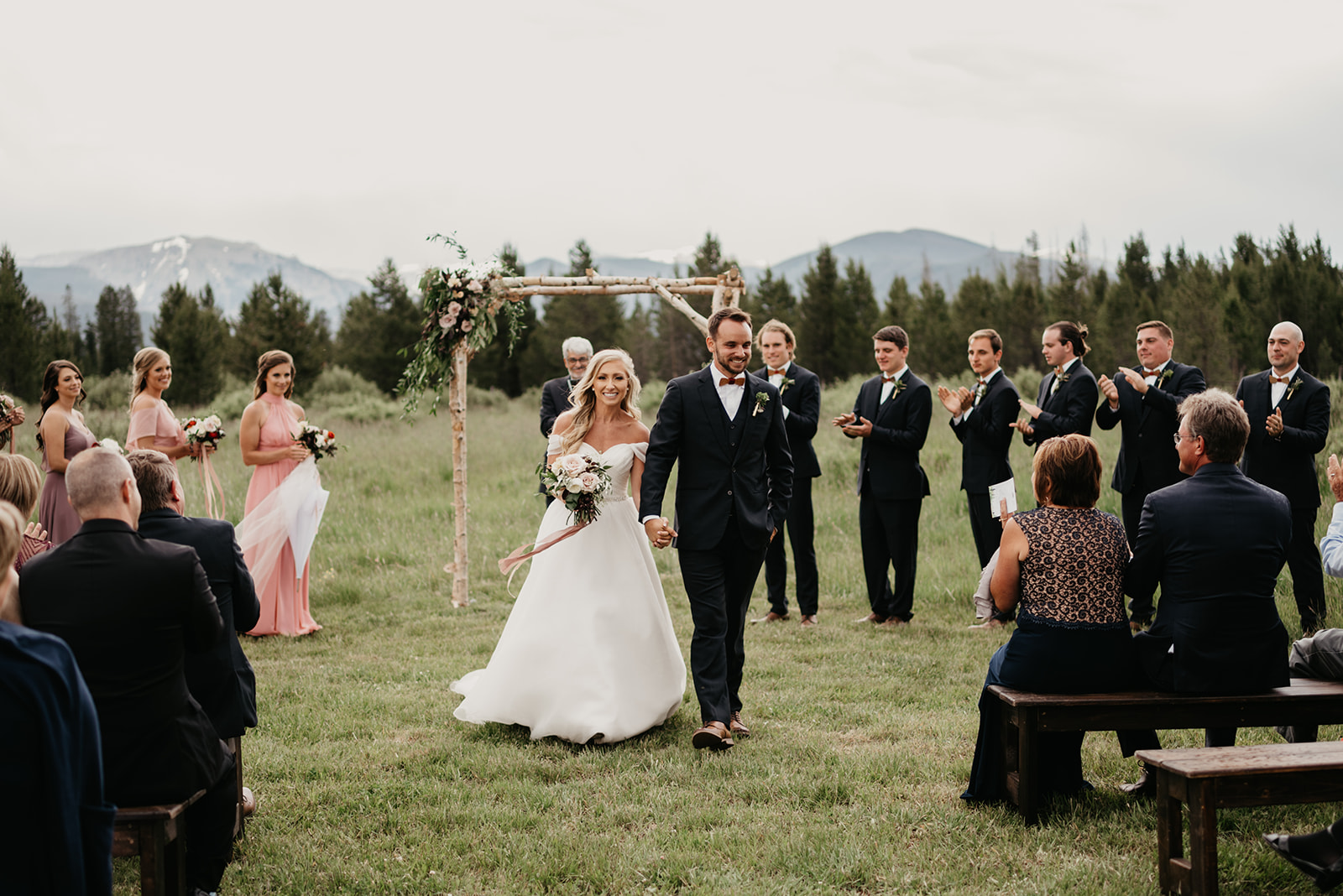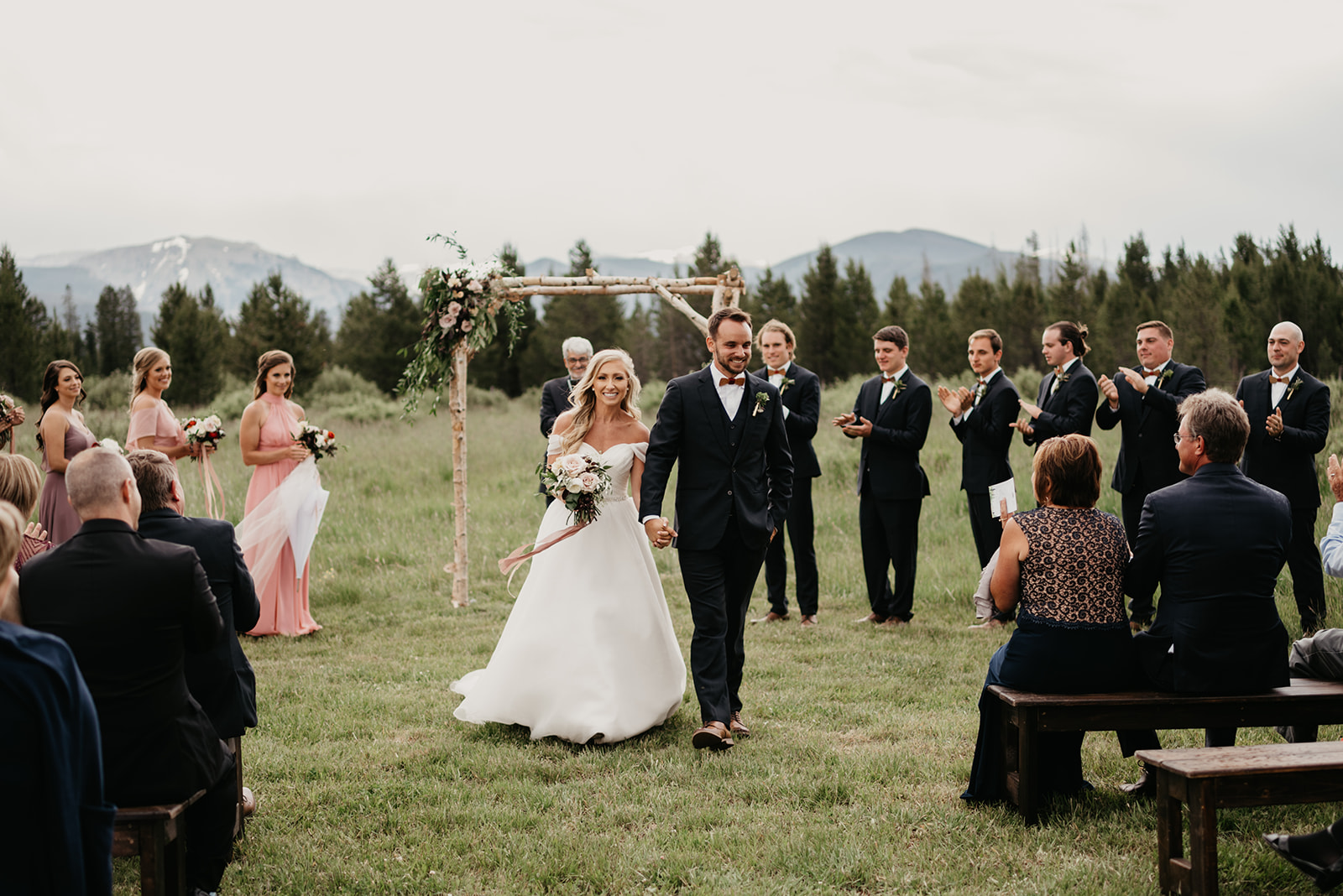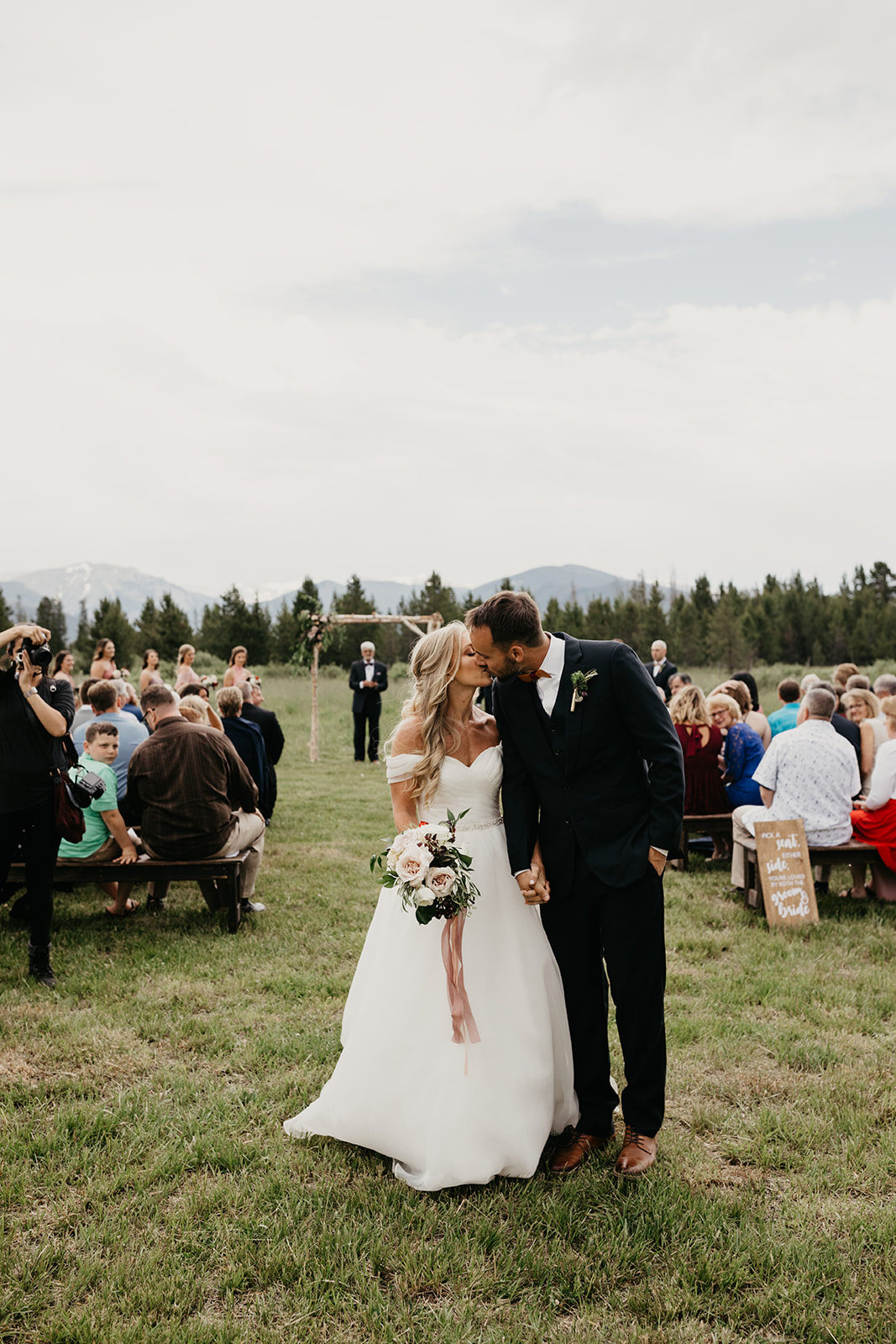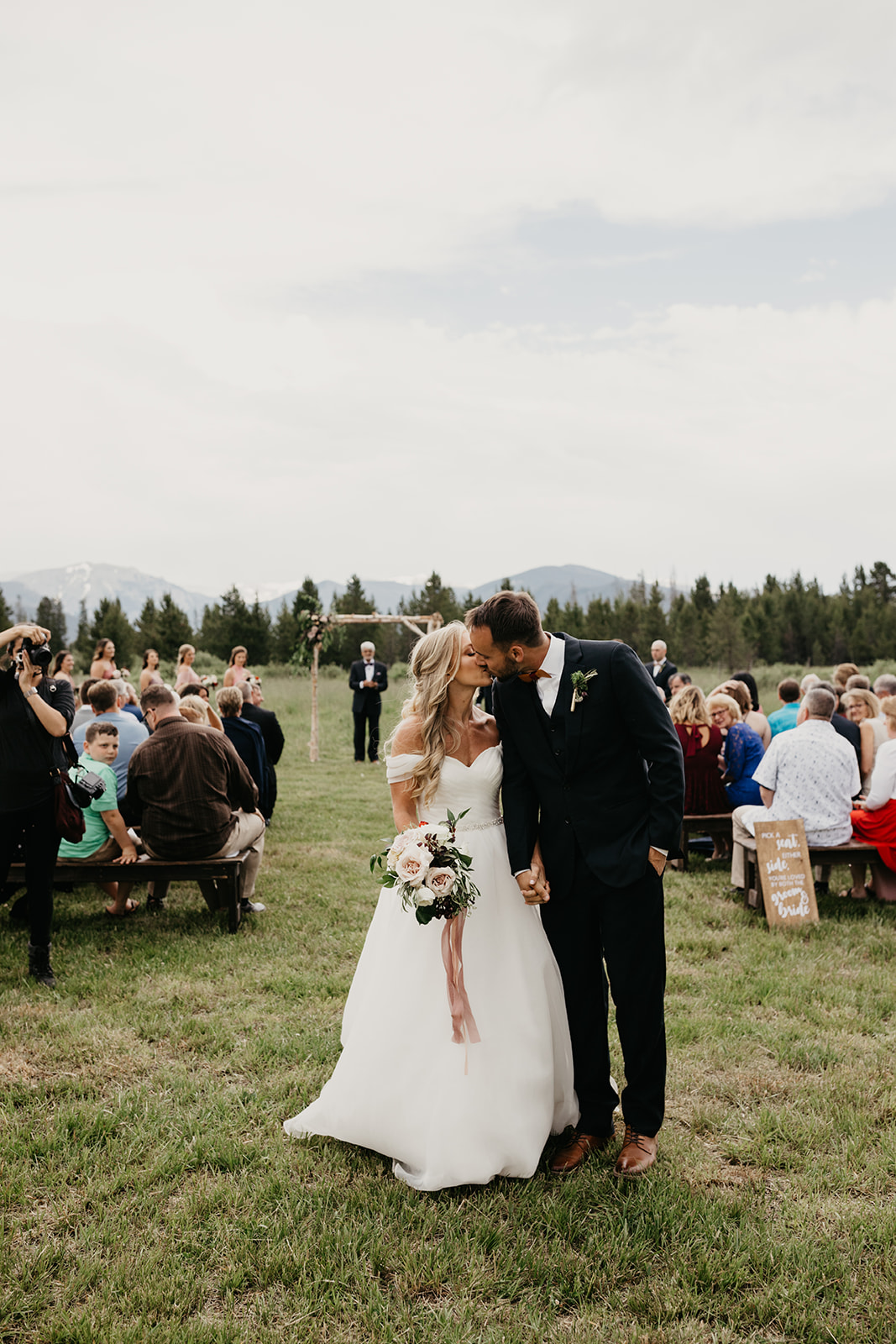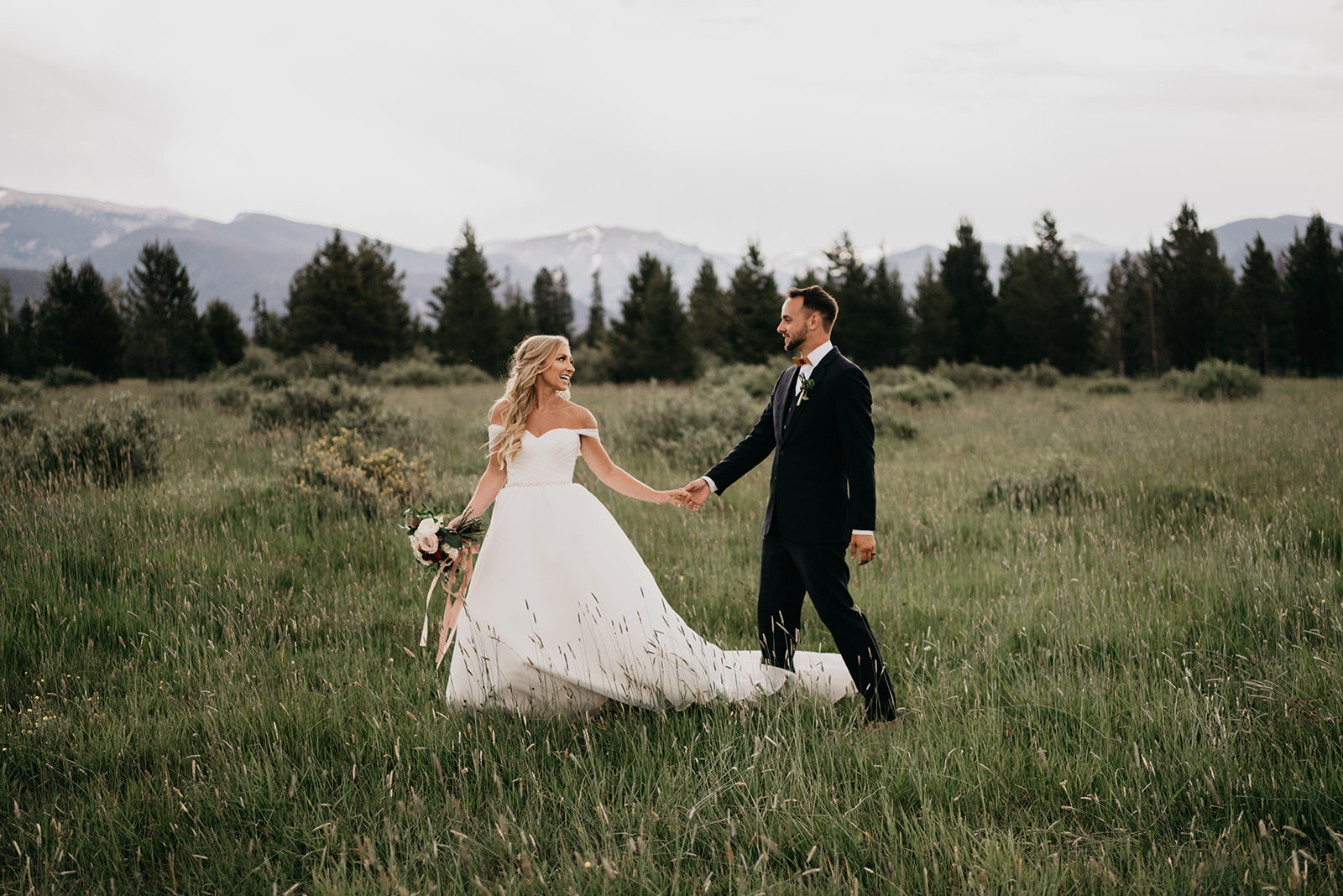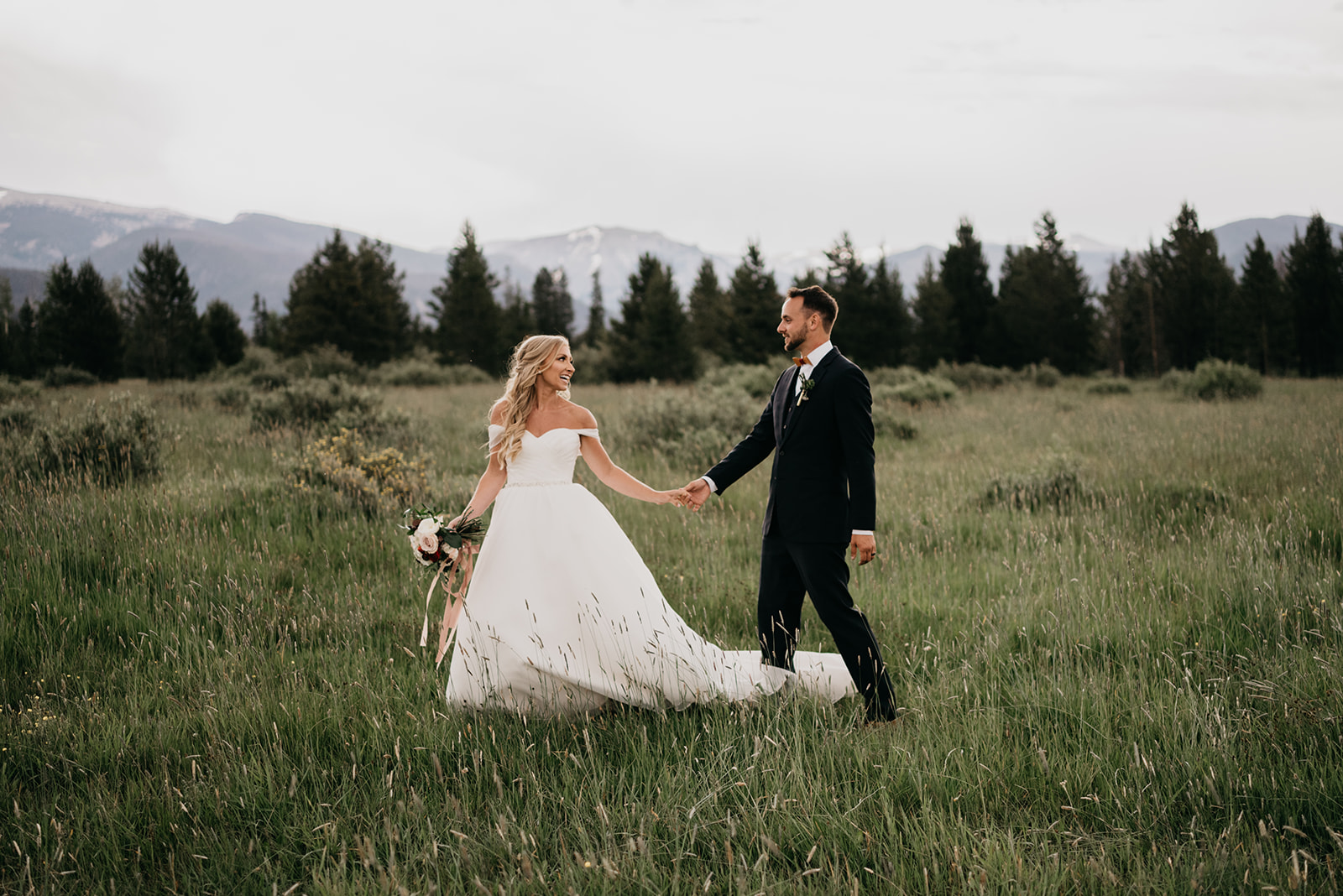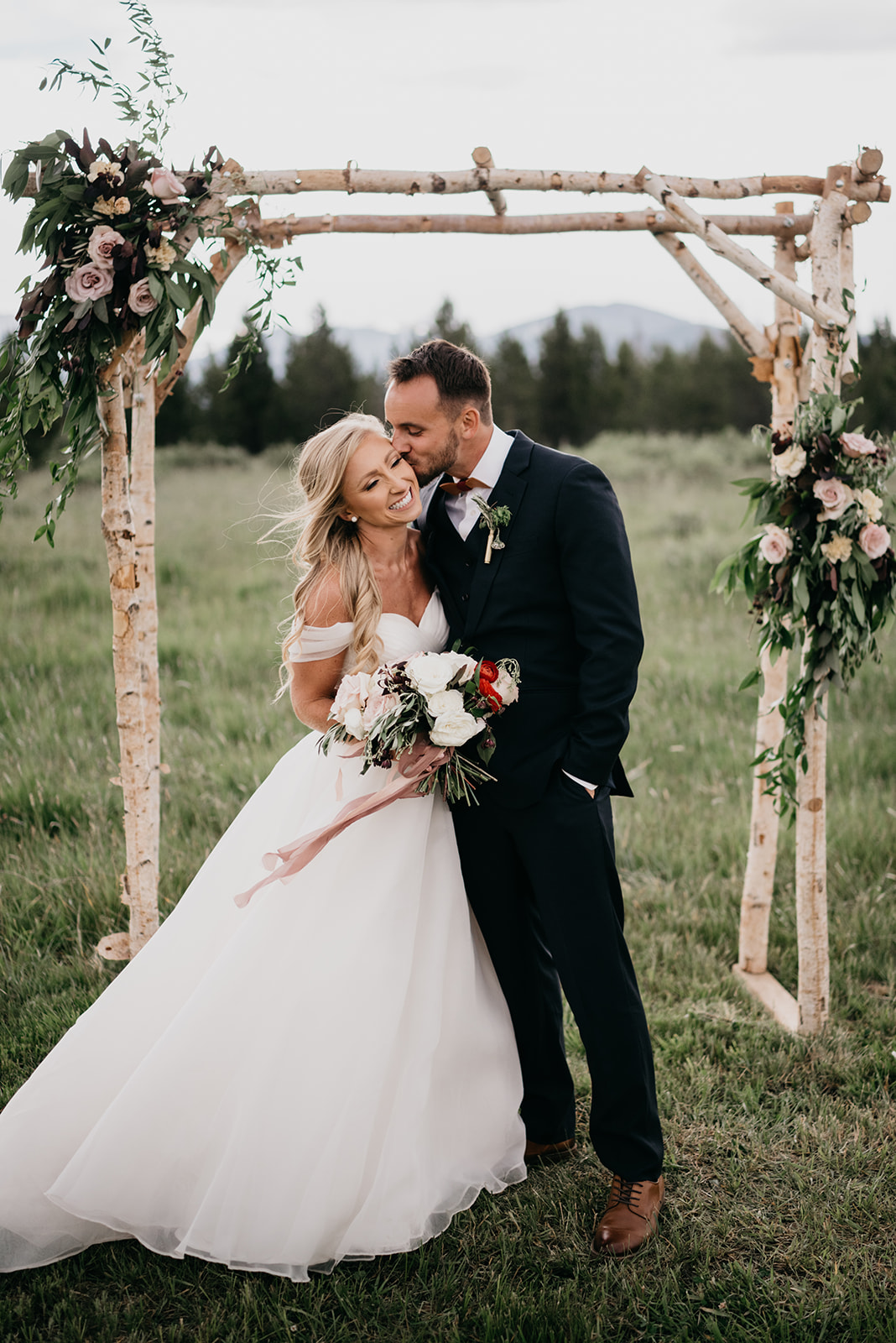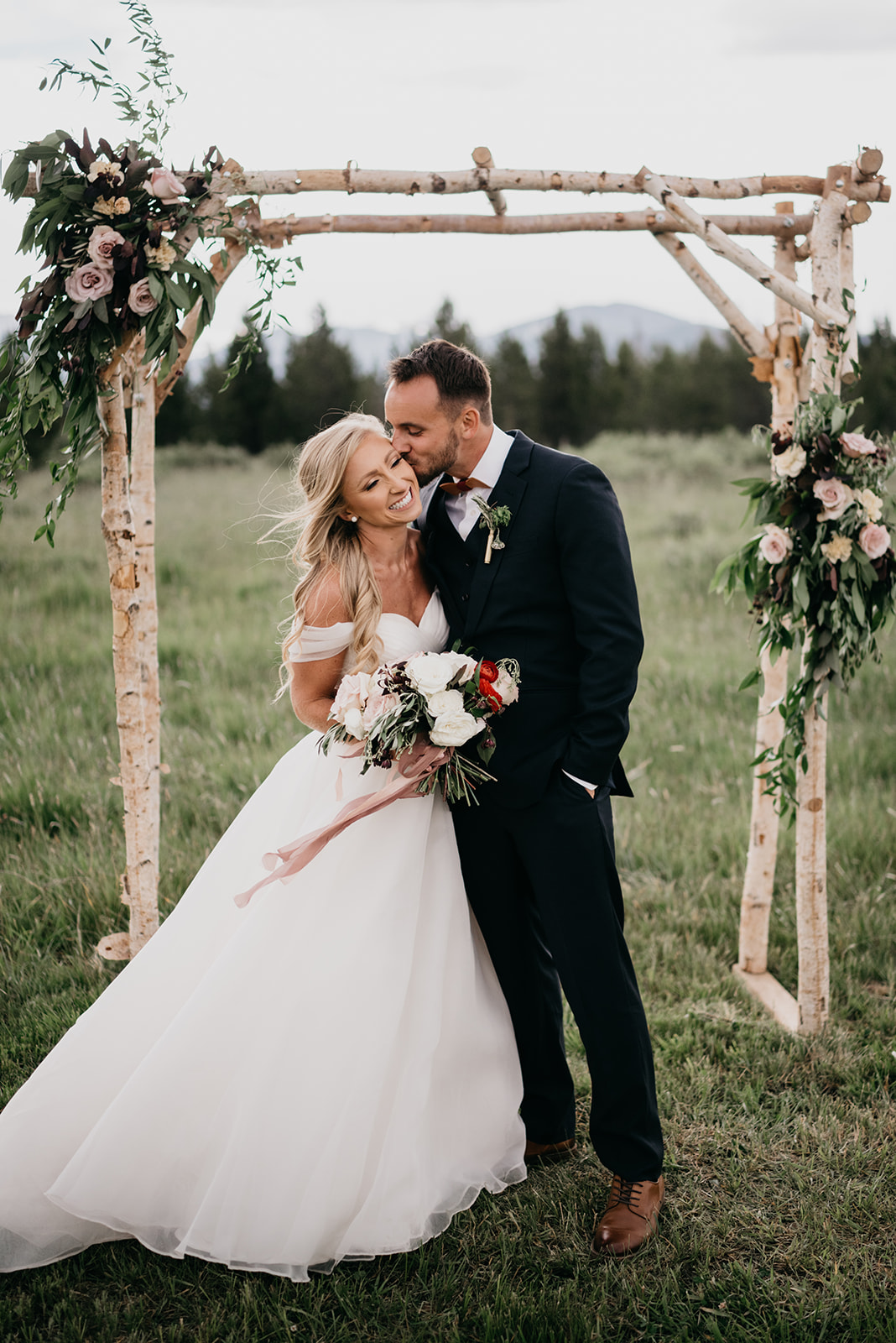 Now the reception was one of my favorite parts and Christy knocked the design out of the park! Christy designed a long dinner table going down a path in a wooded area at the resort. We added a lush garland down the middle of the table and strung bistro lights above. It was the perfect setting and even though we experienced a little rain – it didn't keep the guests away from having an amazing time.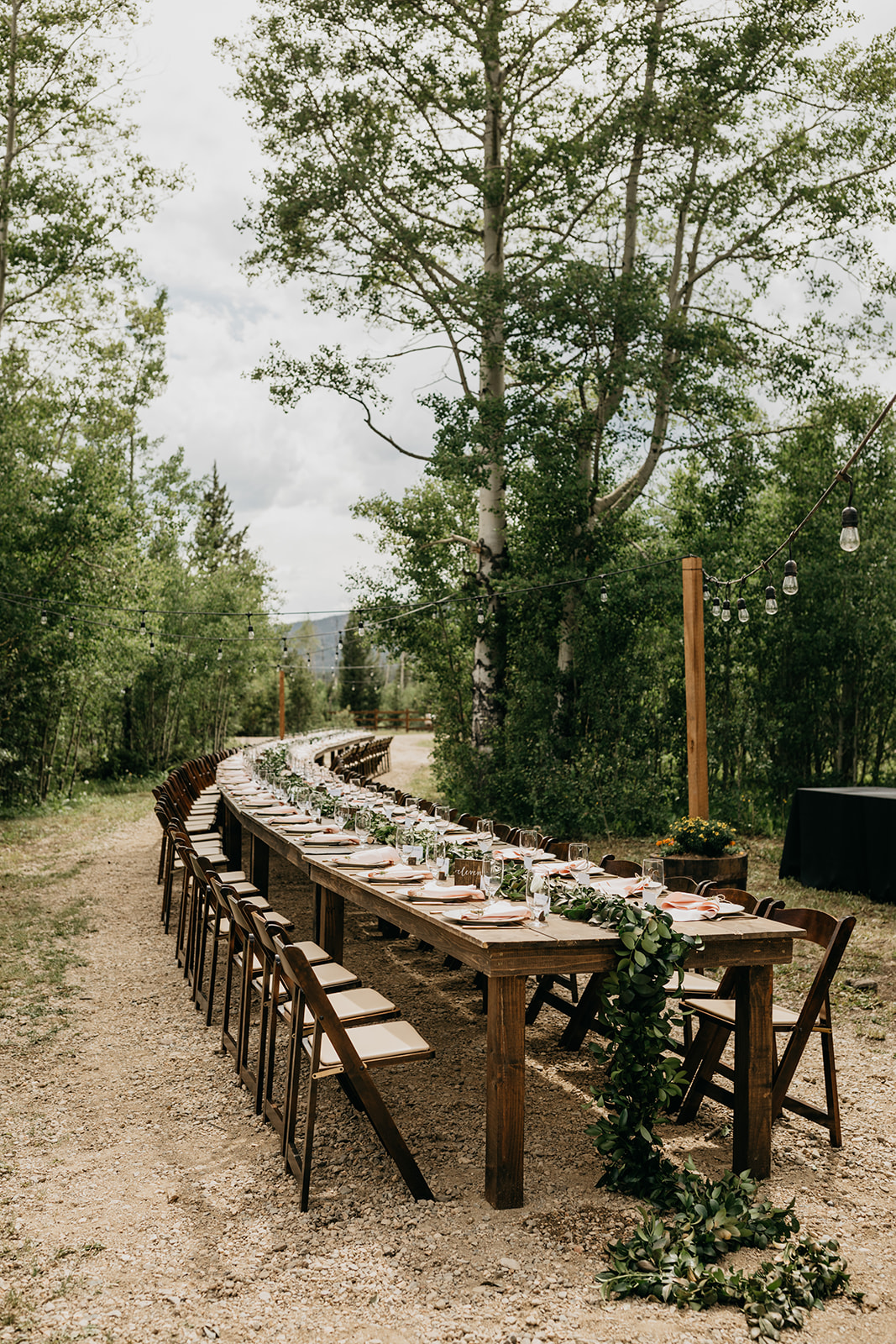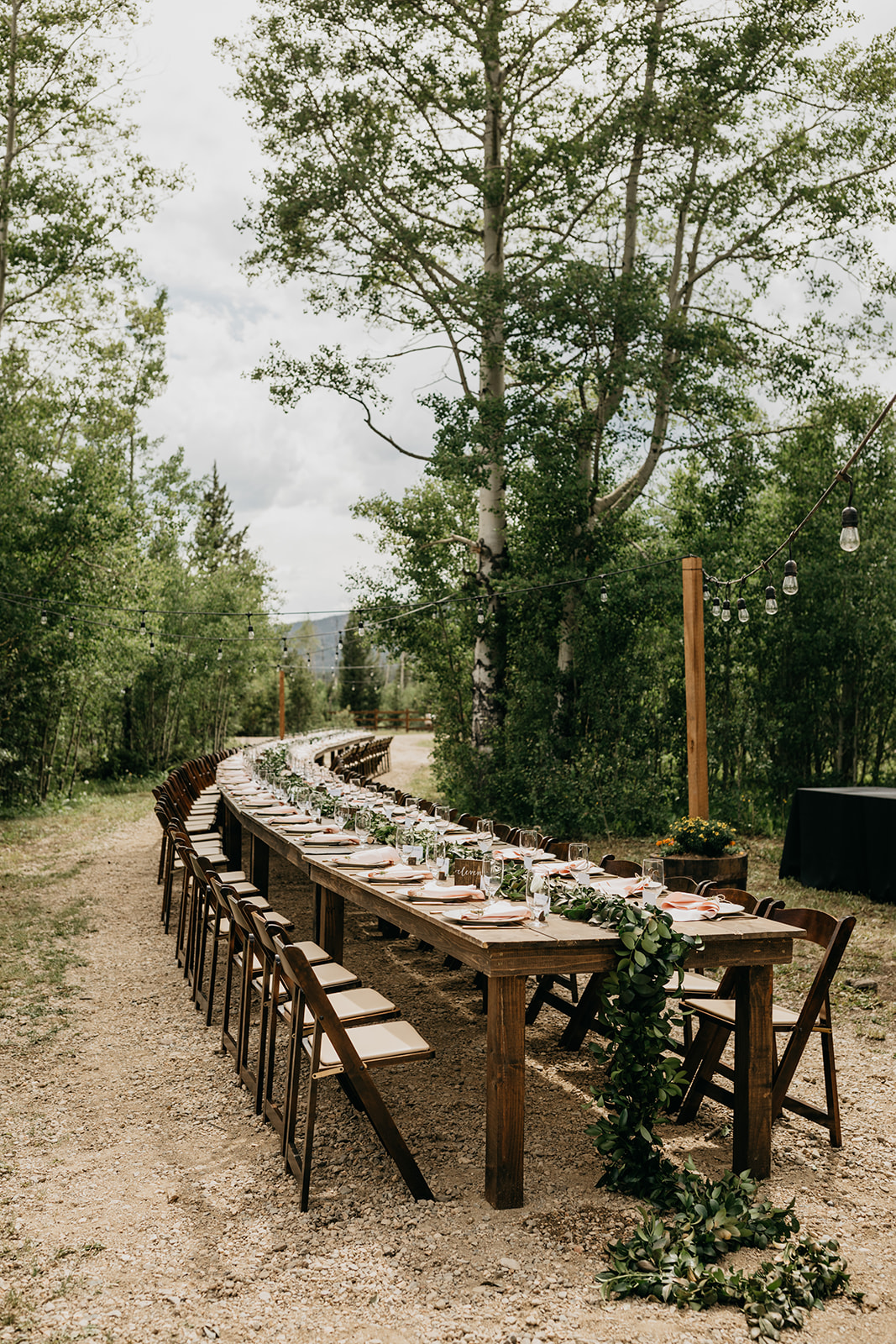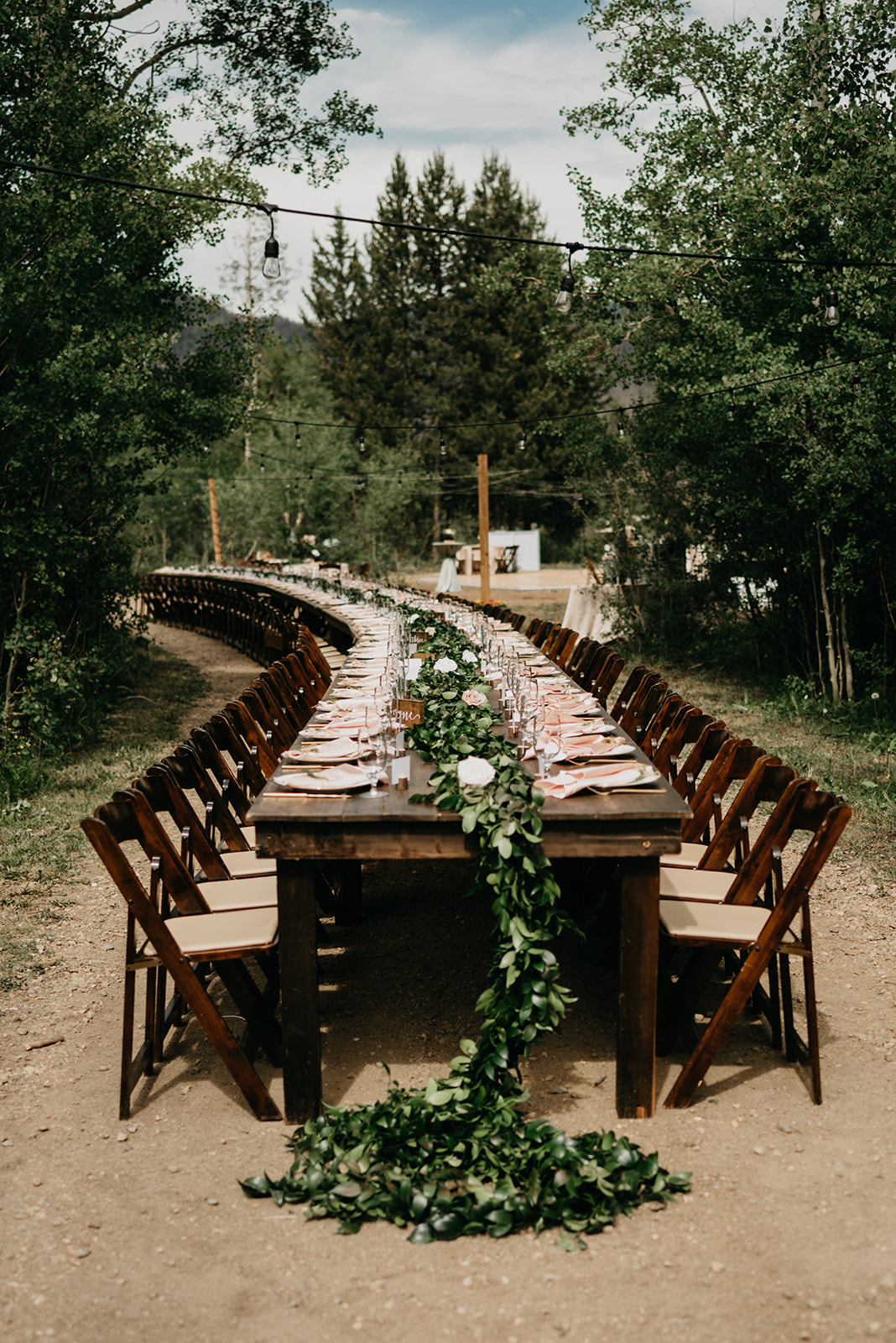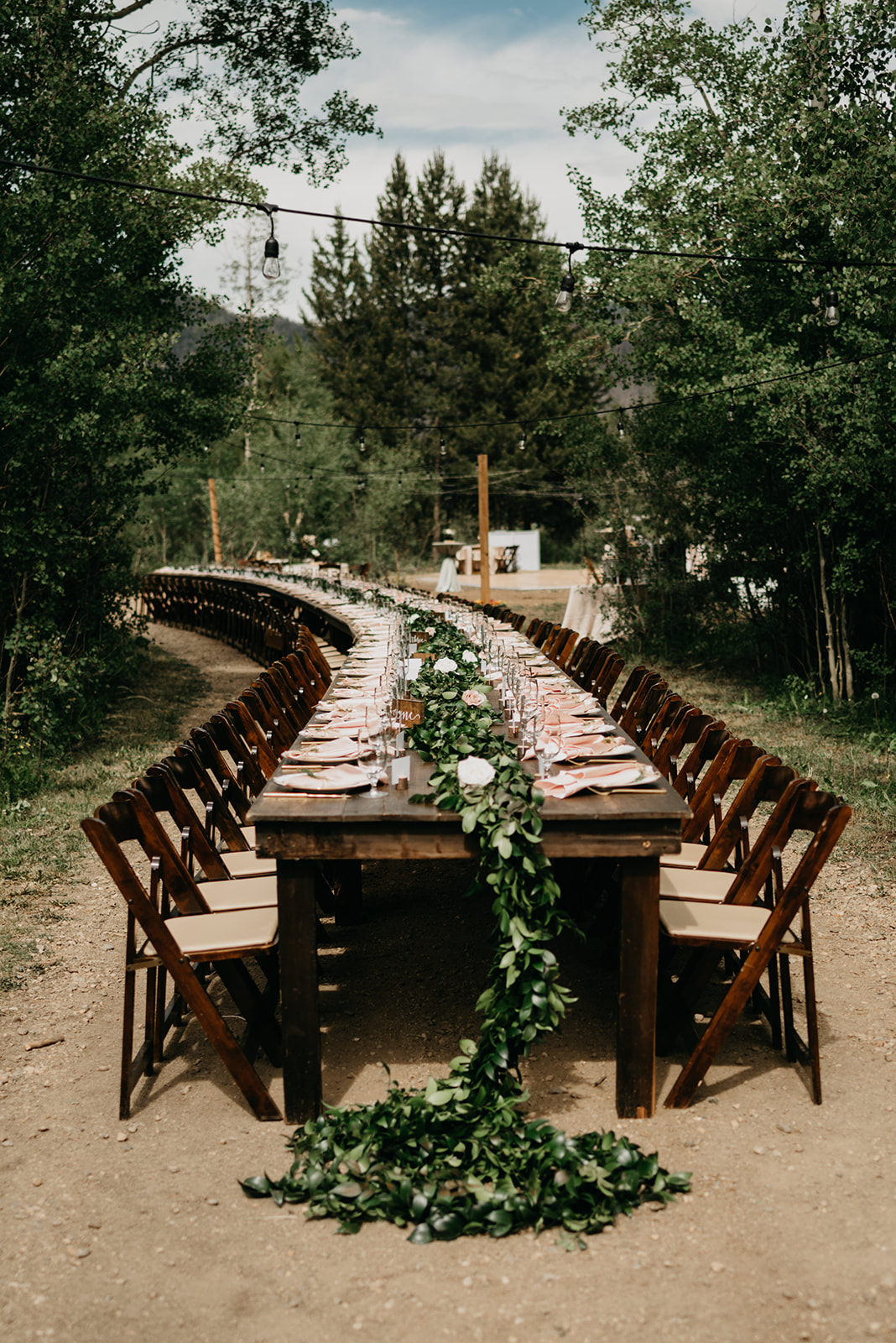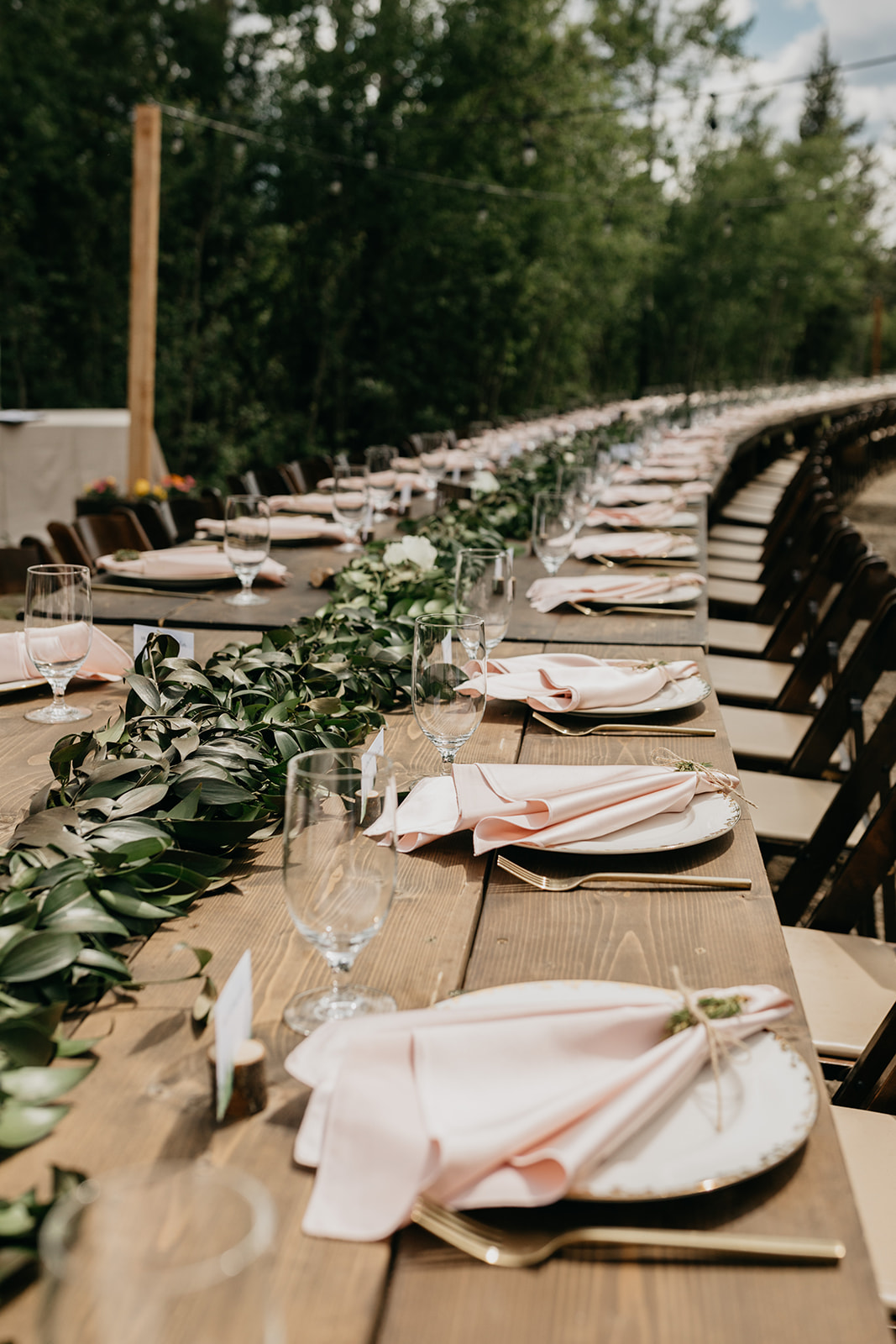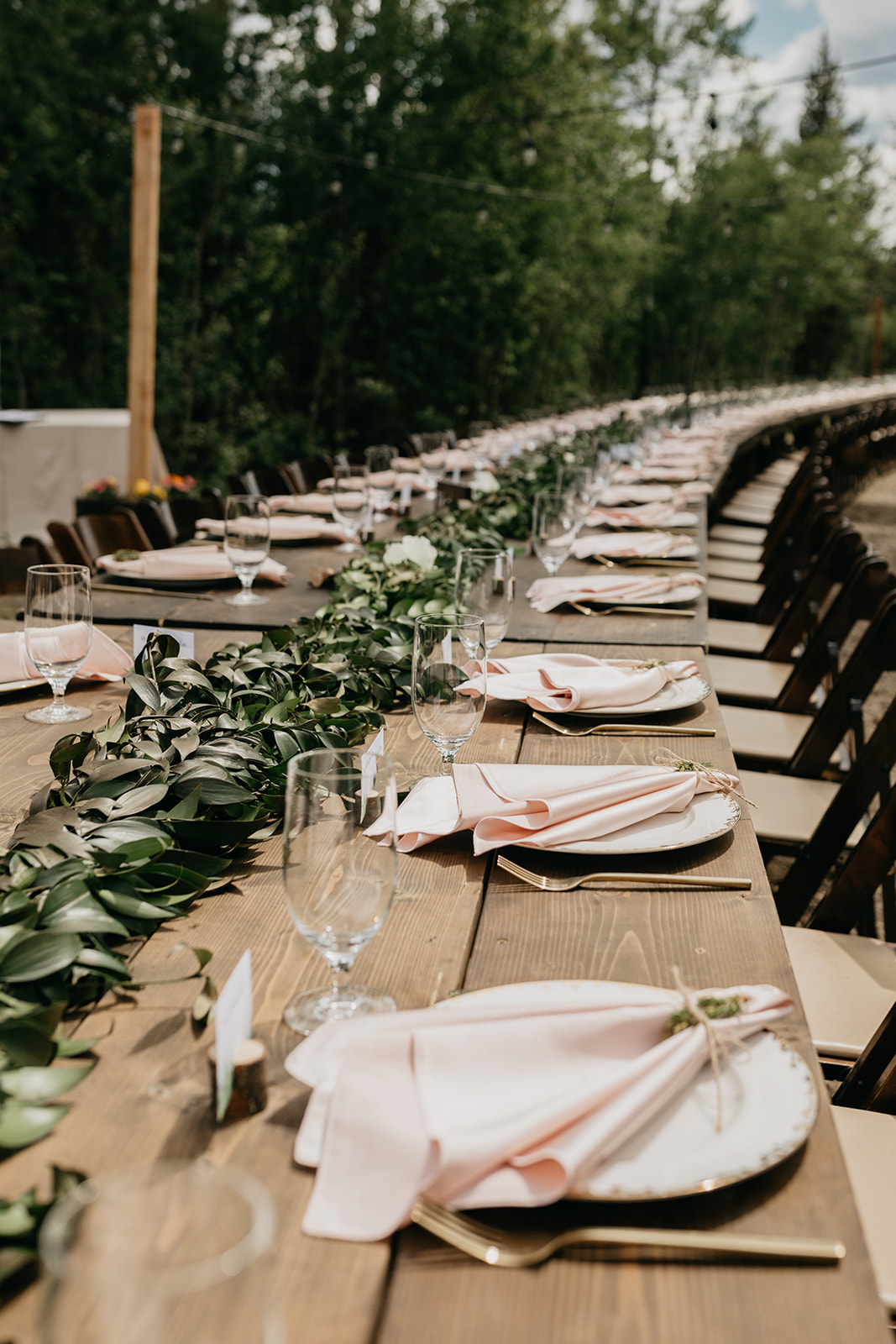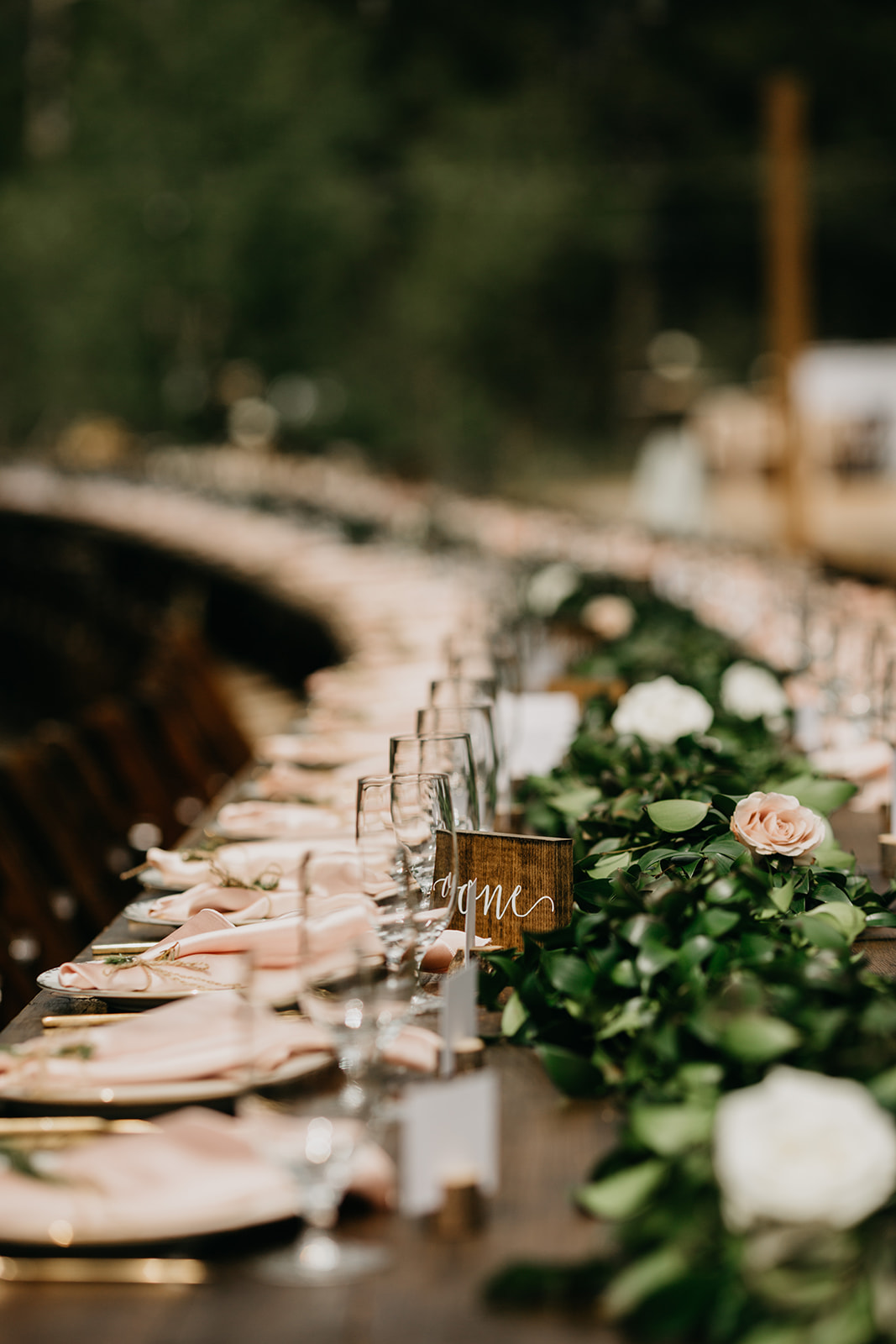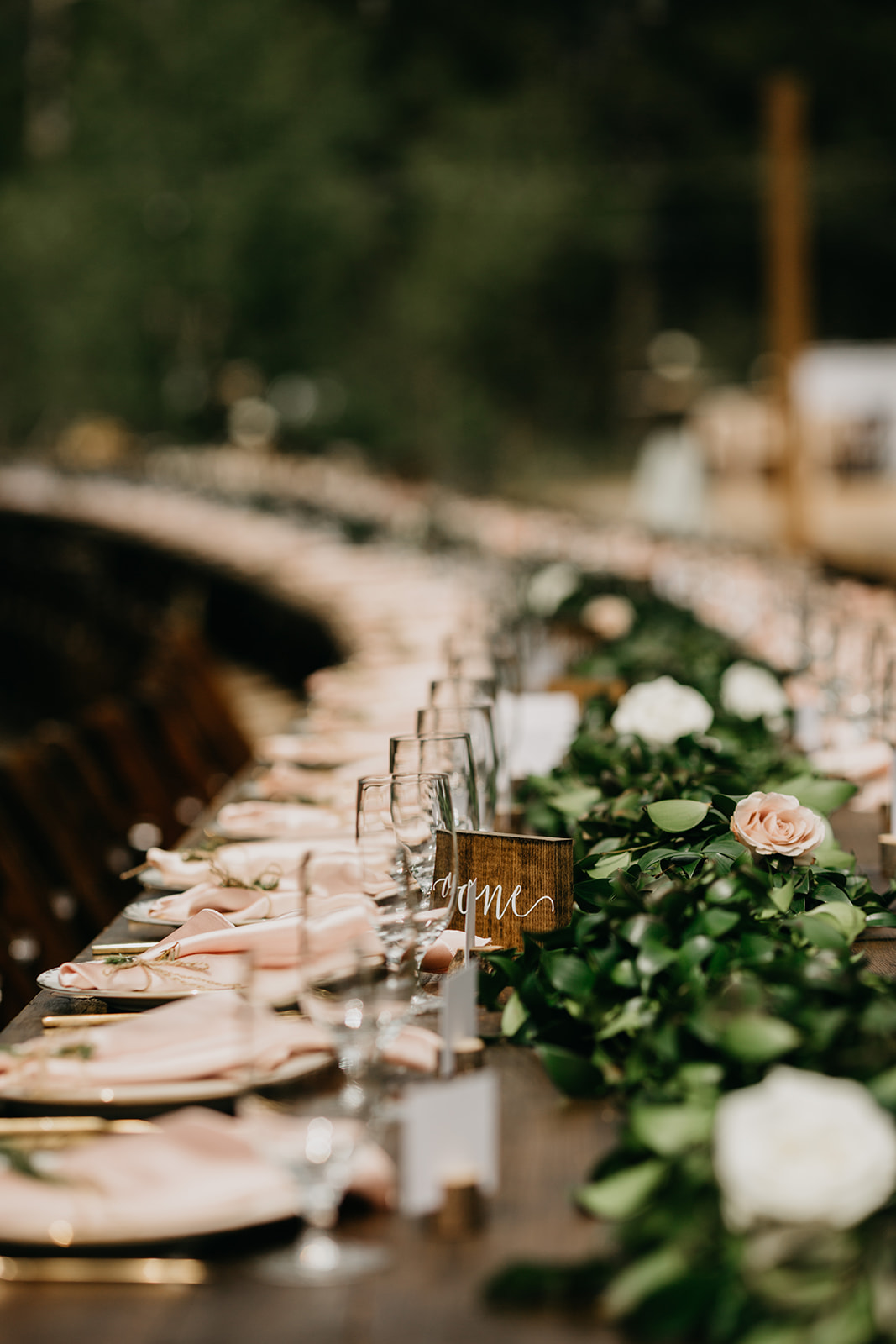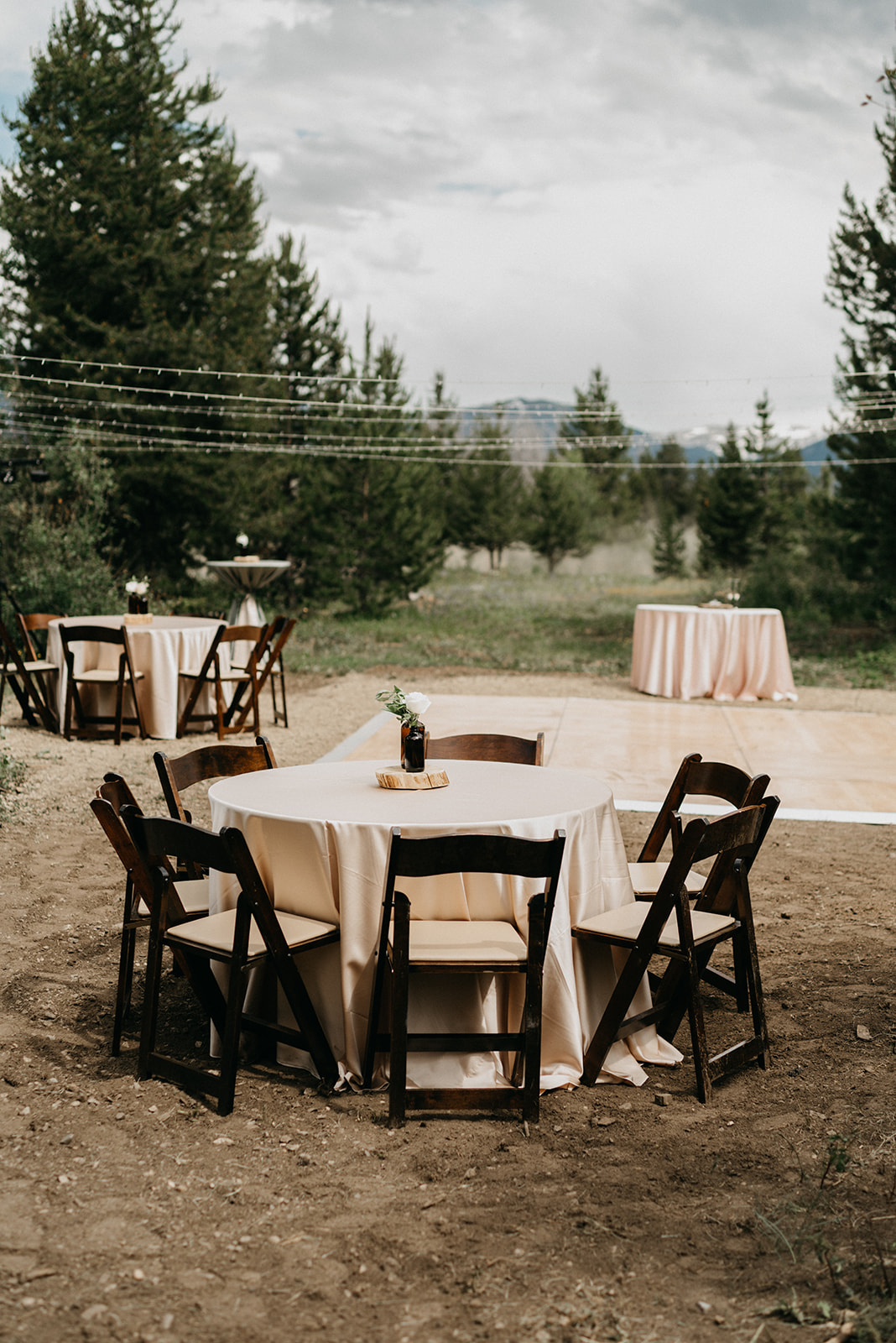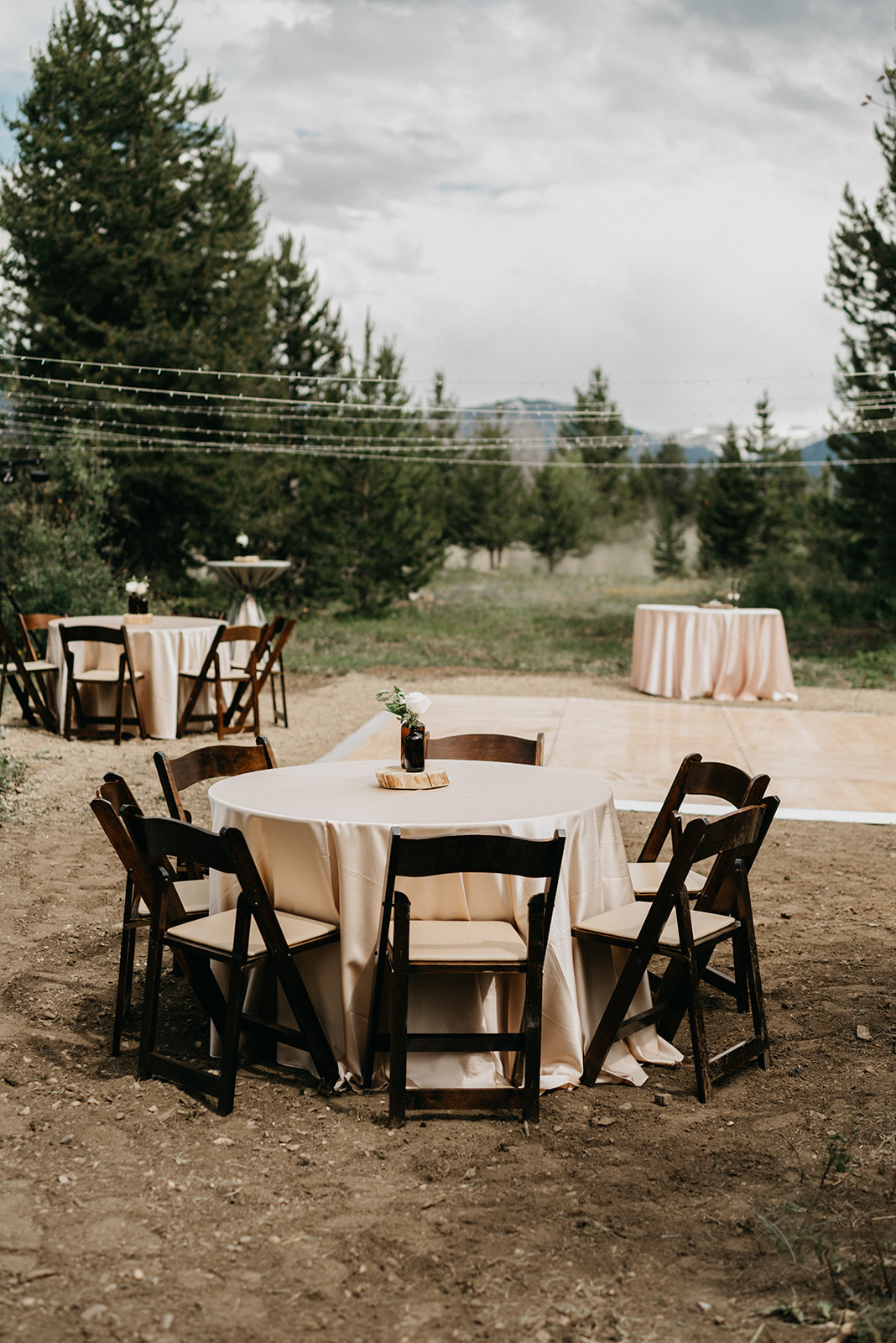 Now let's revisit the moose drama! About 10 minutes before the ceremony started I received a call on the radio that there was a moose headed straight for the reception site. Just imagine for a moment, a bull moose running through those lights and getting them tangled in his antlers to only thrash around and ruin more decor.
Since I was all the way down at the meadow (ceremony location) and Nicole, Corey, Christy and the rest of the wedding party were by the reception site – Christy grabbed a few of the groomsmen and headed towards the reception site clapping and making loud noises to scare him away. Luckily their risky efforts worked and the moose headed far from the reception site.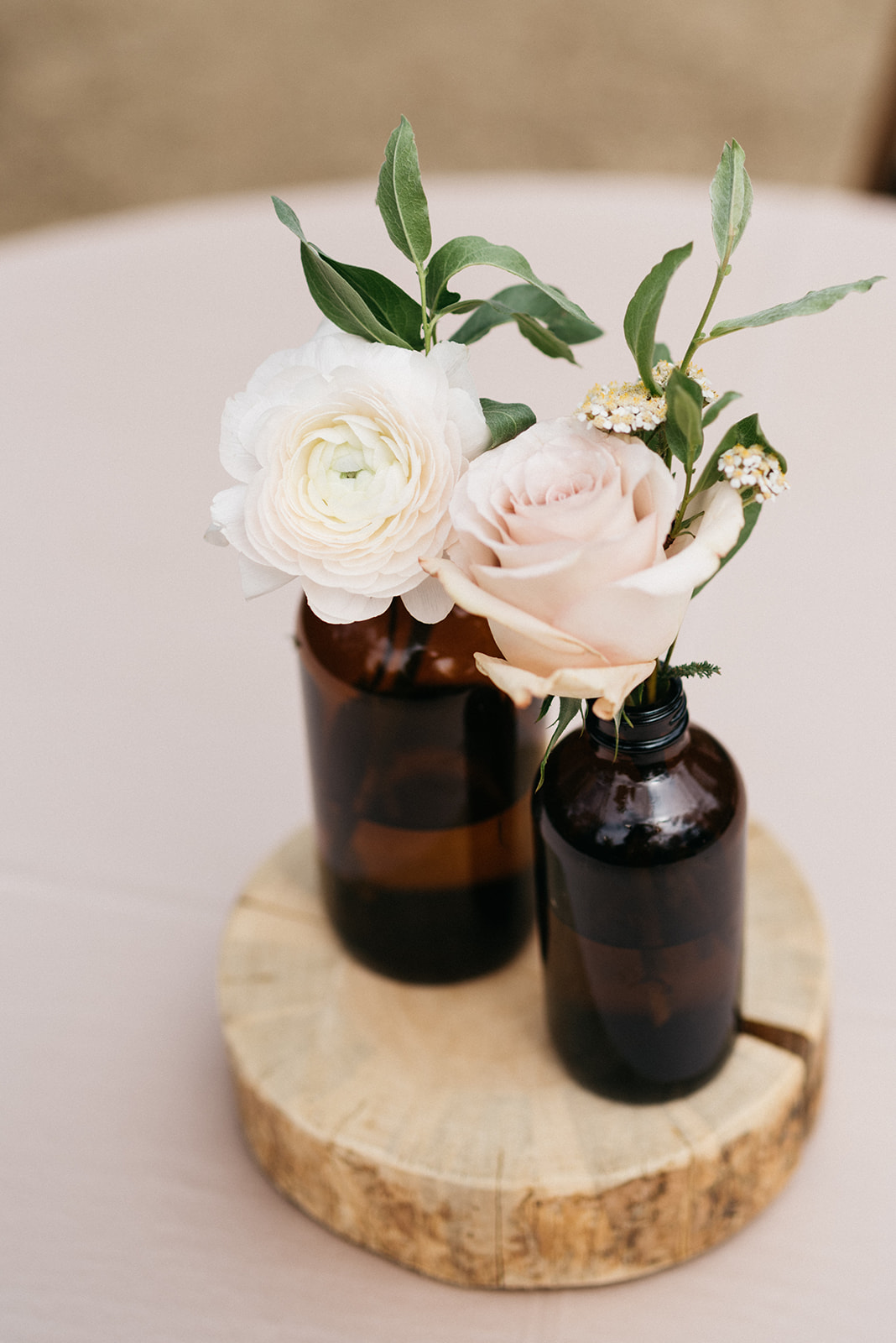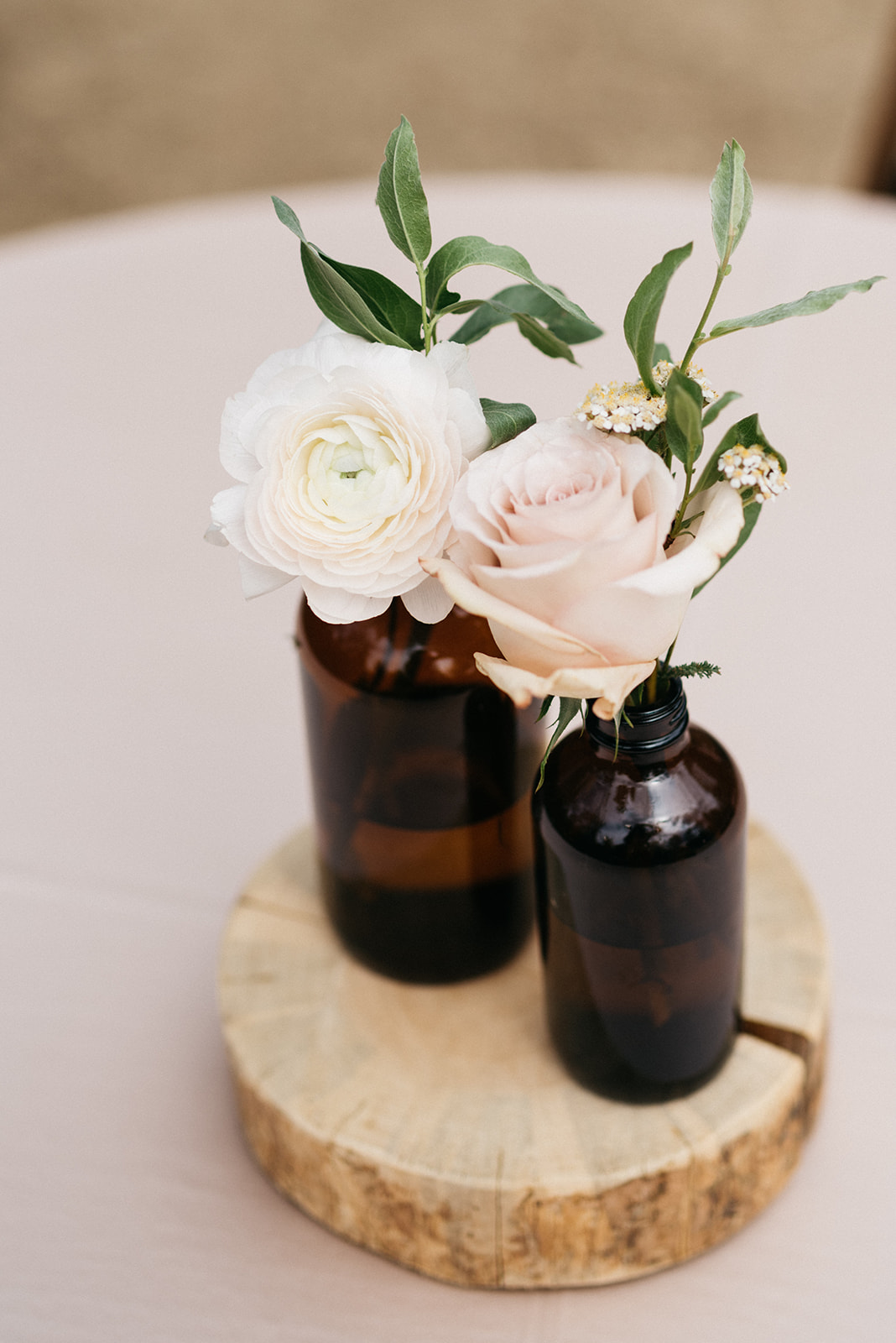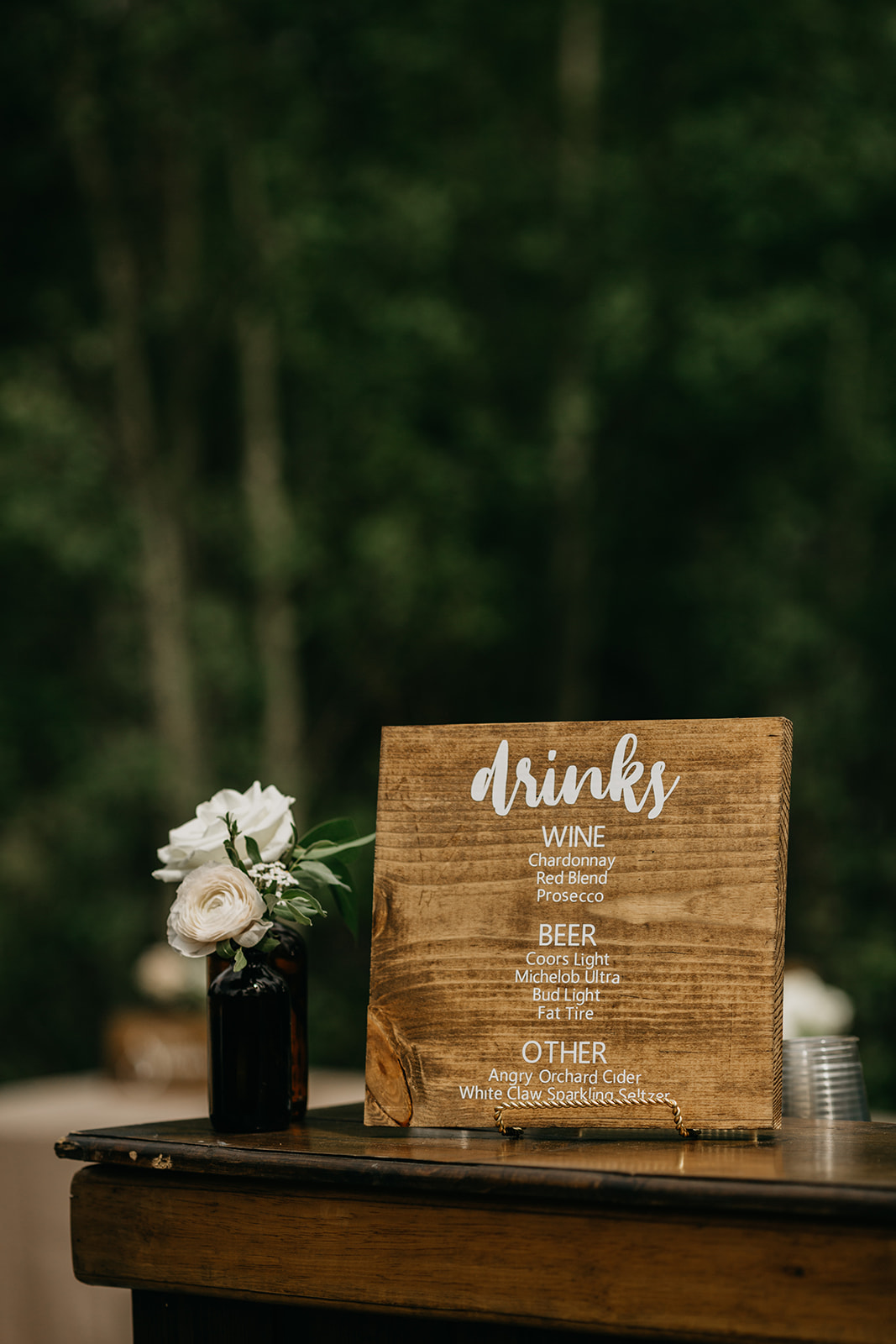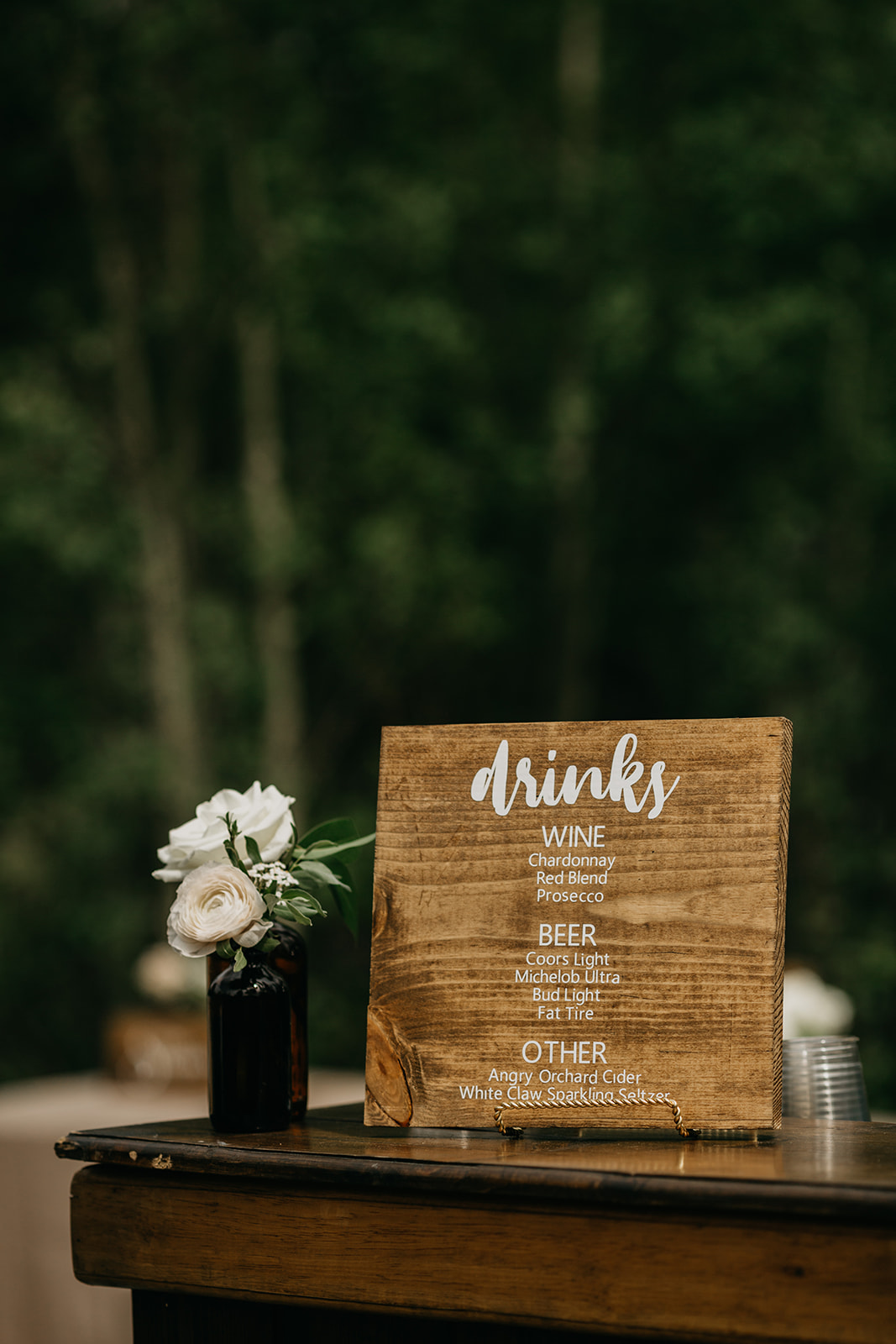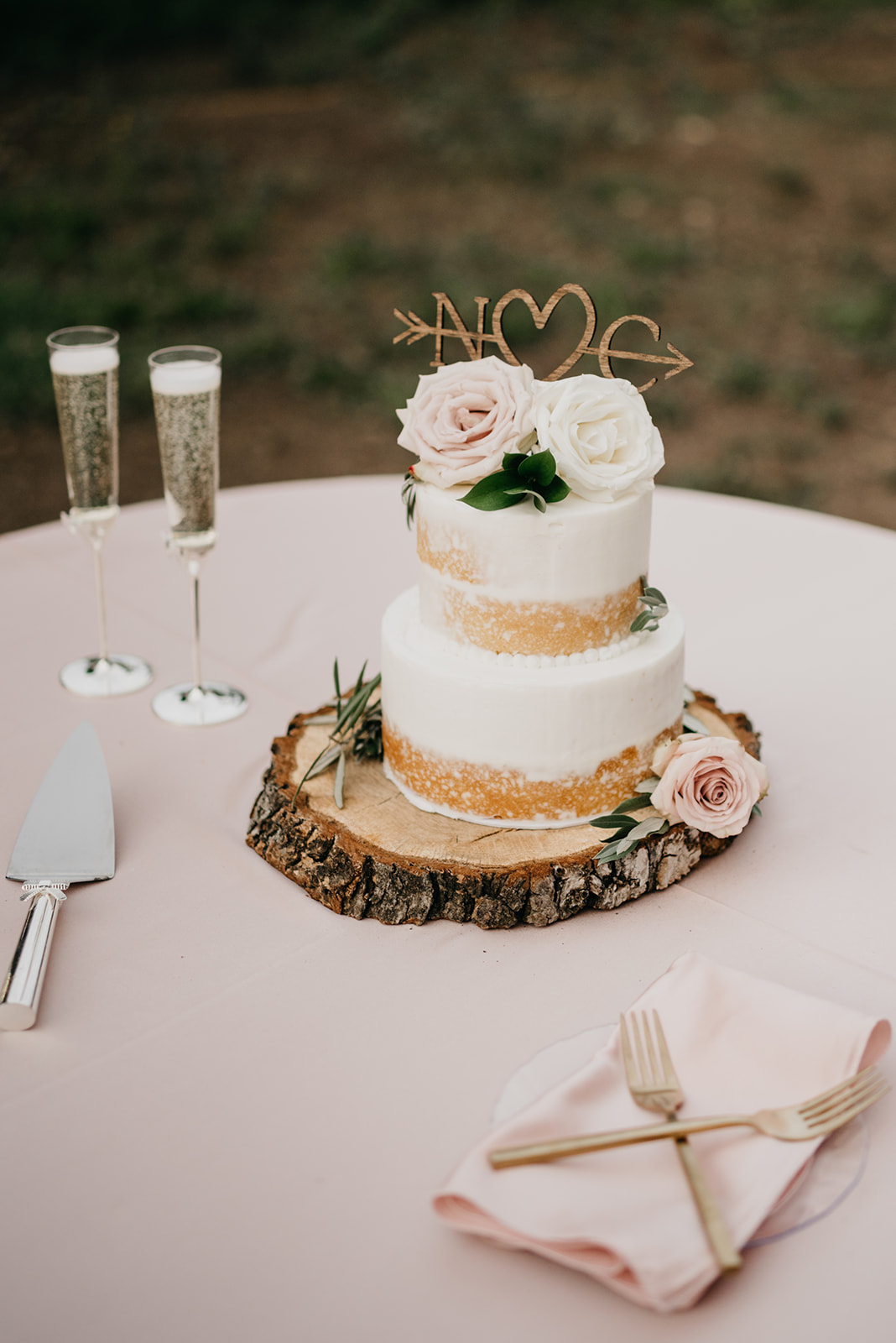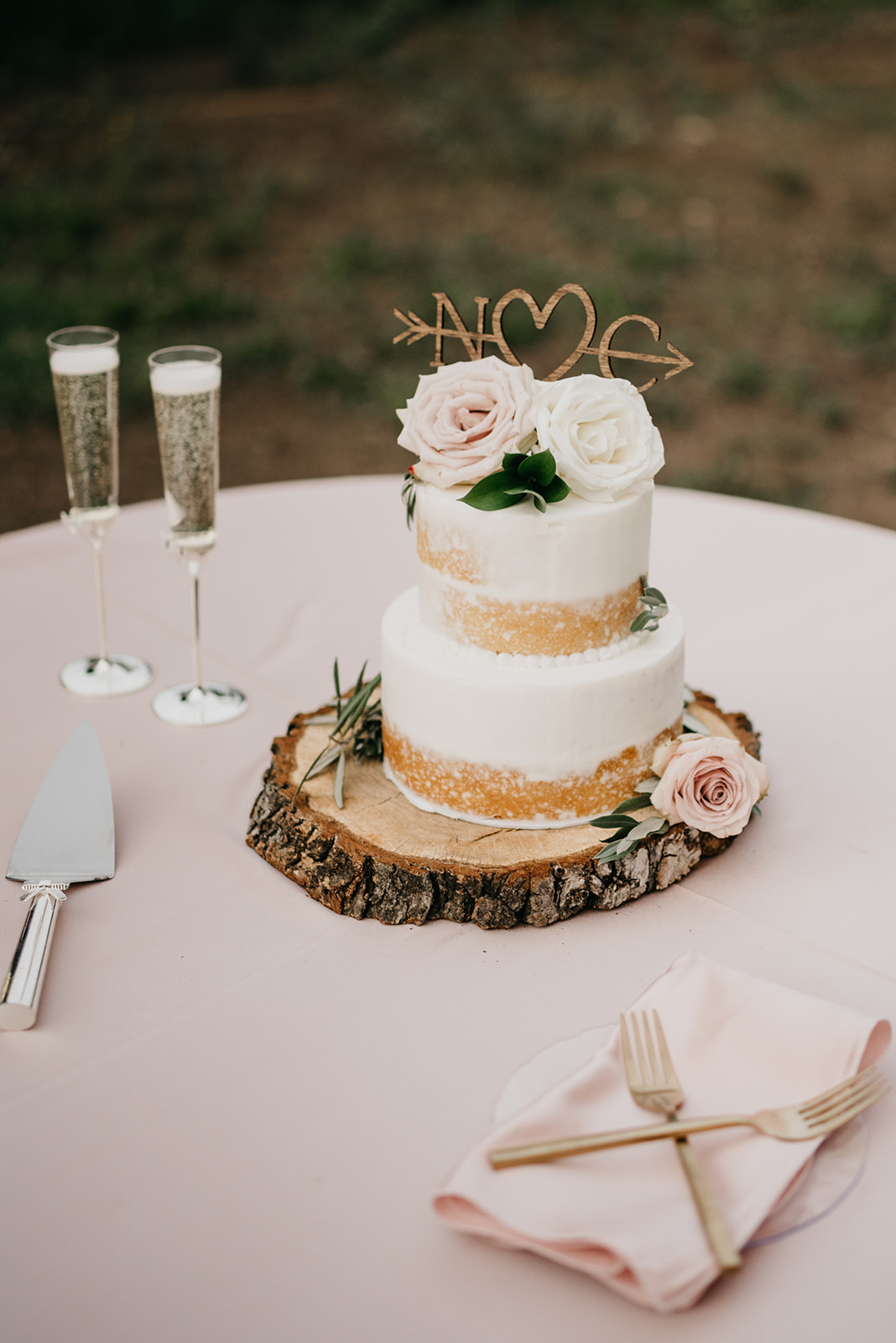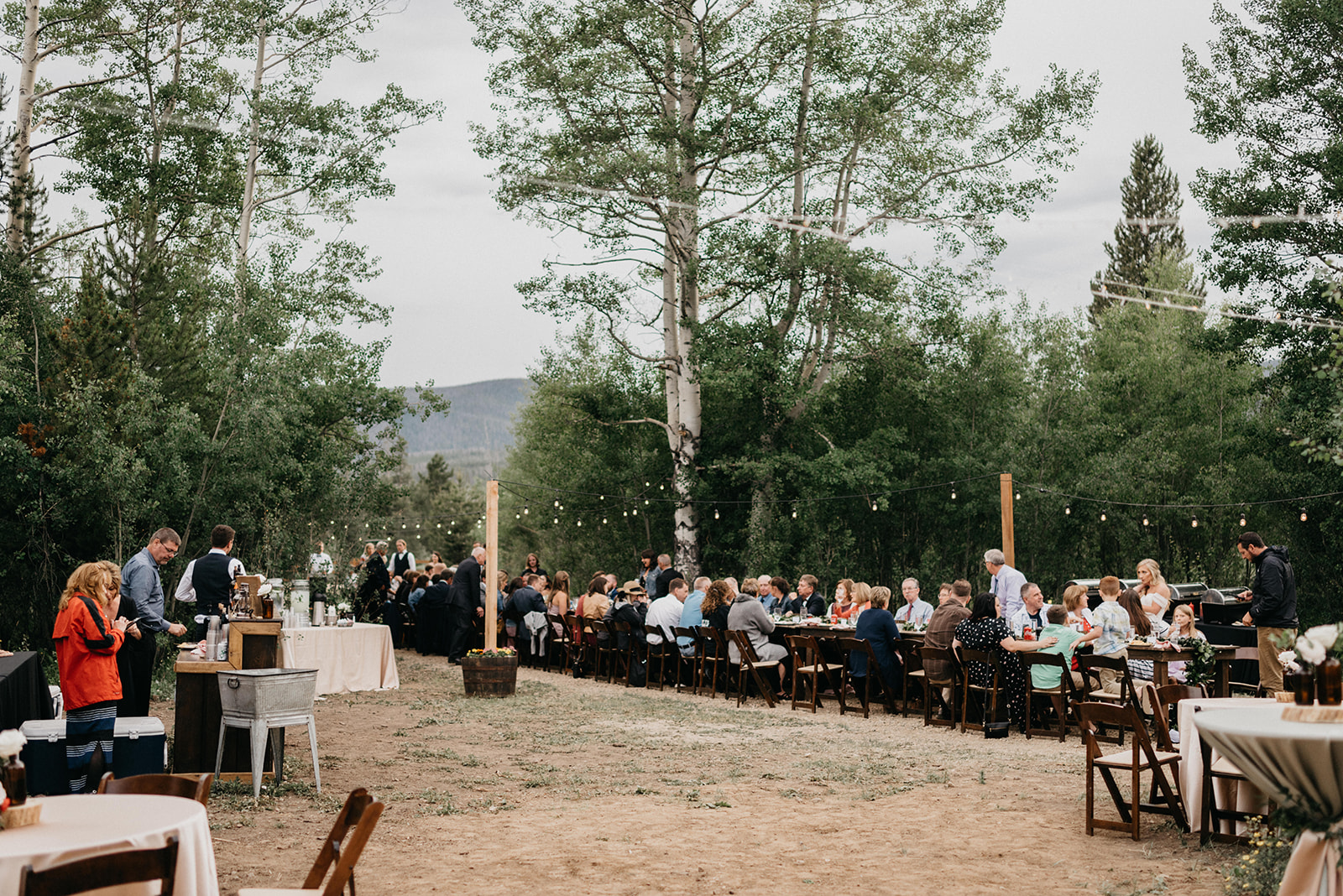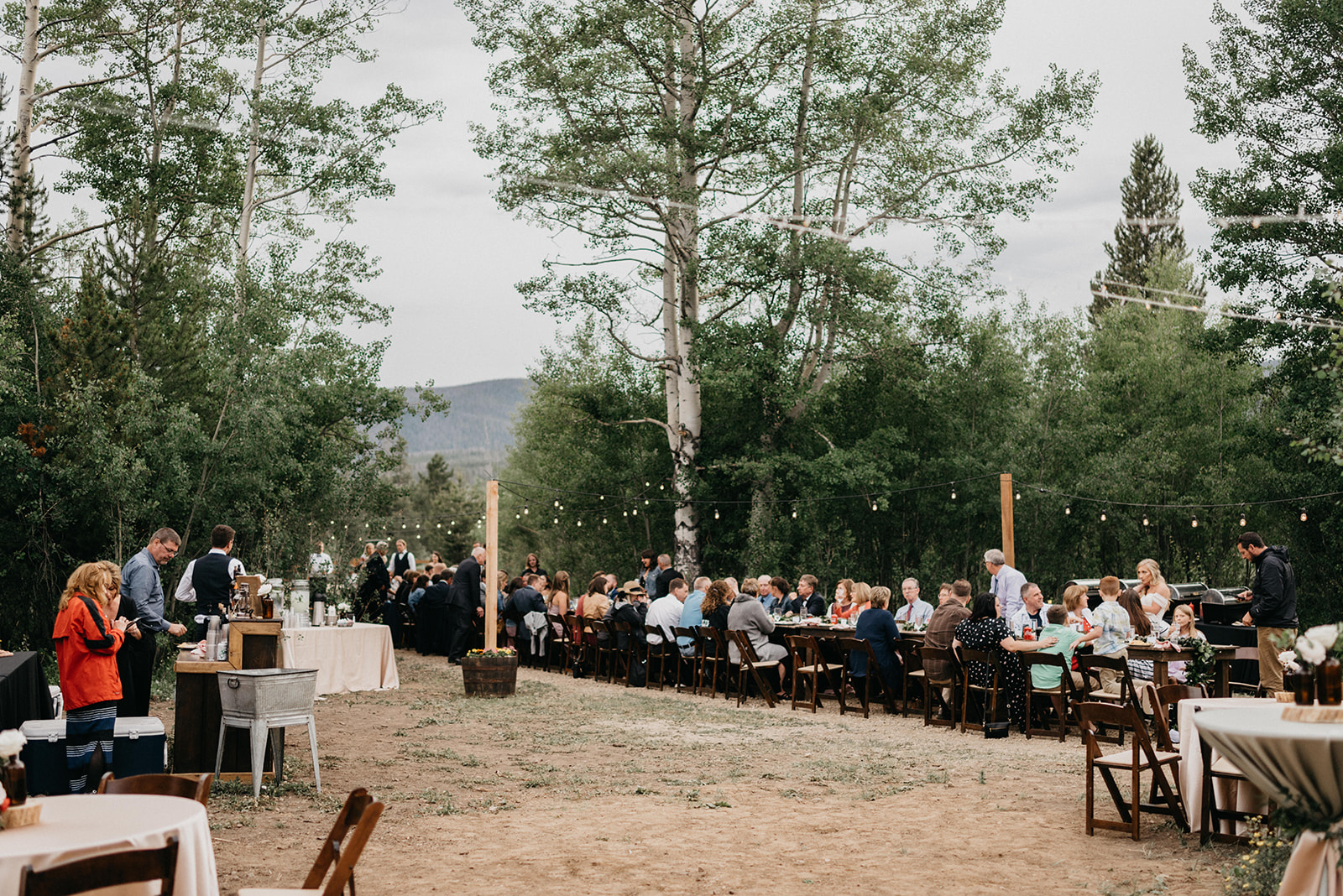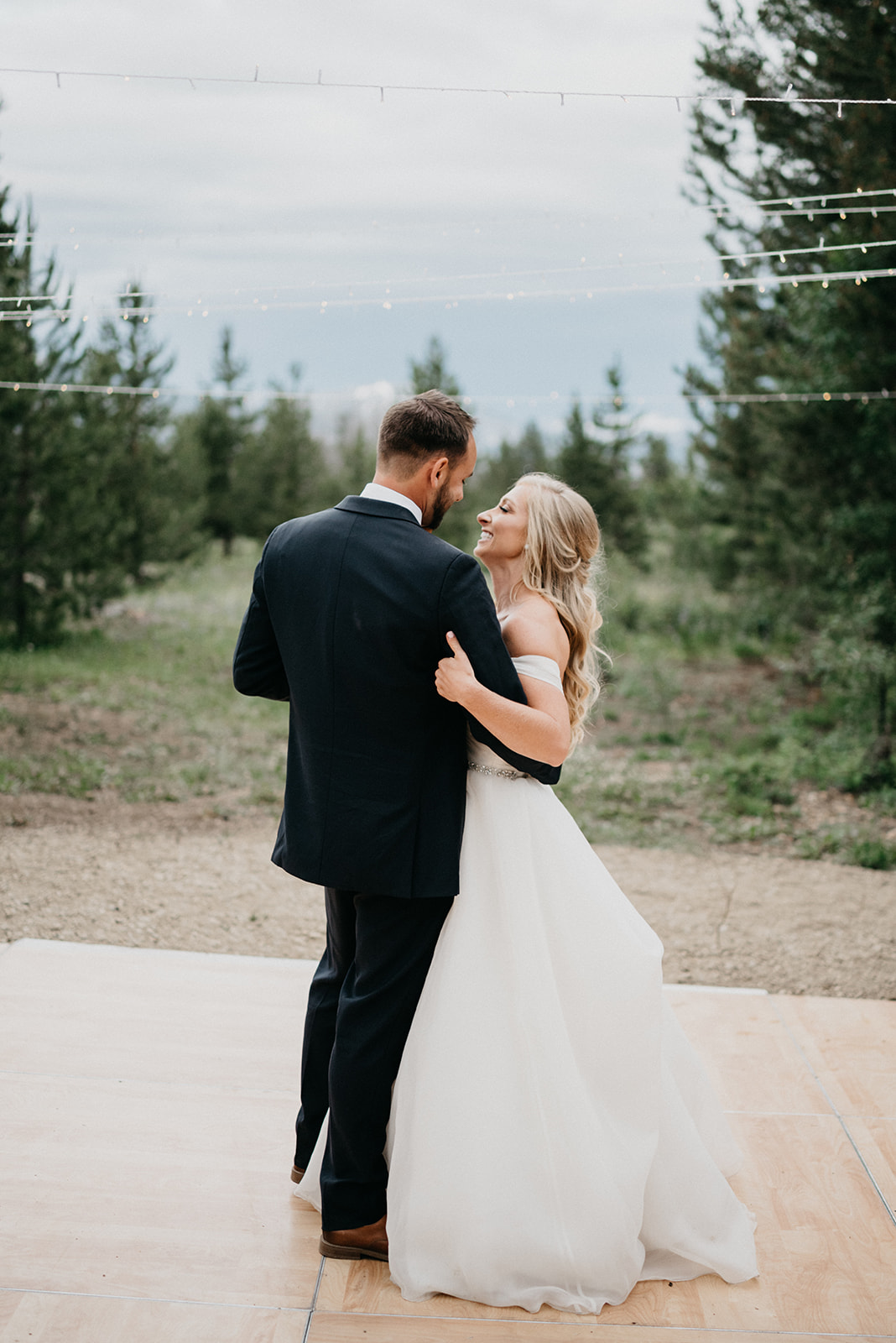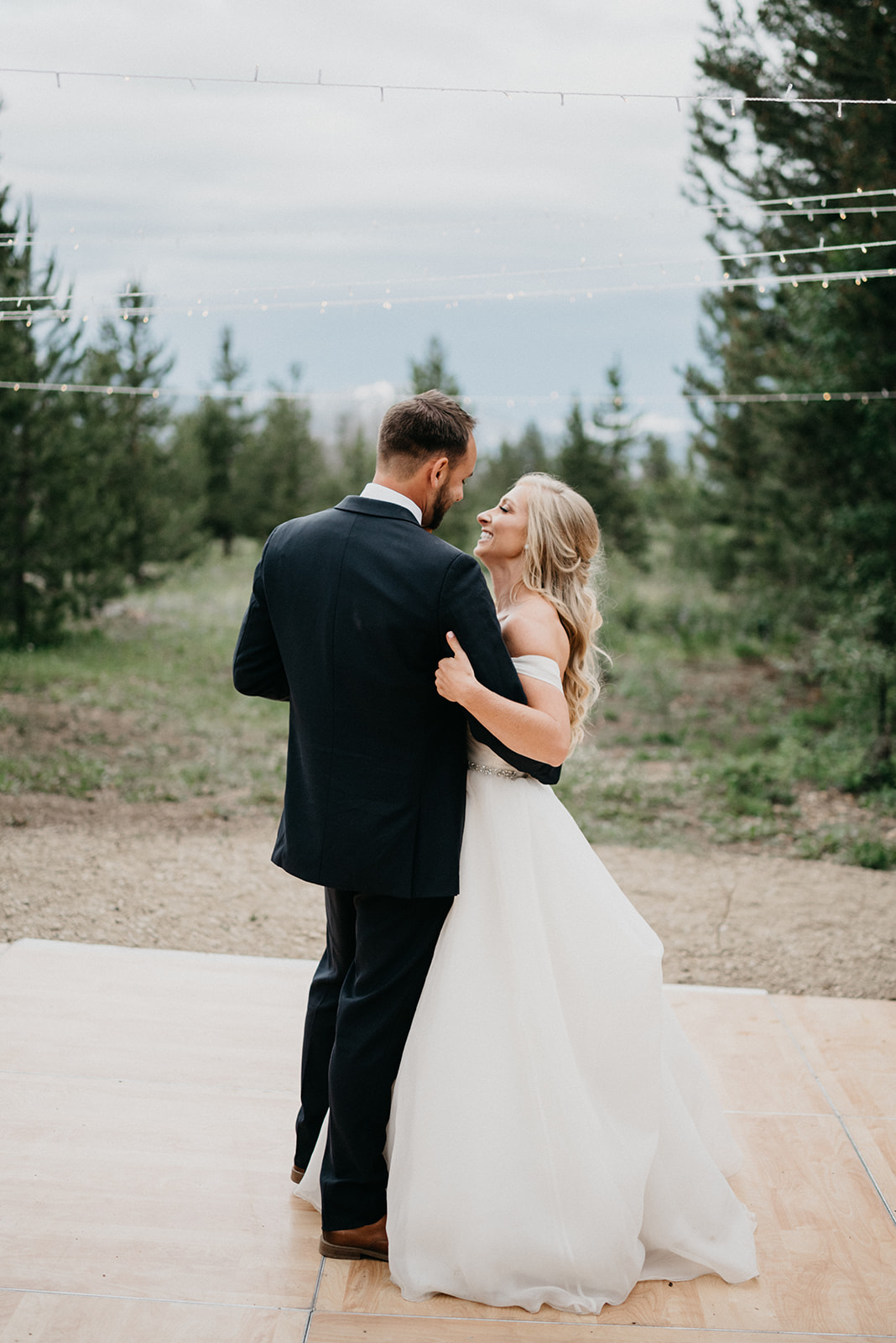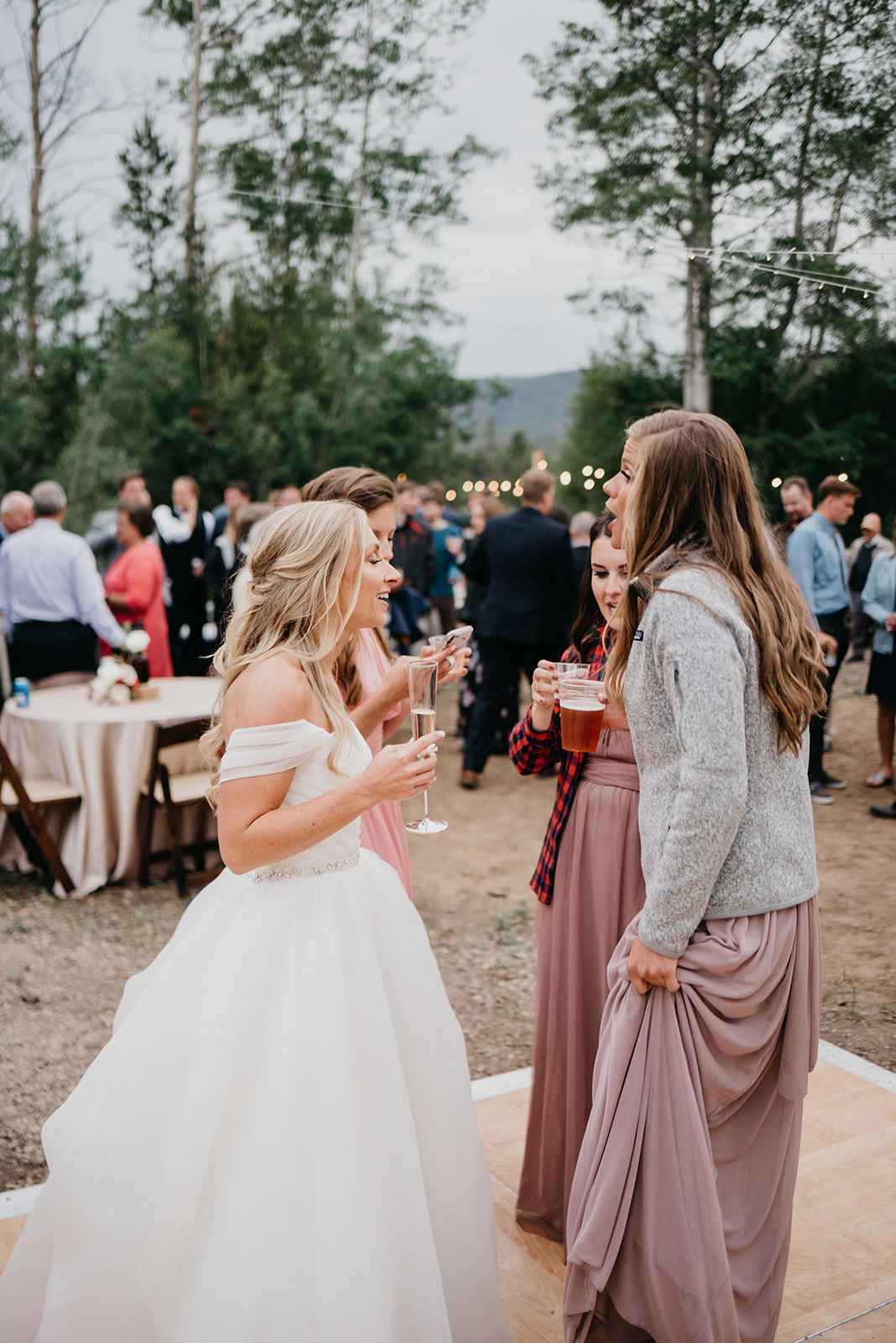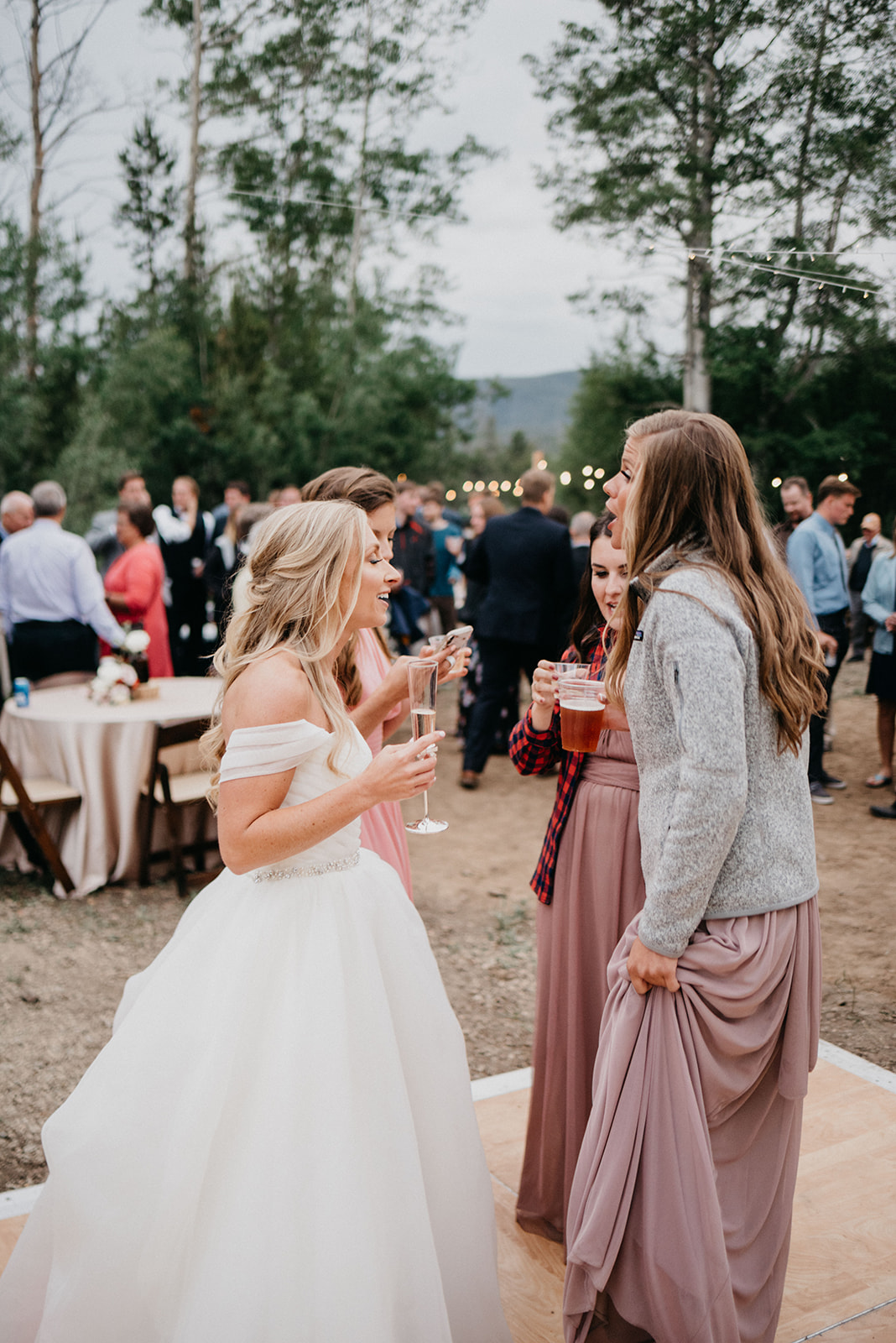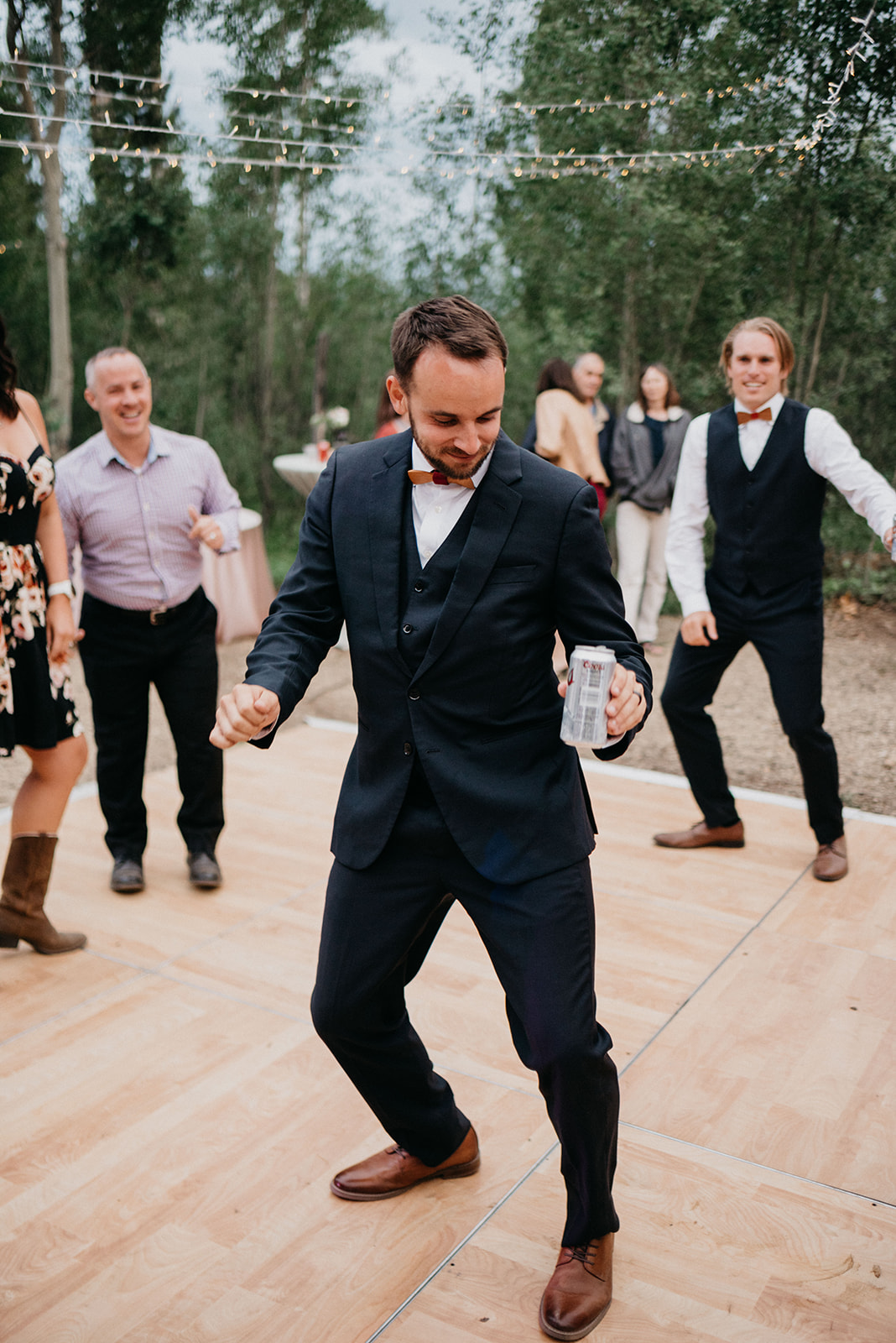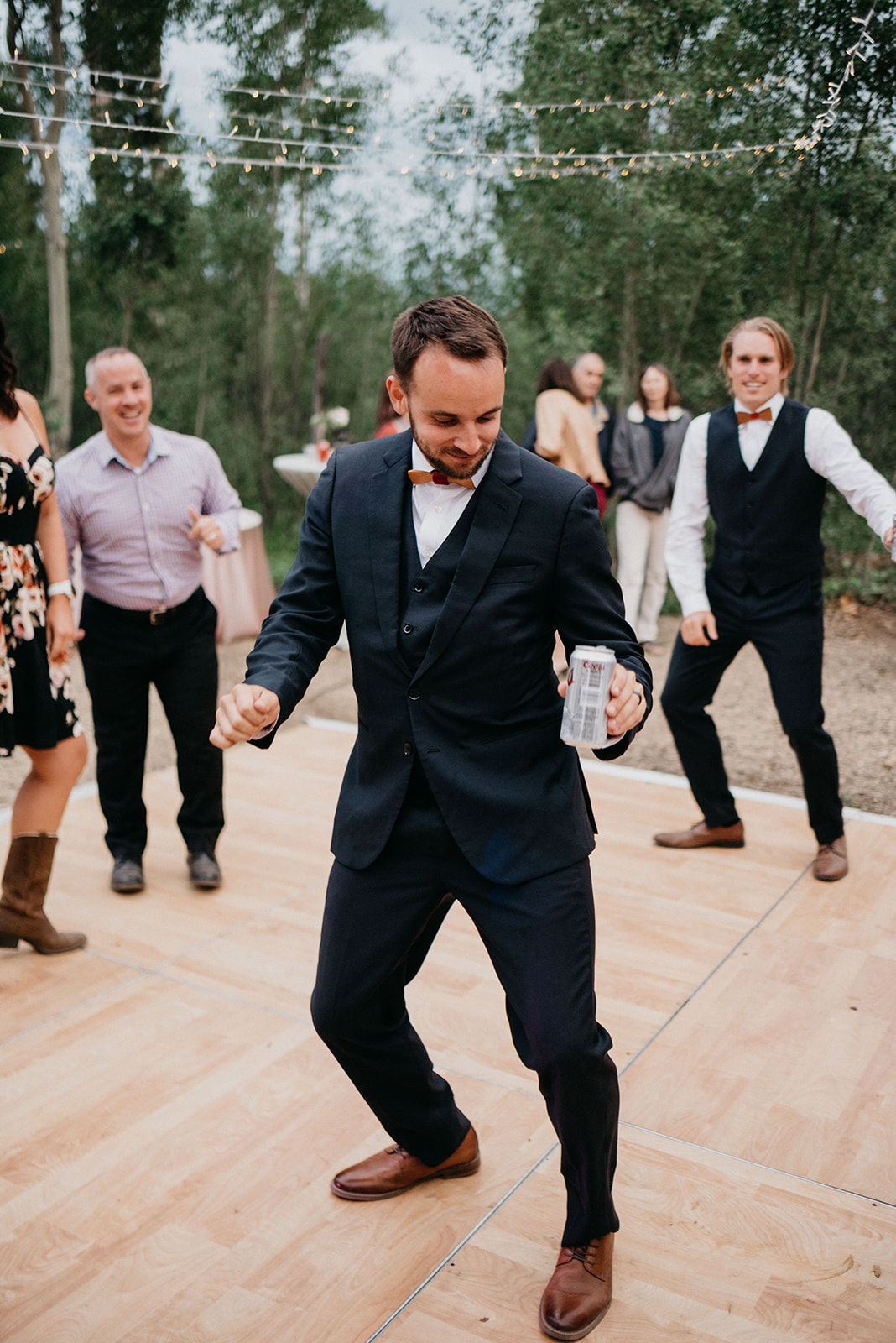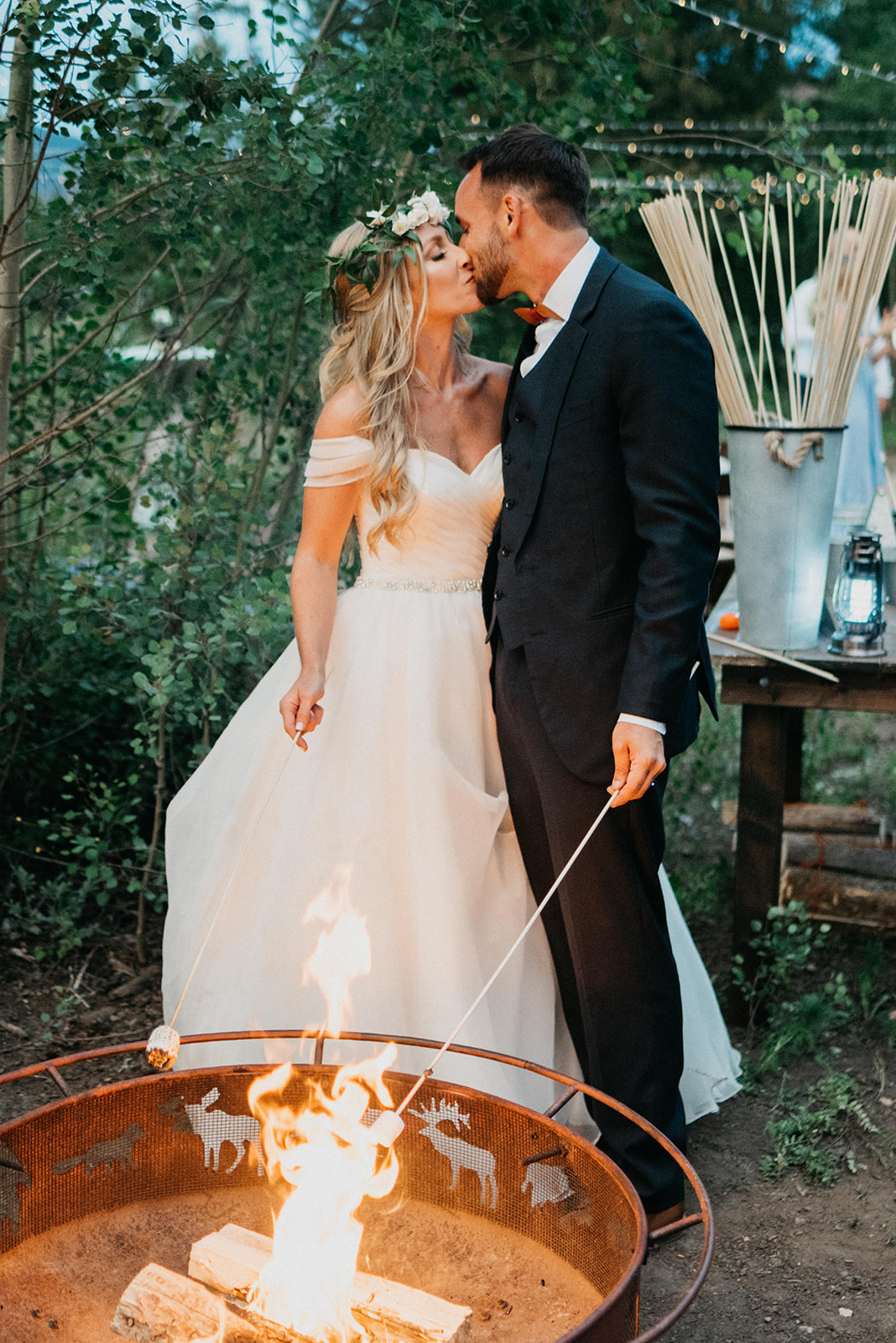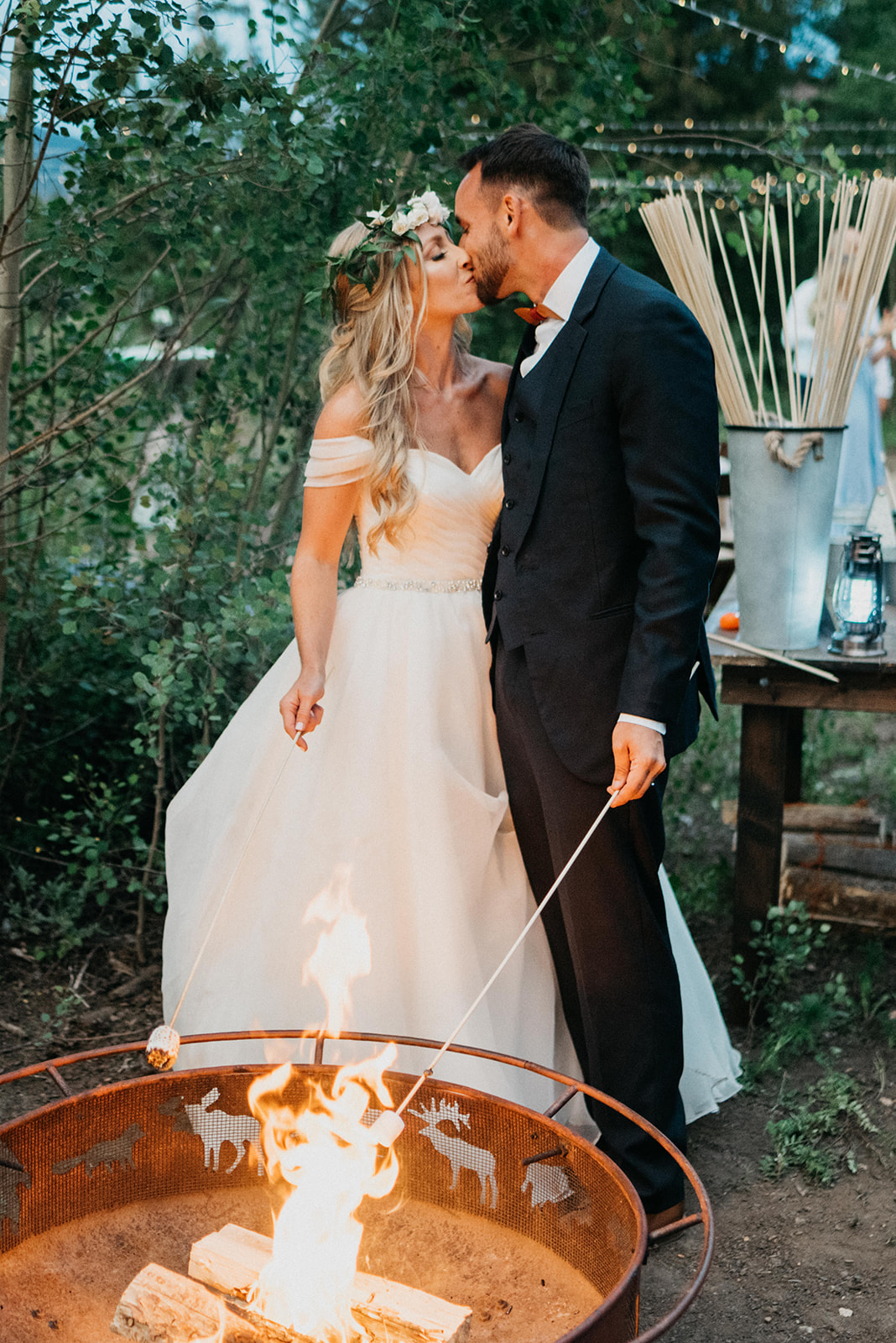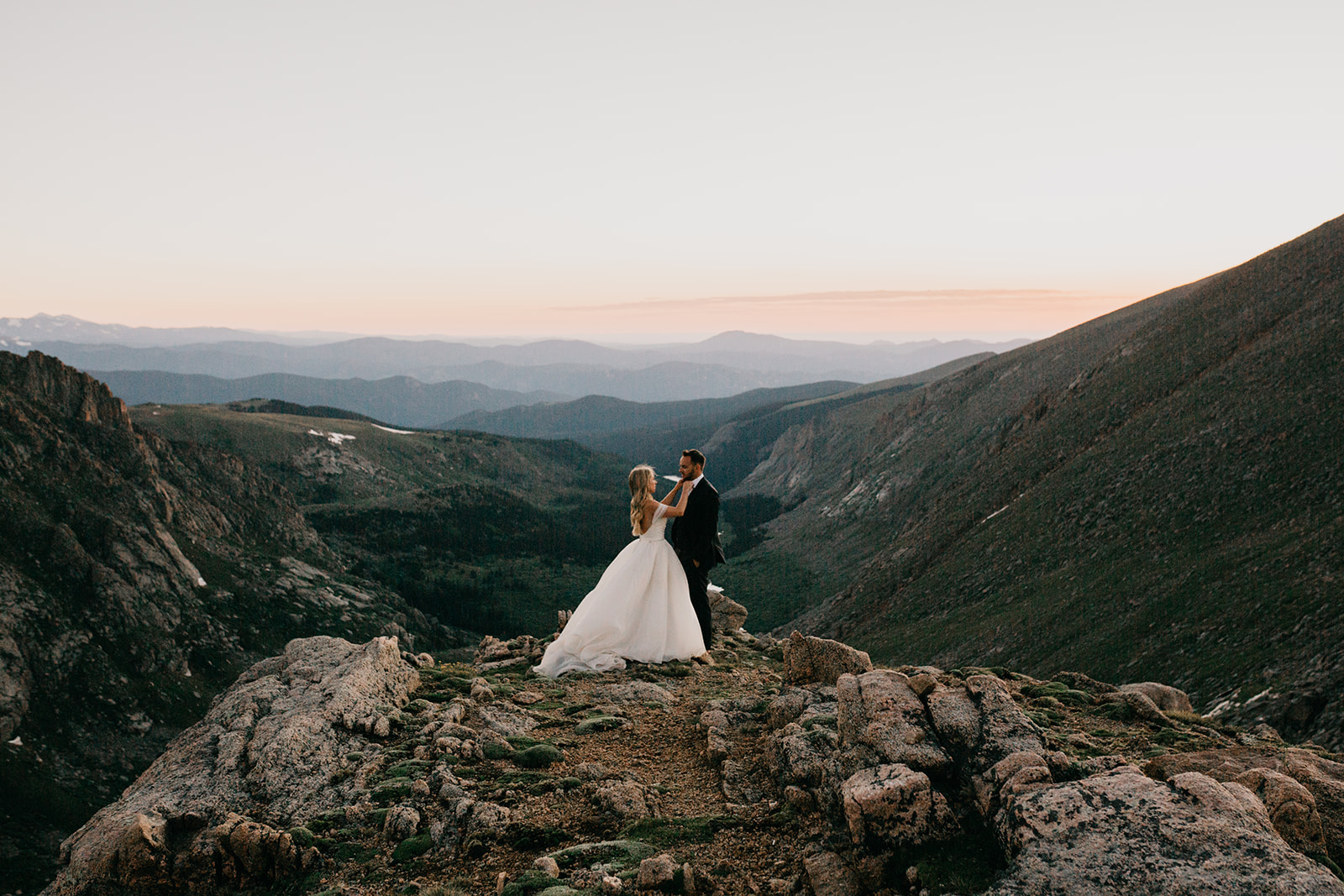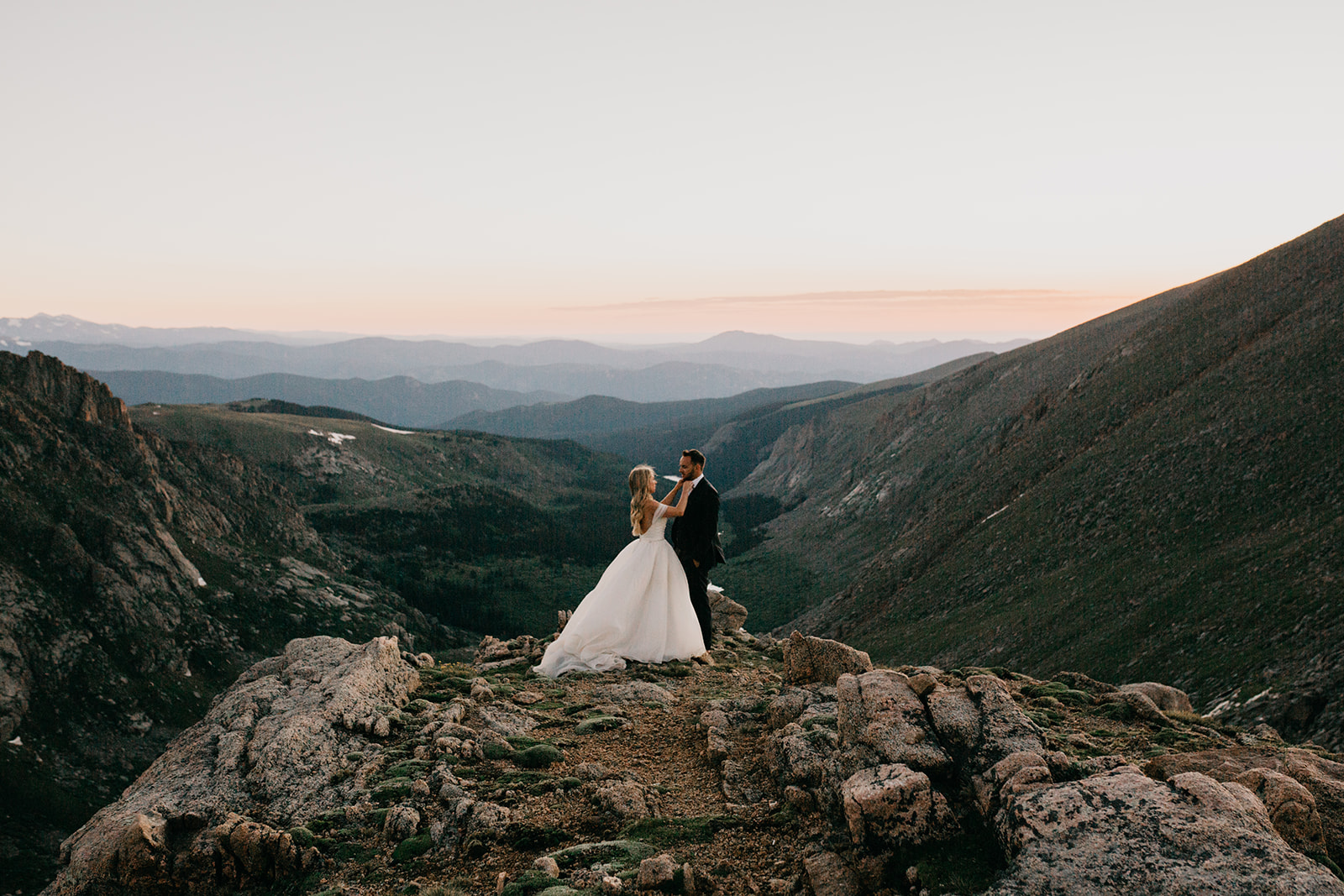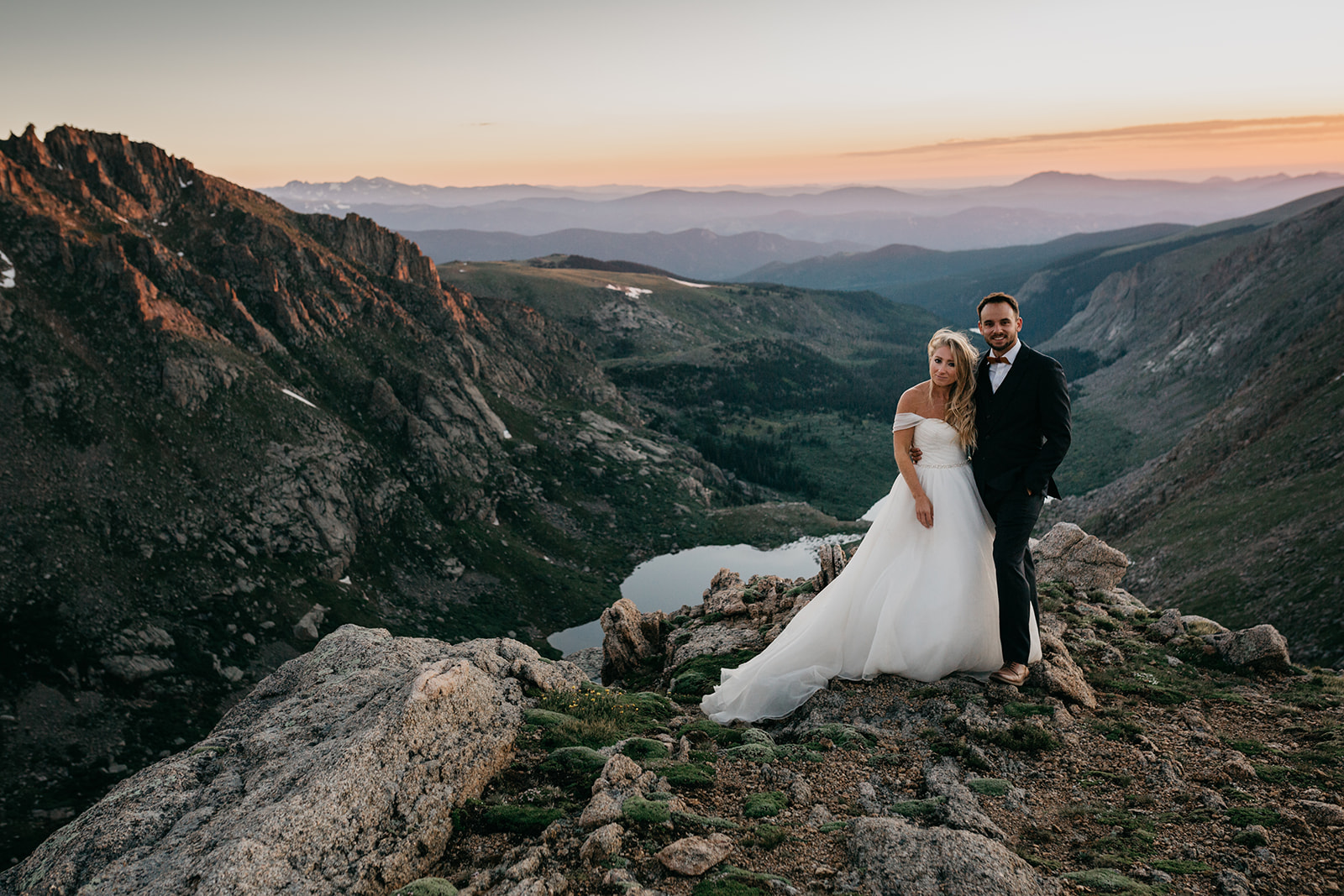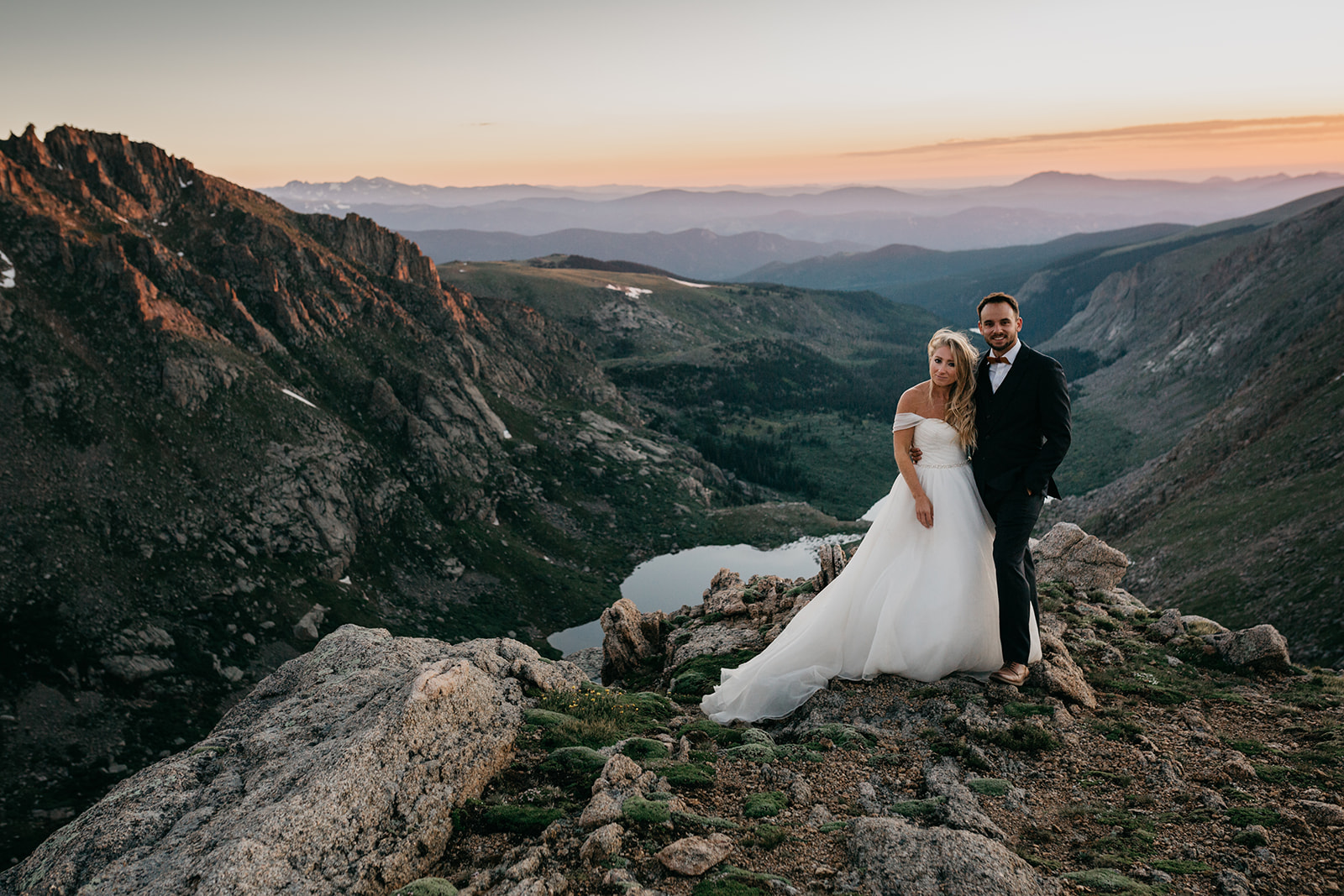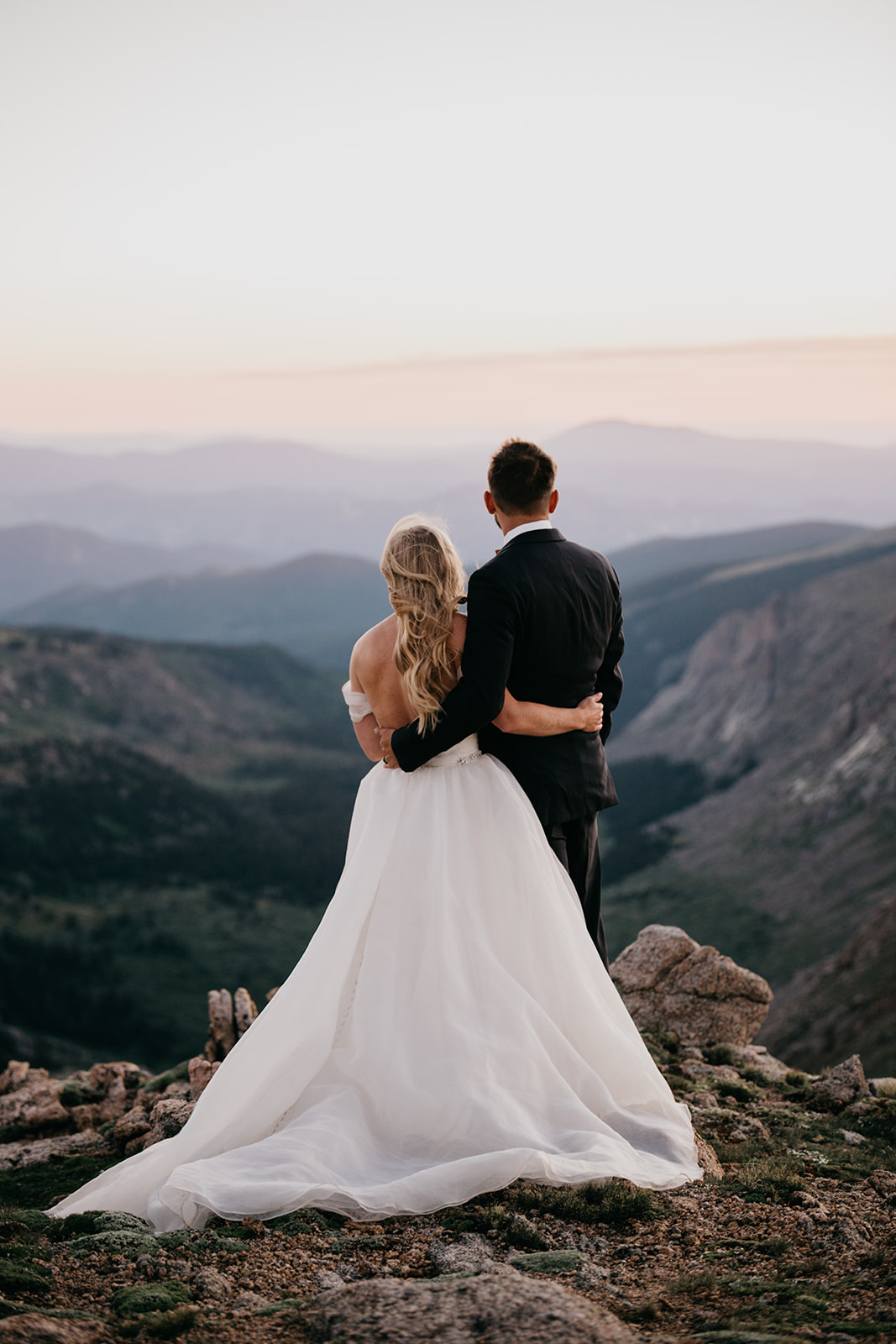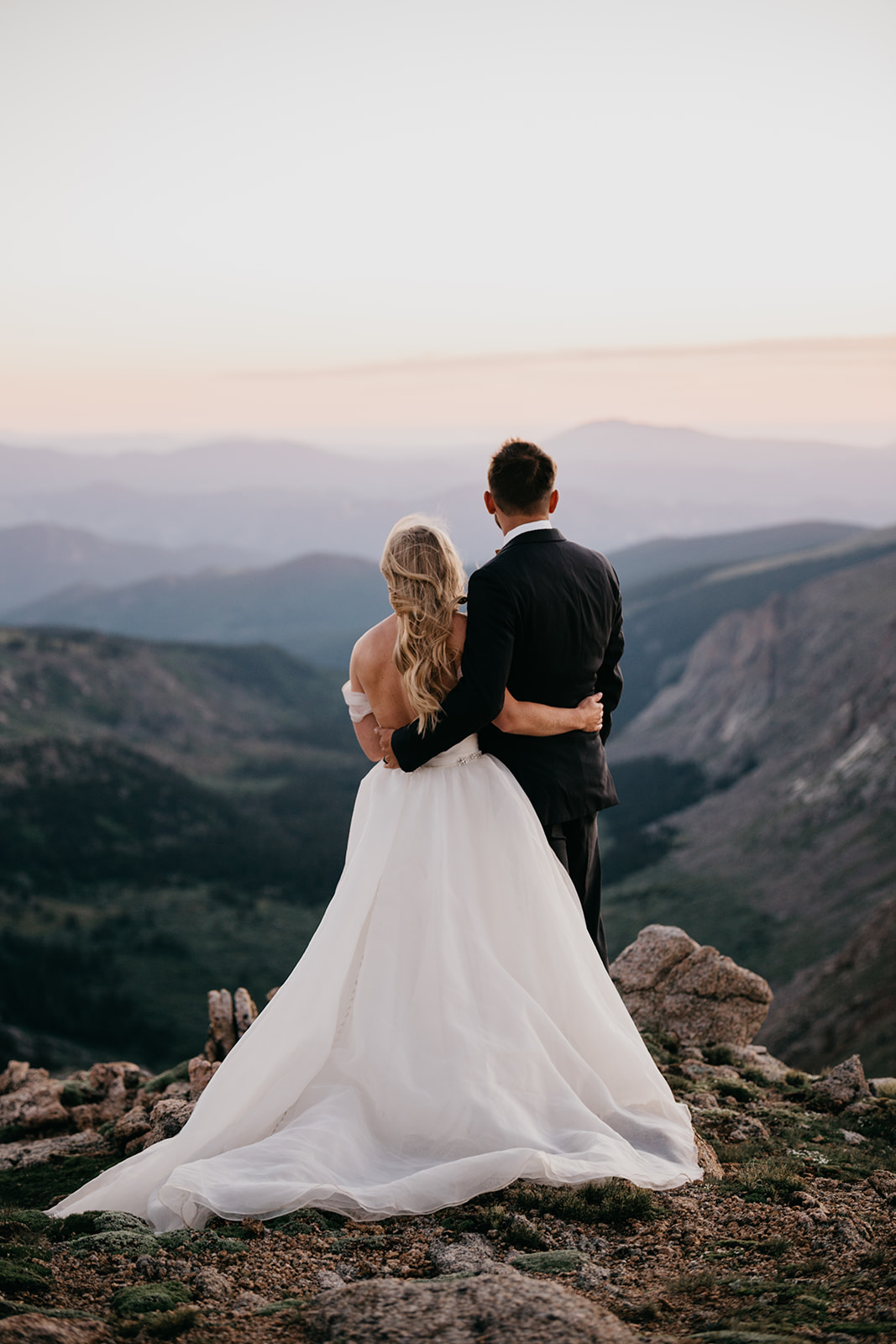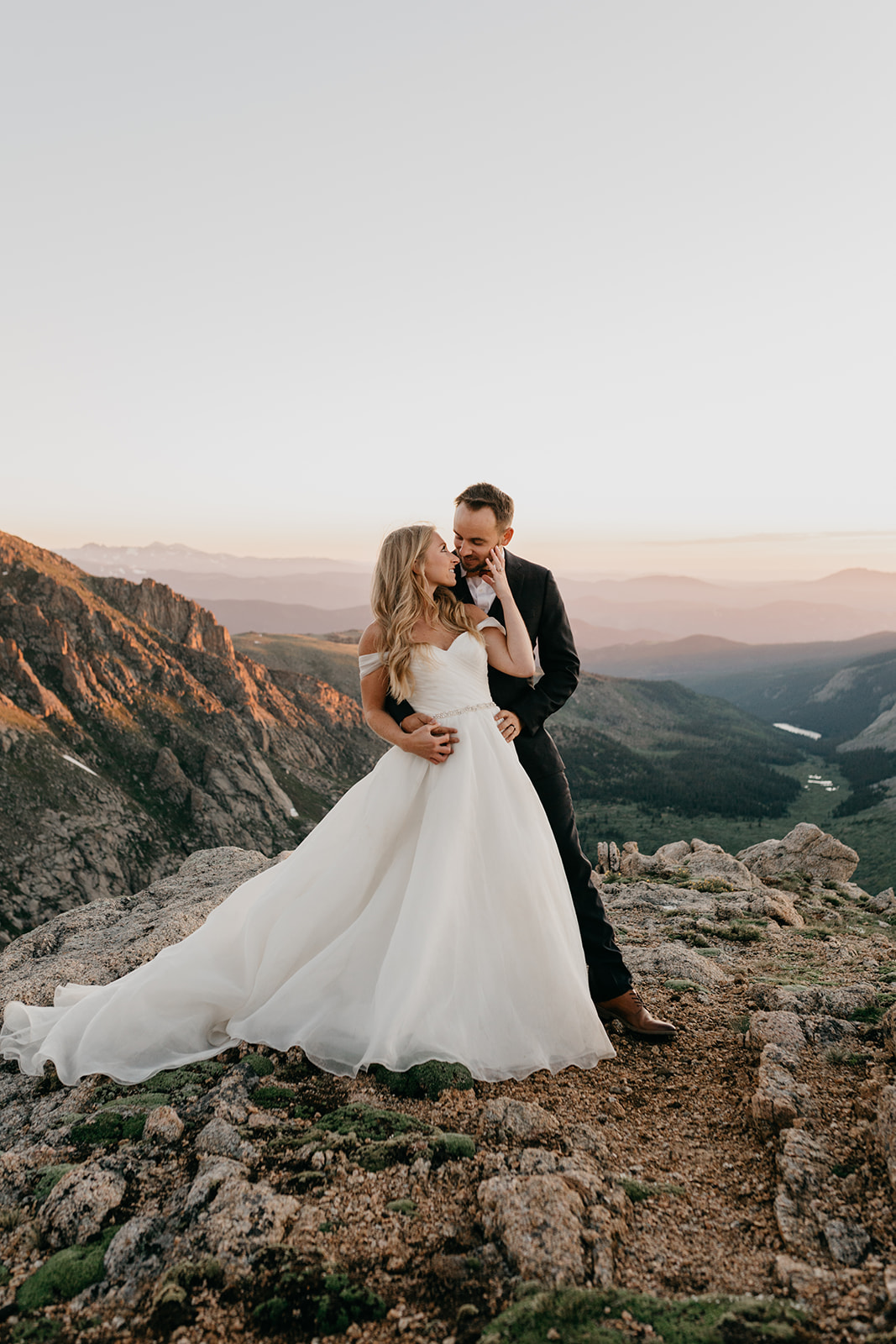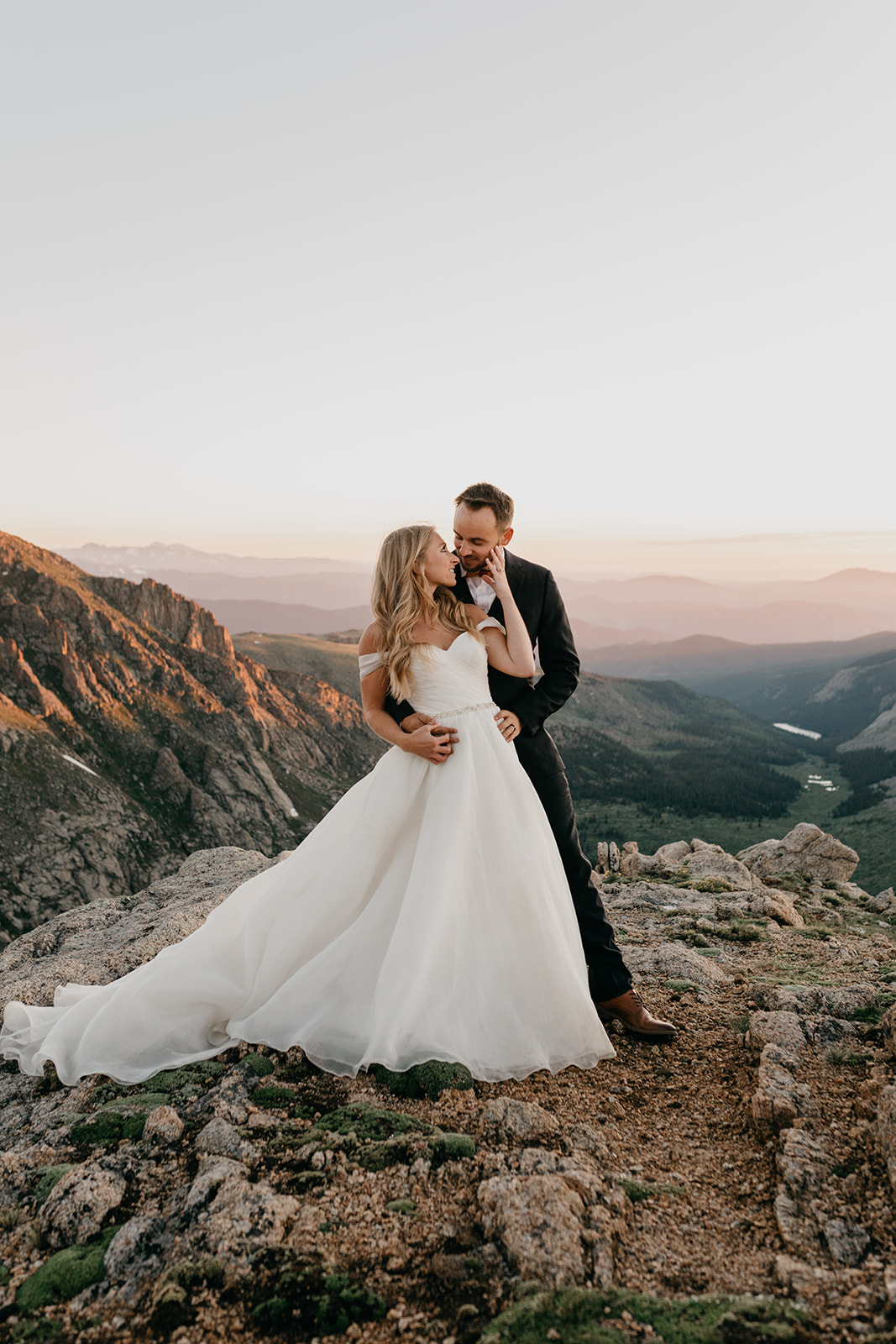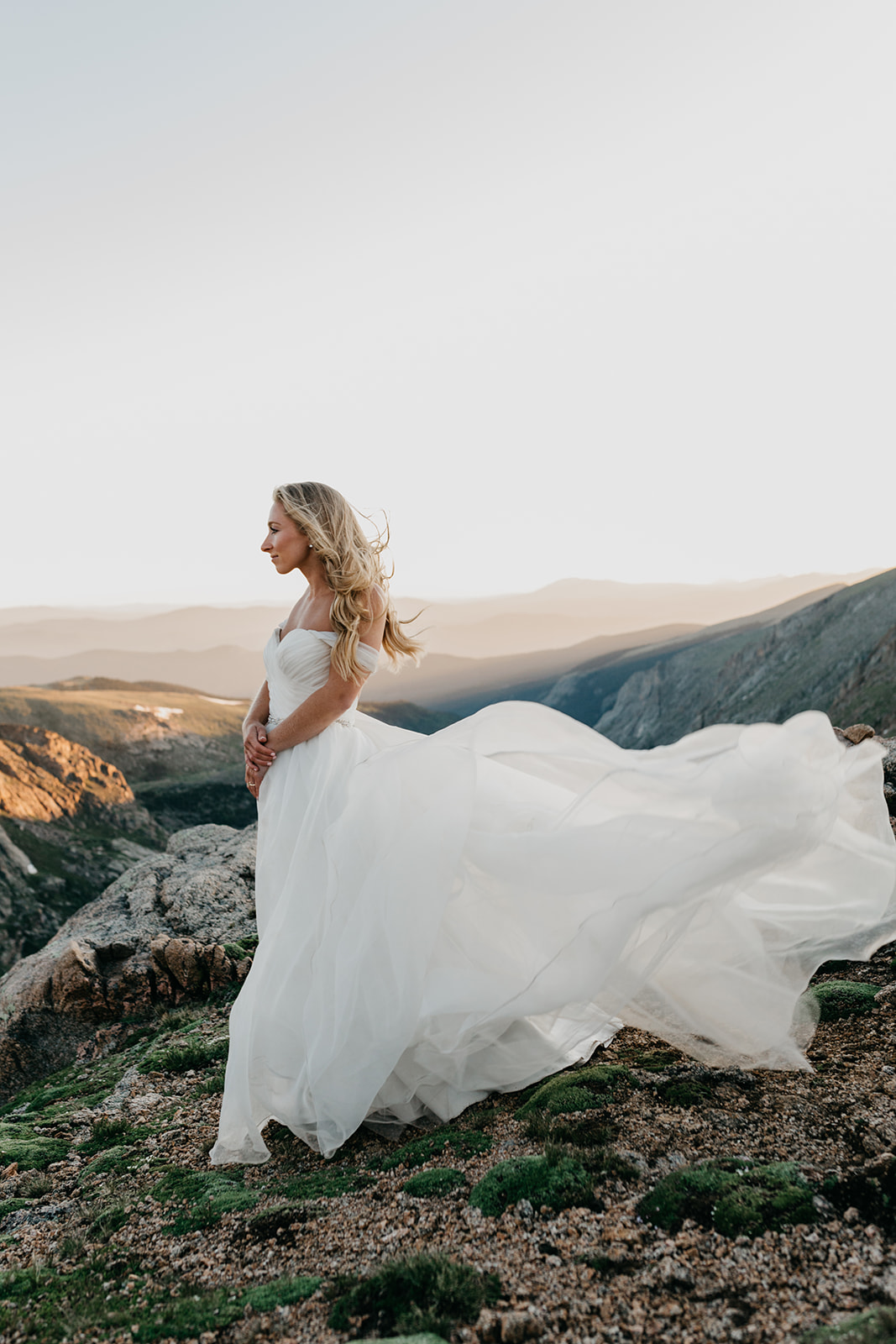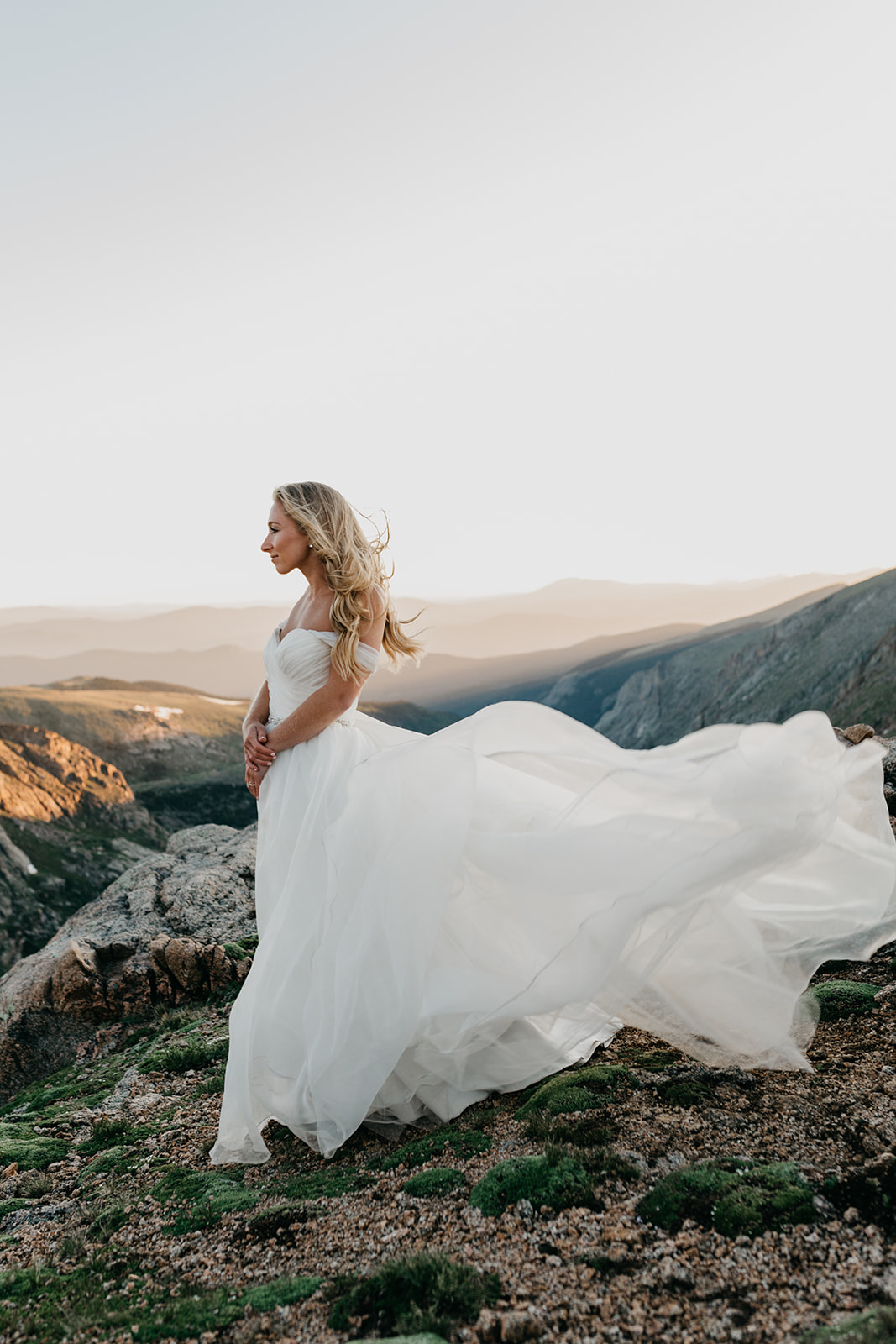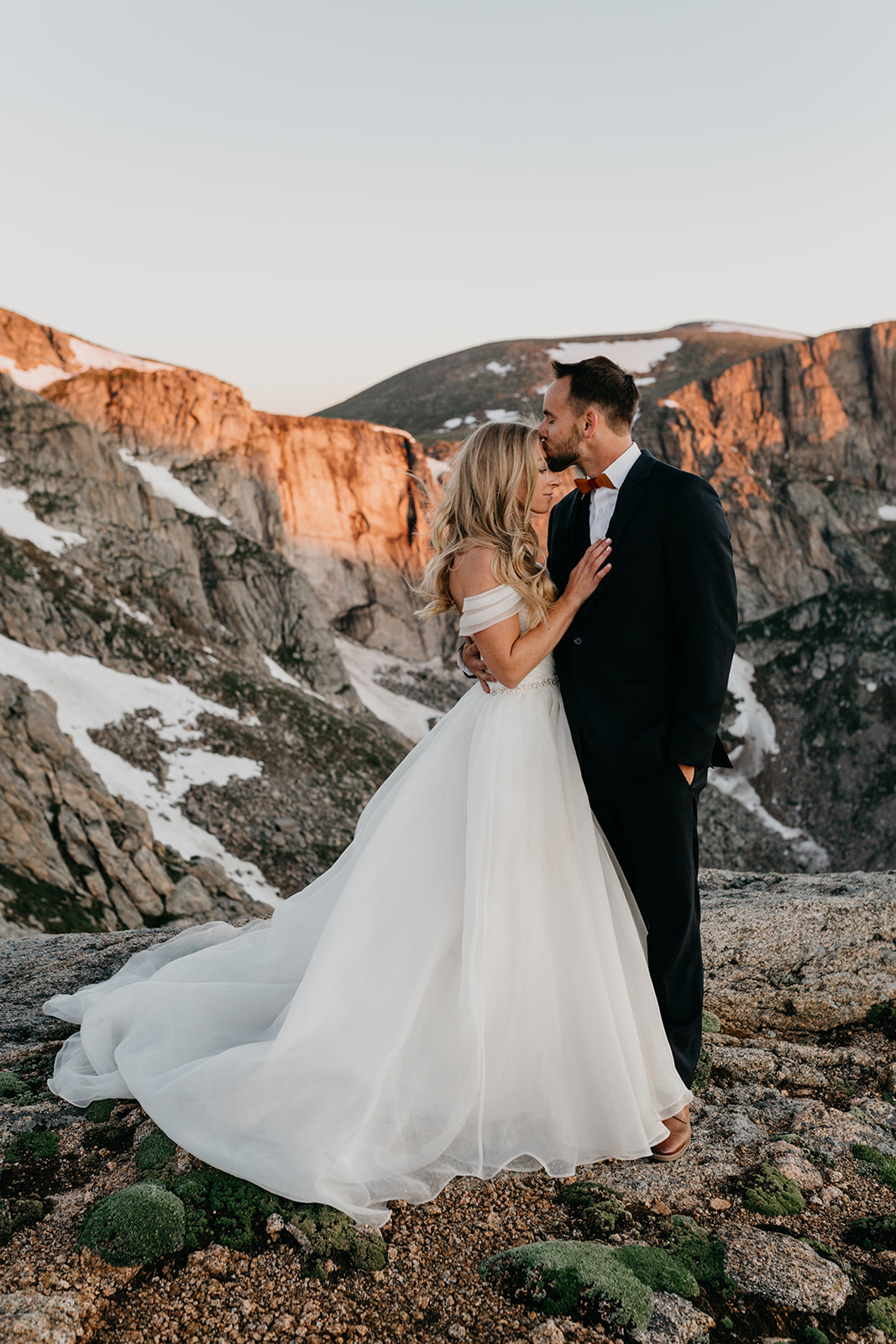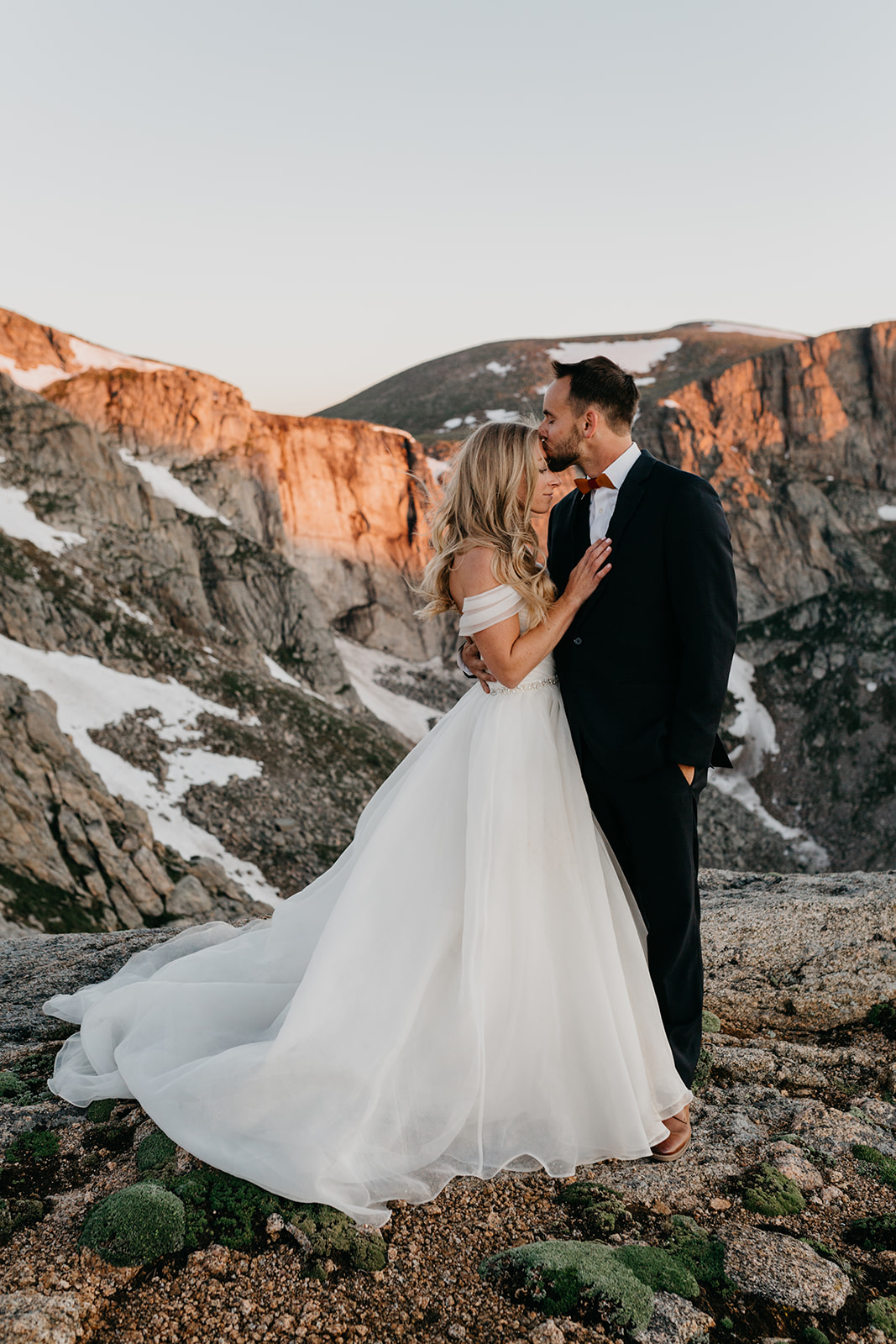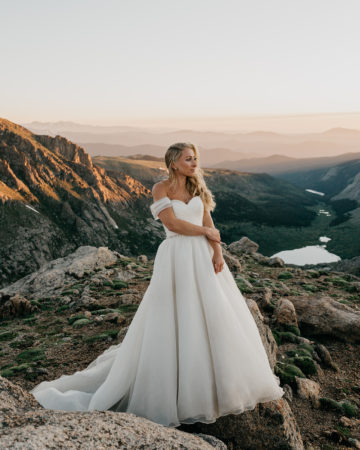 NICOLE'S WORDS ABOUT TEAM STELLALUNA:
"Wow! Brooke traveled all the way to Colorado for our wedding in the Rocky Mountains! She created the most beautiful and unique floral arrangements, boutiques, and boutonnières.
Brooke also was our day of wedding coordinator and made sure everything ran smoothly! She even went to the extent of running in the rain to quickly tarp all of our rentals and chasing off a moose from our reception site!
Brooke handled hiccups without hesitation in a controlled and calm manner. She was so kind and I truly felt how much she cared about making our wedding day the best day of our lives."
Thank you so much Nicole & Corey for trusting me to execute your wedding day. I was so honored to be a part of the day and wish you a long life of happiness together!
If you loved this outdoorsy mountain side wedding then you will love this Long Lake Outdoor Center wedding!
Wedding Coordination
& Floral Design: Stellaluna Events | Planner & Designer:
Christina Burton Events
| Venue:
Winding River Resort
| Photographer:
Catherine Lea Photography
 | Cake: The Cake Maker | Catering: Sagebrush BBQ | DJ: Elite Entertainment | Stationery: Blu3 Designs | Hair: Bridal Hair by Amy | Makeup: Beauty by Alexandra | Rentals: Colorado Party Rentals | Linens: Linen Hero | Dress: Bridal & Formal | Bridesmaid Dresses: KF Formal & Birdy Grey | Suits: The Black Tux