A Ypsilanti Freighthouse Wedding | Amber & Kurt
Gosh, I love sharing my amazing client's wedding days and Amber & Kurt's Ypsilanti Freighthouse wedding in Ypsilanti, Michigan is definitely a special one! As I was going through their album trying to select what photos I wanted to share I couldn't help but smile. Going through the photos had me reflecting back on the day and the time I spent working so closely with Amber.
When Amber and Kurt started their wedding planning journey with Team Stellaluna they originally had another wedding venue. After some unfortunate events with their first venue, Amber and Kurt decided they needed to do what was best for them and selected a new wedding venue, in a new city, on a new wedding date. Luckily we had their new wedding day open and I am so happy we did! This day was not only beautiful, but a true representation of a happy couple.
The morning started at Amber's mother and "bonus dad's" (what Amber calls her step-father) house in Ypsilanti where the girls got ready and the gentleman got dressed. Amber and Kurt shared a first look before heading to the Ypsilanti Freighthouse for their ceremony.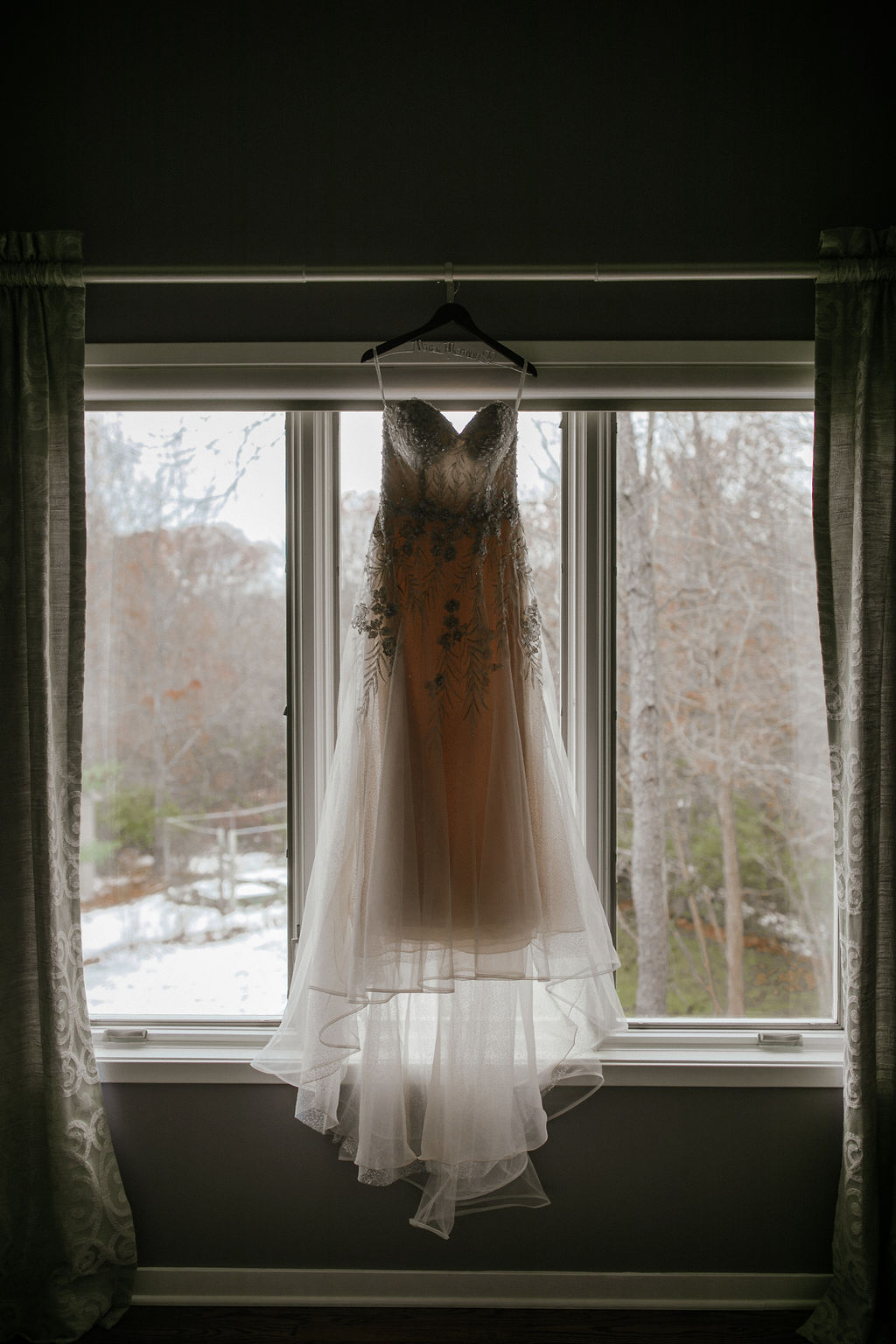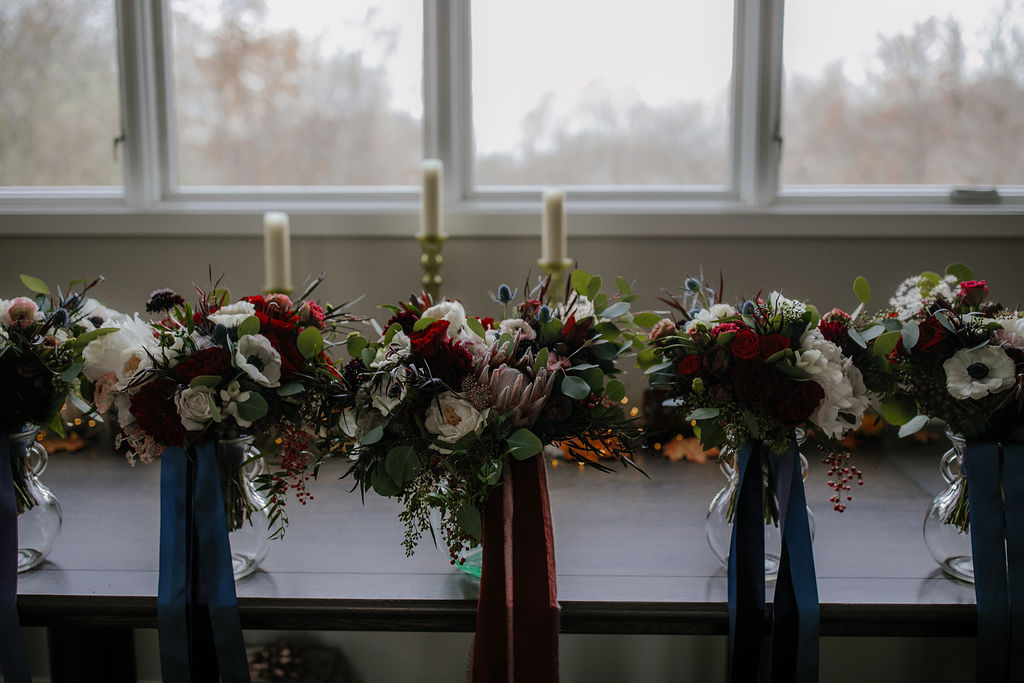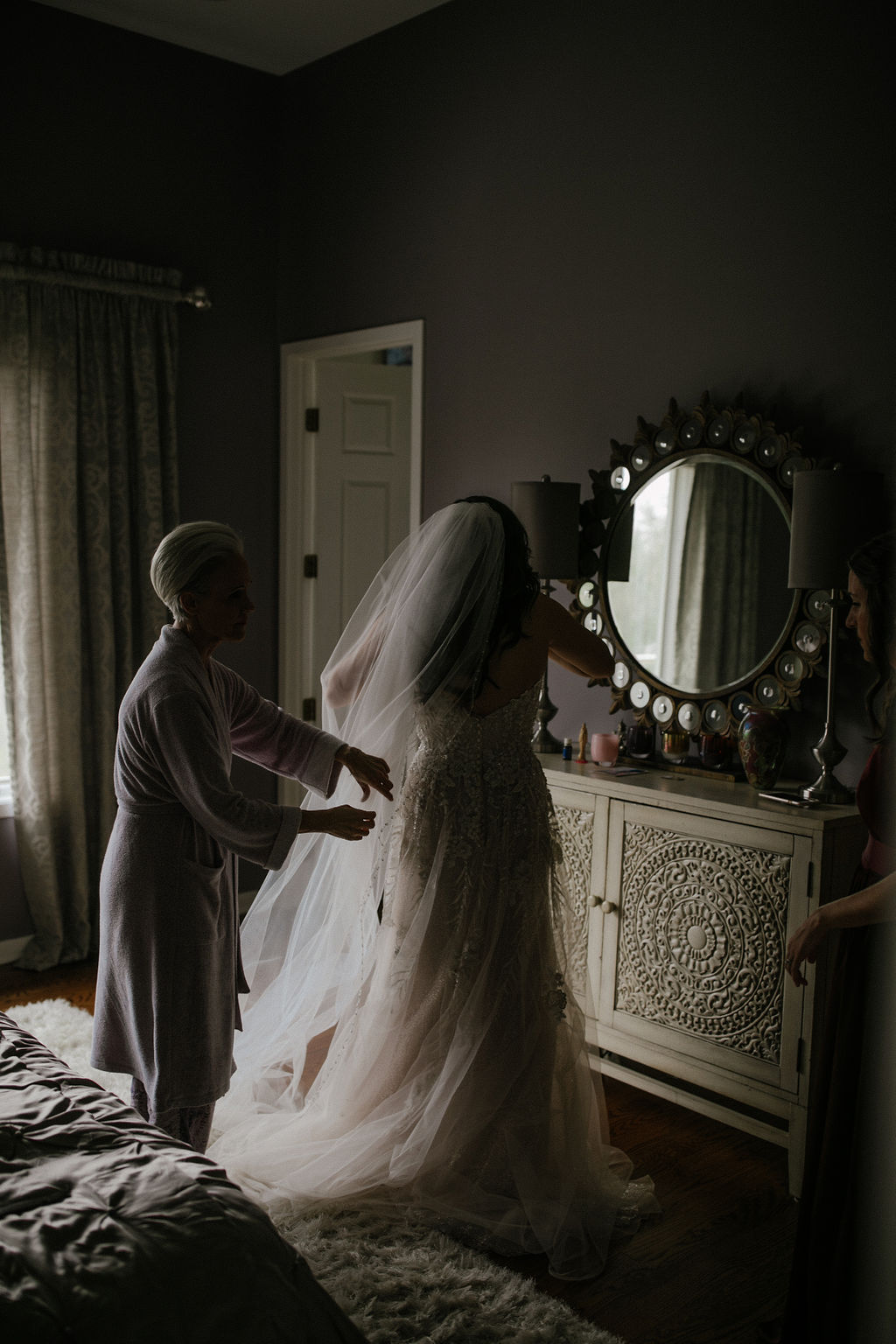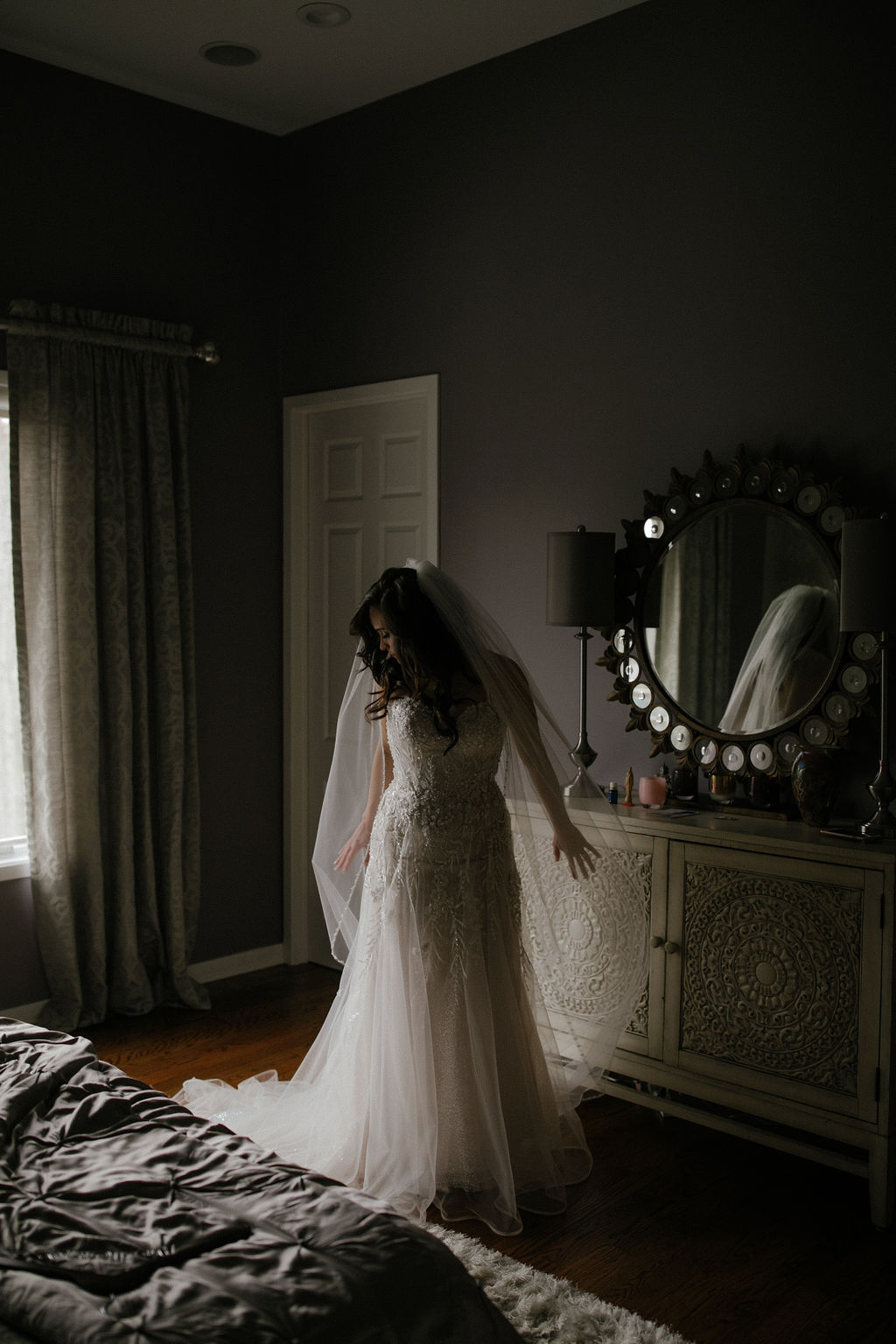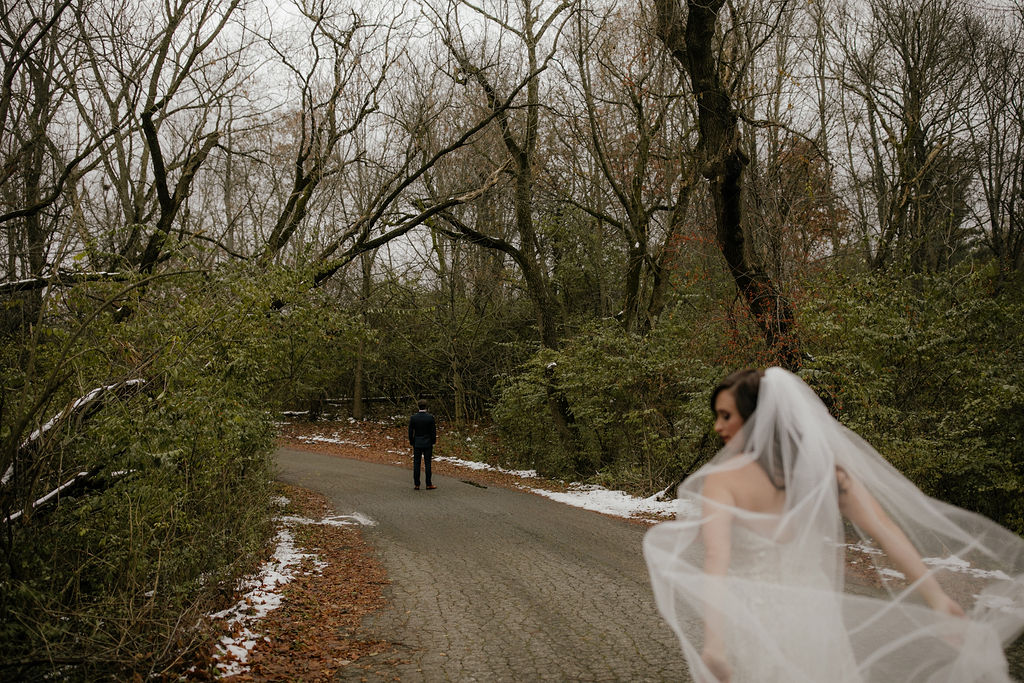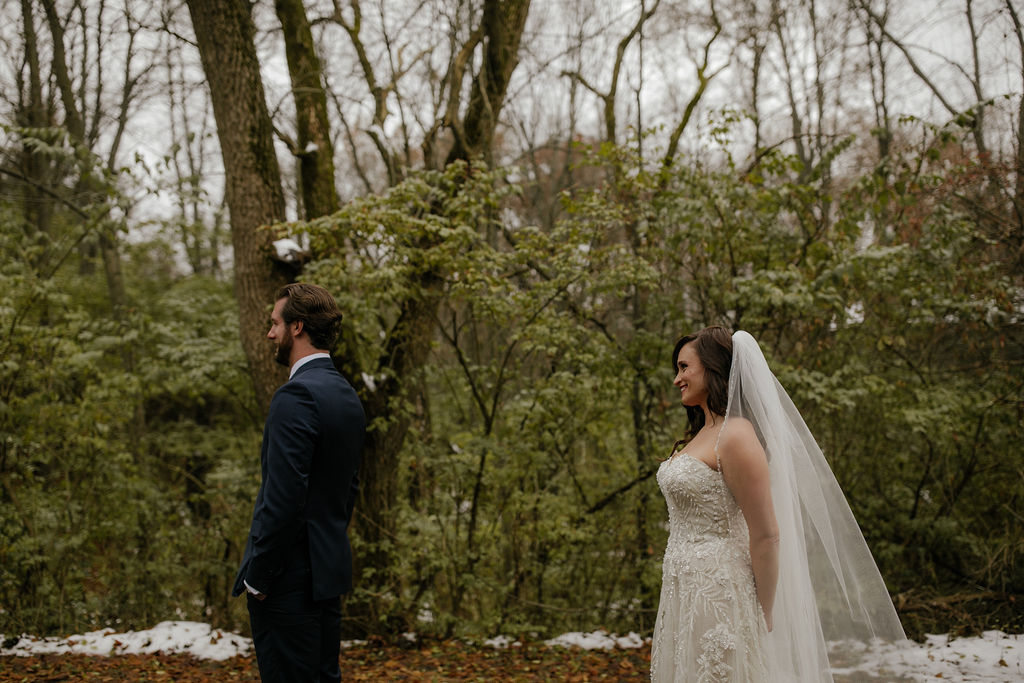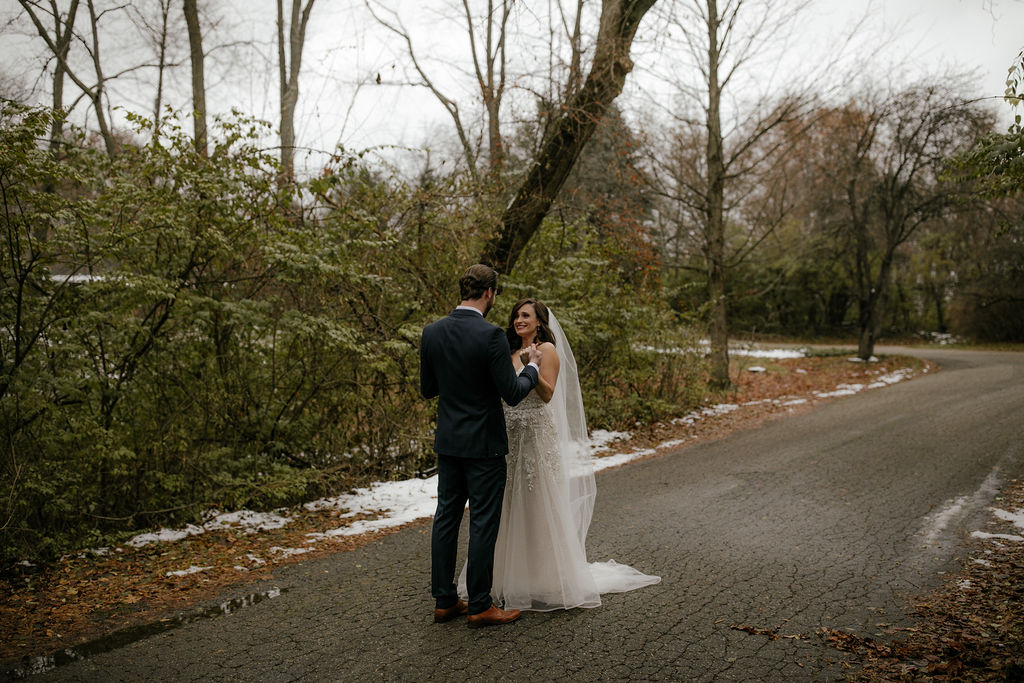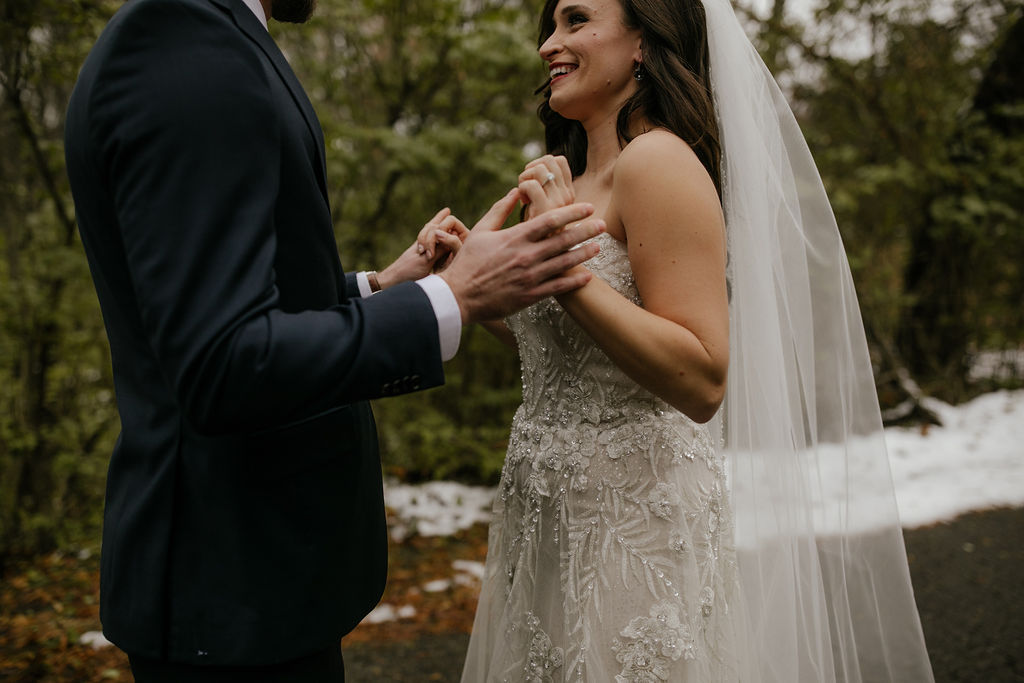 I loved how the girls all wore furs. It paired so nicely with the lightly snowy November day and added such a pretty look to their dresses.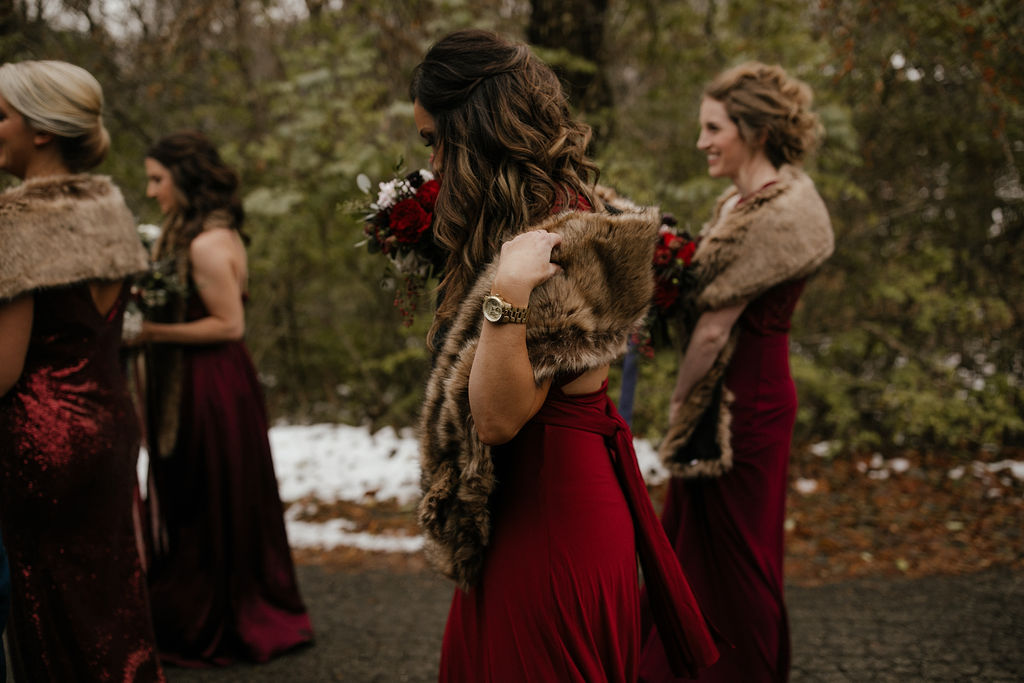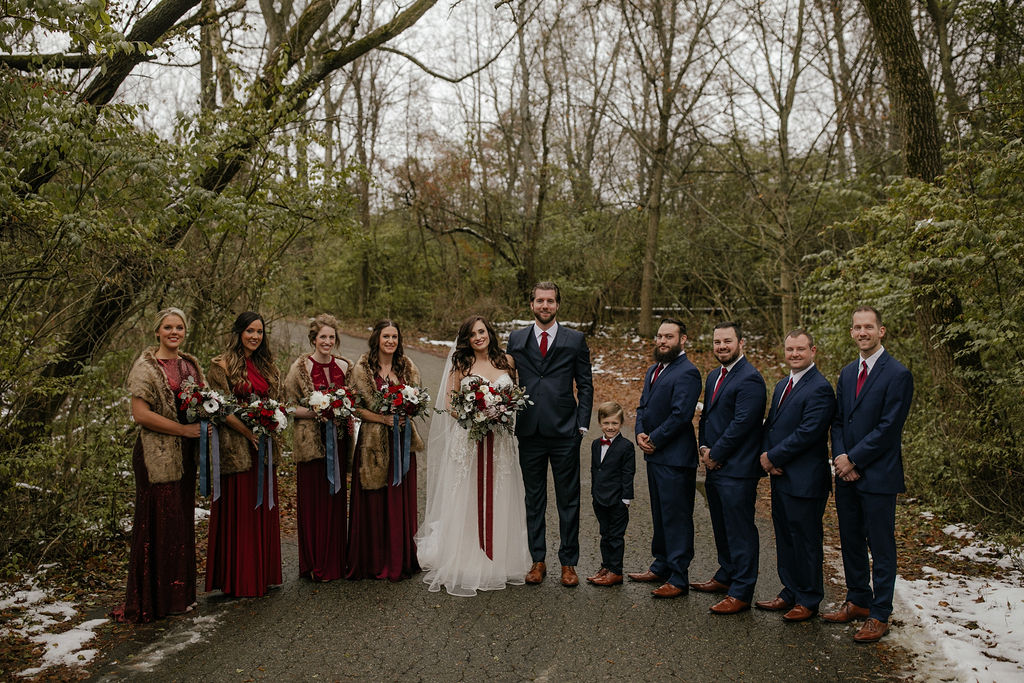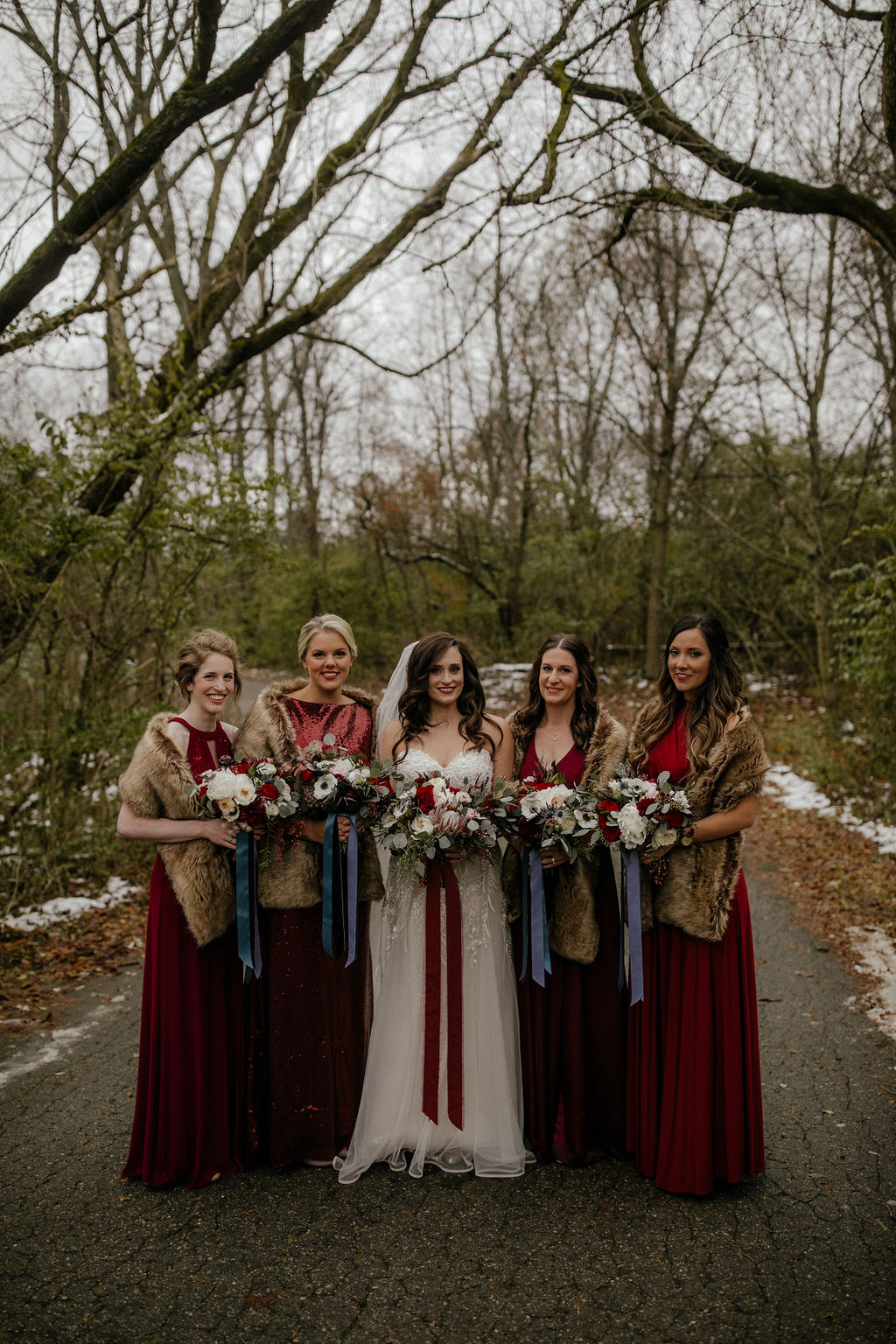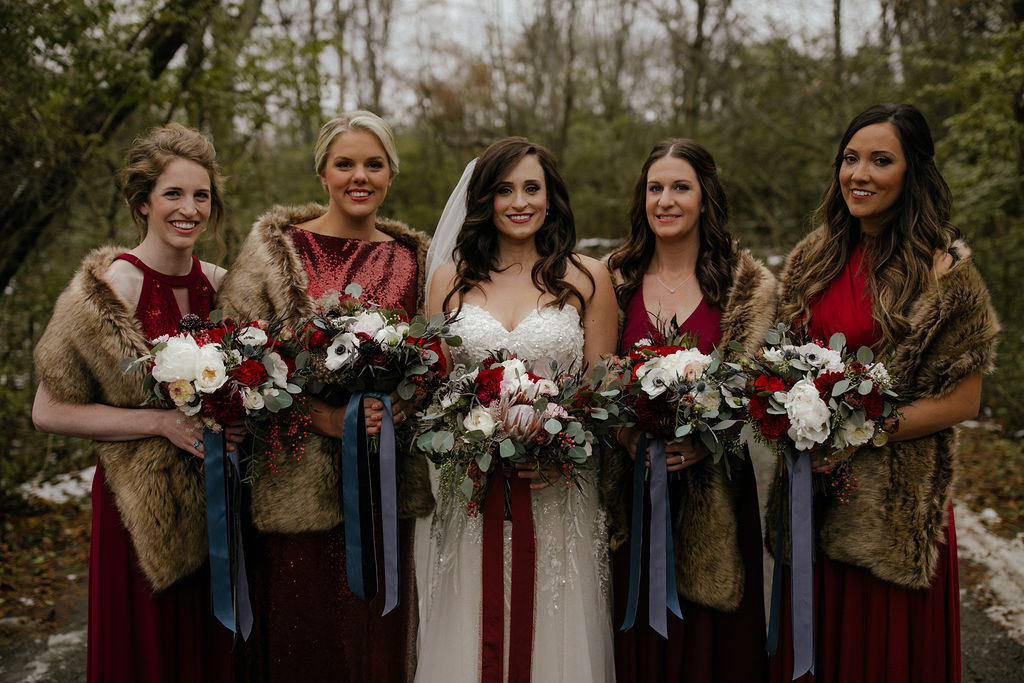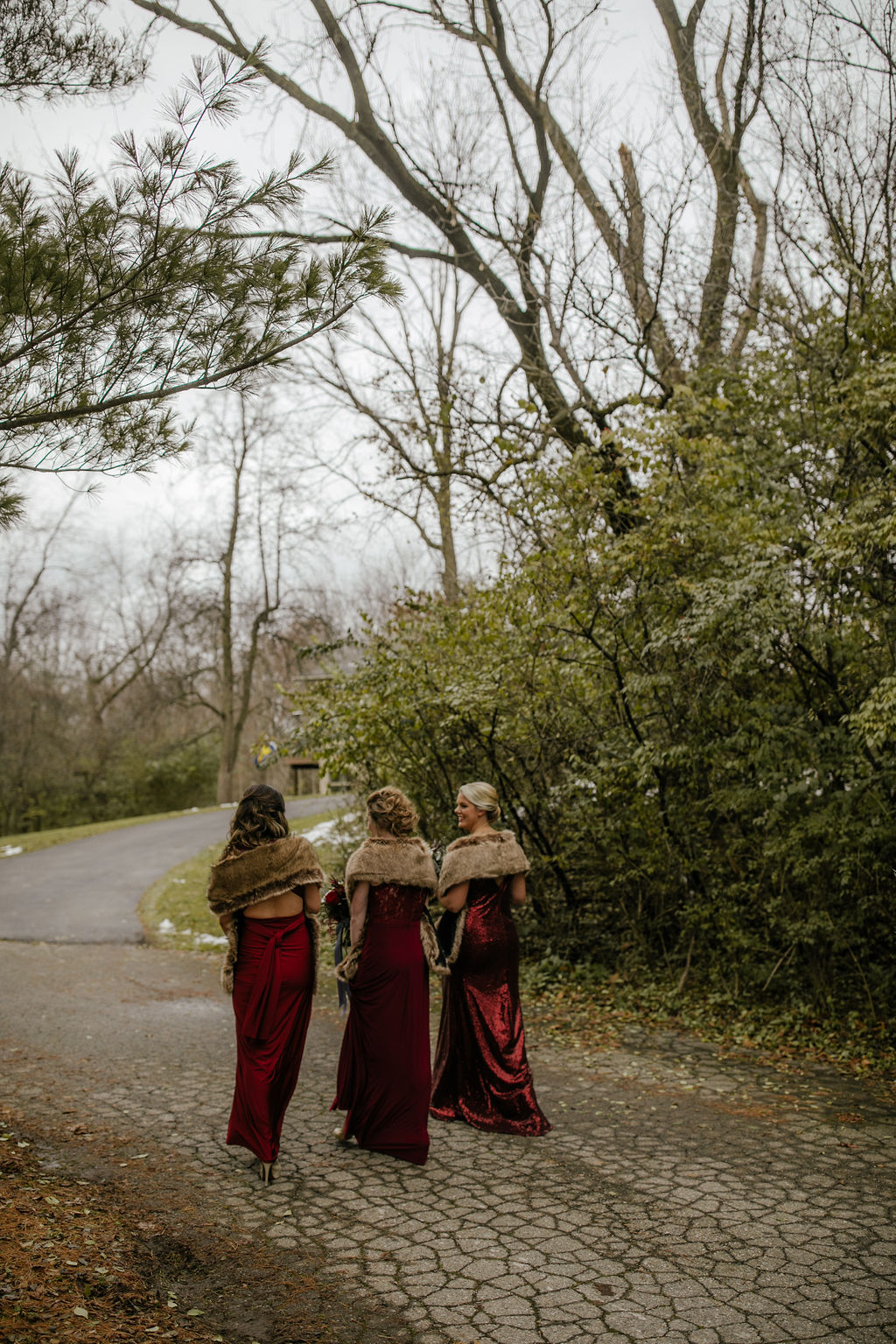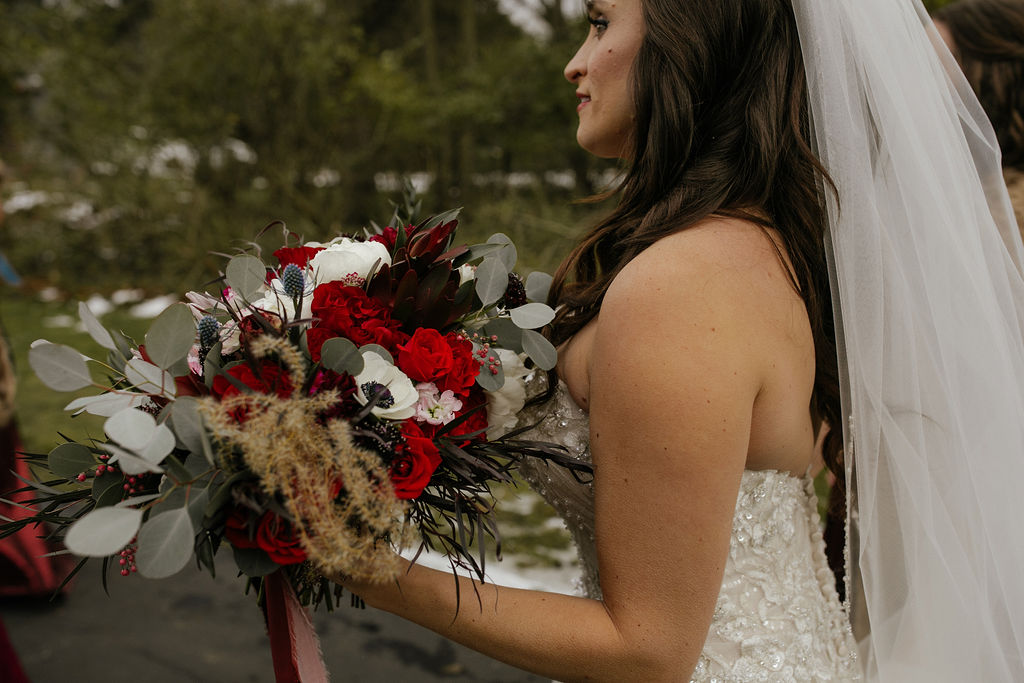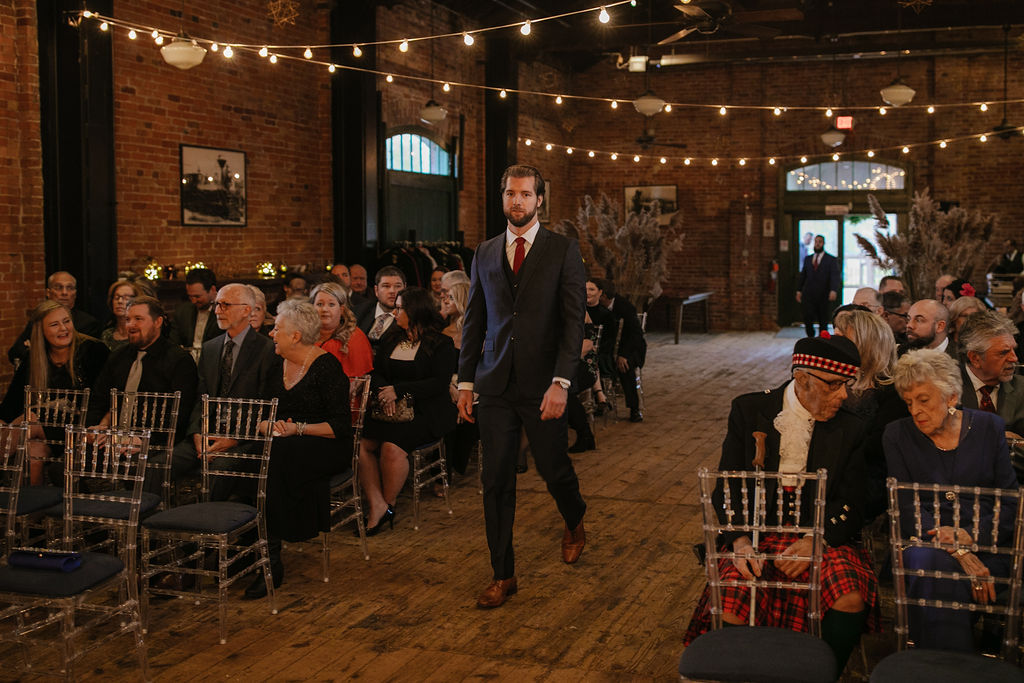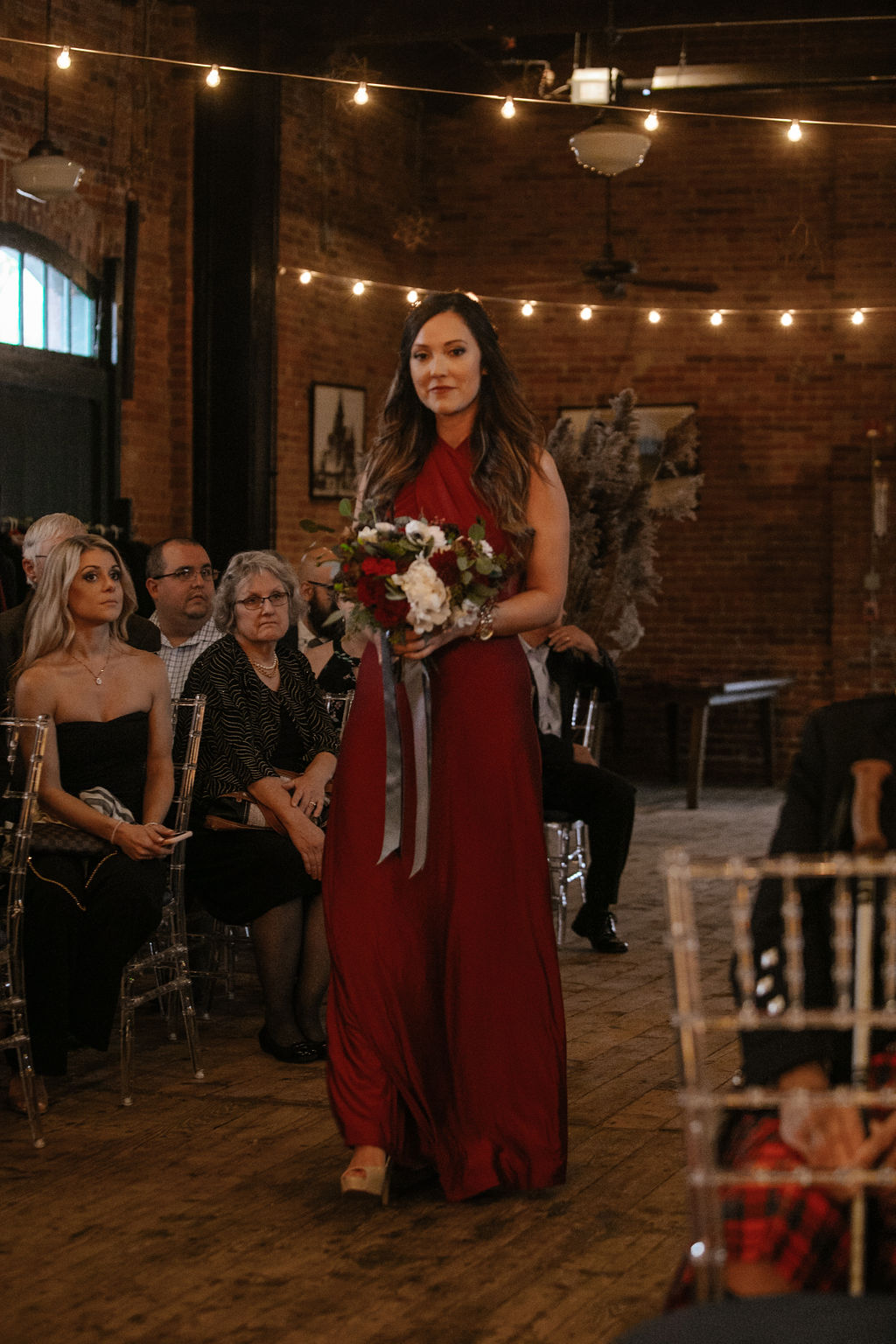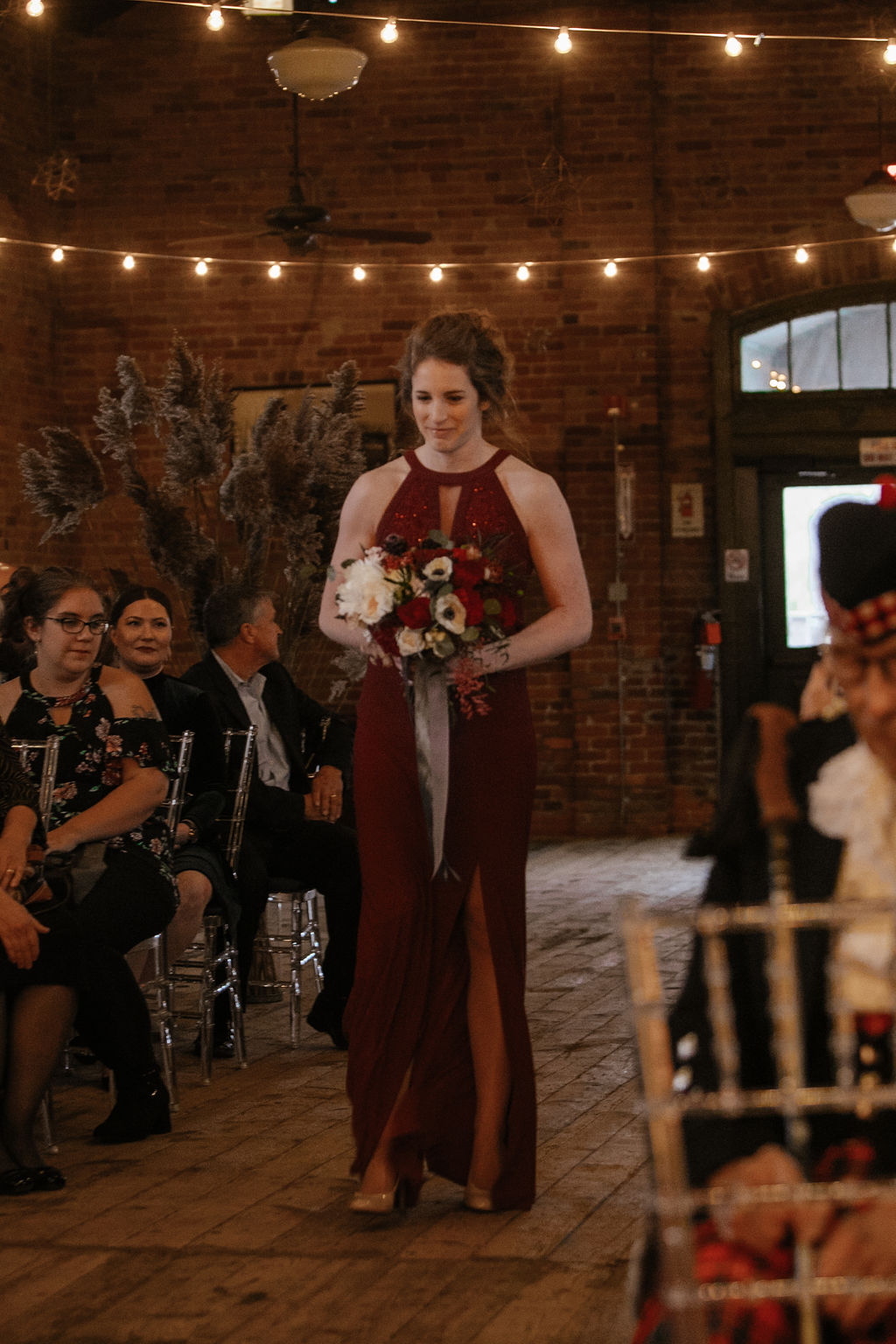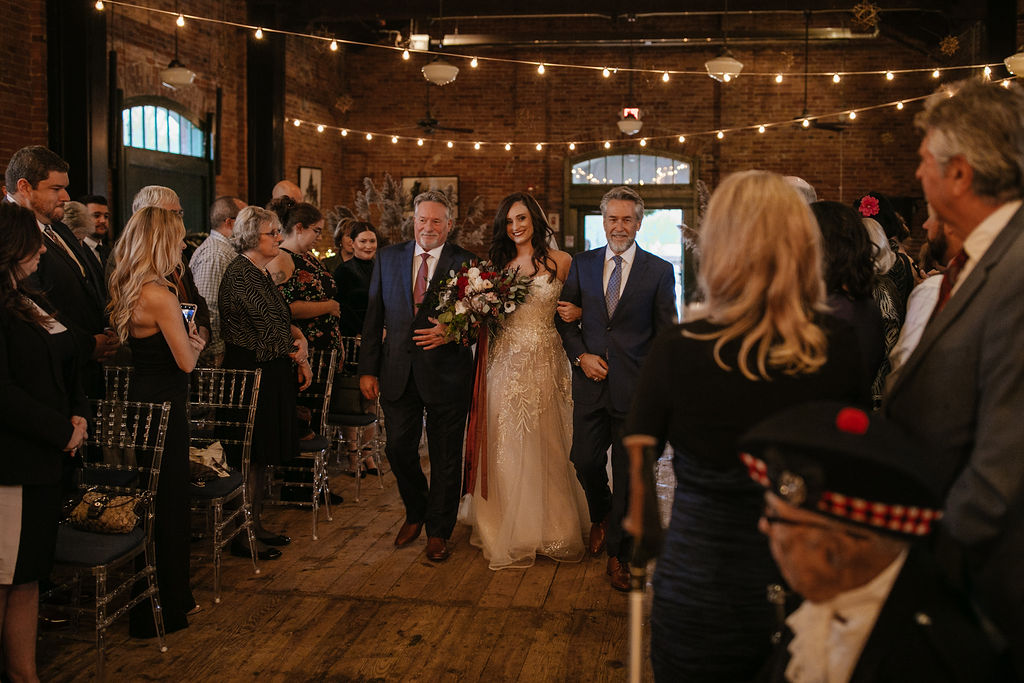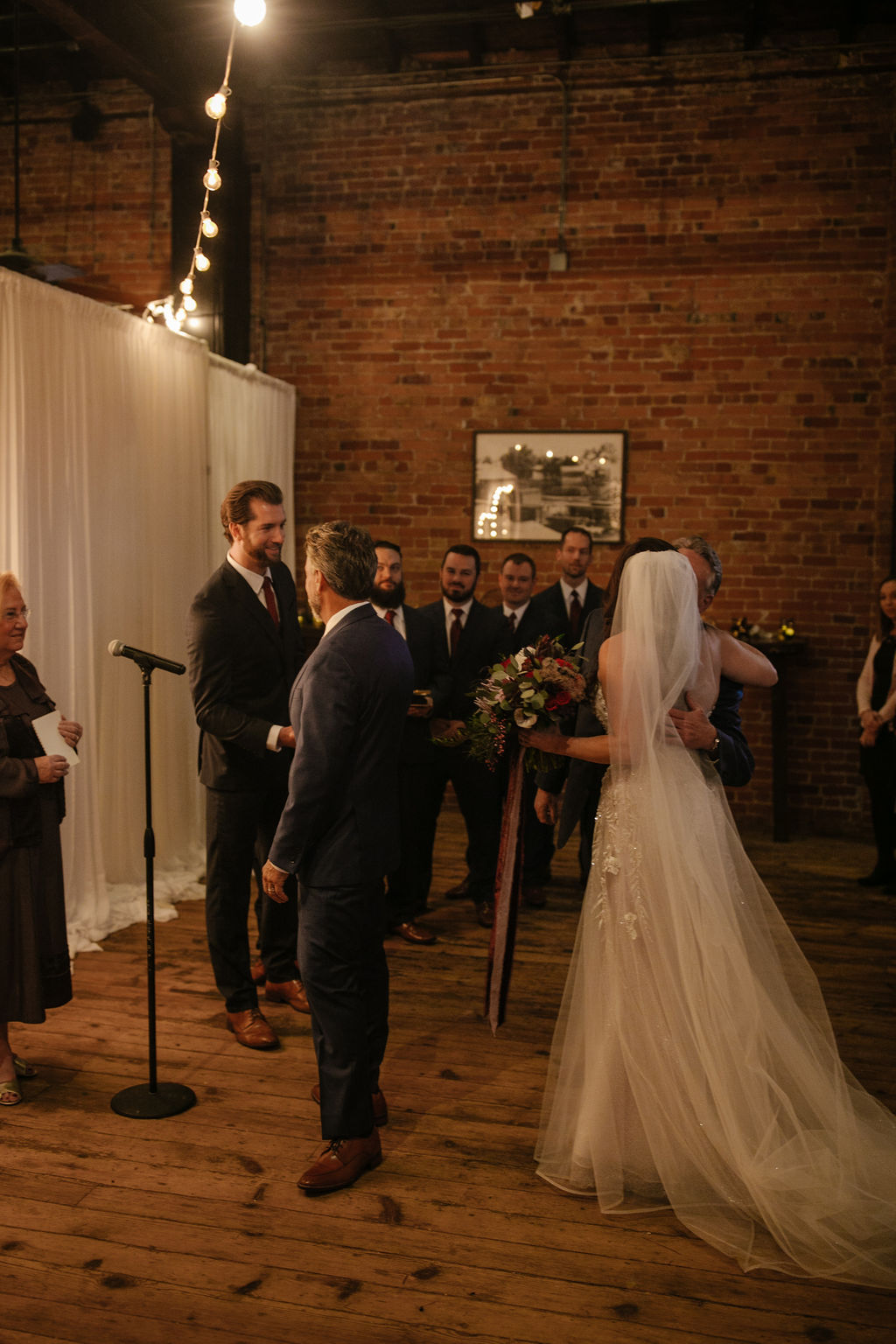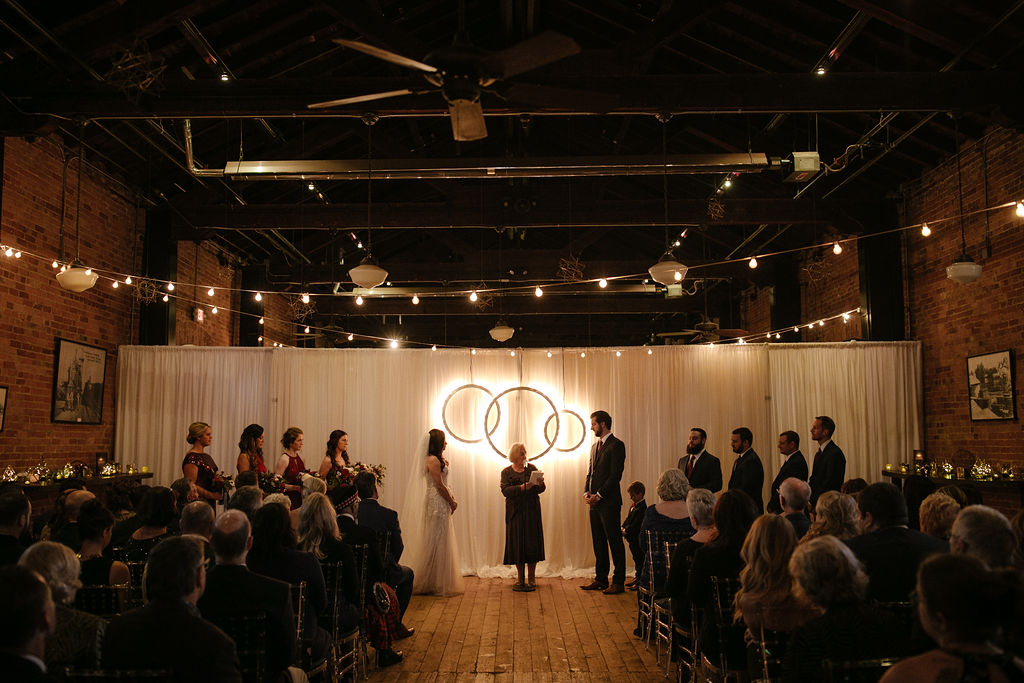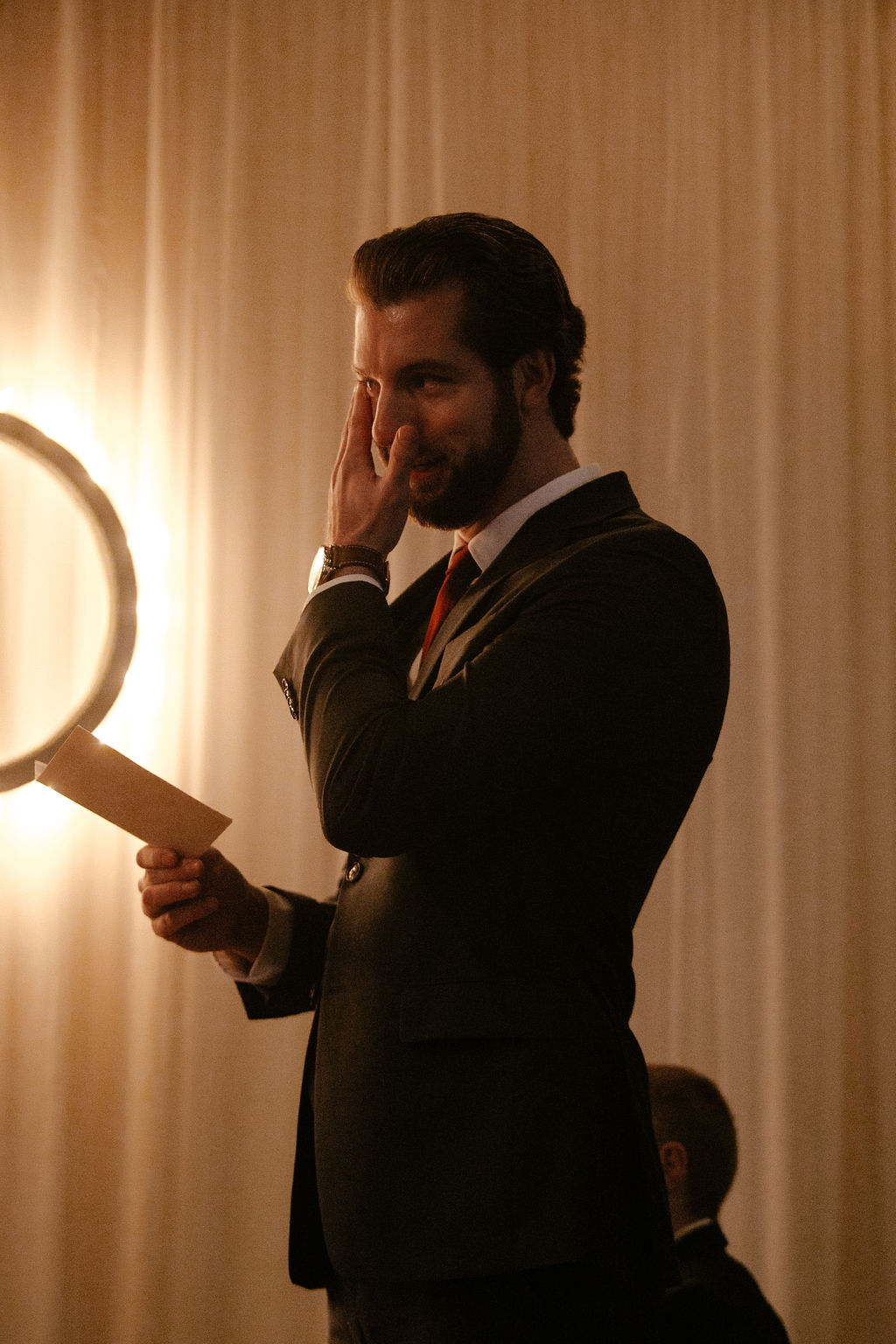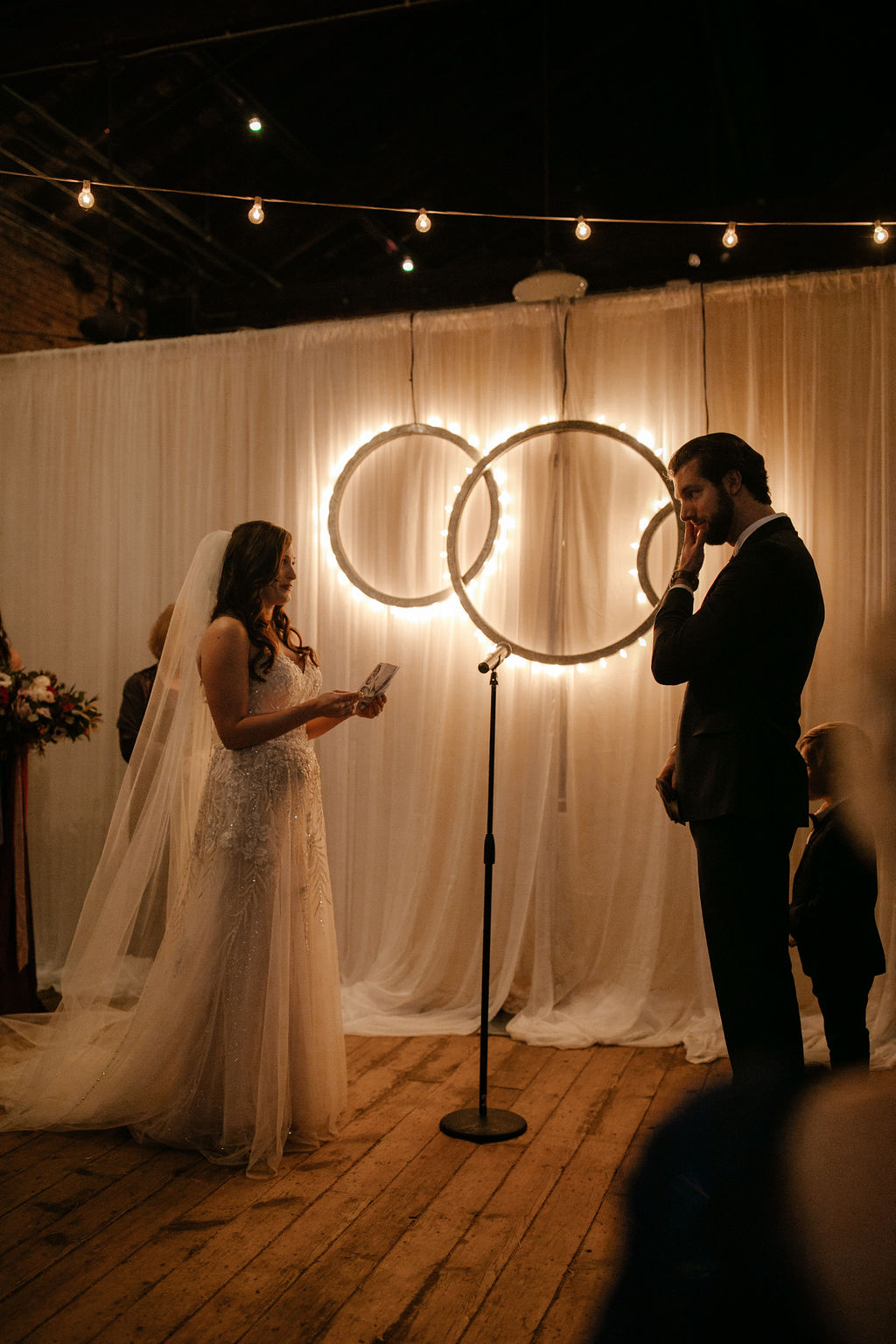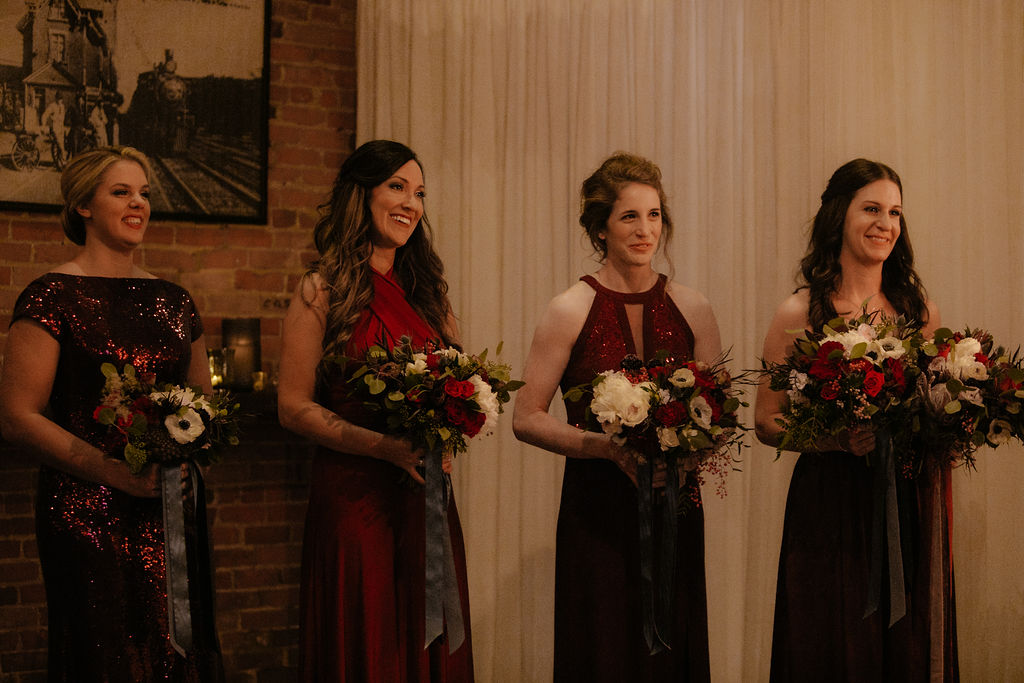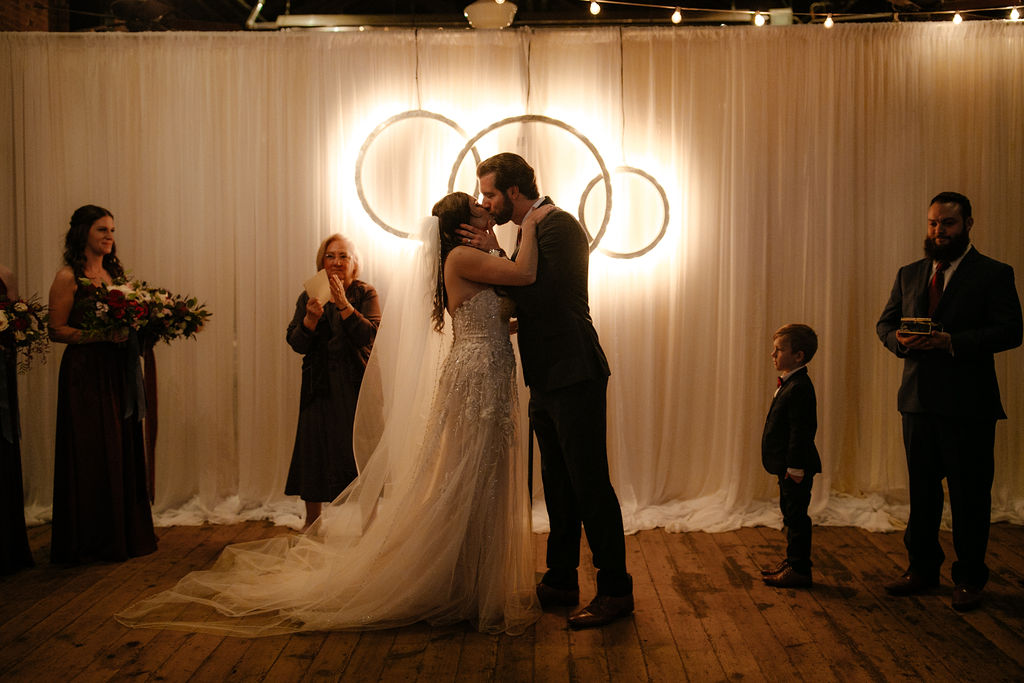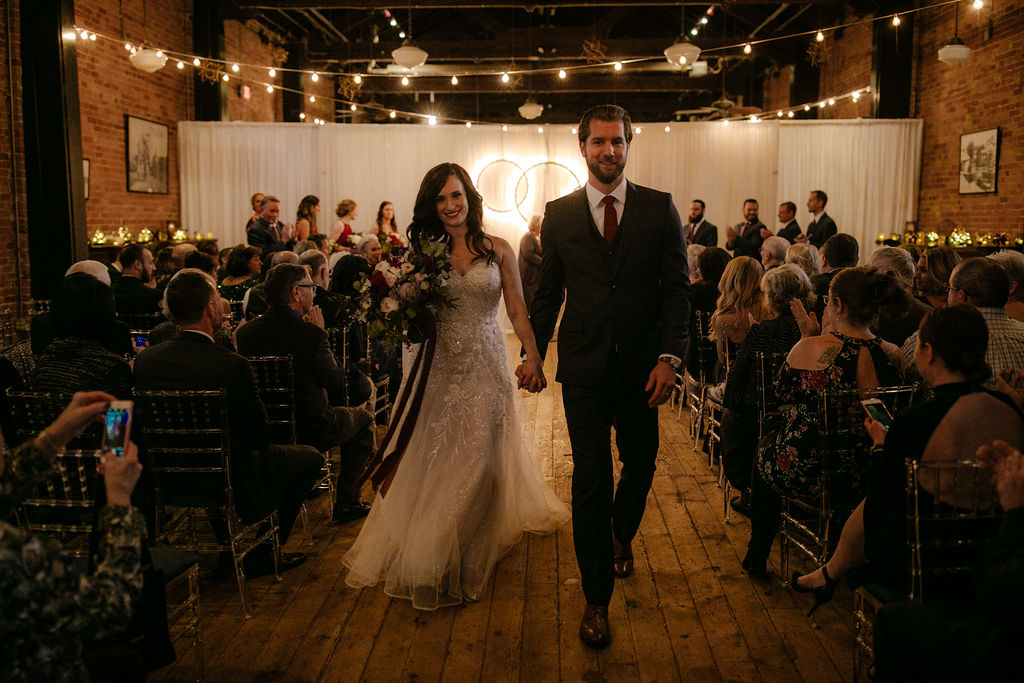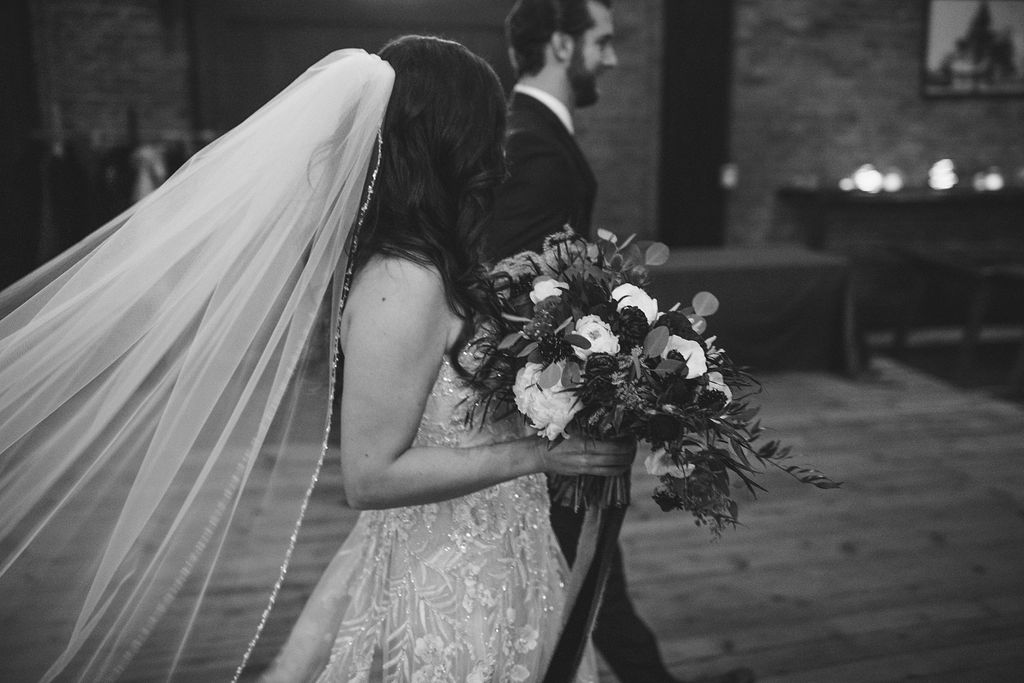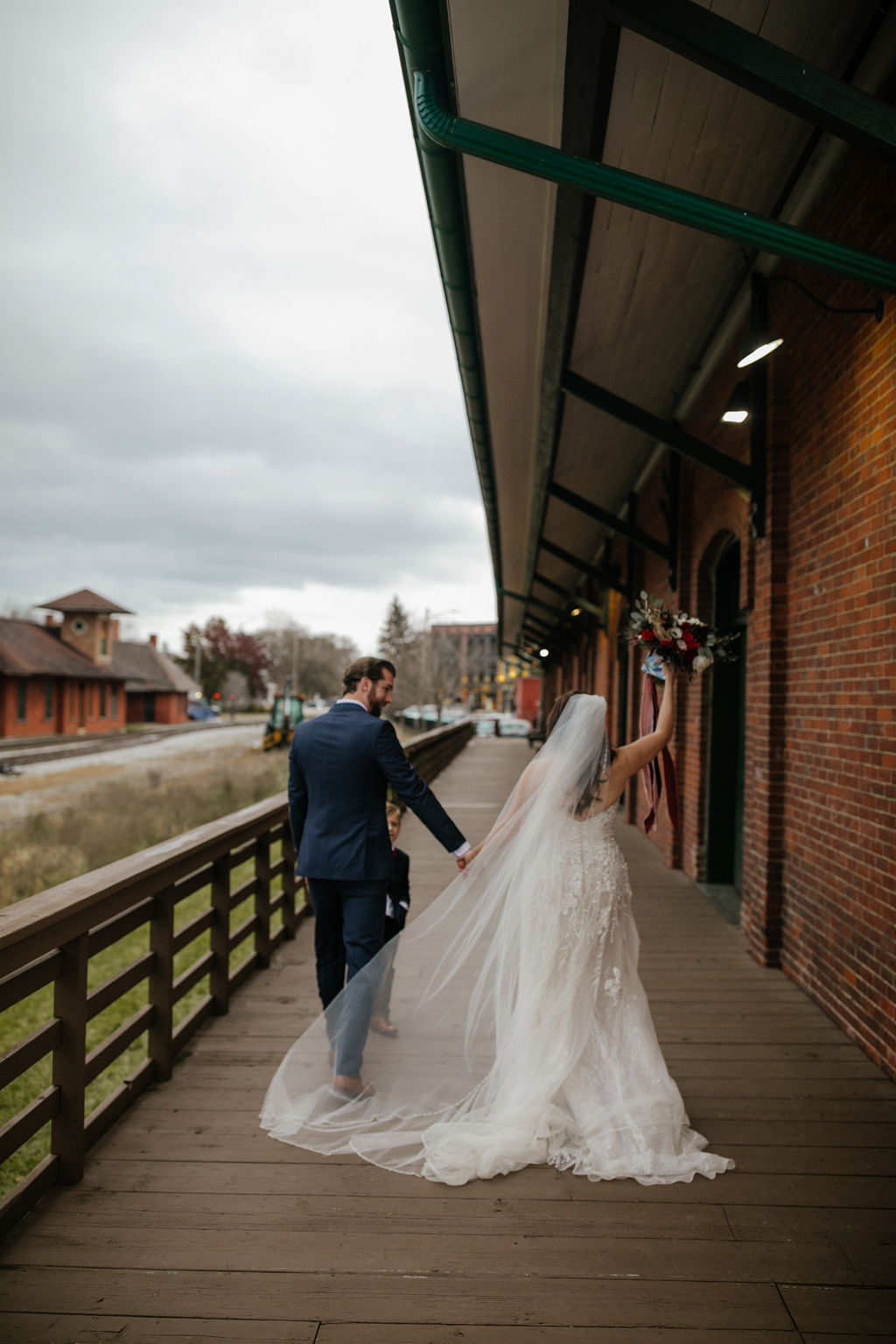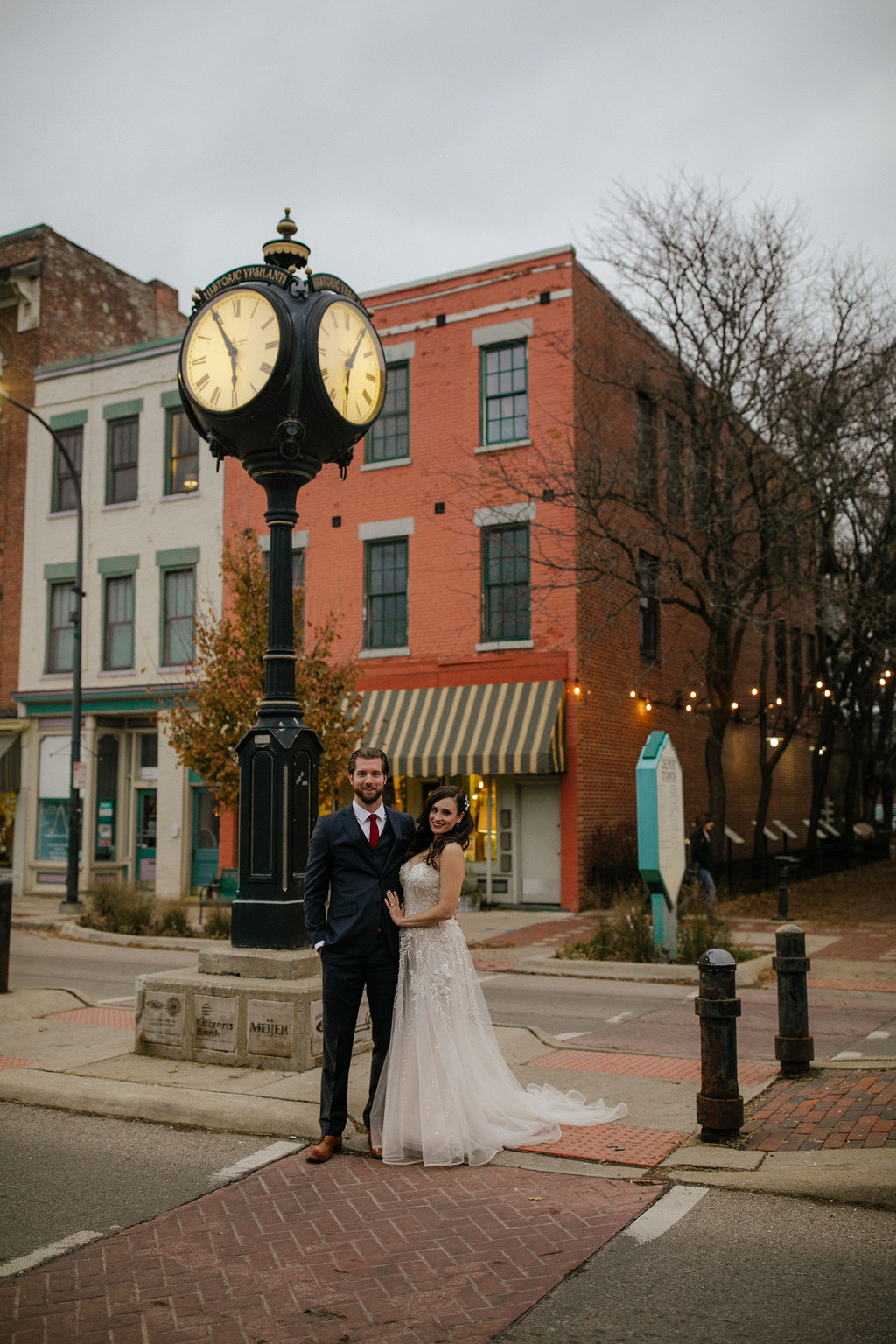 After the ceremony Amber and Kurt headed downtown Ypsilanti to snag some more photos. Amber threw on a custom leather jacket that said "Mrs. Morin" on the back. It was so cute and a fun way to celebrate her new last name!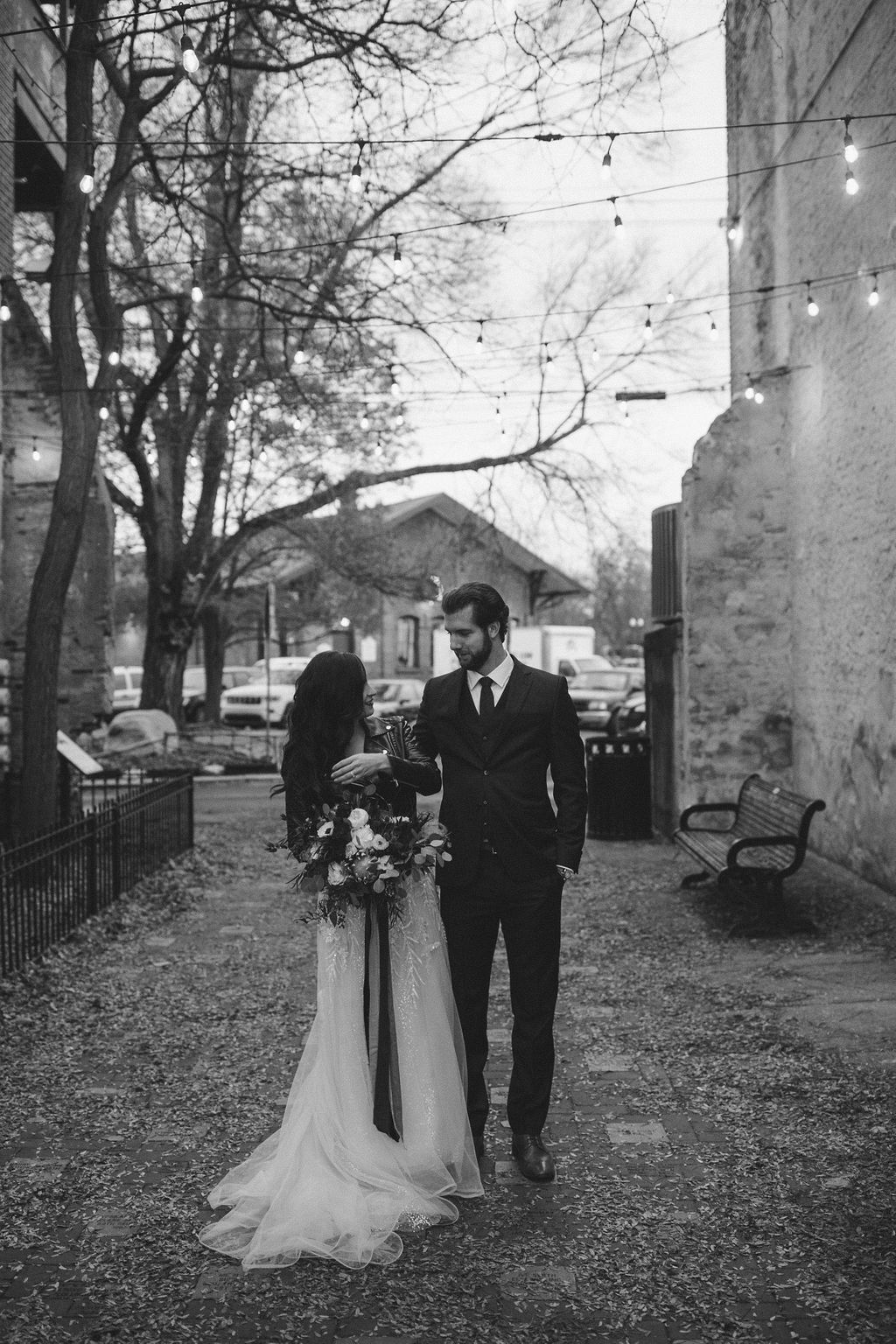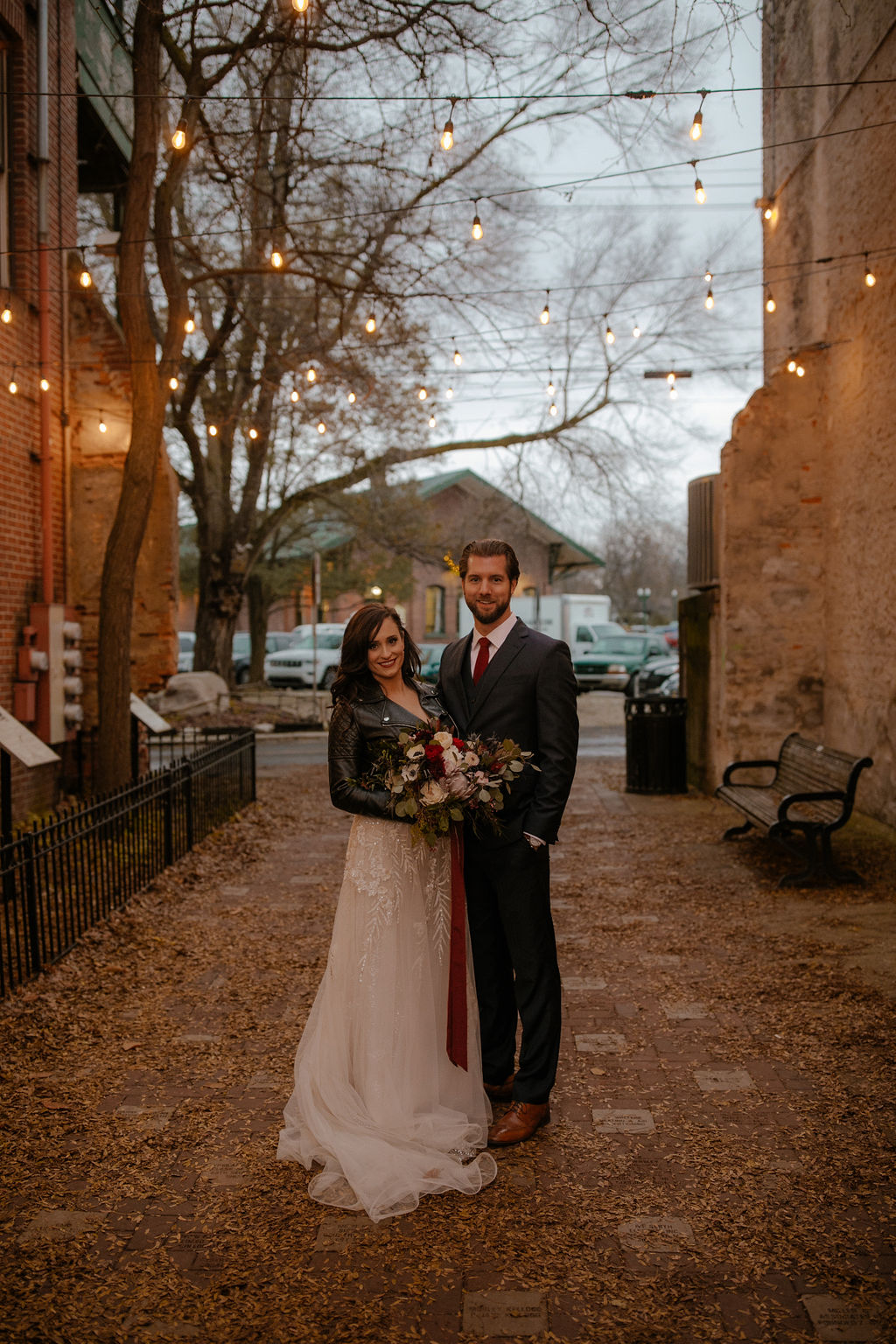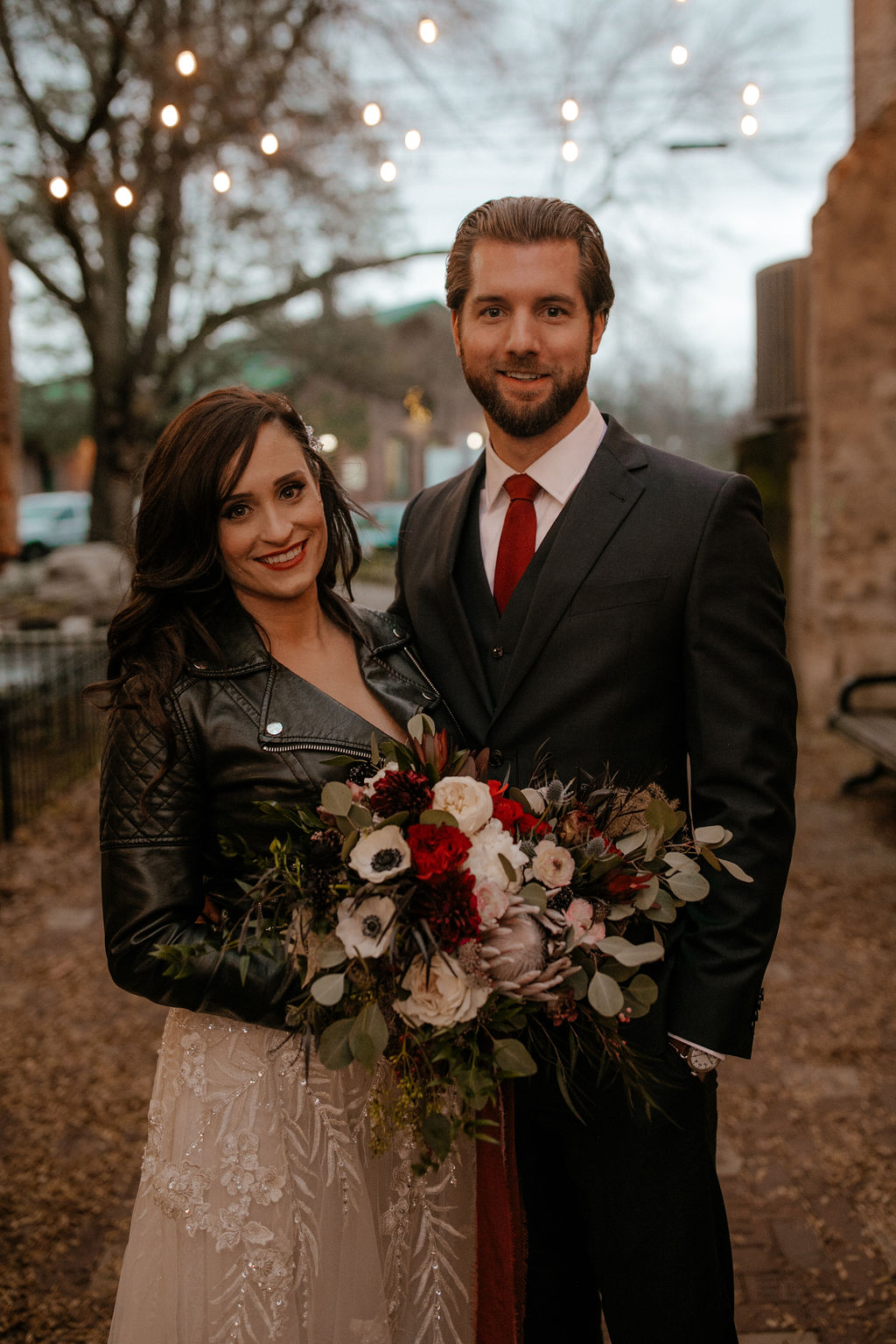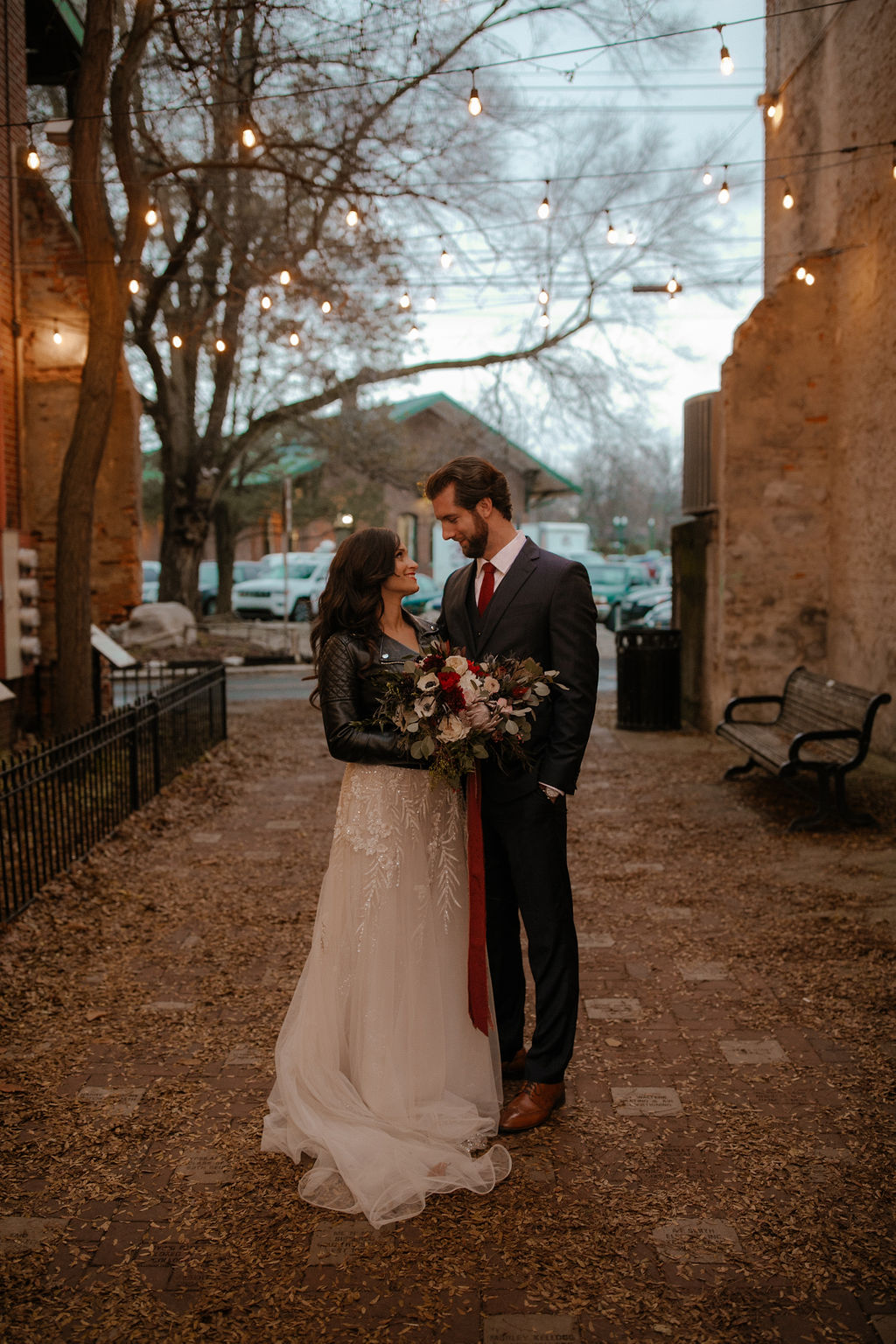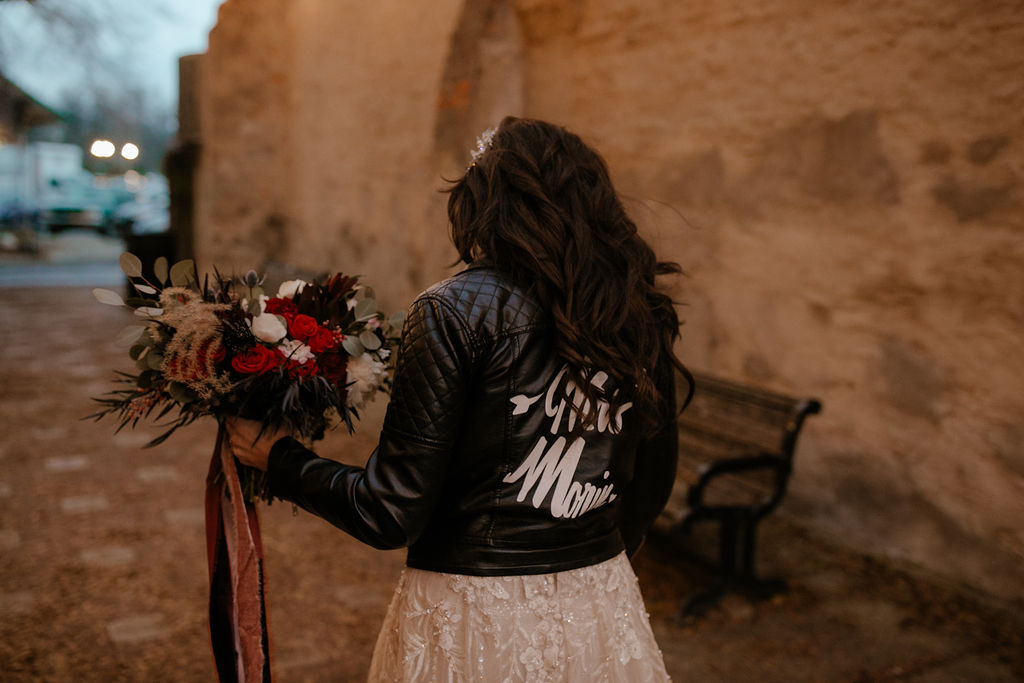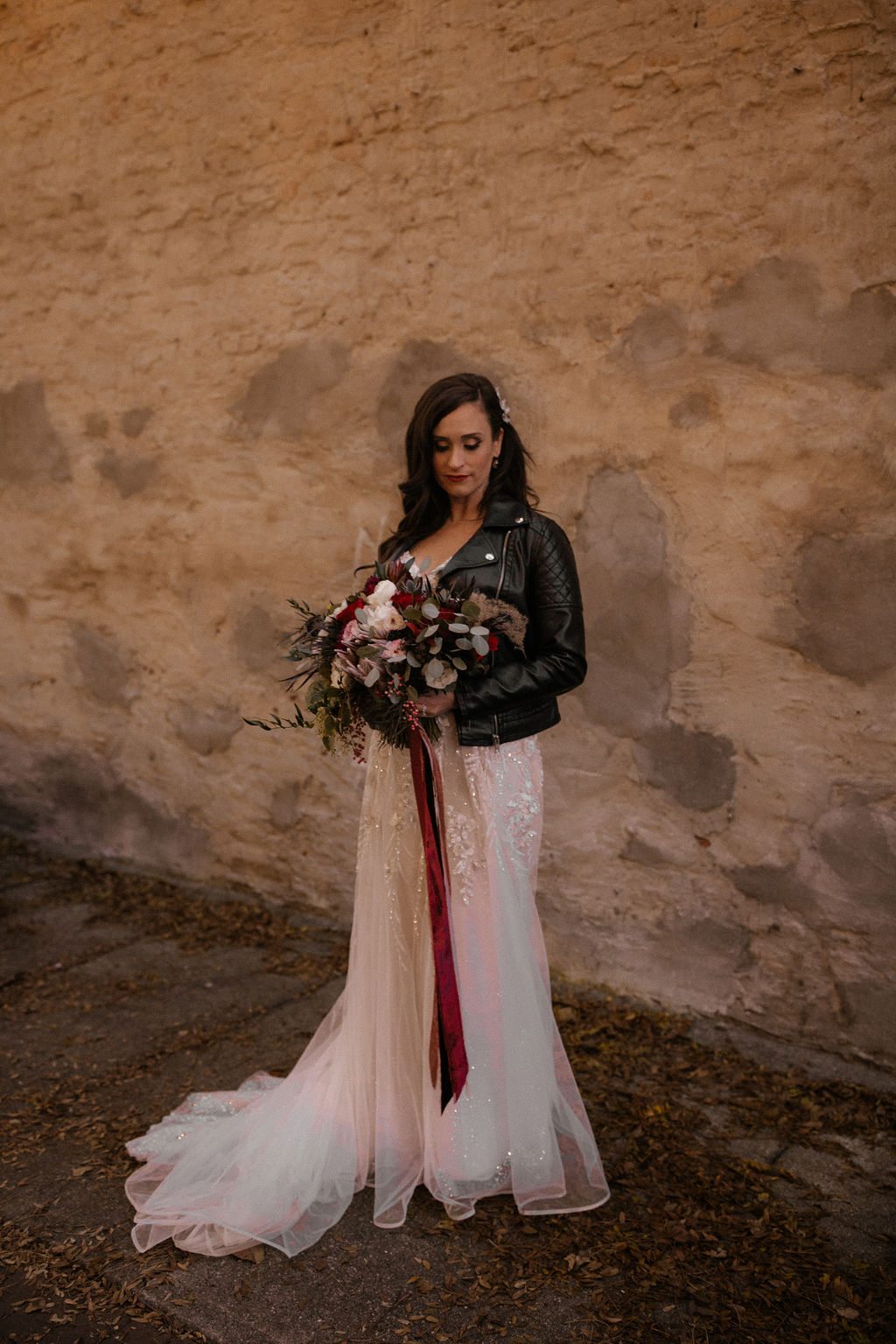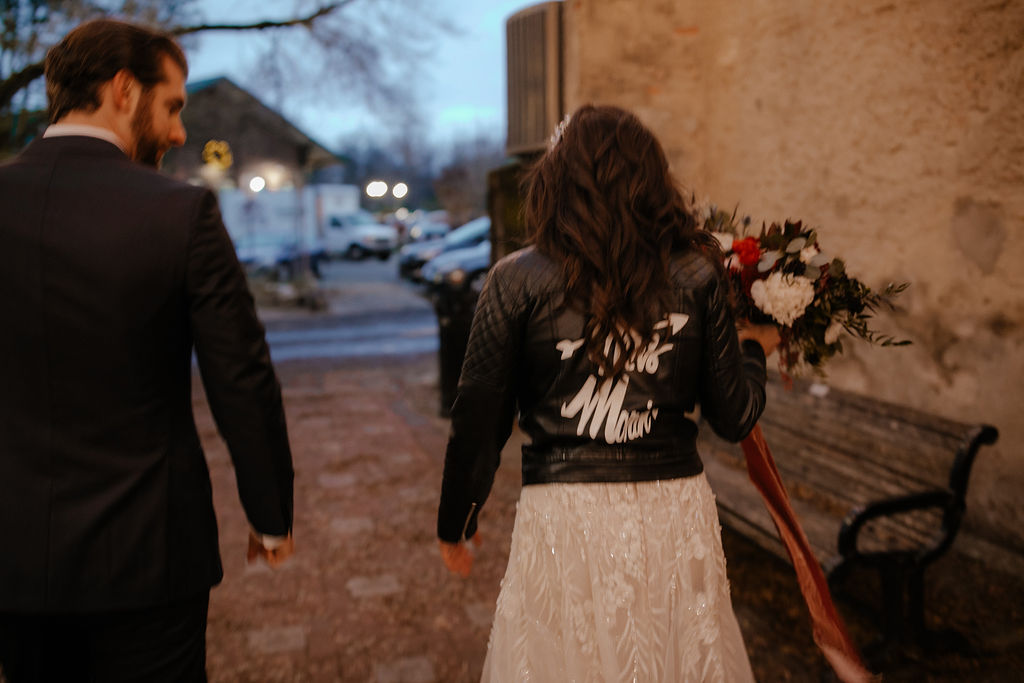 And their Ypsilanti Freighthouse wedding reception was so dreamy! The warm bistro lighting added the coziest touch on the chilly November day. In addition Amber did the best job with all the decor adding in fun geometric shapes, warm tones and textures and not being afraid of color, which us wedding professionals love!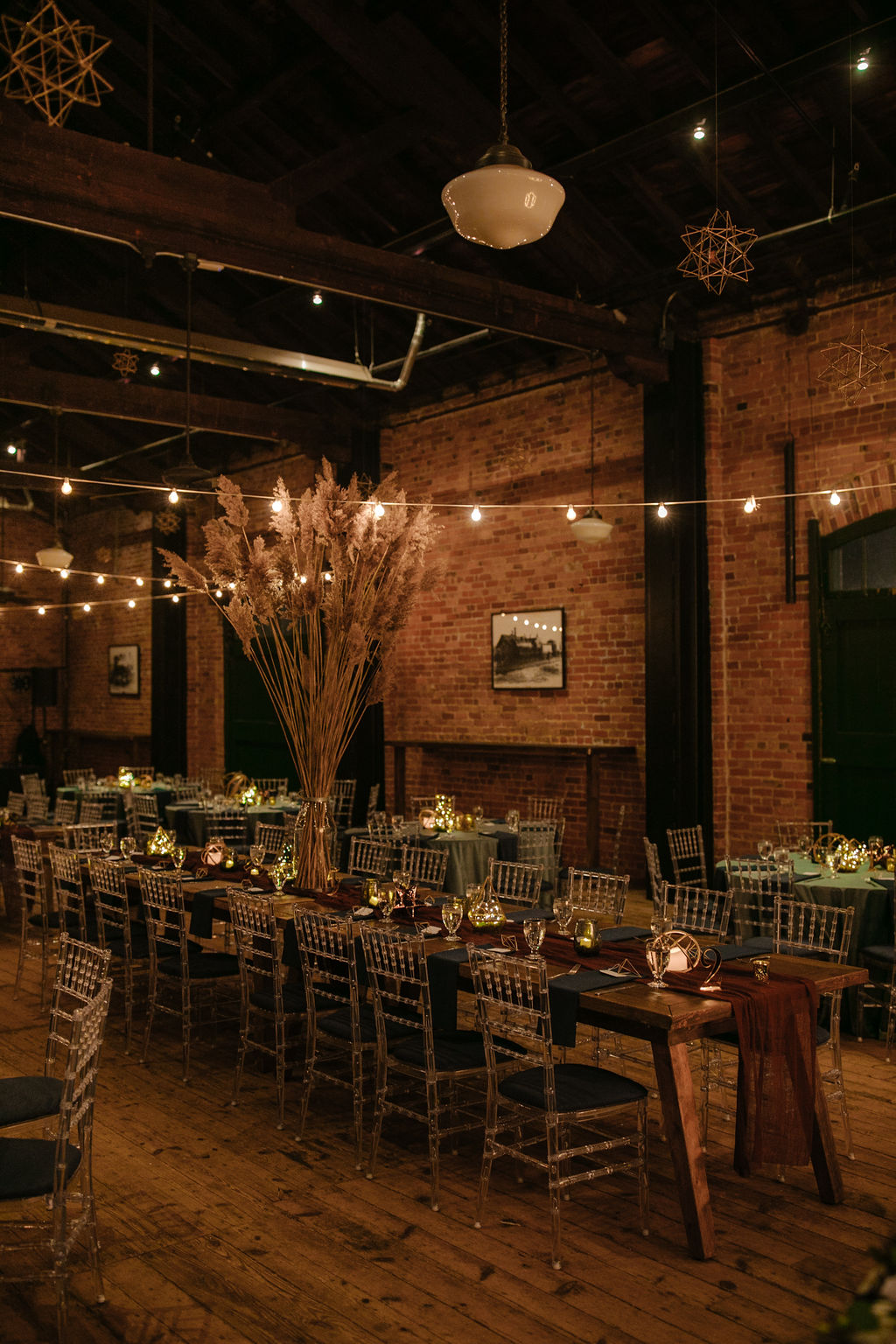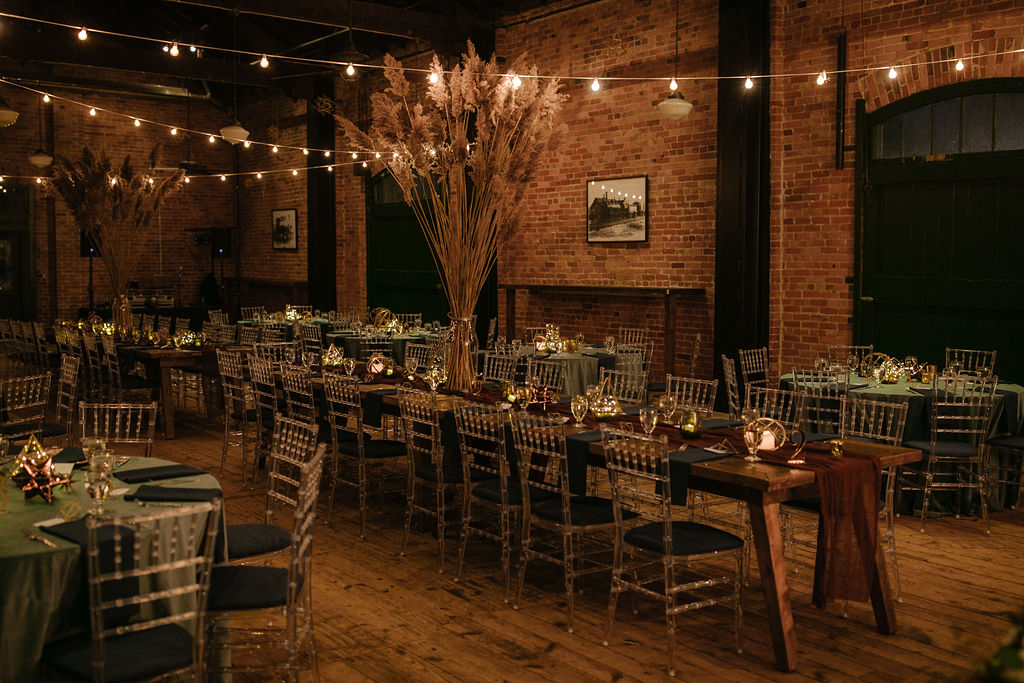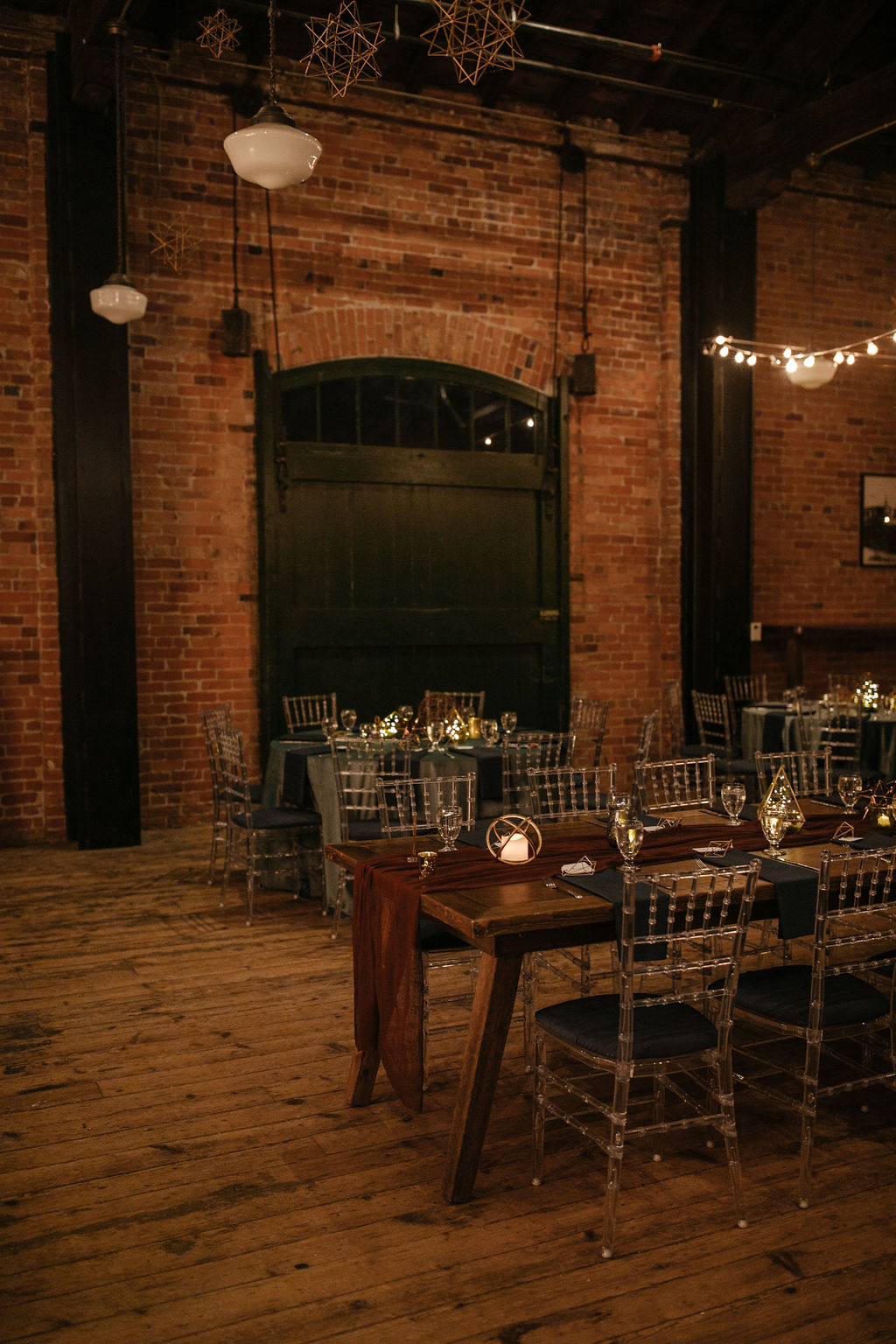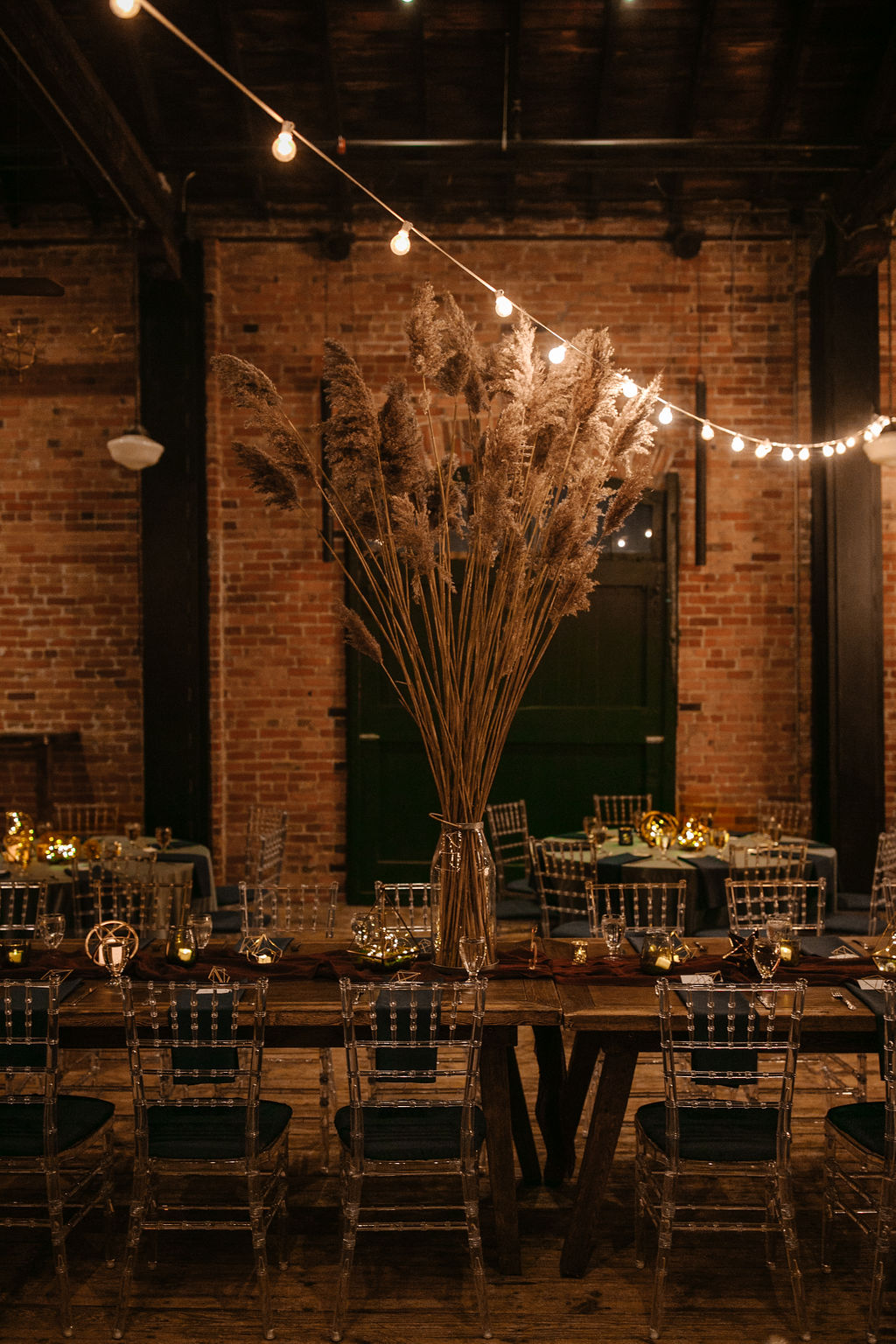 Who doesn't love a good icing? The best man slipped a Smirnoff ice under Kurt's chair before the reception and surprised him by icing him during his speech. This wasn't the only surprise Kurt was going to get throughout the night.
After the speeches Amber got on the microphone to have everyone sing happy birthday to Kurt since his 30th birthday was a few days before the wedding and they didn't get a chance to celebrate. As everyone sang Amber asked us to put a candle in Kurt's favorite cookie dough and bring it out to him. It was a really sweet surprise!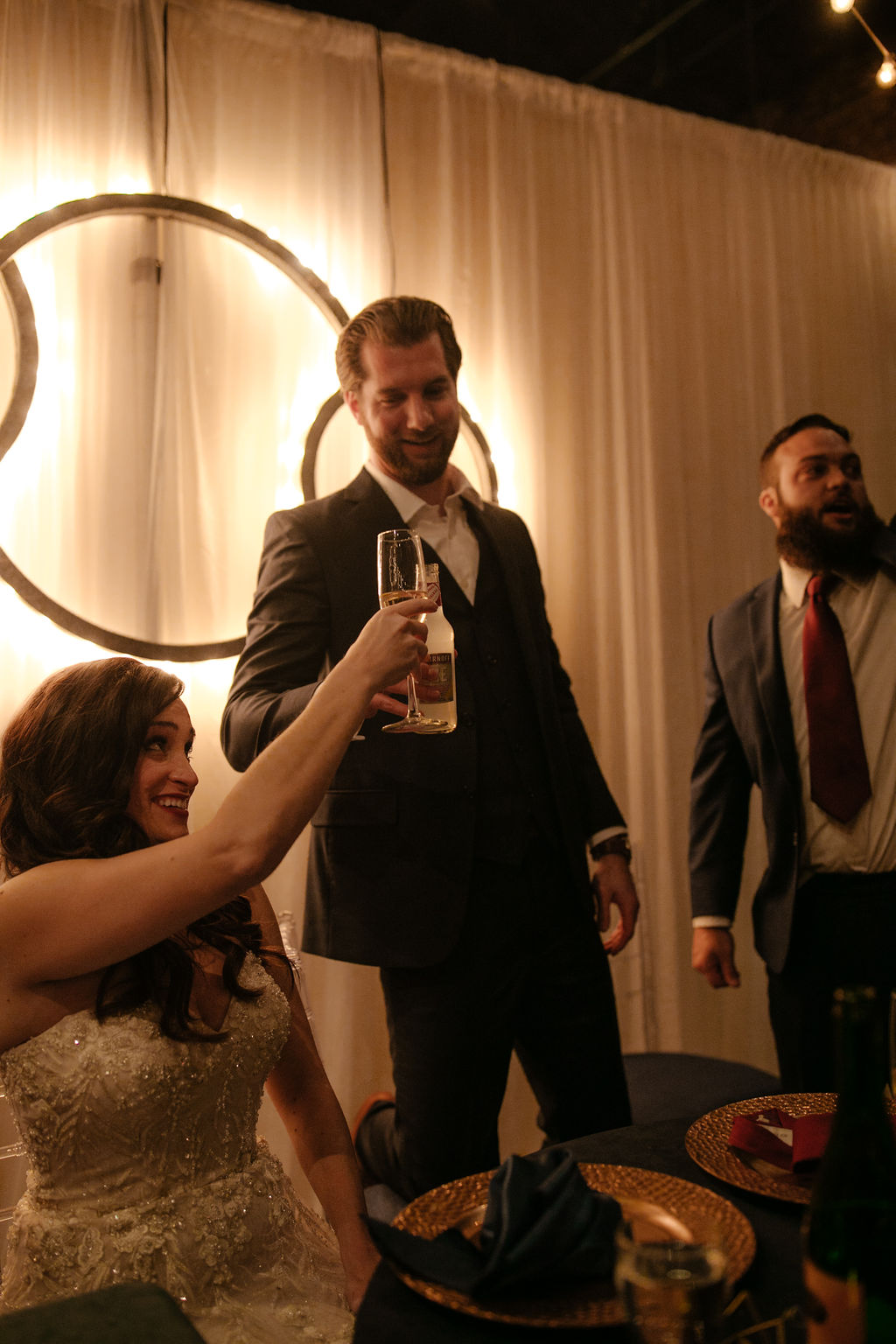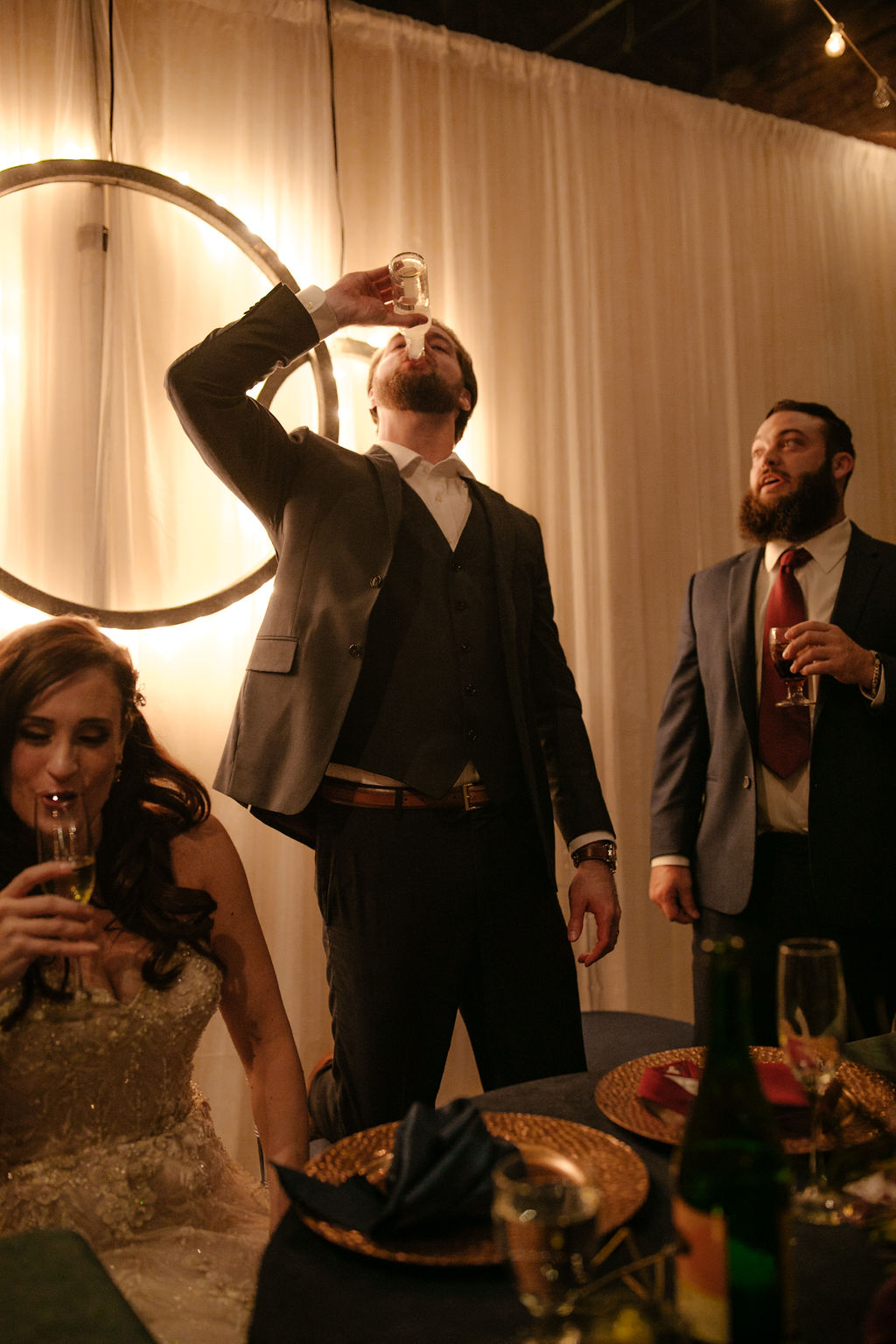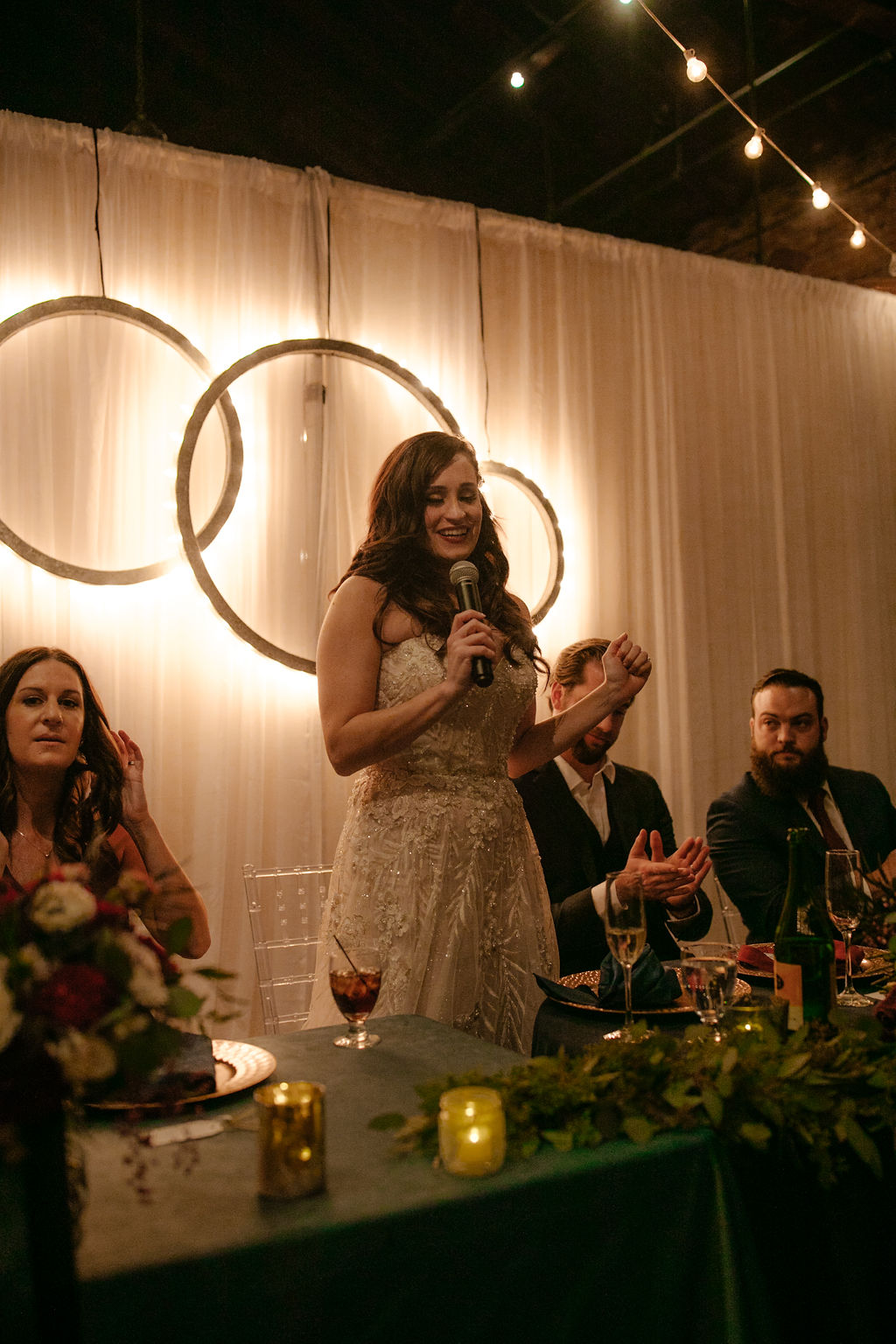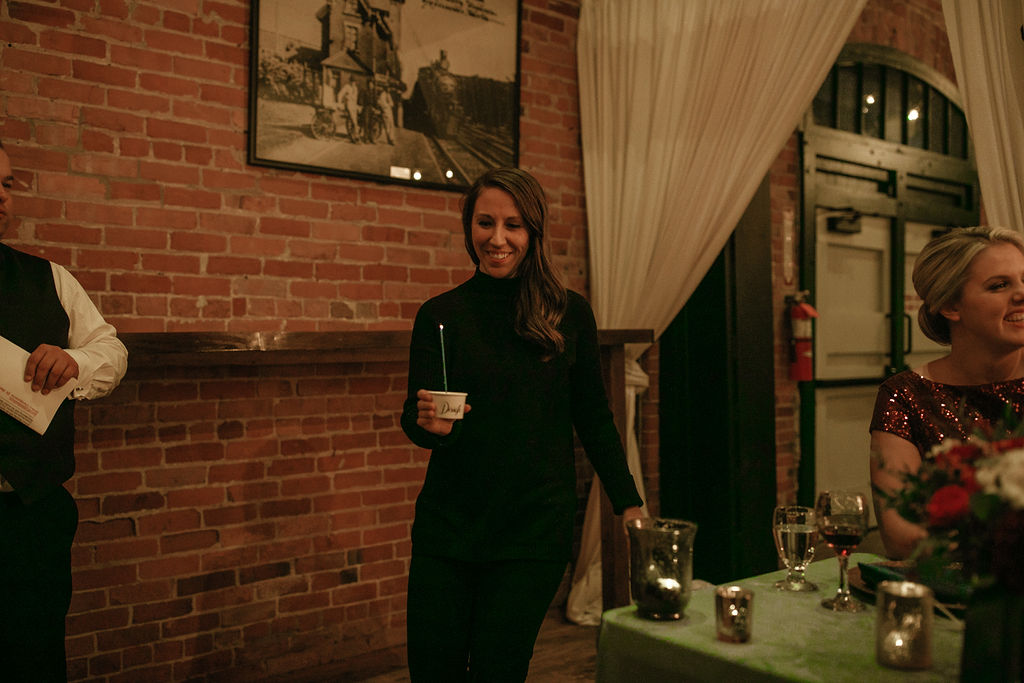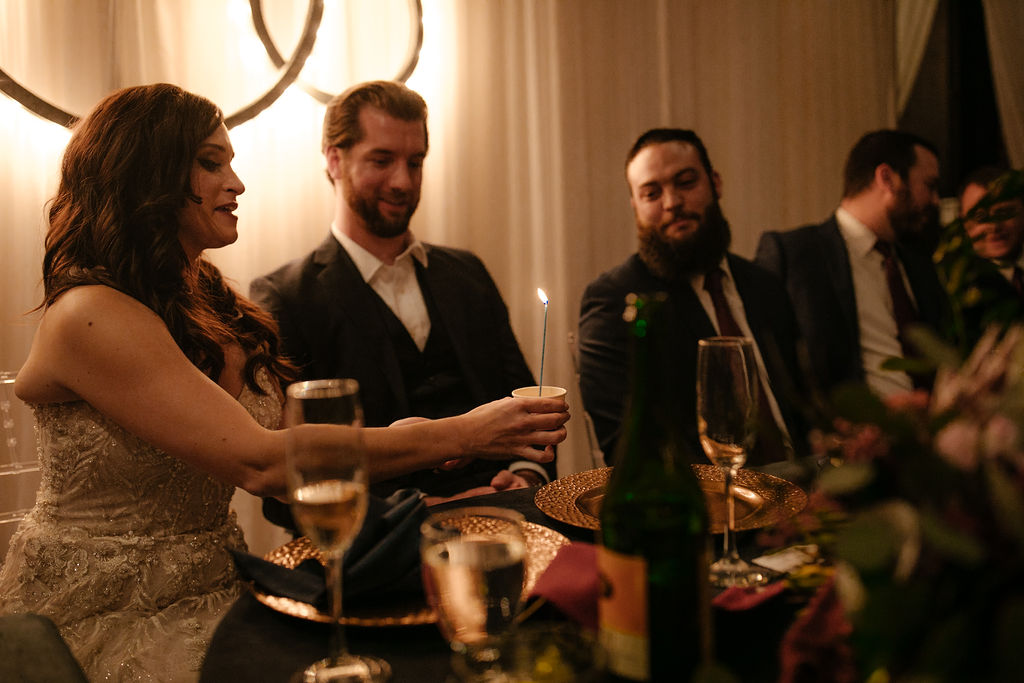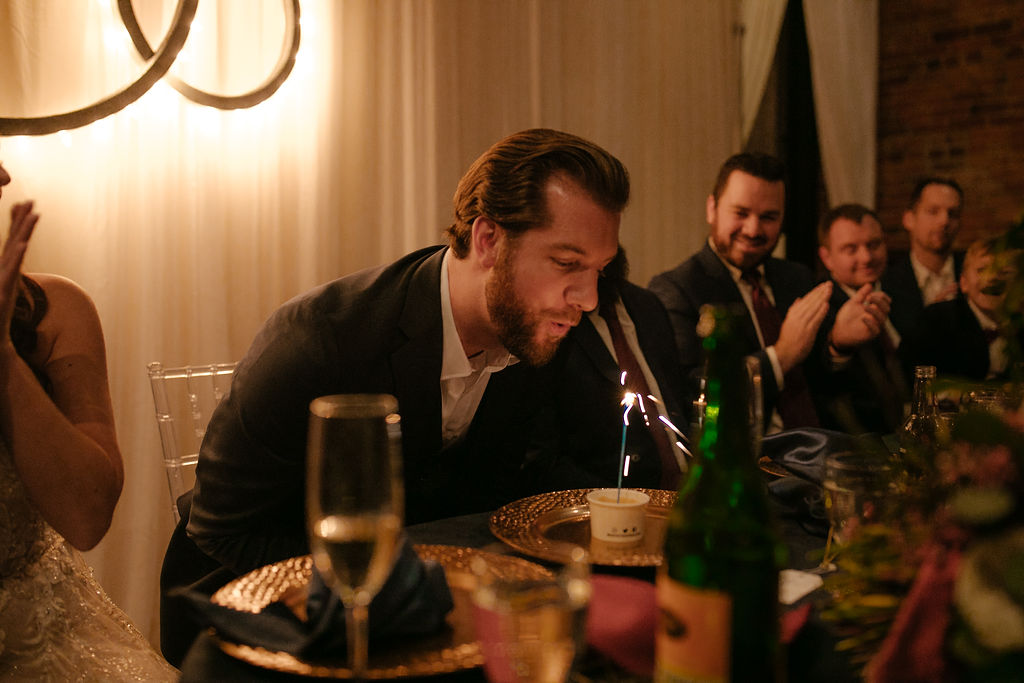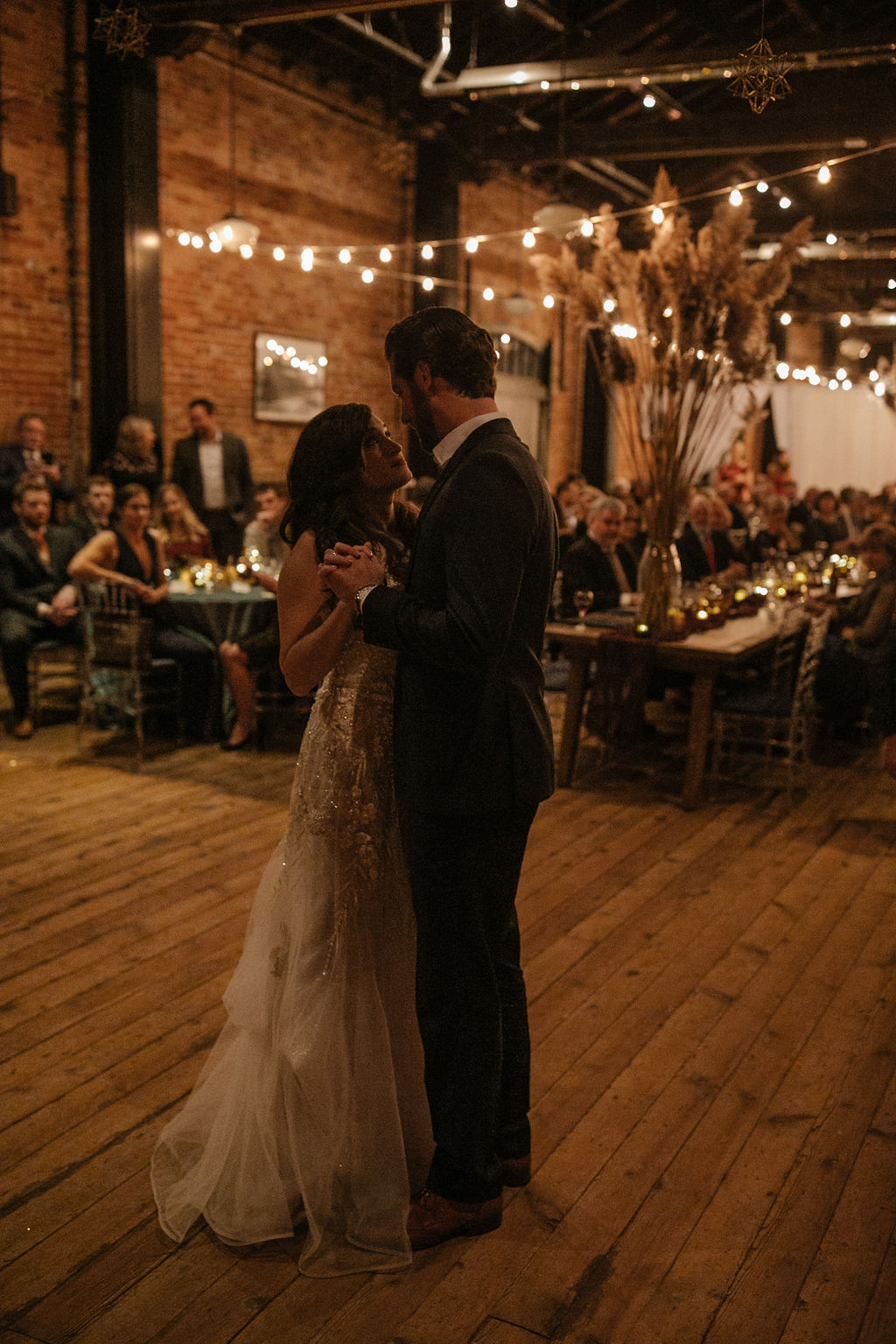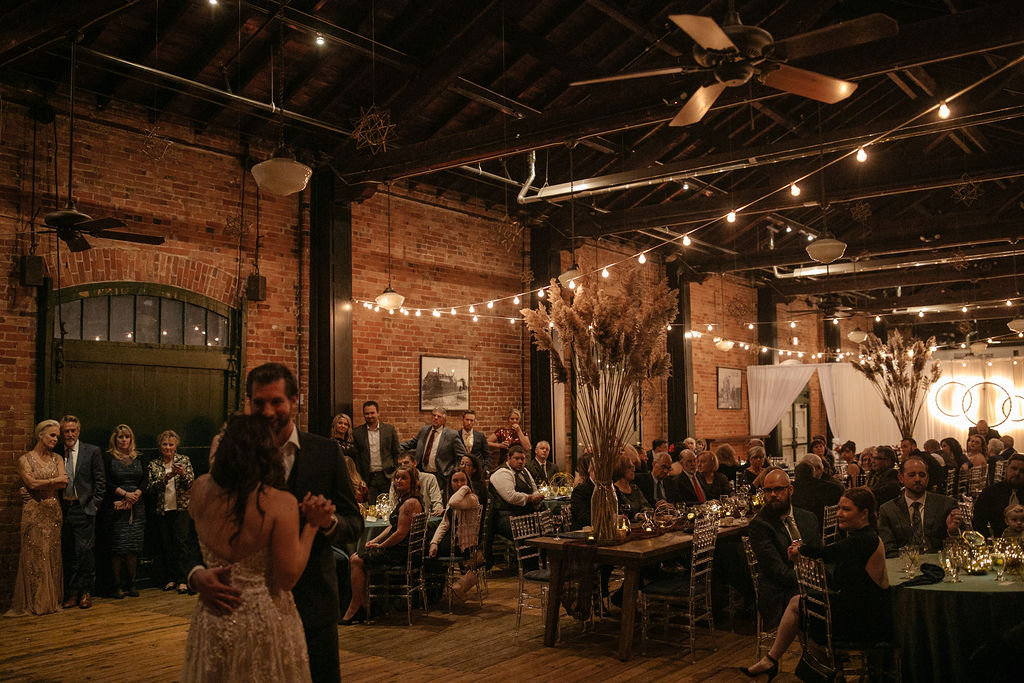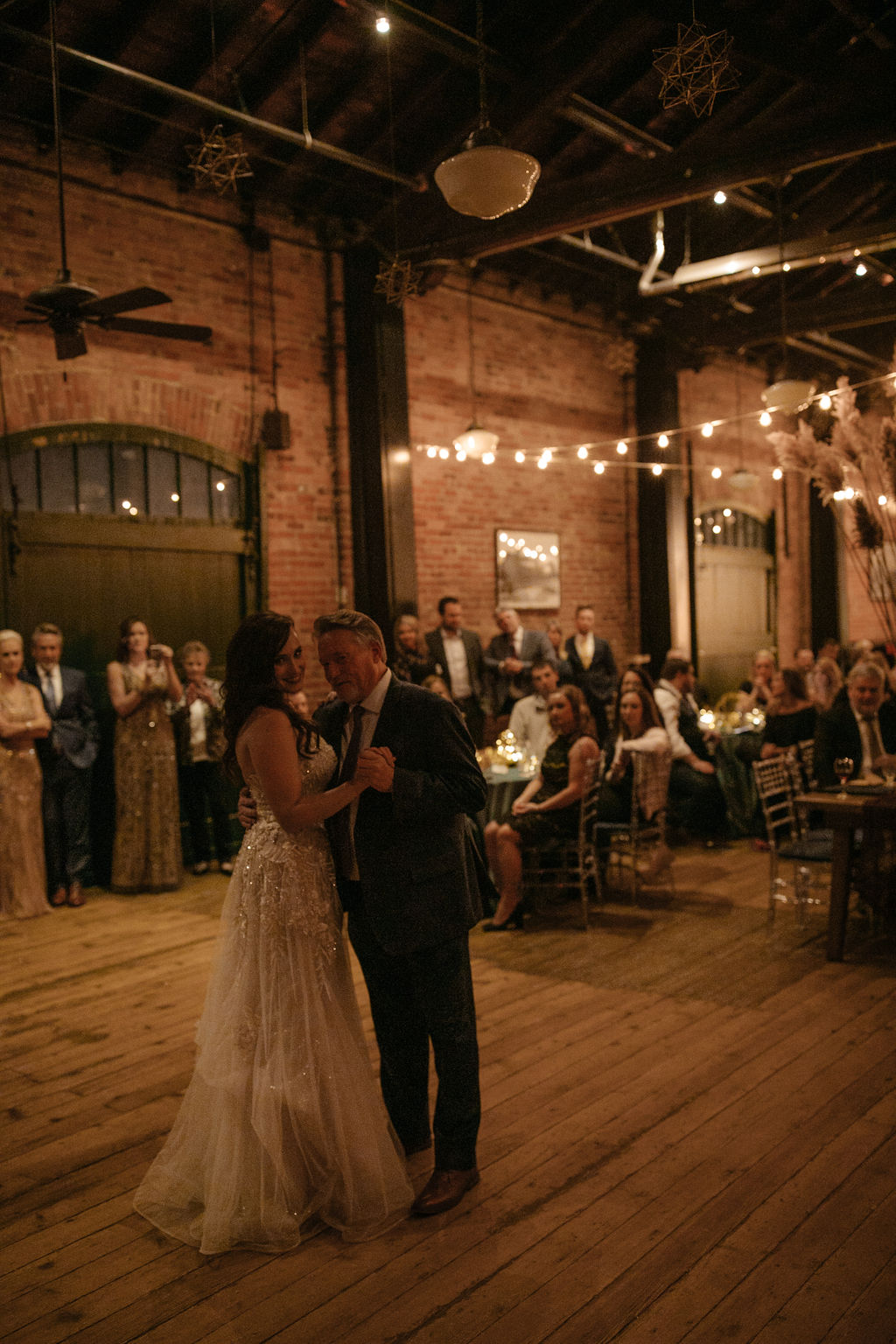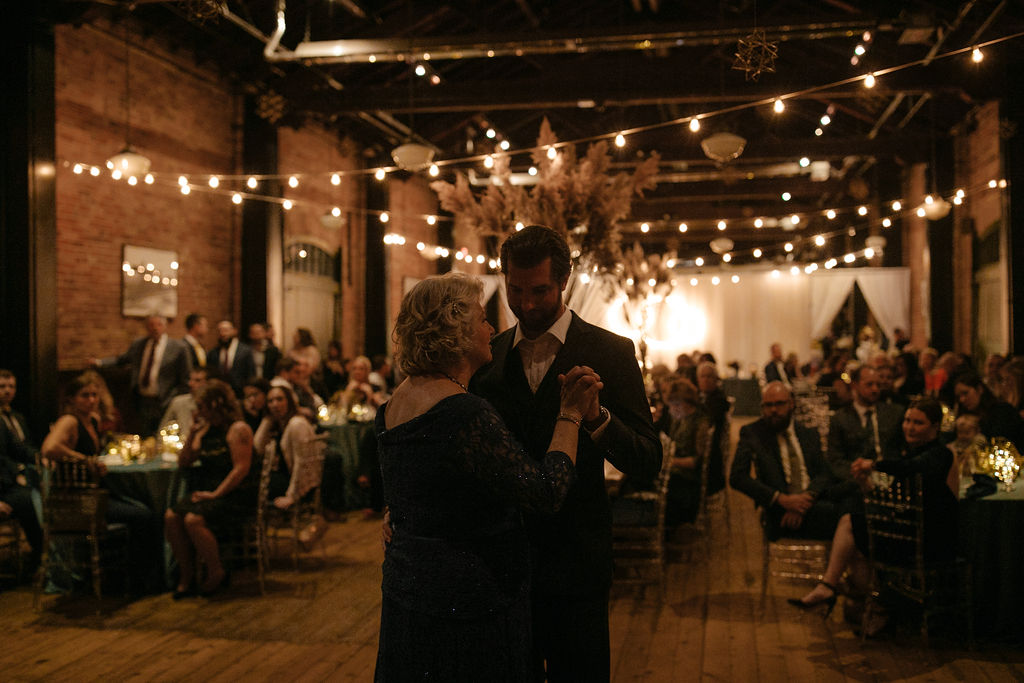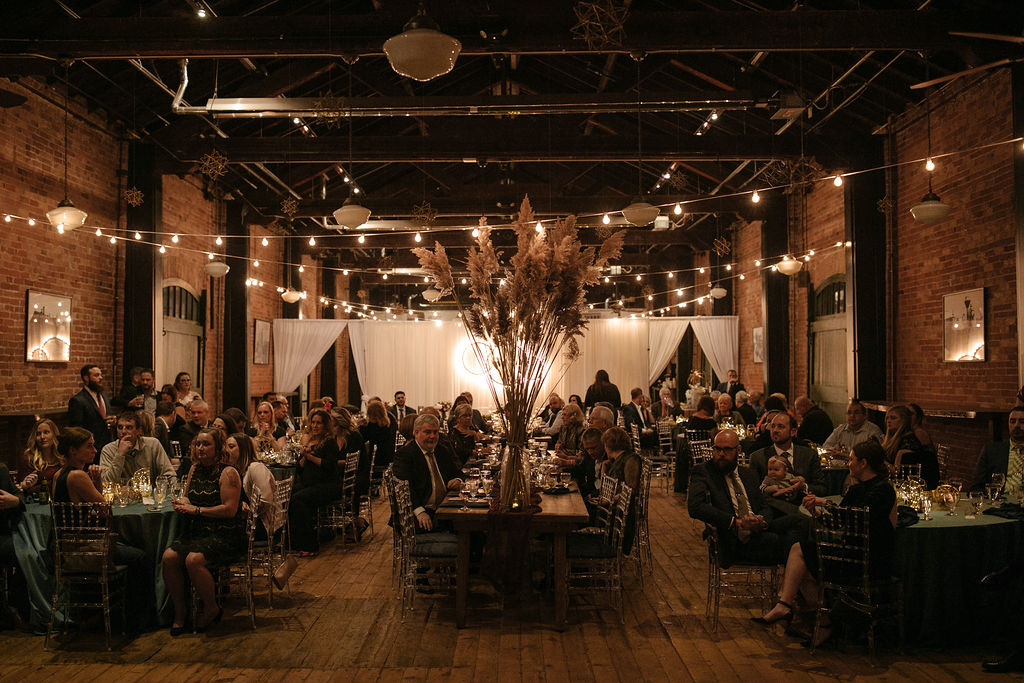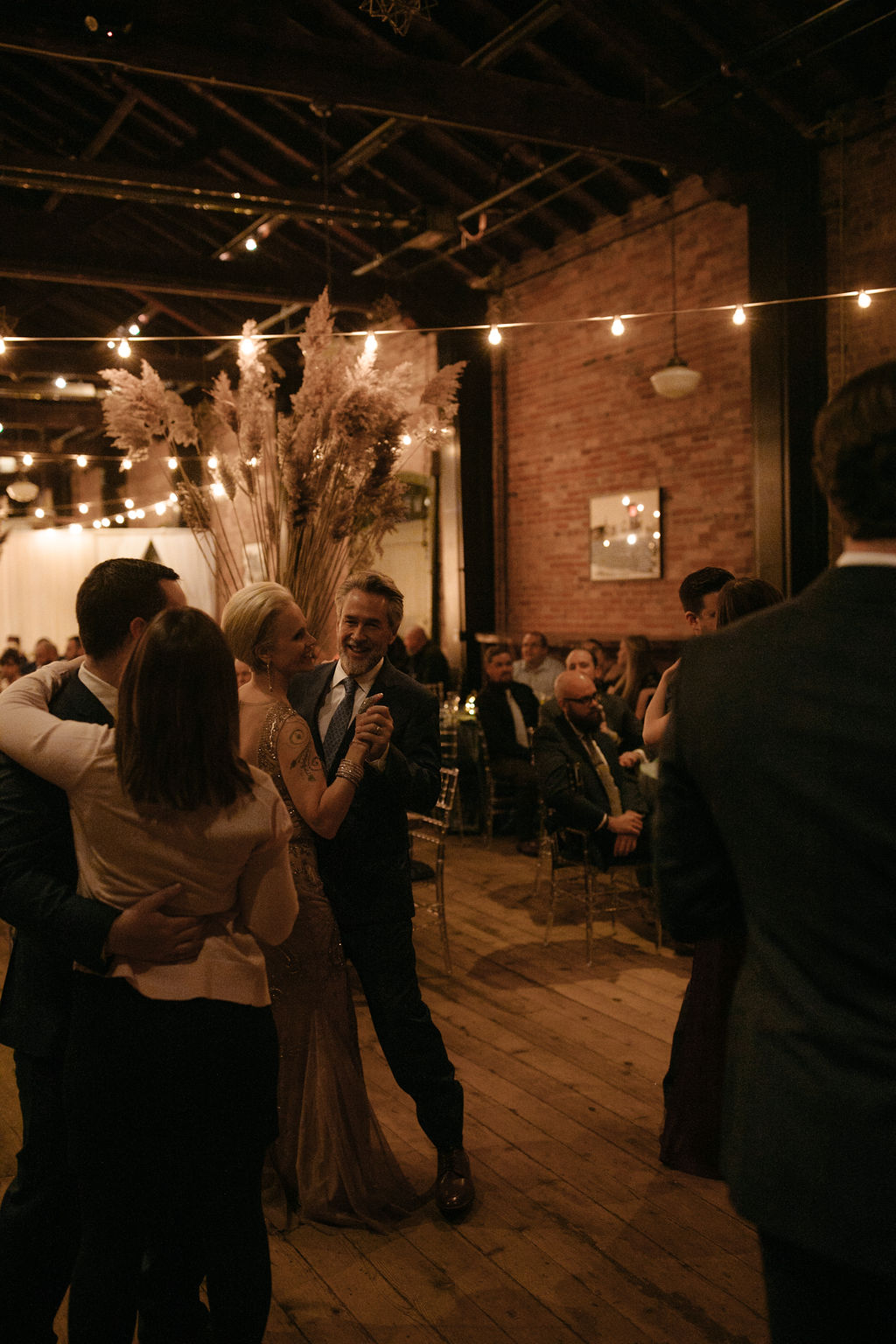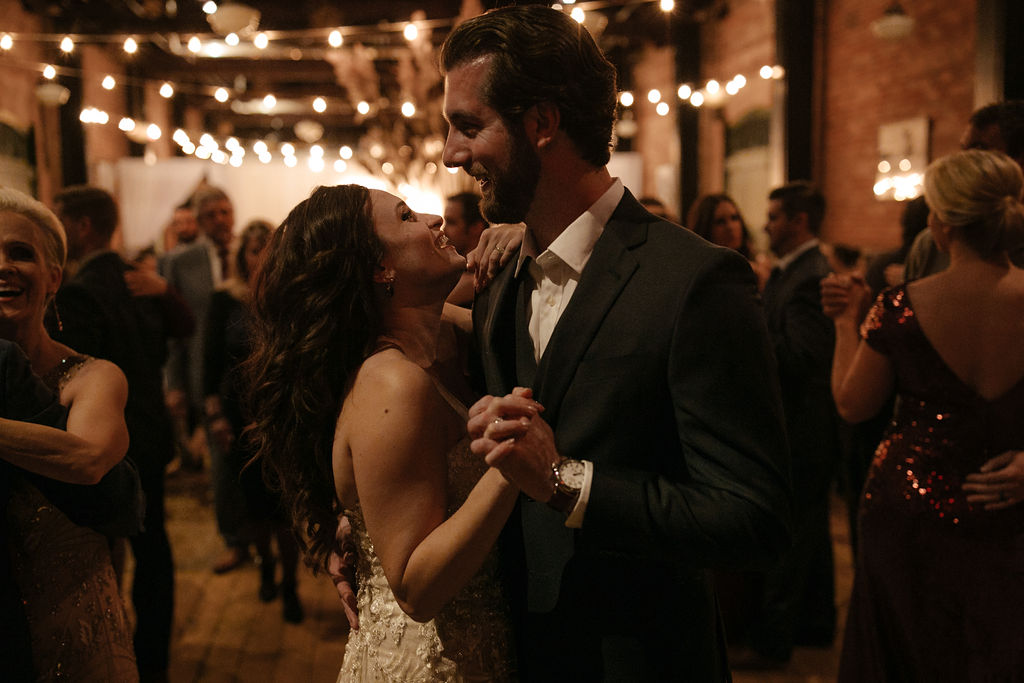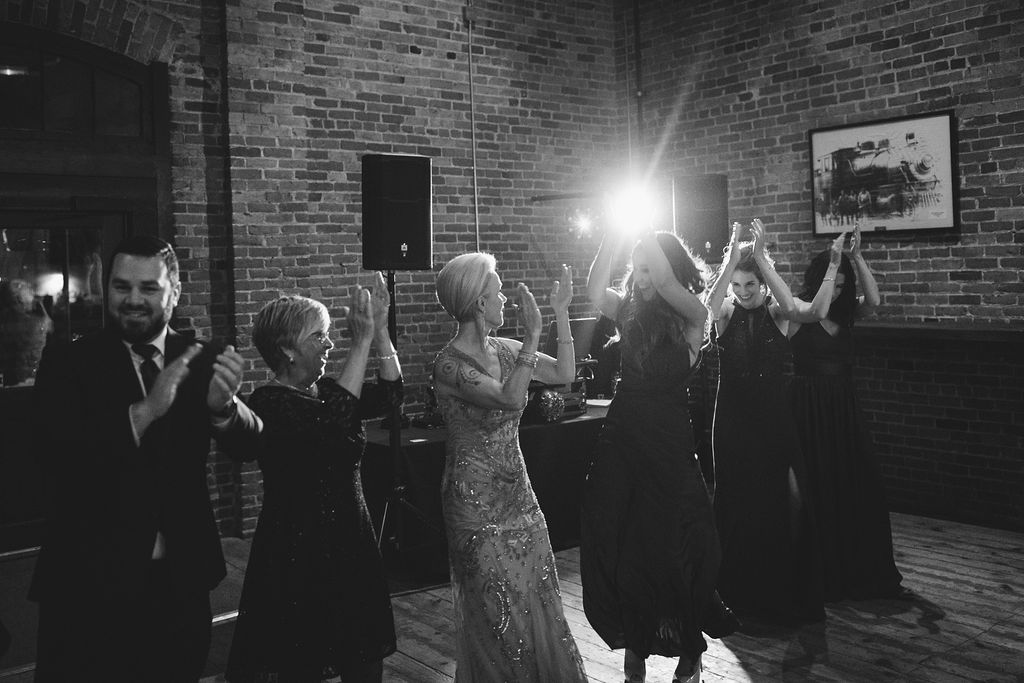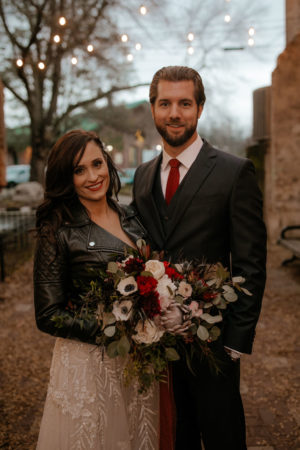 AMBER'S WORDS ABOUT TEAM STELLALUNA:
"Working with Brooke from Stellaluna Events was an amazing experience. From the first phone call to the final text the evening of our wedding, she never missed a beat. She was always very organized during our calls and had an agenda of items for us to review, leaving time for any questions I might have. All my communication with her was prompt and she was very transparent about when she is working other events and might not be able to respond right away. The timeline she developed for our rehearsal and wedding day was so extensive and clear, and she communicated constantly through aisle planner to let us know when vendors had been contacted and for what. Every vendor I was in contact with complimented me on how organized and communicative Brooke was. I even had some vendors ask for her contact information because after working with her on a small scale they would like to be able to recommend her to clients, friends and family. Brooke is positive, professional and fun. We were able too truly enjoy ourselves because she left us with no doubt that everything was handled. I highly recommend her services to any bride and groom who are looking for someone to take charge, iron-out the gritty details and let you focus on what is important."
Amber and Kurt, thank you both so much for being sweet, kind and such a joy to work with. Your wedding day was so full of love and joy and we were completely honored to be a part of it all. We wish you the best of luck in your future and the many happy years together. Sending all the love from Team Stellaluna!
If you loved this industrial Ypsilanti Freighthouse wedding then you will love Michael & Becca's Journeyman Distillery wedding!
Wedding Coordination: Stellaluna Events | Photography: Spencer Penfield Photography | Venue: Ypsilanti Freighthouse Wedding | Catering: Angel Food Catering | Bartending: Cocktails N' Dreams | Rentals: A-1 Rental | Entertainment: Creative Spark Communications | Beauty: Drake Artistry Collective & RED the Salon | Dessert: Detroit Dough | Floral: We Adore Flowers