13 Wedding Dos: Things I Loved From My Wedding
We hear so much about things you shouldn't do at your wedding, but rarely hear about the wedding dos. As much as I try to focus my clients on the wedding don'ts I think it is equally as important to show some of the wedding dos. So to use my own wedding as an example I want to share our wedding dos of the 13 things we loved the most from our wedding!
#1 Hosting a welcome party
This was such a great way to get to visit with guests more than just the day of the wedding especially since everyone had to travel. Our welcome party was extremely causal and inexpensive. We invited everyone to a public beach in town where we had a bonfire with beer, wine, soft drinks and smores. The whole party cost us maybe $200 and it was such a good way for us and our parents to visit with everyone before the wedding. This is one of my favorite wedding dos and I would recommend to anyone.
Below is a picture of my bridesmaids and I during our welcome party. We had the BEST sunset that night!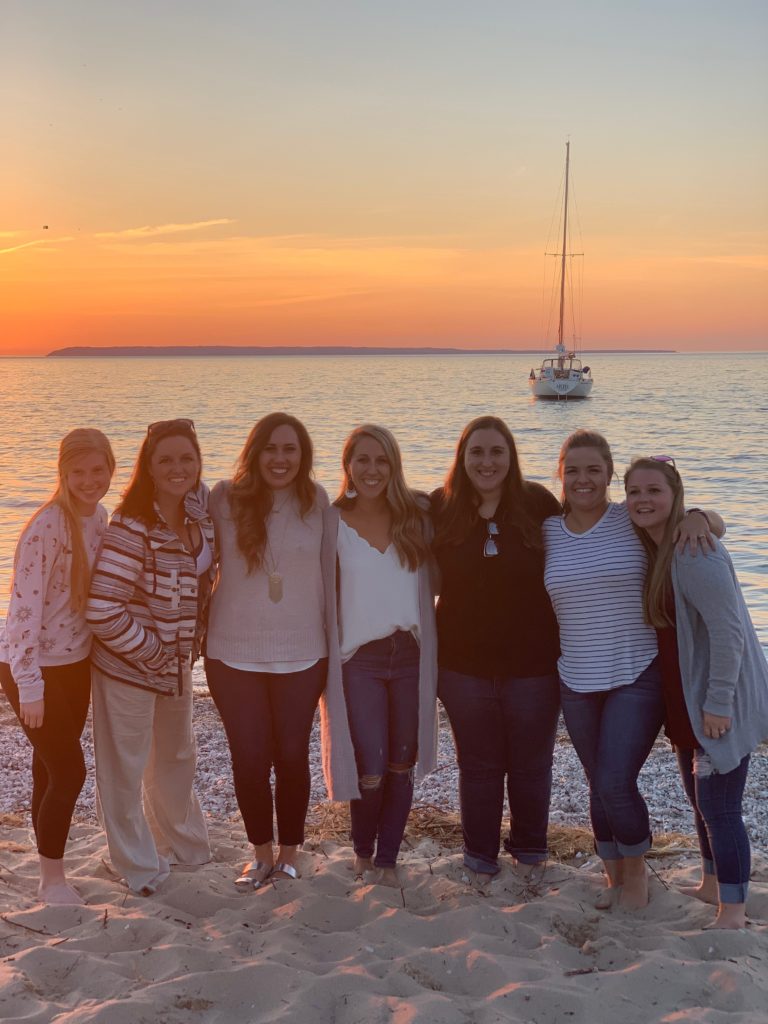 #2 Staying in a big house with some of our bridal party
I know this isn't everyones cup of tea, but this made the wedding weekend feel more like a weekend long celebration vs. a one day celebration. We stayed in a house with 14 of our bridesmaids, groomsmen and their dates from Thursday-Monday and it was so fun! Friends and family also stopped by to visit and it made the weekend a total blast.
#3 Doing a receiving line
I used to hate receiving lines and tell my clients to opt out of them, but my opinion changed after my friend told me a little secret about them. When you choose to skip doing a receiving line most of the time you end up going to table to table during dinner to visit and thank every guest for coming. When you do this you can often be visiting with a single table for 5-10 minutes but, the beauty of receiving lines is guests are less likely to take up as much as your time because there is someone standing directly behind them waiting to give you a hug. So by doing a receiving line you spend 10-15 seconds with each guest vs. 5-10 minutes per table.
All this to say is doing a receiving line made us and our parents feel like we got to love on each and every person individually for coming without spending the whole reception trying to make sure we visited everyone. I know this wedding dos doesn't work for everyone (especially if you have a large guest count), but if you can do it – I recommend it.
#4 Doing a "first look"
Doing a first look gave us so much time to actually enjoy our wedding and reception. By the time the ceremony started we had already done bridal, bridal party and immediate family photos and after the ceremony we spent a little more time on the beach getting newlywed photos and snagging a few with grandparents. We even got to join cocktail hour for 30 minutes. If you are weird about seeing each other before the ceremony please read #5 below.
#5 Not separating from each other the night before or morning/day of the wedding
Let's start by talking about why couples used to not see each other before ceremonies. This all stems from when arranged marriages were more popular. The bride and groom were not supposed to see each other before the wedding day to prevent one from not liking the other and running away before the ceremony. Forcing them to see each other for the first time as the bride was walking down the aisle ensured the marriage would happen. That is the only reason not seeing each other on wedding day exists.
Now that we have covered that, Eric and I decided to forgo this tradition and hang out with each other the whole wedding day and it was awesome! We woke up and had breakfast together, Eric made all the girls mimosas while we were getting hair and makeup done, we hung out with our friends and family. It made the day so much more relaxed and so much easier on everyone else so they weren't trying to make sure Eric didn't see me.
Ultimately we decided that we wanted to spend as much time together as we could during our wedding day rather than trying to quickly catch up in the middle of our first dance or while getting photos taken. Spending the most time with your partner on your wedding day is a major one on the wedding dos!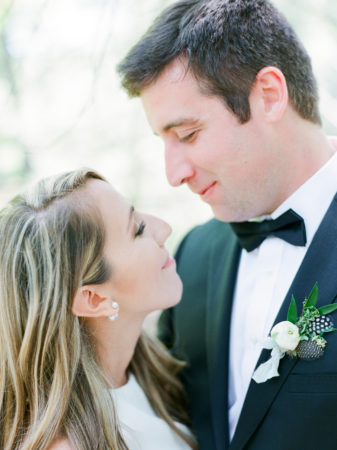 #6 Hosting an after party
Our music had to be off by 10pm so we decided to host a bonfire on-site after the wedding with pizza, beer and wine and it was a total blast! It was fun to close down the night with all our friends and family then everyone heading off to all of their rental houses and hotels. If we could have had our music go till midnight then we probably wouldn't have hosted an after party, but since it ended so early this was perfect for us.
#7 Doing a non-traditional dinner
We opted to do Santa Maria open pit styled BBQ for dinner and couldn't have been happier with this. Not only was it good, simple and guests loved it but it was also really inexpensive compared to other catering options we looked into. Most guests go to a wedding expecting to eat traditional wedding food. But I think our guests really appreciated us mixing it up and the fact it was actually good food.
Some of my clients have also done BBQ in the past, but I have had others that did pizza or a taco bar and let me tell you it is always a crowd pleaser! So don't be afraid to mix things up when it comes to your wedding food.
#8 Having a casual rehearsal dinner
The rehearsal dinner fell low on the budget for us and we decided we would rather host a welcome party AND after party than have a more formal rehearsal dinner. So we had Qdoba catering (really inexpensive by the way) come to our rental house and set up a little Mexican buffet. We also had a big batch of margaritas, Mexican beers, wine and soft drinks.
We kept the decor to a minimum with a few bud vases of palm leafs (for a tropical look) and a few other small decorations and I think the whole event for 30 people cost about $500 including food & beverages. Everyone had a great time and raved about how good the food was! Again for us it was low on the priority list and our parents didn't care if it was a formal event or not – we all just wanted everyone fed and to have fun.
#9 Changing out of my wedding dress into a white cocktail dress
This was clutch! I have seen so many of my clients have their bustles break and have to hold their dress while dancing, or have someone spill red wine down the front of it, or be so hot the whole night because its heavy with so many layers. Not me!
After our first dance and parents dances I think I lasted one song before I started getting hot and changed into my cocktail dress and it was only a 75 degree day. I loved how freely I could move around and how I didn't have to worry about tripping on it.
Picture below of the dress I changed into. Yes, Eric is really that much taller than me!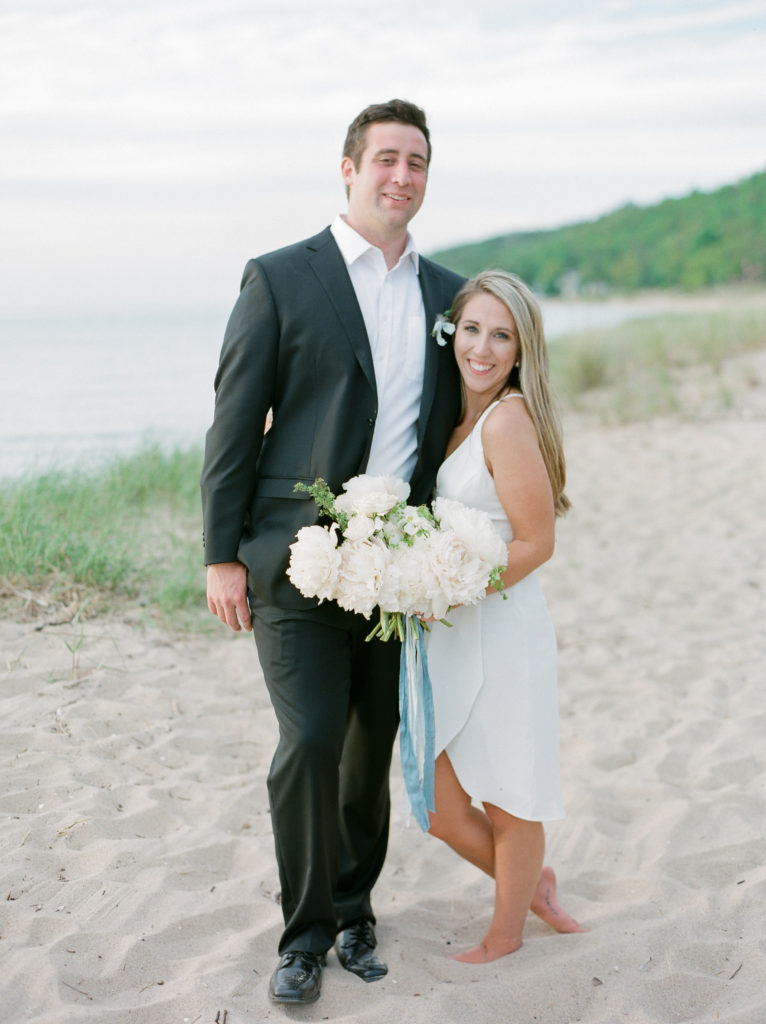 #10 Doing a combined Father/Daughter and Mother/Son dance
I think sometimes dances can become a bit of a lull during the night and guests start to get restless and end up talking instead of watching. So to keep it short and sweet after our first dance (that we had our DJ cut short) we did a combined dance with our parents to "Stand By Me" by Otis Redding. Approximately halfway through our DJ invited everyone to grab a partner and dance the rest of the song with us. This got almost everyone on the dance floor with a comfortable slow dance song and as the song faded out our DJ turned on "Uptown Funk" which made the dance floor explode!
This was such a good way to get dancing started and ensured the dance floor was packed so we didn't have that awkward beginning of only 3 people on the dance floor.
#11 Saying a formal thank you to all the guests on the microphone
In addition to thanking people at the welcome party, during the receiving line AND joining cocktail hour to catch a few guests we missed, Eric and I also got on the microphone and formally thanked everyone for coming and spending time/money to celebrate with us. Guys, you cannot thank your guests enough. Weddings are a big commitment for people and its important they feel loved and appreciated for being there.
We did our thank you speech before our first dance and it was short, sweet and lasted maybe 45 seconds total.
#12 Writing letters to loved ones
I took this idea for one of my past client's wedding and I am happy we did. We decided to write letters to each member of our bridal party, parents and a few additional family/friends and passed them out to them at the rehearsal dinner to read. The letters talked about what we loved about them/our relationship and how much they mean to use. All of our recipients were touched by the letters and I think it made our day a little more special for everyone.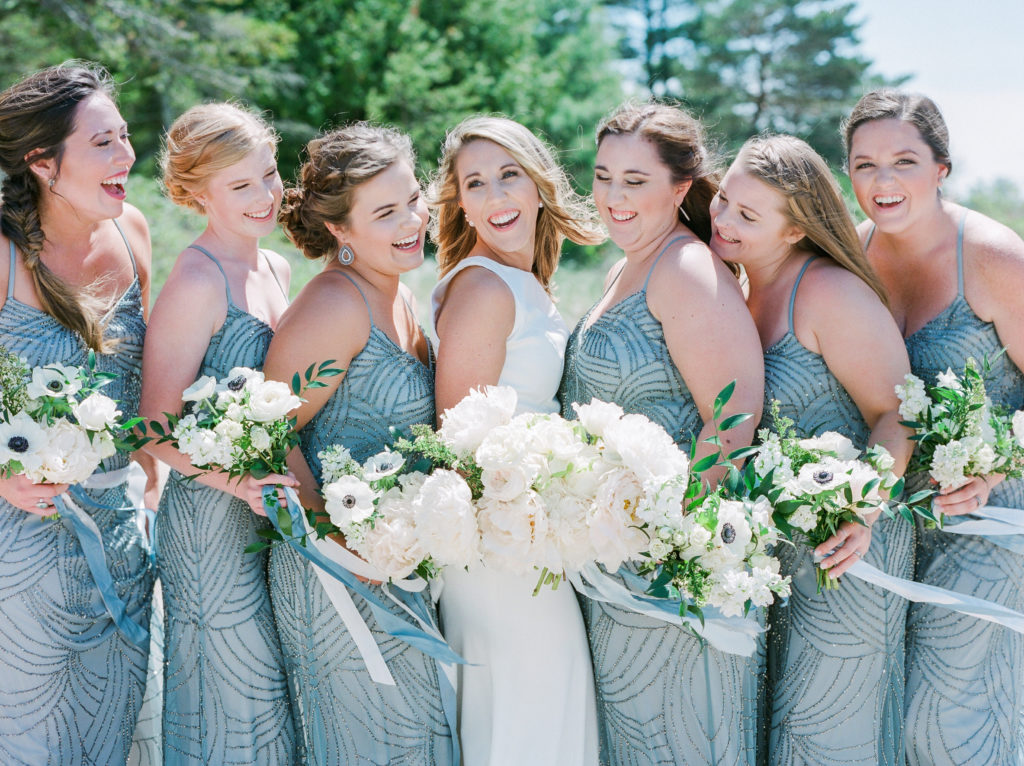 #13 Doing practical gifts for our bridal party
We decided to skip the cliche bridal party gifts and do something practical. So we purchased all the bridesmaids dresses (I found them on super sale about a year and a half before the wedding) and purchased the groomsmen their shirts & ties and had them wear their own black pants.
If you have ever been in a wedding you know how expensive it can be with the flights, accommodations, gifts, showers, parties, etc. So instead of giving them all something they probably wouldn't use again we wanted to off-seat some of the costs by gifting them something they would have had to spend money on. And I don't think anyone in our bridal party was upset they didn't get a champagne flute with their name on it on a robe with their monogram.
BONUS Wedding Dos: We were in charge of our mood on the day
This is probably my biggest takeaway from the day that you get to choose how you feel on the day. The truth is plenty of things went wrong on our day. We ran into each other and didn't get to do a real first look, the wind blew my hair in my face as I walked down the aisle, our aisle runner fell a part, we ran out of vodka…twice, we ran out of pizza at the bonfire and so on.
But even though things didn't go perfectly on the day, we decided to stay positive, keep a good attitude and have an amazing time and it worked. It is so not worth getting upset about things on your wedding day because you are ruining the day for yourself! You can't control the weather, you can't control what your Aunt Joyce is going to do, you can't control wedding vendors, you can't control how much the Best Man is going to drink. The only thing you can control is yourself – so you might as well make sure you are in a good mood and have a great time.
If you loved hearing about my wedding dos then you will love my post on the 6 Tasks You Need To Do The Week of Your Wedding.
All photos by Kelly Sweet Photography, expect the welcome party photo at sunset that was snapped by a family friend on an iPhone.