The Ultimate Guide to Lake Wedding Venues in Michigan
One thing this state is known for the most is our beautiful lakes, which leaves us with an abundance of lake wedding venues in Michigan. There is nothing more beautiful than a wedding on the water. There is something magical about the water that brings everyone together and relaxes you. That is why it is no mystery to us why so many couples want to get married on a lake.
We know how tricky it can be to find the perfect lakeside wedding venue so today we thought we could walk you through some of our favorites lake wedding venues in Michigan. Scroll below to see all the details.
Inland Lake Wedding Venues in Michigan
Here are a list of venues that are on a lake in Michigan, meaning you can get married directly on the water.
Bay Pointe Inn in Shelbyville, MI
Long Lake Outdoor Center in Middleville, MI
Deer Lake at Boyne Mountain Resort in Boyne Falls, MI
Spring Lake Country Club in Spring Lake, MI
Gull Lake Country Club in Richland, MI
Boatwerks in Holland, MI
Inn at Bay Harbor in Bay Harbor, MI
The Lakehouse in Ludington, MI
A Matter Of Taste @Tapawingo in Ellsworth, MI
The War Memorial in Grosse Pointe Farms, MI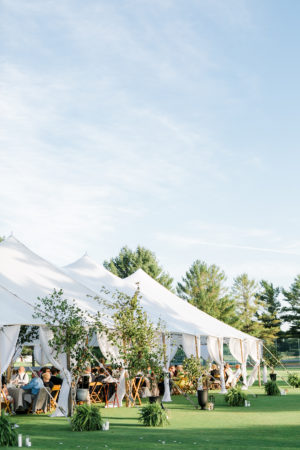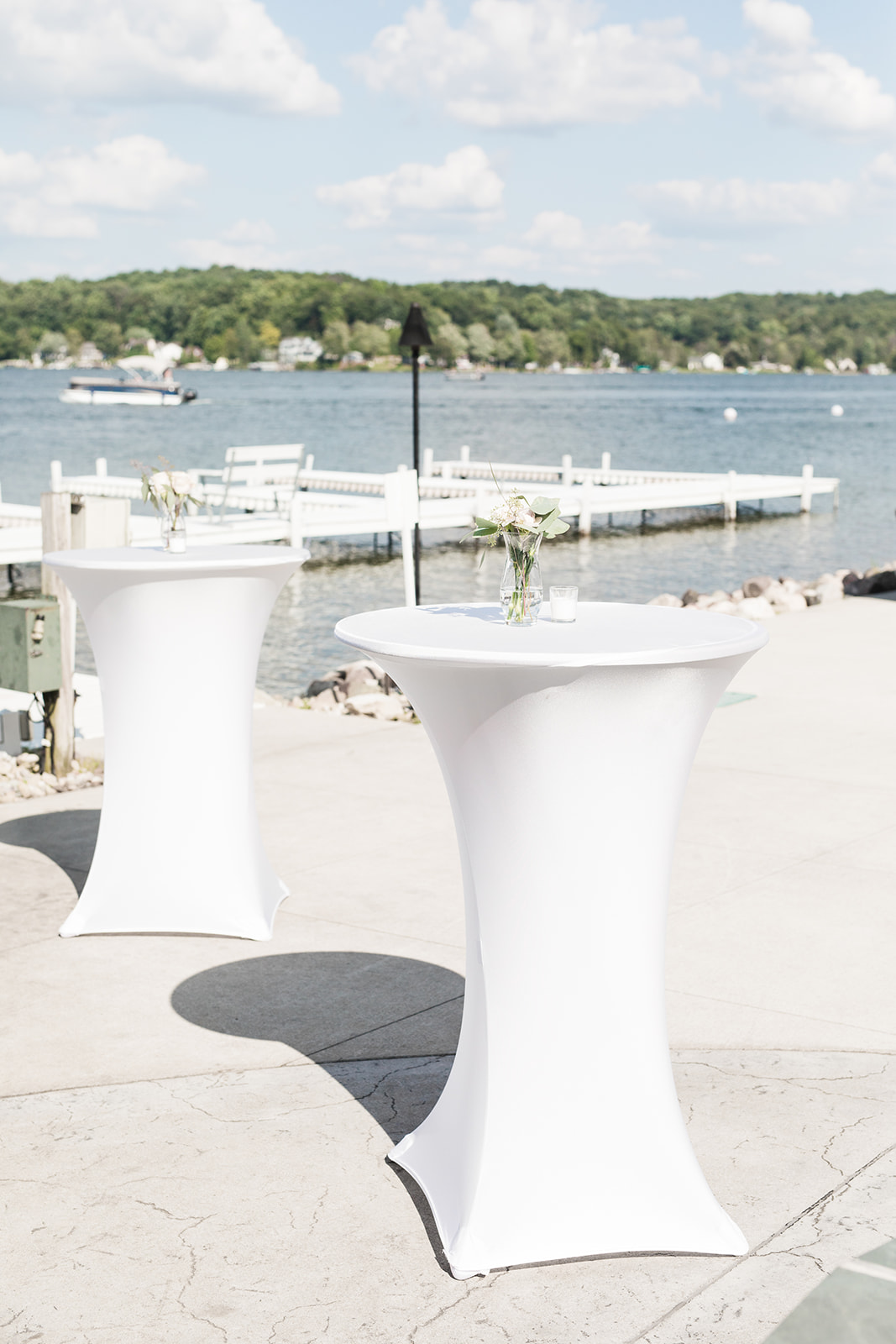 Left Image: Tent on Deer Lake at Boyne Mountain Resort. Photo by The Weber Photographers. Right Image: Cocktails tables at Bay Pointe Inn. Photo by Katelyn James Photography.
Michigan Weddings Venues Near The Water or With Water Views
Next up, are beautiful venues that are close enough to a body of water that you could have a ceremony near the water and a reception at the venue.
Felt Estate in Holland, MI – near Lake Michigan
Ciccone Vineyard in Suttons Bay, MI – views of Traverse Bay
12 Corners Vineyard in Benton Harbor, MI – near Lake Michigan
The Fields of Michigan in South Haven, MI – near Lake Michigan
Blue Dress Barn in Benton Harbor, MI – near Lake Michigan
Shadowland on Silver Beach in St. Joseph, MI – steps away from Lake Michigan
Beach Weddings in Michigan
If you're looking for a wedding on the beach of one of the Great Lakes, I recommend checking out our Ultimate Guide to Beach Weddings in Michigan.
Most of the venues that are near a lake or lake views give you a similar vibe as being on the lake, but without the price of being on the water. Also, you can schedule out photo opportunities throughout the day to go to the water and get some pictures. Many of my couples that get married near the water, but not on the water take the time during golden hour (the last hour before sunset) to go to the water and get photos.
Tips for Hosting a Lake Wedding in Michigan
It's no secret that we have a special place in our heart for weddings by the water and have learned a thing or two by executing many of them. Below are some of our best tips for your lakeside wedding to ensure it's a smashing success.
Wind
The wind can be a tricky thing near the lake so make sure you are weighing everything down.
Opt for wooden signage instead of paper or foam-core boards.
Avoid linens on any tables without chairs around them.
Get tall vases for your low sitting candles, or skip the candles all together.
Avoid paper products like programs, menus, escort cards, etc.
Temperature
Being near any body of water the elements can change drastically. Make sure you're prepared for all types of weather. Below are some items and things I recommend having on hand:
For Warm Months:
Paper fans  – Disclosure: this link is an affiliate link, meaning that at no additional cost to you we will earn a small commission if you click through and make a purchase.
Accessible water – a self serving dispenser is perfect and keeps your bar lines down
Sunscreen
Shade – large umbrellas, small umbrellas, tent
For Cold Months:
Heaters
Small blankets
Hand warmers
Sides on your tent, if you have one
Hot coffee & tea
Bugs
Bugs tend to get bite happy in Michigan in the summer so to save your guests from getting eaten alive I recommend having cans of bug spray sitting around during your reception. Also, if your venue allows it, getting the grass and woods professionally sprayed before your wedding day isn't the worst idea.
We hope this helped you find the perfect lake wedding venue in Michigan for you and your big day.
Having executed many lake weddings all across Michigan – put our experience to the test and inquire about our Wedding Coordination or Event Design services to make your wedding one for the books!